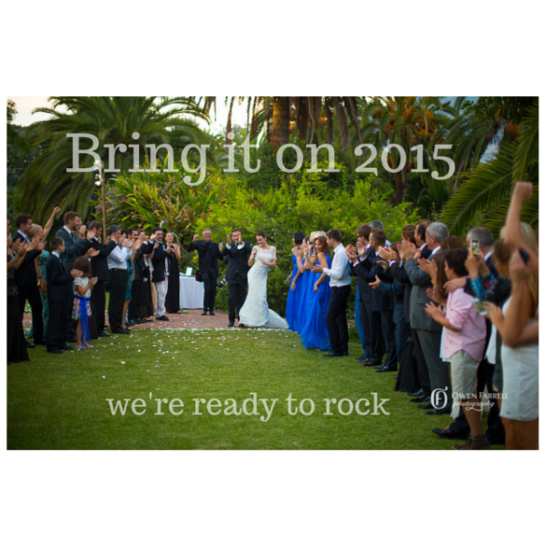 As another new year rolls in, I think it is always nice to look back on the year that we have left behind, in order to look forward and appreciate the year that we have ahead of us.
2014 was for me, and many of my wedding industry colleagues, a fantastic year for weddings. I think I don't just speak for myself when I say that it is a constant honour and pleasure to get to work with some of the loveliest couples around, couples who are a joy to work with and who really want to have a wedding day full of love and togetherness.
Each year I am amazed by the wonderful ideas and creations that couples come up with to express themselves and their love for one another on their big day. I could be here all day reeling off some of the amazingness that I have come across, but to spare you that, here are a few fantastic ceremony highlights from 2014.
Bagpipes!
I had two weddings last year where brides were led down the aisle by a bagpiper (one as a surprise, organised by her husband-to-be!) and I must say, it really is a stunning way to open a ceremony. Admittedly, both brides were either Scottish or had Scottish roots, but I say, what the hell, if you fancy the idea of being being 'piped' in by a bagpiper in a full Scottish kilt, then why ever not? It certainly is a great way to call to attention the start of the ceremony and the grand entrance of the bride.
Surprises!
2014 was most definitely the year of surprises. A year in which I saw many brides and grooms surprising each other during their ceremony with one amazing idea or another. As in the case of the bagpipes, one of the brides didn't know anything about it! The groom had told me that she'd really loved the idea of it but had written it off, assuming it would be too difficult to organise. So, he set about it organising it and with the help of my little book of contacts, we got the surprise booked. It was so lovely, not to mention tear-jerking, to see the bride pull up in her car and to see her face and her tears when she spotted and of course heard the bagpiper announcing her arrival and then leading her into the ceremony. Magic!
Other surprises last year included, surprise readings for him and her, including an amazing poem written by the groom as a surprise! Surprise music and songs either sang by friends, or professional musicians. At one wedding there was a surprise singer, known as a 'pop-up' singer, who emerged from among the guests during the ceremony to surprise everyone with her amazing voice whilst singing the bride's favourite song, Christina Perry's, 'A Thousand Years'. That was a totally awesome surprise from the groom to the bride and her face said it all! Then there were surprise presentations of meaningful presents, a surprise pregnancy announcement, surprise guests (yep, that's right!). One bride thought her Australian family couldn't make it, but the groom knew they could all along and so they surprised her with their arrival at the ceremony!
So many surprises, keep them coming, please! Although saying that, I usually have the world's biggest big mouth, so I am quite proud of myself for being able to keep secret so many of these amazing surprises that brides and grooms entrust me with!!
Dancing!
Never have I seen so much dancing before the party has even begun! And I love it. It has been amazing to see, bridal parties dancing down the aisle to welcome the bride who is also dancing, grooms and their grooms men 'attempting' to also dance down the aisle (ha ha! sorry the girls are always much better!), bridal parties and the newlyweds dancing back up the aisle and guests also following suit and dancing away from the ceremonial area too, to make one big dance-athon. I lay the responsibility for this firmly at the feet of Pharrell Williams, whose phenomenal track 'Happy,' has had everyone dancing up and down the aisles throughout the whole of 2014. There is nothing more uplifting and it's such a great way to signify the end of the ceremony. I would love to see more of this in 2015.
Singing!
So it goes without saying that following hotly in the footsteps of the great wedding dance movement, is singing! And it has been such a joy to be a part of a ceremony where singing has taken place. Whether it is music from professional singers, talented friends or relatives or group singing en masse (my favourite!!!), there is something so special about being so vocal during a ceremony. The mood and vibe afterwards is so warm and heartfelt and everyone is just so happy! I love it!
There really have been so many amazing highlights which I can't all mention here, but do check out my real weddings section to see a fab range of personalised and frankly, fantastic wedding ceremonies full of unique ideas and creations.
2014 – a winning year!
Professionally, for me 2014 has also been an amazing year. My blog is going from strength to strength and yes, you've probably heard me mention it about a million times 'I won an award!' I am still very excited about it all but the award win aside, the most important and rewarding thing for me is knowing that my blog is being read and appreciated by y'all out there. That is just the best! To know that I have people reading my blog all the way in South Africa, to all over the USA and Canada, Europe and the UK, is such an amazing feeling and I'm so honoured. It is lovely to know that all of my stories and information that I share with you is being read and hopefully enjoyed by you. I love writing and sharing so it makes my day to know that you love what I write and share!
Also, my celebrant career reached new highs in 2014 with a wedding I conducted being filmed for tv and I also added another celebrity wedding to my client list. Of course, all my weddings are so important and incredibly special to me, whether the couples are famous or not, but it is nice to say that you conducted a ceremony for someone that lots of people have heard of! It's very exciting. I'll be waiting for Andy Murray's phone call very soon, ha ha!!
Popular posts of 2014
Last year I was able to write about a whole host of wedding features ranging from how to choose your ceremony readings to top tips for choosing the perfect outdoor area for your ceremony. I've also been able to share some amazing vows that I have had the pleasure of hearing and share all the wonderful symbolic rituals that couples include in their ceremonies and give good advice on the different ways to stand for your ceremony. Who would have thought however, that my most popular post of 2014 would be one about Game of Thrones! I know, I can't believe it either and I am totally thrilled. My post about the incredibly inventive wedding vows that feature in the show and my updated version to inspire all GOT fans and soon-to-be newlyweds is my most read blog post ever! Love it!
Trends for 2015
Now, I don't dare to label myself as the 'Mystic Meg' of the wedding world, but having been at a lot of weddings this year and being an avid reader of some of the big wedding blogs and magazines, I feel like I've got a good idea of what things will be trending in this year's wedding ceremonies.
Unusual confeti
Oh I do love confetti.  Not having confetti, is like going to the seaside in the UK and not buying a stick of rock or fish n chips! Confetti is a must. And what I love about it most, is that it is so versatile. We are fast moving away from paper and flower petals and confetti rocket launchers and definitely moving towards bespoke confetti, confetti pieces made to suit your theme as well as popcorn confetti; crunchy autumn leaves for autumn weddings; rolled up coloured ribbons that look amazing when thrown in the air and then fall again to cover you in a stream of ribbons. So many ideas! Can't wait to see them in action.
Group readings
As much as some couples love to have a reading or two during their ceremony, they are also extremely conscious of the fact that they are a) singling out one person to do the reading and b) putting a fair bit of pressure on that person to be on their best public speaking duties. So the idea of a group reading may be much welcomed by couples who a) want a way to include all their guests in their ceremony and b) want to do something totally unique during their ceremony. I've written an in-depth post about it group readings, so do hop over and take a look. It's fab!
Imaginative ceremony seating
Gone are the days where couples have their backs to their guests and guests are made to sit in formal seating divided left and right, due to their relationship to the bride and groom. Couples are most definitely getting much more creative about how they stand and how their guests are seated, if seated at all! I have loved doing weddings where guests have been seated in a semi circle around the couple or in some cases a full circle. I can't think of a nicer, warmer more inclusive way of being literally, surround by love. I have loved seeing hay bales used for ceremony seats, which not only looks amazing but allows for the seating to be more versatile and creative. And guess what? I've also written a fair bit about standing and seating positions for ceremonies too, so do take a look if you love the idea of having a different type of seating style from the norm!
Creative ceremony entrances
Well, I've already mentioned about the all-singing, all-dancing entrances that I have been lucky enough to witness but I've also seen more subtle but stunning co-ordinated entrances with brides maids flowing in like goddesses and ushers lining aisles like good and loyal friends should. I've also seen more mums getting to walk their daughter's down the aisle, along with their dads and many couples deciding to walk in together. Now, you know I am a sucker for anything that bucks tradition, so you can imagine how much I suck all these ideas up. I'm very much looking forward to seeing some more creative entrances this year.
Capes and jumpsuits
You may not know it but we have a lot to thank Beyonce's little sister Solange for. Apart from making afros cool again, on her wedding day she single-handedly introduced a whole host of cool-ass wedding themes to the wedding arena, just like that! She turned up to their ceremony on a bike, she wore a jumpsuit (ever so practical!) and then changed into a white caped dressed. She just looked so damn cool, my eyes hurt to look at her.
Now, I'm not usually someone who gushes over celebrity weddings because of course, they have much more money, stylists, contacts and connections than most of us average couples have, and so I feel it is sometimes unrealistic and unhealthy to obsess over them. But what we can take from them is some of their cool ideas and bring them back to earth and make them more realistic and affordable for our own weddings. So thanks to Solange… I see wedding capes being big this year and I also see jumpsuits being big this year. Seriously, if jumpsuits were en vogue when I got married, I so would have worn one, without a doubt! I also love this idea of everyone wearing white, not just the bride. I've seen it a few times and I think it looks amazing and is so serene! Take a look at this all-white wedding.
Not sure about arriving to your ceremony on a bike, but two great trends out of three, ain't bad is it!? I cannot wait to see my first caped-bride of the year!
So, there you have it. My look back over the best bits of my 2014 wedding world, with a look ahead towards what is in store for this year. So many of my couples for this year are already so full of enthusiasm and great ideas for their big day that I can't wait to share them with you.
To say I am excited is an understatement. x
If you are getting married this year and your levels of excitement are as ridiculously high as mine, do let me know. I'd love to hear from you and what you've got planned for your ceremony!