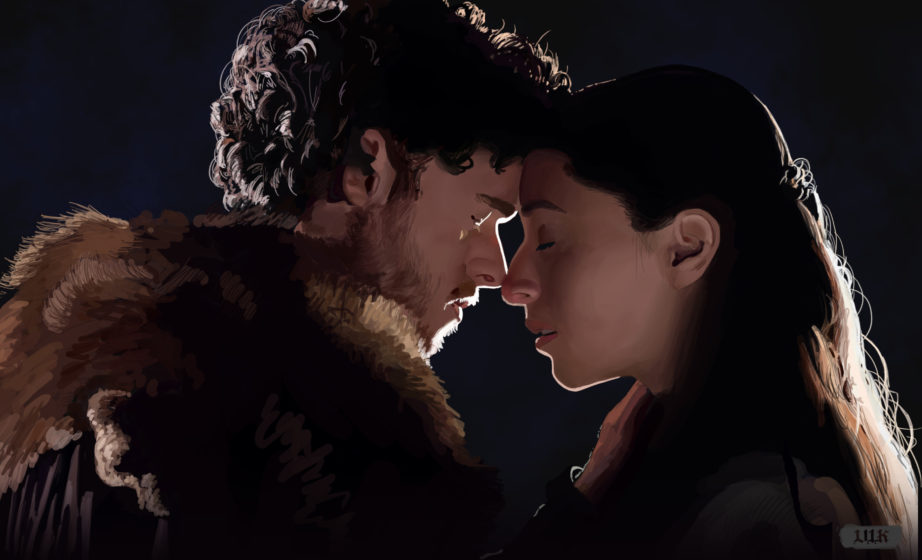 I never thought that when I fell in love with Game of Thrones there would ever be anything that I could write about it in connection to my weddings. However, luckily for me, as any GOT fan knows, as well as the vast amounts of pillaging, debauchery, incest, backstabbing and treachery, we have also been treated to lots of weddings!
Now don't get me wrong. I am well aware that Kings Landing does not exist in some alternate universe (as much as I may secretly want it to) and I'm also very aware that Jon Snow lives solely amongst the pages of a book, however there is absolutely nothing wrong with taking the brilliance of fiction and weaving a little of it into real life.
Unique vows
In their very intimate wedding ceremony, Rob Stark, Talisa and their celebrant took part in the following vows, which included a short hand-fasting. The following words were said;
Celebrant: In the sight of the Seven, I hereby seal these two souls, binding them as one for eternity. Look upon one another and say the words.

Rob and Talisa in unison: Father. Smith. Warrior. Mother. Maiden. Crone. Stranger. I am his/hers, and s/he is mine, from this day, until the end of my days.
So what is it I love about these vows?
Firstly, I love that their hands are tied together whilst their vows are said. I think that can be a really nice element to vow making.
Secondly, although their words probably mean very little to any of us, I love the fact that they have said words, which mean something to them. They were calling for a blessing from their gods. (I've added this bit since publishing the original post, to reflect some of the comments below. Thanks guys.)
Thirdly, I love the unison quality of these vows. This is a really original technique to have a couple say the same vows at the same time and there is something about the two of you saying your vows as one, which is very symbolic.
As actors are professionals and have a few chances to get their lines right and you don't, I would recommend having vows like this typed up or written out on to a small piece of card that you can hold if your hands aren't tied, or you can read from the card which is placed on the ceremonial table. If the vows are short enough that you could remember them, then that would be really effective and all the more powerful.
So to bring these medieval vows into the real world, this would be my twist on them for a real-life, modern ceremony.
Celebrant: In the presence of your family and friends, I now bind your hands together, to symbolize your new union of love, trust and friendship. (Binds hands) Now, please look at one another and pledge your vows to seal your union.

David and Victoria: Mother. Lover. Father. Friend. Protector. Healer. I am yours, you are mine, from this day until the end of our days.
Or
David and Victoria: You. Me. We. Us. Friend. Guide. Lover. I am yours, you are mine, from this day until the end of our days.
Or whatever words you feel describe and fit you best!
The Game of Thrones vows have seven aspects, which represent a god with 7 elements, hence why there are seven descriptive words. Back in the real world, you can have as many words as you want or go with an amount which represents a significant number in your life. Maybe you want four words because it's your joint lucky number or nine because that's the day of your anniversary. And even if this wording and style is not quite to your liking, maybe the idea of saying your vows in unison might be something that appeals to you.  Whatever works for you!
So there you have it! Whether Game of Thrones is your thing or not, there's nothing like a bit of fiction to inspire your vows.
Are you planning on including some Game of Throne inspired vows in your ceremony? I would ABSOLUTELY love to hear from you and know how it all turns out. You can drop me a line below. I am so EXCITED at the thought!
Also why not check out my post HOW TO HAVE A GAME OF THRONES STYLE WEDDING!
Psst! Get your vow inspo right here…