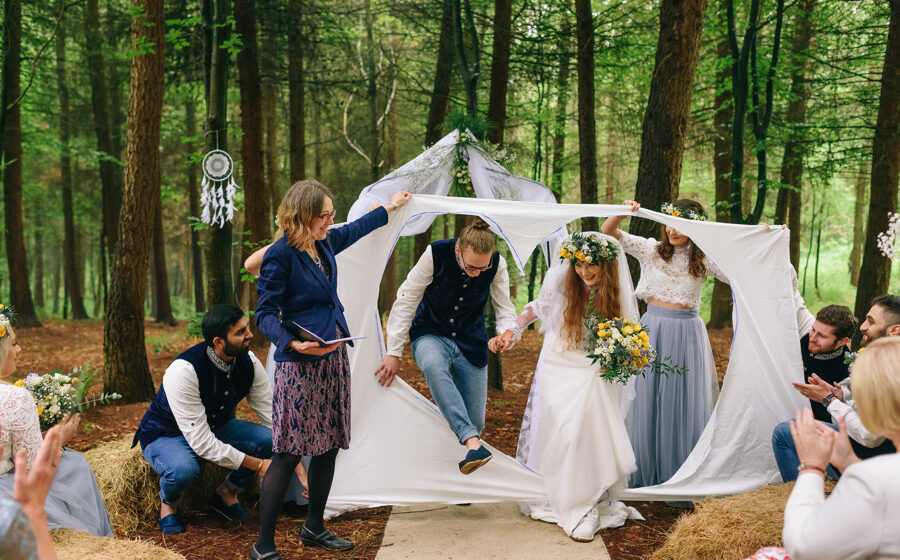 Herefordshire has got to be one of the most stunning counties in England, although I know I could say that about most English counties. There is so much rolling countryside and jaw-dropping natural beauty. And as anyone in the wedding world knows, one thing that natural beauty and stunning countryside makes is perfect wedding locations!
So if you've got your perfect Herefordshire wedding venue or location, and now need your perfect wedding celebrant for your perfect ceremony, then I know exactly the celebrant for you! Her name is Jennie Hermolle and she's an awesome Humanist Wedding Celebrant. This nature-loving wedding celebrant loves nothing more than creating amazing Humanist wedding ceremonies for her couples, in stunning Herefordshire locations, indoors and out.
So read on for more about Jennie and how her Humanist wedding ceremonies can allow you to celebrate your marriage in just the way that you want.
What has been the highlight of your wedding career so far?
Nothing beats the feeling of couples telling you that your ceremony was all they ever hoped for and so much more. Knowing that you've given a couple the ceremony that was uniquely right for them on their wedding day is the biggest reward you could ever ask for. But some of the stunningly landscapes I've been lucky enough to conduct weddings in have also been real highlights – amazing views of the black mountains, ruined castles, beautiful woodland – all give me goose bumps thinking back to them.
What has being a wedding Celebrant taught you about life and people?
It's fascinating to learn about couples' lives, their passions, and their hopes for the future. The couples I work with inspire me to live my life better, be braver, and always remind me to keep my priorities in order. Thanks to the awesome couples I've worked with I've also picked up a few extra interests along the way… such an appreciation for sloths (the rainforest, not the sofa variety), and a compulsion for watching jetwing human-flight videos on YouTube!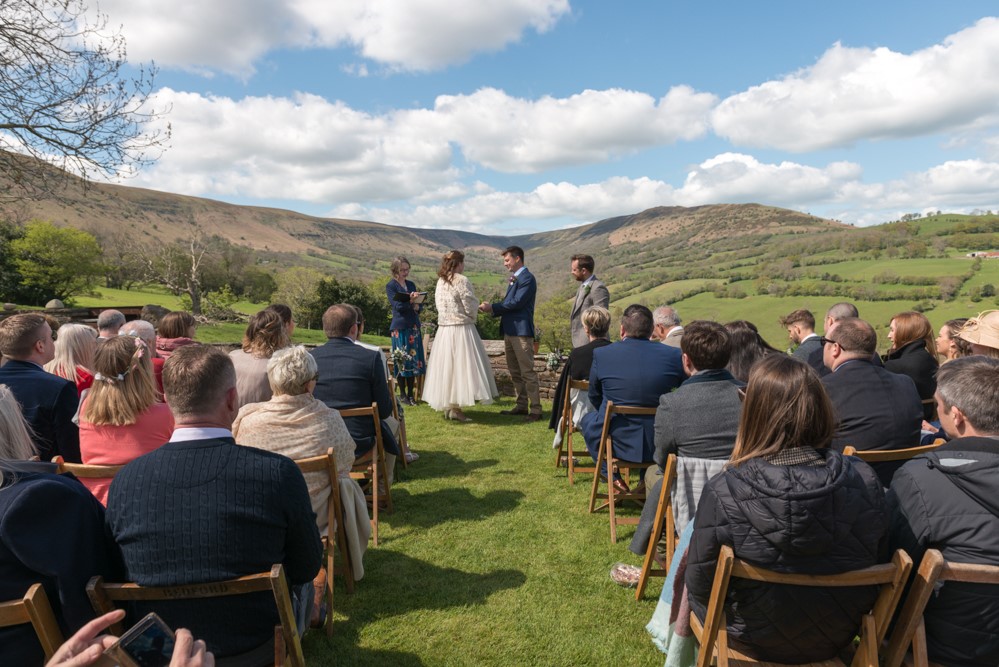 What advice would you give to couples getting married now? What mistakes could they do with avoiding?
My biggest advice is to seize the chance to make your ceremony your own. Your ceremony will be more fun, more joyful and it will feel more meaningful when it reflects your personalities and values. However, for the record, two mistakes you should definitely avoid are: being so busy getting ready before your ceremony that you forget to eat something, and never leave uncovered hay bales out in the rain – your guests won't thank you for a soggy bottom!
What do you love about being a wedding Celebrant in Herefordshire?
I'm a hopeless romantic at heart so I just love spending time with people in love – it's good for the soul. I feel like my heart grows a little bit with every love story that couples share with me. I'll never tire of meeting new couples, hearing all their stories, and the experiences that have been formative for them. At the end of the process it's such a huge privilege to stand with them at such an emotional and defining moment. And the joy that is shared in really good wedding ceremony is just the best feeling.
What aspect of your job as a wedding Celebrant gives you the most satisfaction?
I love getting a real, messy, jumbled-up download from a couple of their real, messy, jumbled-up lives together and then teasing out the things that are most important to them and their relationship. I then build their wedding ceremony around these themes. Starting with a black page every time, it's always a creative process and I love incorporating new ideas. One of the most satisfying elements, is that I'm giving couples the narrative of their 'love story' in a way that they'd never have the distance and perspective to see clearly for themselves. I think the benefit of owning your own love story stays with couples long after their wedding day. And I like to think that someday their grandchildren might stumble across their presentation copy of their wedding script and have this fabulous insight into their grandparents and their relationship.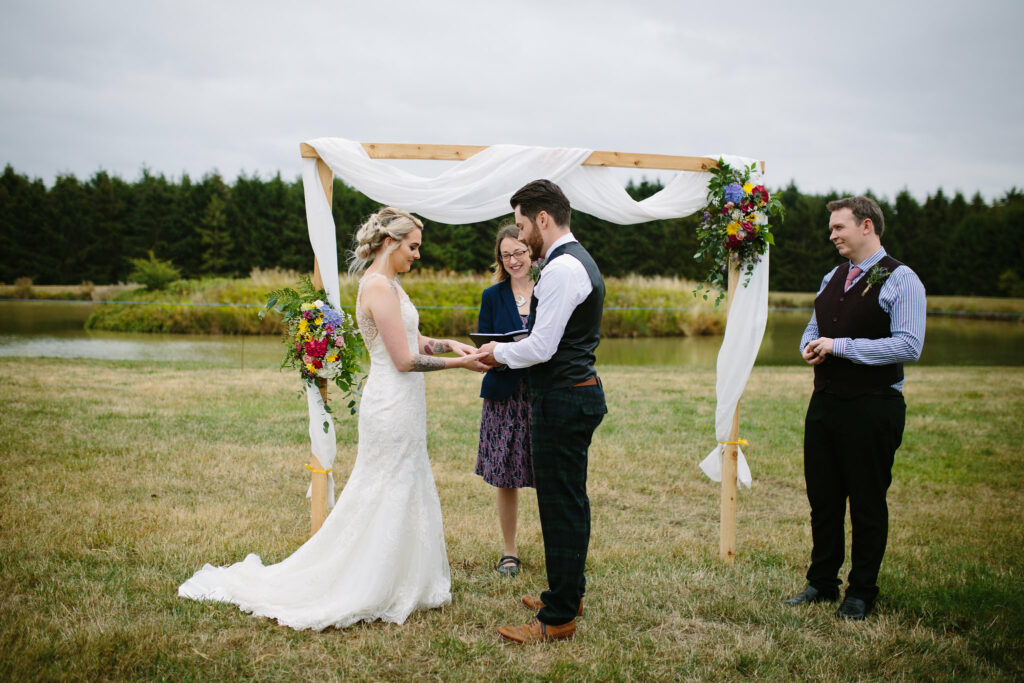 What are your favourite types of wedding ceremonies?
I love personal, warm-hearted ceremonies; there's a really special energy when a couple share their joy with all the people they love most in the world, and their guests bring all their love and good wishes for the couple in return.
If you had to sum yourself up in three words, what would they be?
Genuine. Creative. Insightful.
What's your favourite symbolic ritual, and why?
I've got a bit of a soft spot for oathing stones. Having something so real and solid in your hand as you make your promise lends extra weight to the words you are saying. It's a lovely thing to incorporate if you have children and make a family vow to them before your couple's vows. The stones are something your children can keep as very permanent reminder of the promises you made to them on that day. You can even visit the beach or river together before the wedding and help the children pick out a special pebble to use as the oathing stone.
What would be a dream ceremony for you?
A woodland ceremony in a bluebell wood at dusk, or a tree-top ceremony, or somewhere with a bit of a dizzying view – perhaps a bridge over a canyon or somewhere amazing like that. I'm a sucker for the epic romance of a beautiful, natural backdrop to a ceremony.
How would you say the wedding industry has changed in the last fifteen years?
It's so different since we were married in our humanist wedding in 2005. There was no Pinterest or Instagram and no-one had smart-phones. It's hard to believe that's less than 15 years ago! The only weddings I compared with were the ones I'd been to personally as a guest. Wedding Magazines didn't even really cover 'real weddings' in much detail. All the little details for our DIY-wedding were dreamt up out of my own head. Nowadays I could lose hours scrolling through endless amazing ideas for place settings, flowers, arches etc. Social media has raised the bar massively for the styling of weddings. So, I guess that if you're someone like me who naturally loves the pretty, crafty bits, you could end up putting a lot of pressure on yourself to achieve sublime perfection in all the details.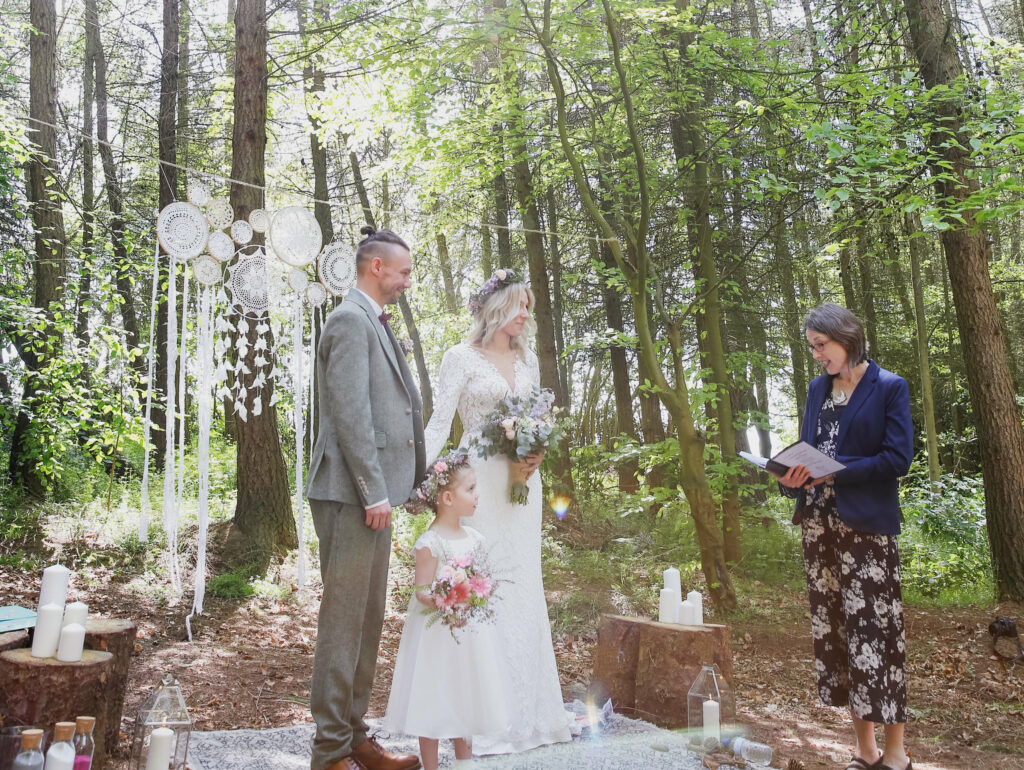 What kind of couples do you enjoy working with?
I really enjoy working with a diversity of couples. I love the fact they have different life experiences, and different passions. Through their eyes, I get to see the world in different ways. It's really inspiring. There are some common themes though. Many of my couples are adventurous in spirit. They often love to be outdoors, and to see the world. They're prioritising experiences over accumulating things. Most of all I love to work with couples that are open and honest and really love, admire and respect each other.
Tell us about a funny/hair-raising/near-miss wedding experience that you've had as a Celebrant
A lovely couple that I worked with had planned a really relaxed festival vibe for their ceremony – they were going to spread blankets and cushions on the floor for their guests. The weather had other ideas however. We huddled under their canopy for the ceremony which was actually great – adverse weather always brings out the camaraderie and extra love and spirit. But just at the close of the ceremony the rain intensified, and the skies just opened to the most torrential rain I have ever witnessed. And it was so loud! This couple loved spending time on the river, so my final words, which I found myself SHOUTING over the roar of the downpour were '…married life won't always feel like a sunny day on the river…' the timing was perfect – it was very funny and very fitting!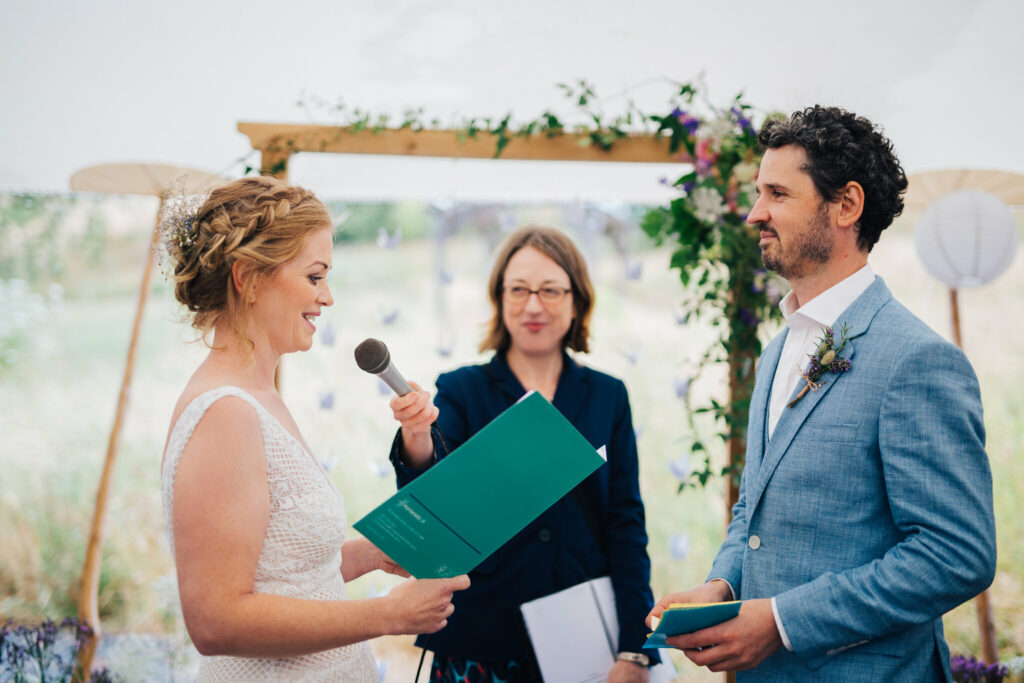 What are your favourite types of venues/spaces for weddings?
I do love outdoor venues. Anywhere with a view! Being under trees creates a very special atmosphere; I think it's the height of the trunks drawing your eye upwards and creating a feeling of awe. Ruined castles are another big favourite. I love castles. The English-Welsh border region that I live in has the most castles of anywhere in the UK. It's probably not a coincidence that I live where I do!
When you're not busy being a Celebrant what do you love doing?
I love being outside – big scenery is always a huge draw to me. I run (not very fast) but enjoy the quiet head-space out in the countryside where I live, or putting the world to right with my running buddies. My boys (aged 6 and 9) are so full of energy so we love to walk and cycle as a family. Indoors you'll find me trying not to step on Lego and never too far from my knitting.
Isn't Jennie awesome? Can you see her hosting your outdoor love-fest or indoor wedding paradise? Get in touch with her here.
Main feature image by Alex Miller Photography