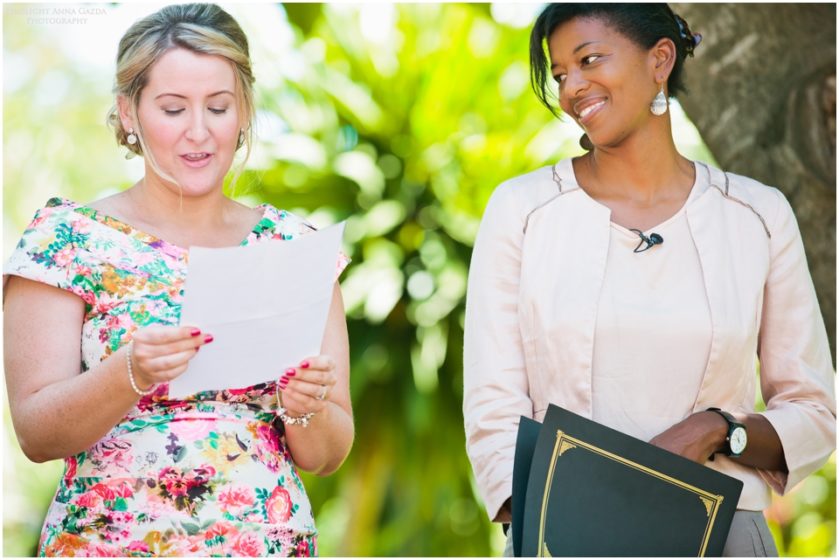 Make sure to have the reading that reflects you best
When my best friend got married she chose as one of her readings a tongue-in-cheek newspaper article about marriage. It was hilarious. Or should I say, I found it hilarious. A quick look around the room and I could see some elderly aunts perhaps could not see the funny side of talking about divorce during a wedding ceremony!
The point is, the reading was very much 'them.' It was one hundred per cent their kind of dry, witty sense of humour and a reading which they felt best expressed them and how they felt about each other. And this people, concludes my point – a wedding reading, if you even chose to have one, really should be an extension of what you think and feel.
Don't quote, if it doesn't float your boat
Shakespeare wrote some of the most romantic and stunning prose in history, but that doesn't mean for one second that you should have any of his readings during your ceremony, not unless it really resonates with you and it fits you like a glove. Shakespeare is not for everyone! Nor are many other classic forms of literature. The old language and styling may roll fluidly off the tongue of a West End actor very easily but that doesn't mean the same for the rest of us. A good rule of thumb is that if you read something and you love it, really love it, in the sense that you have to read it five times over and it almost makes you pee yourself with excitement, then why not consider having it in your ceremony?
Alternatives to norm
A reading doesn't have to be a piece of poetry or prose, either. It can be whatever the hell you want it to be! So, if the lyrics of a song, make your heart want to burst then why not have it in your ceremony? One word of advice however, songs can be tricky to read as poetry. Think 'Endless Love,' by Diana Ross. Great lyrics? Yes. Easy to read as a poem without breaking into the rhythm of the song? No. Try it for yourself! One good tip is to not mention that it is a song, then that will allow the people listening, not to think of it as a song.
I have also had couples create their own readings from stories about how they met, to love letters that they wrote to each other in the past (obviously with any saucy bits edited out!). I've heard stories of engagement, stories of whirlwind marriages (in the case of vow renewals) and stories of near misses and failed first dates.
Then there have been couples who not happy with the readings they have come across, have written their own. And why ever not? Check out this beauty from one of my recent grooms. He was in charge of picking a reading and thought he would write his own, to truly express his feelings. And here are the results.
Nature's birds will seek a partner,

Ingrained, their purpose for life.

We creatures are so different,

We are aware of husband and wife.

We are free to chose our soulmate,

Favour just one to share our world.

Innate, we will protect ourselves,

Discovered, we will unfurl.

Sentient, we will amble,

Feeling free, to chose our way.

Out of the noise, our companion,

Helpless, our hearts pound obey.

On a path that had no ending,

We stop, we've reached our goal.

We've been given a new purpose,

Protect, grow old, console.

We can perform such wonders,

Through union, embody a spark.

Create new beauty to amaze us,

So bright, our days never dark.

We can chose each other,

Walk forever, hand in hand.

We can chose eternal,

Leaving footprints, not lost in

sand.

Aware, of what I am doing,

Willing, I don't feel a fool.

Exchange vows with my perfection,

Two halves now make a whole.
Are you feeling inspired to write your own poetry yet? Or to find a reading that perhaps isn't a reading in the traditional sense, but one that ticks all of your 'makes my insides smile' boxes? I hope so.