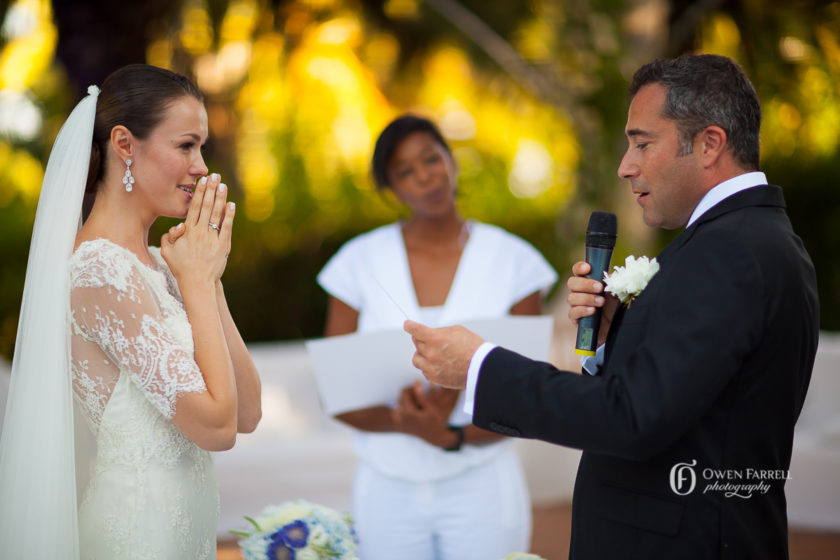 I am so lucky to be able to be privy to some of the nicest, most heartfelt vows that couples pledge to each other. It is such a joy and something I will always cherish. I am constantly amazed by how couples manage to tap into themselves as individuals and as part of a couple and express these elements in their vows, making them a true reflection of their thoughts, feelings and ideas. The perfect vows.
So here are my latest showstoppers, which were so incredible to watch being said. This couple exchanged personal pledges which they wrote individually and a joint statement pledge that they also said to each other.  Ready in 3-2-1.
My dearest Frank, I love your enthusiasm for life, I love your great spirit of adventure.

I love the place you have in your heart for all creatures, especially dogs and cows.

I love your spontaneous human beat box and sometimes bizarre dance routines, which often can be quite inappropriate. (Cue groom beat boxing and jigging!)

I love your belief in me, how you always want the best for me.

I love your love for us, and even if it seems like I'm not fully appreciating the beat box and the dance routines, I promise to always appreciate and cherish our love.
Nancy, I've been falling in love with you, more and more everyday for the last five years. We started very easily and tentatively, simply passing each other on the street and waving at each other for a good number of months. We had no idea who the other person was. But from the very first moment I met you, it felt so natural and so exciting. I was defenceless against the instant rush of fascination and love for you.

Nancy, you are the most beautiful and kind person I've ever known and you continuously amaze me and impress me with who you are and how you see the world. You are my inspiration and my critic. My motivation and my reflection. You are my best friend, a true companion and a beautiful woman.

I love you so much Nancy and I can't wait for us to share the best of our lives together, because my world does not exist anymore without you in it.
Can somebody pass the tissues please? How deeply deep and personal. Love them.
They then followed with these joint statements to each other.
I Nancy/Frank, choose you Frank/Nancy to be my husband/wife. I will respect you, care for you and grow old with you, through good time and hard times. As your friend, companion and partner, giving the best that I can to fulfil our lives together.
I hope these have inspired you to get penning your own amazing vows, TODAY!
Have you written personal vows that you would like to share? I'd love to hear from you. x