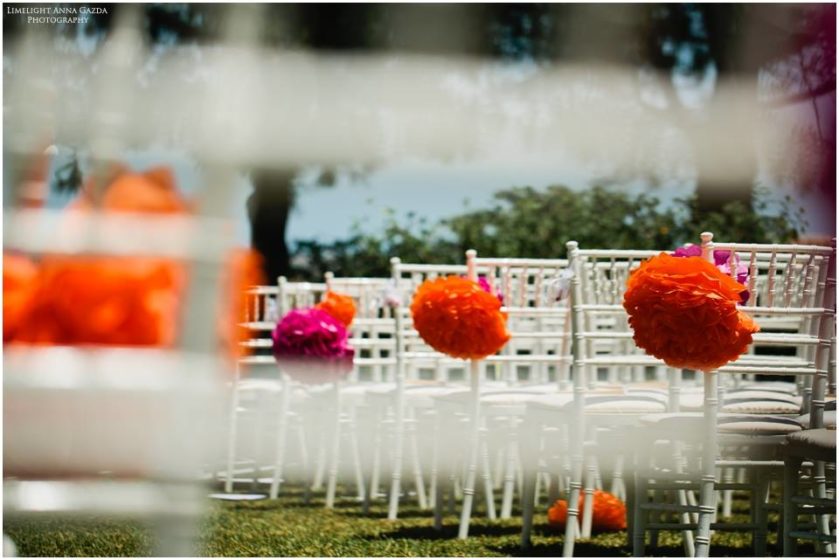 It's kind of ironic, but as I sit and write this post about how to have the perfect outdoor wedding ceremony, outside it is bucketing with rain and has been for the last twenty-four hours and I've just finished mopping our hallway for the hundredth time this morning (we have a very old, leaky house.) So really, it comes at no better time to talk about making sure your outdoor ceremony goes off without any hitches, namely being rained on!!
I LOVE outdoor weddings. I'd take outdoor over indoor any day. There is something so special and heartwarming about being married with nature around you; a sea view in your midst, trees offering their protection or a picturesque hillside placing you beneath the clouds! For those of you who agree with me and my love of the au naturel, here are my five top tips to to make sure that you get the best out of your outdoor ceremony location.

 Weigh up the suitability of your dream location 
Sometimes when I am walking the dogs, I come across an amazing opening in the forest and I think to myself, what a wonderful space it would be for a ceremony. And then I think back to the steep pathway, the boulders we climbed over and the riverbed we skipped across, and I remember that perhaps having a wedding party doing a trek (in their wedding clothes and shoes!) through a wood, is perhaps not the best start for a ceremony.
So many beautiful, non-conventional places (idyllic beaches, mountain tops, orchards) would make for the perfect ceremony locations if they didn't require you to go off the beaten track to find them. This doesn't mean that hard-to-reach places of beauty should be written-off completely but that there are certain things that you need to consider before you follow your heart! Such as how to get there and other logistical challenges, like seating, a ceremonial table, whether you need toilets in place or do you make everyone go au naturel! You should also think about the age of your guests and whether your ceremony location is going to be too challenging for the oldies and also the young ones in your party.
Perhaps you have the idea of a more conventional setting for your outdoor ceremony, such as the grounds of a hotel or a manor house. There are however, things that you still need to think about, in case the weather isn't on your side. Make sure you are happy with both the outdoor and indoor grounds of any venue. You may fall in love with the gardens of a certain manor house but would you be as happy to have your ceremony inside the house, if the weather wasn't on your side? Some venues have the most amazing gardens but their internal spaces might not be your cup of tea!
Many, many, many years ago, I conducted a ceremony once where the couple had planned to have both their ceremony and reception outside in the stunning gardens of a small hotel. It was far from an absurd idea and very much a normal thing to do, however, a freak change in the weather (the craziest of rain) meant that everything had to take place inside the hotel. It was a shame for the couple, because the hotel was no way near as beautiful inside as it was outside. The ceremony took place in the foyer of the hotel and the reception in the hotel dining room. This couple did not let the rain ruin their day, but I did wonder whether they would have still picked the venue if they'd known that their big day would have taken place inside. So the key is, to make sure that wherever you chose for your outdoor ceremony, you also have a suitable back up, in case the ceremony needs to move indoors.

Make sure to check the legalities
Again, it may sound like a fairly obvious point but at the height of falling in love with the most amazing natural space in the world sometimes we can forget to check out the boring but important bits like whether you'd be trespassing on anyone's land, or if a licence is needed for a ceremony to be able to take place. In some countries, even a ceremony taking place on a private property may still require advance notice at the minimum, if not an actual licence. Beaches for example, although are public spaces, do in most cases fall under some town/borough or county's jurisdiction, so it really is worth checking that your gathering can gather legally and of course safely, whether it's for a civil ceremony or blessing.

Check the season before you choose your date
Many couples like to get married on a date that is significant to them, such as an anniversary or the same date as the day that they got engaged on. Whilst this is terribly romantic, it could also get you into terrible trouble. What happens when you start planning an outdoor ceremony on your favourite date, which also happens to coincide with the typhoon season in the country or place where you have decided to get married? So although that date my be important to you, sometimes you do need to look at the season and the likely weather for your place of marriage before you settle on a date. In the UK, not even having a wedding in the summer months guarantees that there will be no rain but it is without doubt the best chance of a rain-free wedding day that you will have, which explains why July and August are very popular wedding months in the UK. In Spain for example, you are pretty much guaranteed sunny days from June to the start of September, but any dates beyond that may be a bit iffy. So do your meteorological research first, before picking your date, for the best chances of a nice day for your outdoor ceremony!

Don't make your guests suffer
I have been at wedding ceremonies in the middle of August, where the heat has been so strong that even your eyes were sweating. NOT FUN! Conversely, I have been at outdoor weddings where my lips have chattered away with cold throughout the whole ceremony. NOT FUN! Of course, ultimately it is your call about whether to go ahead and have your ceremony outdoor in the event of adverse weather but you should really take into account how it will also affect your guests. You want your guests to enjoy and engage with you and be a part of the ceremony that you've poured your heart into. Nobody wants their guests to be shivering into their coats (or even having to wear a coat! Unless it is a winter wedding of course) nor do they want guests in danger of getting heatstroke. Think about parasols and fans for summer weddings and standing gas heaters for outdoor ceremonies on cold days or seasons.

 Cheat
Now with so many amazing tent and canopy companies, it is possible to still have your ceremony in the most stunning outdoor location but be safe in the knowledge that if it did rain (or was too hot!), you and your guest would be literally, covered. So, that clearing in the woods that you fancy, could still be a possibility if you hired a tent to shelter you and your guests.
Also, tents and marquees are a good way of breaking up an outdoor space into different areas; an open air ceremony space, followed by canapes and your reception under the covers of a gorgeous tent. Not only do they look amazing and are very on trend, but they will help you to relax and have a more enjoyable day, especially if there is any doubt that bad weather could affect your ceremony.
So there you have it, if an outdoor ceremony is most definitely on the top of your wedding dream list, then go for it! With good research and taking the important factors into account, there should be no reason why your ceremony can't take place in your dream location and of course, without any hitches!
And if you're planning on having a UK outdoor wedding ceremony, why not check out this fab wedding venue directory, to see if your dream venue is on there.