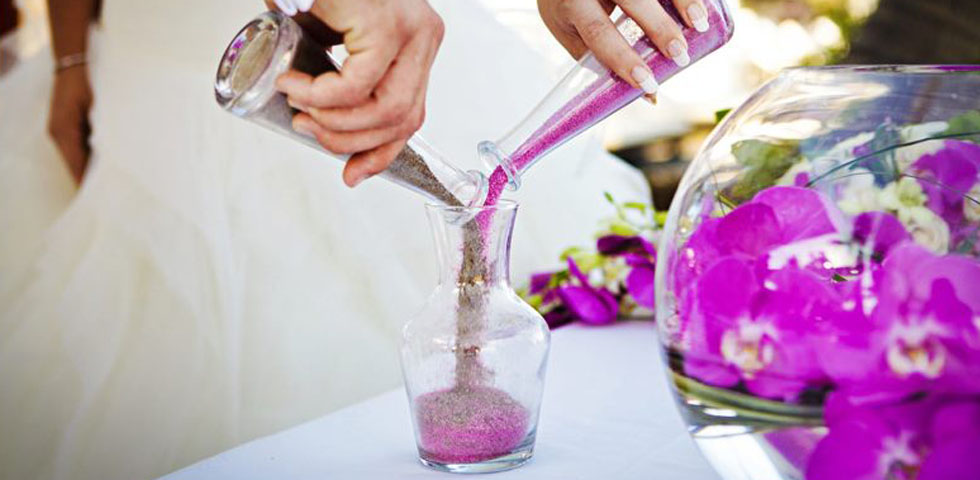 I don't like the words 'symbolic ritual,' very much. They sound like they've come straight out of the Twilight books. Bit too witchcrafty for my liking and sometimes I worry that it gives couples the wrong impression of what they are. Maybe, its time to think of a new phrase, but until then let me explain what they are and which ones at the moment are bang on trend.
So to get all Oxford English on you, a symbolic ritual is an element of the ceremony where the couple take part in a physical gesture which signifies the commitment that they are about to make. It can also be a simple display of the love and affection that they have for each other.
Many couples like to include one or two symbolic rituals in their ceremony to do something that they think reflects their personalities, or represents them as a couple or in some cases to incorporate a cultural element into their ceremony. Some couples include a symbolic ritual for none of the above reasons, but simply because they want to do something different during their ceremony, and why ever not?

The candle ceremony – of all the symbolic rituals the candle ceremony is perhaps a firm favourite with many couples due to its simplicity yet powerful symbolism. Also, it's probably the ritual which most people are familiar with, as it does have some roots within Christian religious practices too. The candle ceremony involves the lightening of three candles; two taper candles, which represent the two individuals and a third, bigger candle, which represents unity. Each celebrant or wedding minister will have their own way of carrying out a candle ceremony, but the general premise is that the two individual candles are lit to represent the couple and each person within that couple. Once those candles are lit, the couple then light the central candle using the two already lit taper candles. I usually instruct couples to blow out the taper candles once the central candle is lit, as most of my ceremonies are outdoors and so they'll likely blow out anyway. I like to keep the central candle, which I place inside a big glass vase, alight for the duration of the ceremony, if possible. A really nice variation of this ceremony is to have mothers or another female family member, involved in the ceremony. Now, you know how much I love anything that involves mums more in the ceremony. The mums light the taper candles, as representatives of the family and then pass the candles on to their children who then go on to light the central candle. This is a nice way of making the ritual more family-centric, so that the union symbolises the joining of two families, as well as two individuals.

The sand ceremony – it naturally follows to discuss the sand ceremony, as this ritual is identical in symbolism and practice to the candle ceremony, except of course sand is used instead of candles and flames. I love the sand ceremony as it is very versatile and of course highly symbolic if you are having a beach ceremony. So like with the candle ceremony, there are three elements; the two individual containers of sand and a central empty container which will house the sand once it has been blended together. I like to encourage couples, when they can, to use sand that means something to them. I once had a couple who before they married had been travelling around the world together and had collected sands from Ayers Rock in Australia. For their ceremony, they mixed it with sand from their local beach in Dublin. It was so beautiful and just that little bit more symbolic because the sand meant something to them. The two sands were also so contrasting that visually it looked amazing as well. I do love the candle ceremony but I do think the sand ritual is a safer, more practical option if having an outdoor ceremony.

Hand-fasting Ceremony – this ritual has deep Celtic and Medieval roots and I think with Game of Thrones being so huge right now, there definitely is a shift in couples wanting to include more medieval inspired elements in their ceremonies. You must check out my Game of Thrones inspired vows, they are awesome. Personally, I really love the handfasting ritual. I think it is so goddamned romantic and very profound and there's nothing more special than getting to hold hands with your love bunny, looking him/her in the eyes and saying your silent 'I love yous.'. Handfasting rituals can be designed so that the entire ceremony is centred around the binding of the hands, but in most cases a simpler version is used so that the ritual becomes an element of the ceremony, rather than the whole ceremony itself. I like to start off by explaining a little bit about the symbolism of the handfasting before getting the couple to cross and hold their hands. I then bind their hands, before saying a hand blessing. Gorgeous.

The Rose Ceremony – there are many many variations of the rose ceremony, but the one I like most is where the couple exchanges a single rose to each other and then places their rose into a central container to symbolise their togetherness and commitment. What I love about the rose ceremony is that it can be used to look at marriage in a modern way. For example, highlighting the fact that a rose is beautiful ie so is marriage, but that it is also prickly and thorny, so is marriage – see where it's going here? And that in exchanging the roses, you are promising to accept that with the good comes the bad and that there is a need to face them together, hence why placing the two roses together into the vase. Sometimes it's nice to keep it real and to say to the world, 'hey we're not idiots, we know marriage is no fairytale, but we're in it together and we're working towards it together.' I love that.

The wine ceremony (cup of love) – hands up who loves the idea of having a bit of booze during the ceremony? Well, I certainly do, but for symbolic reasons of course (yeah right!). Like, the rose ceremony I love the way that this ritual has a modern outlook on marriage. The couple share sips (yes, sips people) from a large goblet of wine whilst the celebrant explains the symbolism of what the wine represents; the sweet (good stuff), the bitter (bad stuff) of wine (of marriage).  I use a local regional wine that does actually taste like this, so that the couple really do have a physical reminder that wine can taste both sweet and bitter at the same time and in turn they accept that marriage can be along those lines too, sometimes.

The memory box ritual – unlike the other rituals, the memory box is not really symbolising anything as such, it's just a wonderful thing to do during your ceremony and to set in action a wedding keepsake for the future. The idea behind the memory box, is very similar to a time capsule. Couples have a box that they place meaningful items into and the box is then sealed, usually with nails, to be reopened at a significant time in the future. There are so many ways to do this and so many different things that you can put into the box. Luckily for you, I have written a feature all about the memory box ritual in more detail. I know, I'm very nice like that. If couples have a lot of items, they can pre-pack the items into the box and do the actually sealing of the box during the ceremony, or if it is just a few items they can place the items into to the box and seal the box too. A nice touch, you know I love my nice touches, is to have family members or friends, (not clumsy ones, though) to help nail the box shut. One of my couples had an all female line-up of nail hammerers and oh my, were they they impressive! They made Handy Andy look like Bob the Builder.
So there you have it. Here's what I consider to be some of the most popular symbolic rituals to include in your wedding ceremony. I am constantly being surprised though, by couples new and innovative takes on many of these rituals, making them more unique to them and their special day, which after all, is what it's all about.
Have you put your own spin on any of these? Or have you made up your own symbolic ritual for yourselves? Nosey me would love to know!