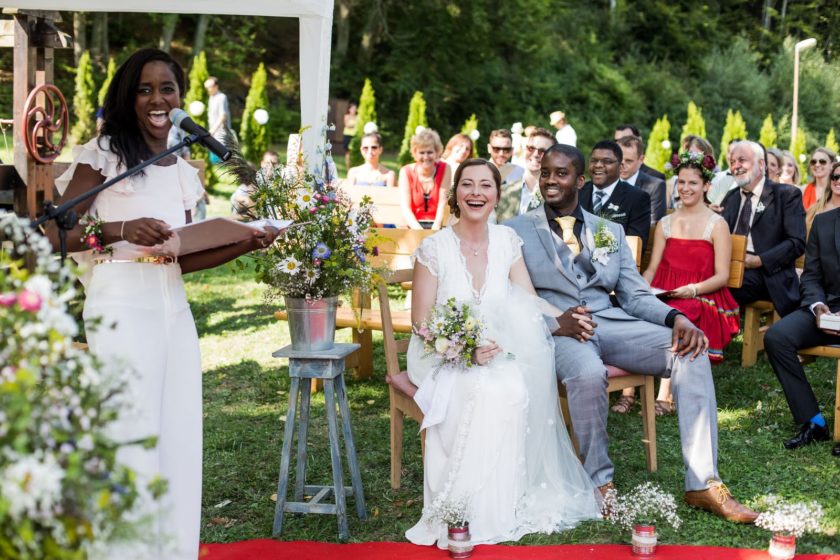 I am seeing and hearing of more and more weddings where couples are asking friends or family members to conduct their wedding ceremonies for them. I cannot tell you how much I love to hear this, even if the idea of it is slightly contrary to what I do as a wedding celebrant. But, because I am a celebrant who leads so many beautiful ceremonies, I also know how important it is to feel comfortable and happy with the person leading your ceremony for you. So I also completely get why for some people the best person to do such an important and special job for them is a friend or family member.
If you are one of the chosen lucky ones, who has been given this amazing opportunity (it may not feel like it yet!) you will learn, if you haven't already, that there is much to consider. MUCH. Because with power comes great responsibility. But before you all start quaking in your boots, I'm going to hand you over to the lovely Nova from Nu Bride, my super blogging buddy, who this summer got to don her very own celebrant's crown for a special family occasion. So who better than to give advice and tops tips than Nova herself?
Nova's awesome advice
Well, hello gorgeous.
I was lucky enough to be asked to conduct part of my brother and sister in law's wedding ceremony earlier this year. It was such a great privilege and a wonderful moment. One I shall treasure!
Being asked to contribute to a family members wedding in any capacity is a real honour and also a big undertaking, which you want to take seriously so understandably, it's not for everyone.
I was lucky I had a bit of a head start, with my background as a professional actress/singer performing and public speaking were familiar to me, which was the easier part. As a wedding blogger, understanding the industry and having some experience in creative writing made it a lot easier. But don't let me disillusion you, even with these very helpful advantages; it still was no easy feat. Thankfully I have some gorgeous celebrants in the industry I could call upon for extra tips!
Is it for you?
If you are lucky enough to be asked to conduct a ceremony for a family member, start by deciding if you would like/or are equipped to take on this role.
If you would love to be involved, but confidence, or public speaking is a worry for you, be prepared to put some work in way before the day. Being confident enough to lead and speak in front of an audience is a skill and takes practice. Put yourself in situations that are new and take you outside of your comfort zone, like learning a new skill, overcoming them will give you a boost. Try some confidence building and voice projection classes with a life coach or drama coach too.
Once you've said yes, arrange to meet with your family member and their partner to ask them what they want from their wedding ceremony and what they want from you. Are they having a civil ceremony first, marrying in a church, will the ceremony be inside or out? Will you have a microphone? What legal requirements are required? Who else is involved in the ceremony? Are there any readings, live musicians, music? Are they writing their own vows? Do they want you to conduct some or all of it?
If it is a wedding marrying two cultures make sure you are up to speed on cultures on both sides. Dedicate time to get a better understanding of some of the cultures and traditions involved.
The personal touch

Now the best bit for me was asking my brother and sister in law to complete a couple's questionnaire that I tailored for them. I knew I wanted to use this to shape and tell their story during the ceremony itself. To share nuggets of information to friends and family that they might not know. Everyone loves a love story – especially at a wedding!
It's great if you email your chosen questions and ask them to complete them separately, without conferring, as it is a lovely surprise for them to hear each other's responses for the first time on their wedding day.
I loved the opportunity to dig for information about how they met, what they love about each other, first impressions, pet hates, it was also a great exercise for them.
Creating the ceremony
Think about the structure.
Always structure your script with a clear beginning, middle and end.
Beginning
Introduce yourself, who are you? How do you know the couple?
Talk about them, share their love story how they met, what they love / about each other, what niggles, who's the better dancer. What marriage and the future means to them? Don't be afraid to add humour too, this is the easy part, just use some of their answers from your questionnaire to shape the content**
Middle
This could lead into sharing an exchange of rings, leading them to exchange vows along with being truly creative you could also use this moment to incorporate other gorgeous rituals from around the world, like a ring warming ceremony for example.
If you are not leading the ring exchange, their love story would fit nicely here instead**.
End
To close, write a summary about them. What this day moment means to them and also you and their friends and family. How you will support them? A wish for them on their journey, through life and to happily ever after.
The finishing touches
Once you have your script, now it's time to practice!
Re-read it out aloud again and again. Practice it and record yourself.
Are you speaking too fast? Too softly. Too loudly? How's your diction? Are you mumbling?
Here's the hard part: get feedback.
Record yourself. Watch yourself back on camera. Yes it's painful but such a helpful tool to help you improve and self-evaluate. Are you pausing to make eye contact, or is your head permanently in the script? Are you adding truth and authenticity to what you are saying, or are you simply reciting? You want to practice your script, but you don't want to rehearse it so much it sounds like you're acting or reading. Find the balance. Be critical, but don't be cruel, it's not easy!
For couples exploring asking a family member to conduct their ceremony, think about the person. You may love them and want them involved, but are they a confident and charismatic speaker? Can they perform in an environment with all eyes on them?
Conducting and writing a bespoke ceremony is about creating, delivering, performing (with sincerity – not acting!) and confidently leading your service and your guests on a journey with you.
I absolutely adored writing and conducting a ceremony for my family, but it's a lot to ask of someone who has no prior experience public speaking or engaging an audience, so think carefully about who you ask. It is a huge honour but also a rather gigantic task and it's your ceremony that's the most sacred, you don't want to mess that up, so be sure.
For more tips on conducting a ceremony for a family member and giving your confidence a boost, you are welcome to drop me a line. Happy to help!
Happy preparing!
Mad love to;
Nova from Nu Bride – I could not have written this piece better, hence why I asked Nova too. She's been there, she's done it and her advice is spot on!
And to the KT Photography for the wonderful images of Nova in action at her brother and sister in law's gorgeous wedding.