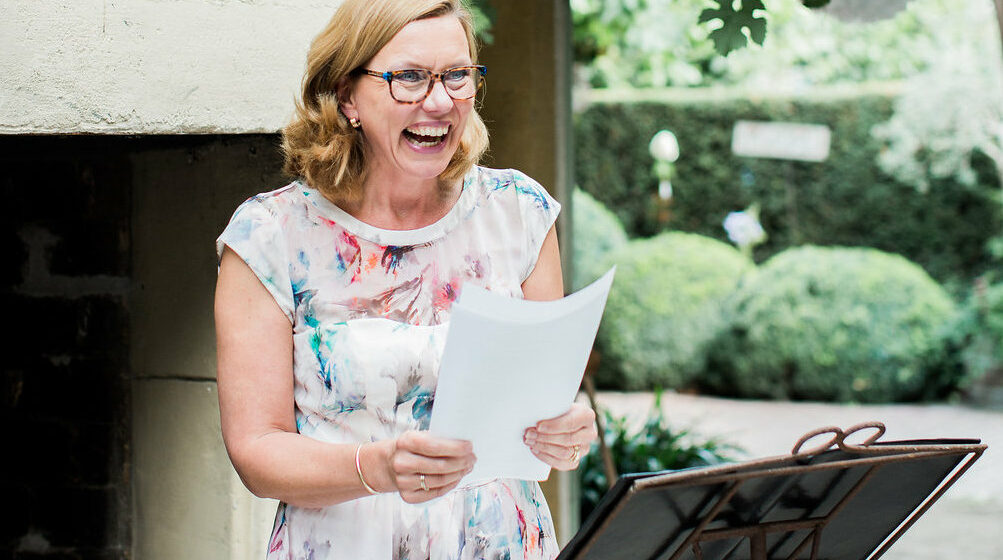 Can I just take a moment to introduce you to the awesomeness that is Dutch Wedding Celebrant Pauline Suidgeest? Pauline has been lovingly creating the most wonderful personal wedding ceremonies in Holland and all around Europe since 2005, in both English and Dutch. Wow! There is little she has not experienced and had the privilege of witnessing and being a part of.
With a smile like Pauline's you can see why so many Dutch and international wedding couples, choose her for their wedding ceremonies in Holland and beyond. She just oozes happiness.
Read on to learn more about Pauline, about her over a decade's worth of wedding experiences and knowledge and her absolute gift in being able to create strong and personal connections with couples who chose her for their wedding ceremonies in Holland or Europe.
Say hello to Pauline.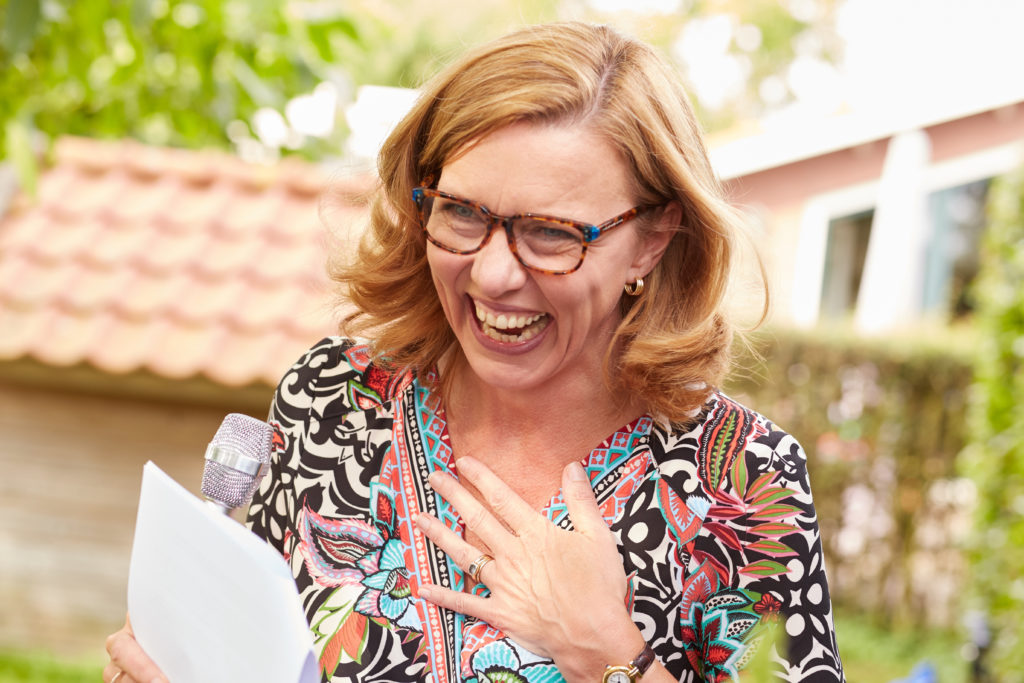 What has been the highlight of your Dutch wedding career so far?
Can I only mention one highlight?! 😉 I was asked to conduct 'a million dollar wedding' live on Dutch television on prime time on a Saturday night. A huge adventure, 6 cameras, the best artists performing live and I loved it. I have conducted weddings in the most beautiful spots of Europe for all kinds of people. But highlights are when all hearts are touched, when you all feel uplifted because you feel so blessed to be part of a ceremony so precious….
What has being a wedding Celebrant in Holland taught you about life and people?
Being a celebrant has been extremely educational to me. One of the questions I like to ask couples, is what they are grateful for in regard to their parents. This has been very inspirational during the years I was raising my children. I feel so blessed to have received all these beautiful and very inspiring stories that helped me to be aware of what is the most important to a child. Furthermore I have learned that sometimes you might think there is a distance between people. As soon as you start a conversation, talk about lives, blessings and struggles, you recognise the human side of the story and most of the time, immediately feel connected. I have done lots of ceremonies for international couples from all over the world, both in Holland and in other European countries. Like a bride from Lebanon and a groom from the States, who met in Dubai and now live in Amsterdam. Their guests flew in from all over the world to celebrate love. In multi-cultural/lingual ceremonies people are very often insecure how to behave, what's expected of them. In my ceremonies I aspire to create a rather informal, relaxed atmosphere and it's magic when it works and not only the happy couple, but also their families and friends really feel connected and touched in their hearts.
What advice would you give to couples getting married now? What mistakes could they do with avoiding?
I would definitely advise wedding couples to create the most personal and loving ceremony they can. No standard readings and no clichés about married life, but a heartwarming story about the happy couple and the most important people around them. Make sure the ceremony is the beating heart of the wedding day. Don't settle for a visiting-dignitary talk! Create your best possible ceremony with a professional, willing to invest time, experience and all of their talent in your ceremony. Someone who will inspire you with ideas to create a very personal ceremony that you will still remember long after your wedding day. Make sure you do what you like and what suits you. This is your wedding day and I think you should really focus on what you love and not on how you're supposed to do it. Don't go to a fancy castle when a mellow atmosphere is what you love. Think outside the box. If you want a ceremony in the evening just before the party starts, why not? If you want to surprise your friends and family and want to get married on a 'regular' birthday-party; that's a great idea! I think it would be great if couples use their hearts (instead of Pinterest) to create the ceremony that fits them best.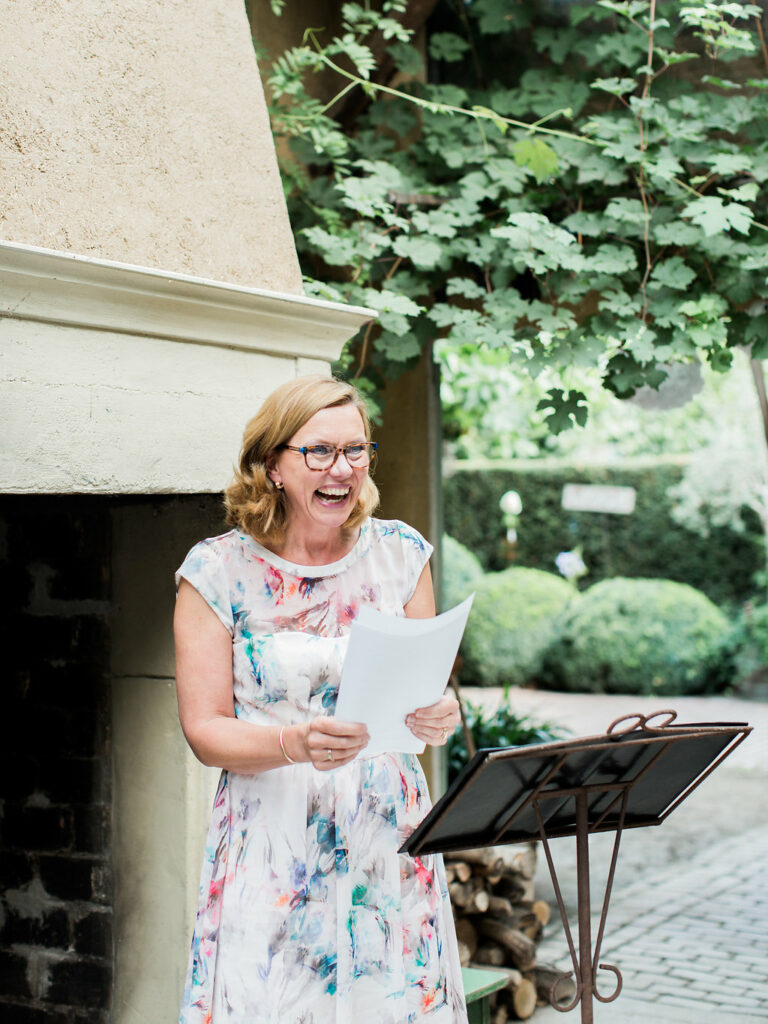 What do you love about being a Dutch wedding Celebrant in Europe?
I love meeting people, hearing their stories and returning these stories to them and their families and friends in my way on such a precious moment. I love it when I'm able to create a special atmosphere for and with the couple, in which people forget time and feel blessed to be part of this celebration.
What aspect of your job as a wedding Celebrant gives you the most satisfaction?
Being a wedding celebrant is so rewarding; I often feel blessed! I experience the most satisfaction when in the preparing conversations I already feel connected to the couple, can talk in-depth with them and have fun. These are the best ingredients for a ceremony where we laugh a lot and people might get a little (or more) emotional. It's a true celebration of connections; that's what gives me most satisfaction.
What are your favourite types of wedding ceremonies?
My favourite type of wedding ceremonies are very personal and relaxed ceremonies for international couples, preferably both from separate countries or even continents. Being able to honour the connections of such a couple is extra rewarding, exciting and fun. You can apply local traditions if you like, but you can also create a unique ceremony with the elements you adore. International groups of people are harder to bring together, but if you manage to do so, there is magic happening. Afterwards, I sometimes even get hugs from the mother of the groom 😉 I love travelling and meeting new people, new cultures and I love how multi-culti-weddings bring the world to me.
If you had to sum yourself up in three words, what would they be?
I like to tell stories; it's hard to pick just three words 😉 charming, trustful, sensitive
What's your favourite symbolic ritual, and why?
I don't have one favourite symbolic ritual. I will check with the couple what they like to do and what suits them. So sometimes a ceremony I conduct can have several symbolic rituals, sometimes it's 'just' words and not really a ritual.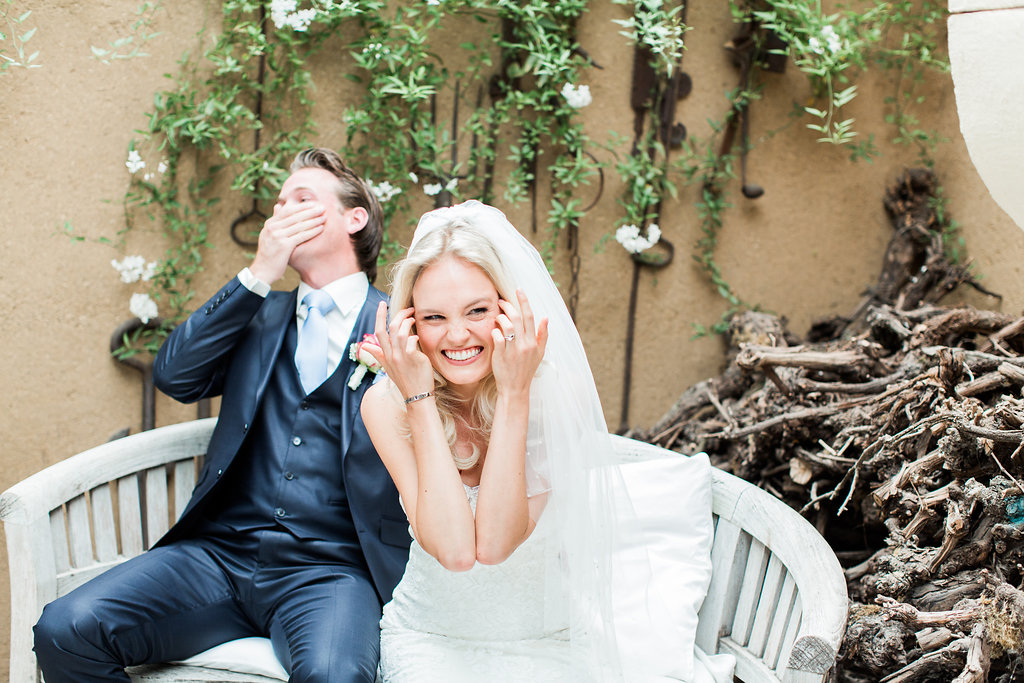 What would be a dream ceremony for you?
A ceremony for an international same-sex couple. They often have heartbreaking stories and it's so special to be able to touch them and top off with the love they celebrate now. Preferably they get married in our European winter, when wedding season here is low and pick a nice spot somewhere in the world where it's warm and sunny! But if they prefer to get married in Amsterdam as the 'Gay capital of the world', that's also fine 😉 And of course I also love to marry any type of couple, whether it is in Holland or abroad.
How would you say the wedding industry has changed in the last fifteen years?
I am proud to be the instigator of a big change in Holland: the personal ceremony. When I started I was the first self employed wedding celebrant and now there are hundreds of them. Ceremonies in the Netherlands are getting more and more personal. My goal is to spread the (very) personal ceremony over the world! The industry has also changed due to the internet in a way that it is becoming more and more international. Couples are more mixed and their wedding wishes are changing. They are searching for new ways to celebrate their wedding, because the old way doesn't fit their (international) life.

What kind of couples do you enjoy working with?
I enjoy working with all kinds of couples, but my favourites are international, same-sex couples, and second marriages. Most of my couples are well-educated (at school, but also in life) and to them the substance of the ceremony is more important than the outside.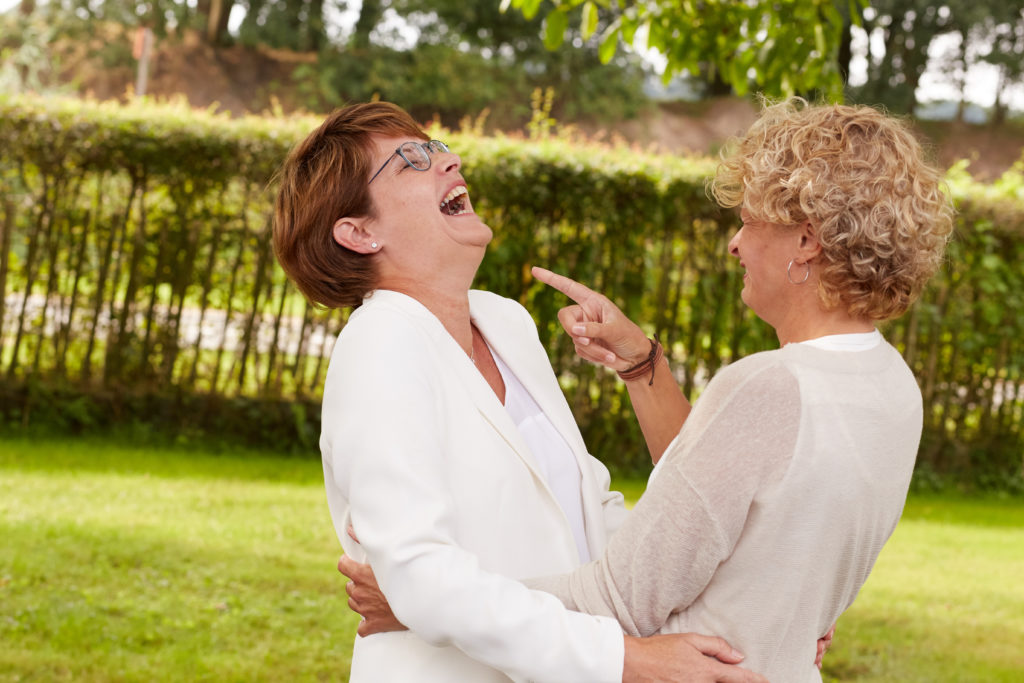 Tell us about some of your most memorable wedding experiences that you've had as a Celebrant
I remember a ceremony in Amsterdam for two American guys, who couldn't get married in their state. One of their friends jumped up and yelled: 'This is definitely the most funny and best ceremony I've ever been to!' He had the whole room applauding for me; in the middle of the ceremony! 😉 Then there was a ceremony for a nice Dutch couple, of which the bride lost her brother quite young. They asked a singer to sing a special song for him, but she was so young and unexperienced, she couldn't handle the emotions and she ran off. I also remember a ceremony of a couple in their twenties, that had already lost three parents between them and the last one (his father) was in the room, diagnosed with severe cancer and only had a short time left. The atmosphere was tense but we managed to create a feeling of 'we are all in this together' and together we can bear it. We all felt so connected, blessed and it truly was a magic celebration of love.

What are your favourite types of venues/spaces for weddings?
I remember a ceremony in an amphitheatre on Ibiza, overlooking the sea and a huge rock. It was fabulous! I love it that sometimes I do a ceremony in a living room, garden or barn and other moments I can be on the beach, in a castle or in a fancy hotel. Whatever suits the couple, suits me!
When you're not busy being a Celebrant what do you love doing?
Have you got another 5 minutes? 😉 Travelling, cooking & baking, eating, coffee and wine, reading, yoga, nature (walks), theatre, music, film, museums, personal development. Having fun with my children (19 & 21). Having fun and/or wonderful conversations with friends.
Isn't Pauline amazing? Doesn't she just radiate love and joy? If you can picture Pauline as your Dutch wedding celebrant conducting your international Dutch or English wedding ceremony in Holland or around Europe, then do get in touch with Pauline here.