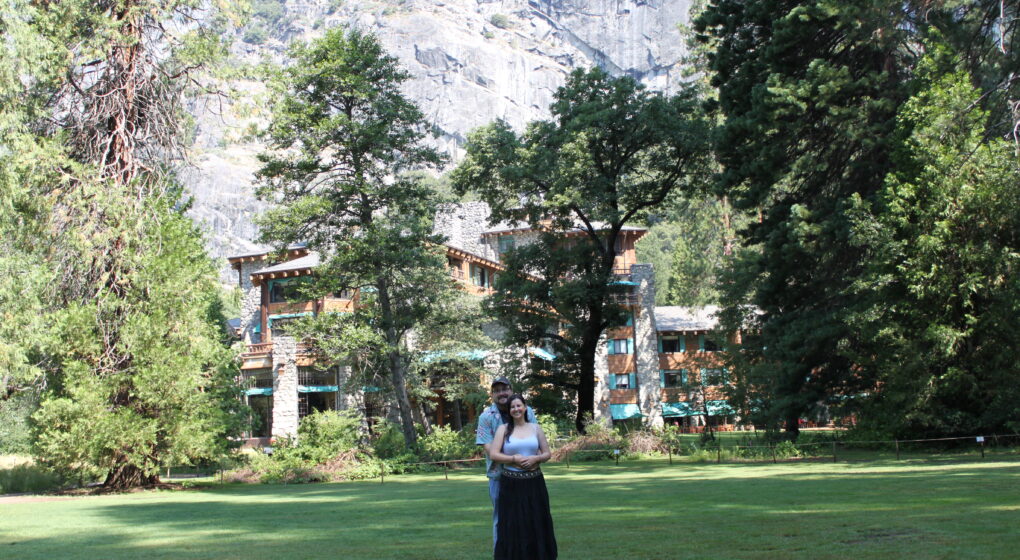 One couple's story of how they stayed true to themselves by planning a wedding full of eco-friendly choices
By Matt and Beth McMurphy
We have always believed in living a "green" lifestyle, and we were both raised to try to leave the earth a little better than it was when we entered it. That was a quality that we both admired in each other before we were even dating, so it only made sense to apply that shared value to a major life event that would be shared with many people: our wedding. Here is a brief story of our experience, and some of the ways we made positive, eco-friendly changes to traditional wedding choices so that we could have the wedding we wanted while keeping our carbon footprint as small as possible.
We either found our ideas or were inspired by similar ideas through various helpful online wedding sites, but our most helpful and inspiring resource was the book Green Chic: Saving the Earth in Style by Christie Matheson, which chronicles how to have a positive, green lifestyle, whatever your budget, without sacrificing quality. Beth had purchased the book years before we got married just as a guide to day-to-day practices, but Matt secretly read the section about how to responsibly purchase diamond jewellery when he was ready to propose (more on that below).
Here are the main ways we reduced our carbon footprint with our eco-friendly wedding. Keep in mind, some of these are as simple as reducing waste, so most of these are easy to apply to a wedding:

1) Beth's engagement ring was made by a local artist who used a vintage diamond (not mined) mounted on a ring forged with recycled gold.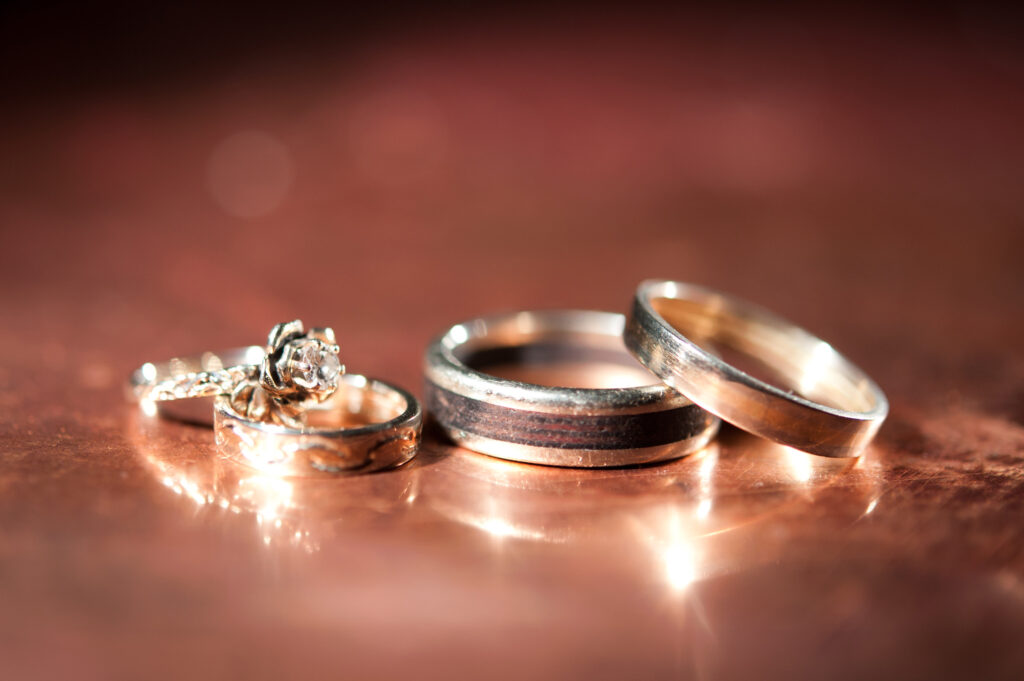 2) Our "Save the Dates" and wedding invitations were digital.
3) Our wedding bands were also made of recycled metals – the bands were layered white and yellow gold from rings that belonged to our grandmothers. This was Matt's favorite eco-friendly move, since it reduced use of mined gold, promoted recycling, and created a beautiful symbol of our two families coming together.
4) Everyone in the wedding party except the bride wore a previously owned and/or re-wearable suit or dress. Beth did something very cool for her bridesmaids – she gave them paint swatches of the shades of green she wanted them to wear, and they then bought, made, or chose an already-owned dress accordingly. The bridesmaids still rave that it was the easiest wedding party dress experience they have ever had.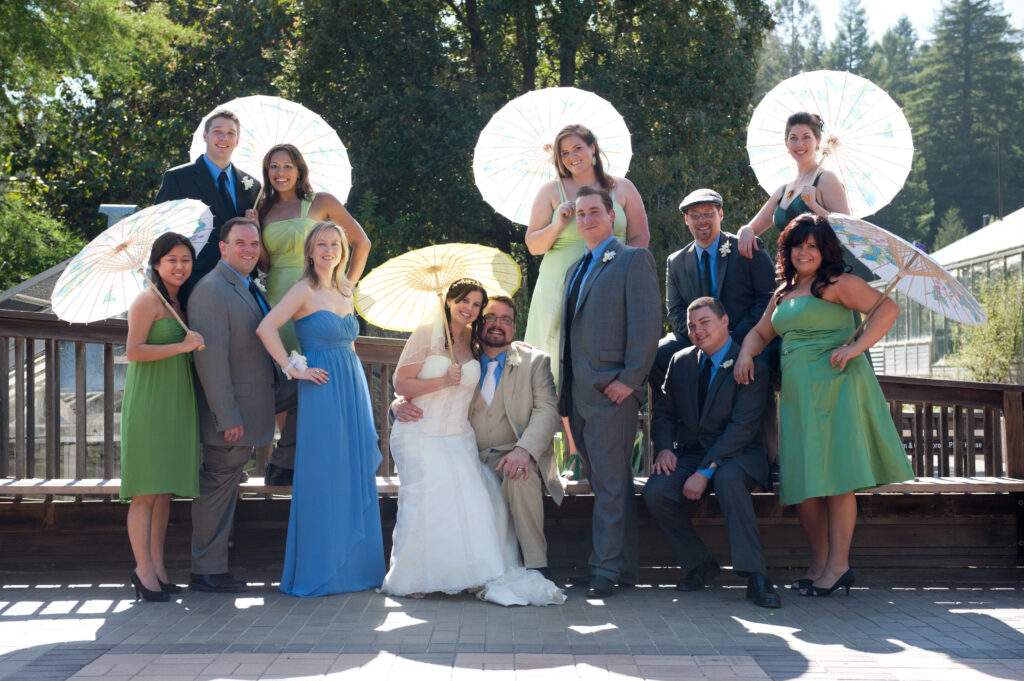 5) Beth and the bridesmaids used parasols instead of bouquets.
6) Our ceremony supported the protection of and education about plant life, at the UC Berkeley Botanical Garden.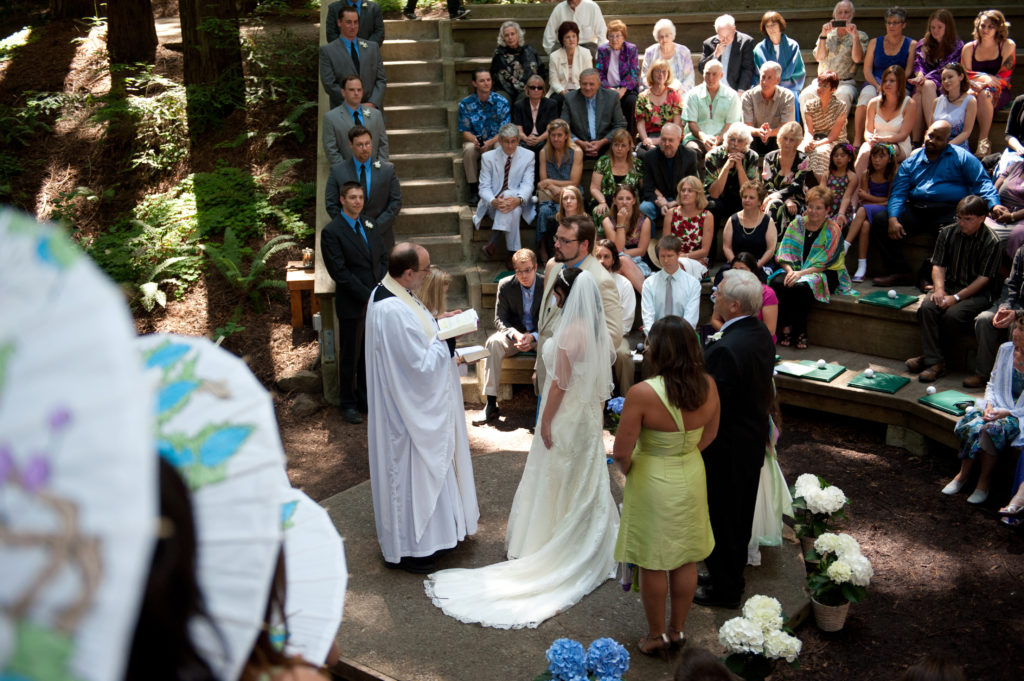 7) Because we were surrounded by the most gorgeous natural decorations Mother Nature had to offer, we minimized our use of commercially-grown flowers and primarily opted for living plants that could thrive long after our wedding day had ended. The potted flowers now grow in the gardens of our home and the homes of our parents.
8) We used a community blackboard at the entrance to our ceremony space rather than paper programs to keep our friends and family informed of who was who and the order of events.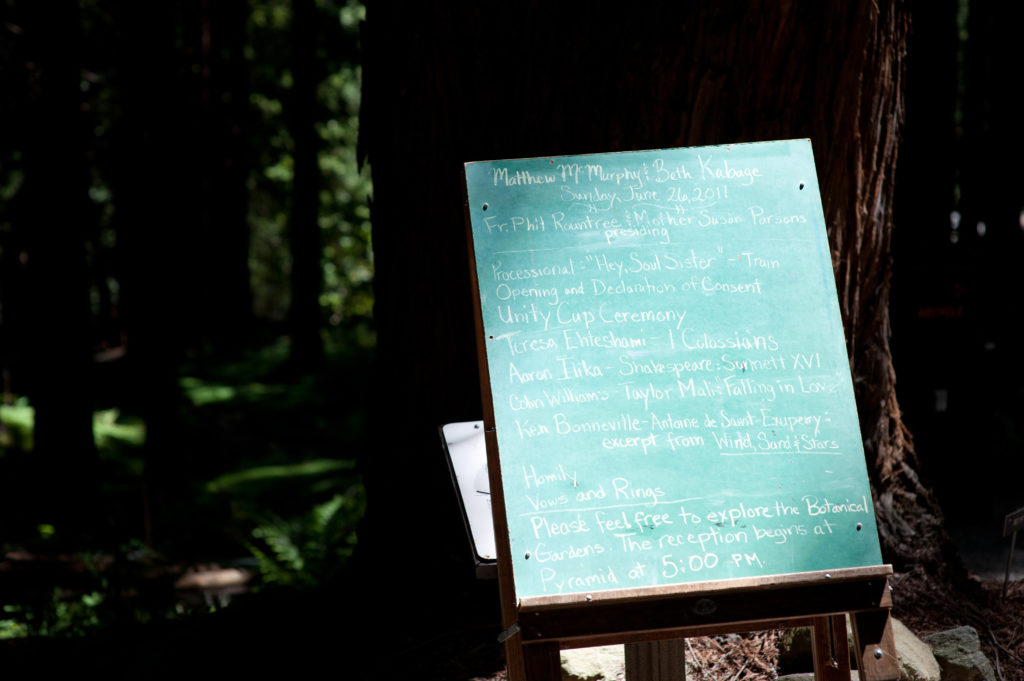 9) Most ceremonial objects were previously owned and have been reused since.
10) Our honeymoon supported our favorite National Park: Yosemite!
Because the majority of these changes were relatively simple, they were easy to implement. The most difficult part of planning a wedding with eco-friendly elements was dealing with more traditional family members who did not understand some of the more modern choices we made to have a green wedding.
One of our parents – we will not say which one – could not stand the idea of just digital invitations, and purchased a set of twenty invitations (luckily made out of recycled paper) to send to their close family members to save "embarrassment."
There were also some family members who took issue with our wedding being in an outdoor, natural setting, rather than inside a church. We made it through these challenges and countless arguments by staying true to ourselves and believing in this fact: Our wedding is one day, but our marriage is for a lifetime, so the choices we make in planning a wedding should reflect the life we lead. We were also surrounded by many family, friends, and wedding professionals who understood our vision, supported it, and helped the more traditional opponents see reason.
One element to an eco-friendly wedding we wanted but could not do involved the wine at the reception. We both love wine, and support and enjoy local wineries that use sustainable, green methods to create their great product. However, those wines can also be expensive, so to buy enough for 200 people was beyond our budget. We made sure the wedding party table had sustainable wine, but wished we could have shared that with everyone present.
We are fortunate to live in the northern Bay Area of California, which is very earth-conscious and has a consumer population that values sustainable and eco-friendly products, so it was easy for us to find wedding professionals and local businesses who could support our vision. Our area also has several botanical gardens, nature preserves, state and national parks, and even the nation's only living national monument (Muir Woods), so finding a venue that protects, promotes and supports the preservation of our natural world was very easy. We were also very fortunate to find two jewelers who worked with recycled and antique metals and diamonds to make Beth's engagement ring and our wedding bands.
We are proud of the creative touches that brought sustainability to our wedding while still representing our personalities. In our ceremony and throughout our wedding day, we were able to share the joy and beauty we find in nature as we shared our vows before our friends and family. We hope that telling our story can empower you to do the same.

What an inspirational wedding story from an inspirational couple. It just goes to show the small ways that you can make amazing eco-friendly wedding choices and do some good for the environment at the same time too!
---
Matt is a wedding officiant ordained through American Marriage Ministries, and his services include wedding officiating, and speech coaching for wedding party members giving a toast, and coaching for new officiants. Matt credits his awesome and lovely wife Beth for becoming a wedding officiant and inspiring him to do a job that he absolutely loves.