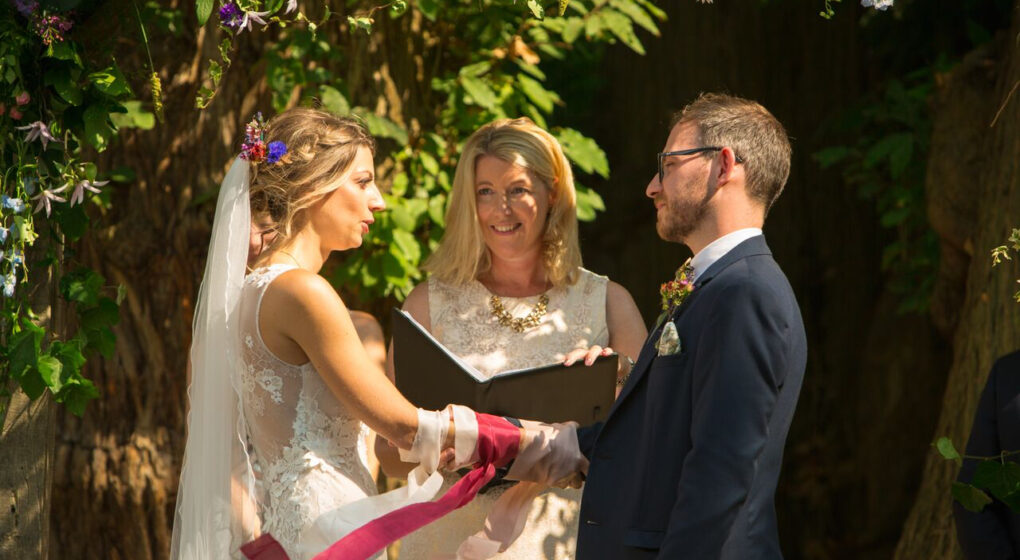 In the six years that Humanist Wedding Celebrant Jane Blackman has been creating and delivering stunning heartfelt wedding ceremonies in East and West Sussex, Hampshire, Kent, Surrey and beyond (she's even off to Barcelona this summer to lead a ceremony!), she has left a trail of loved up and happy couples. Couples who couldn't be any happier with the incredibly personal ceremonies that Jane created for them.
Will you be the next couple to be left on cloud nine by Jane?
Oh and did I mention that Jane is a UK multi award-winning wedding celebrant. She's just recently added the Wedding Industry Awards Celebrant of the Year award to her trophy cabinet! Amazing, right?
Find out more about this Sussex based Humanist Celebrant here. It's guaranteed that you'll love her.
What has been the highlight of your wedding career so far?
Honestly – every wedding is a big highlight – what's not to LOVE about being at a wedding?! If I had to choose one particular highlight though, I guess it would be winning the national (TWIA) Wedding Industry 2020 'Celebrant Of The Year' Award, having previously been a South East regional winner and national runner up in 2019. The voting and judging relies on real couples giving detailed feedback and so that particular award means so much – knowing how happy my couples have been with the service I have provided them with and the contribution I've made to their big day.
What has being a wedding Celebrant taught you about life and people?
That human-beings and their stories are deeply fascinating and that it's a privilege to hear them and write about them. When I tire of that (hopefully never!) I know it will be time for me to find something else to do! I'm enormously grateful every day for this role, which gives me so much pleasure – I'm definitely a much more positive, appreciative person as a result.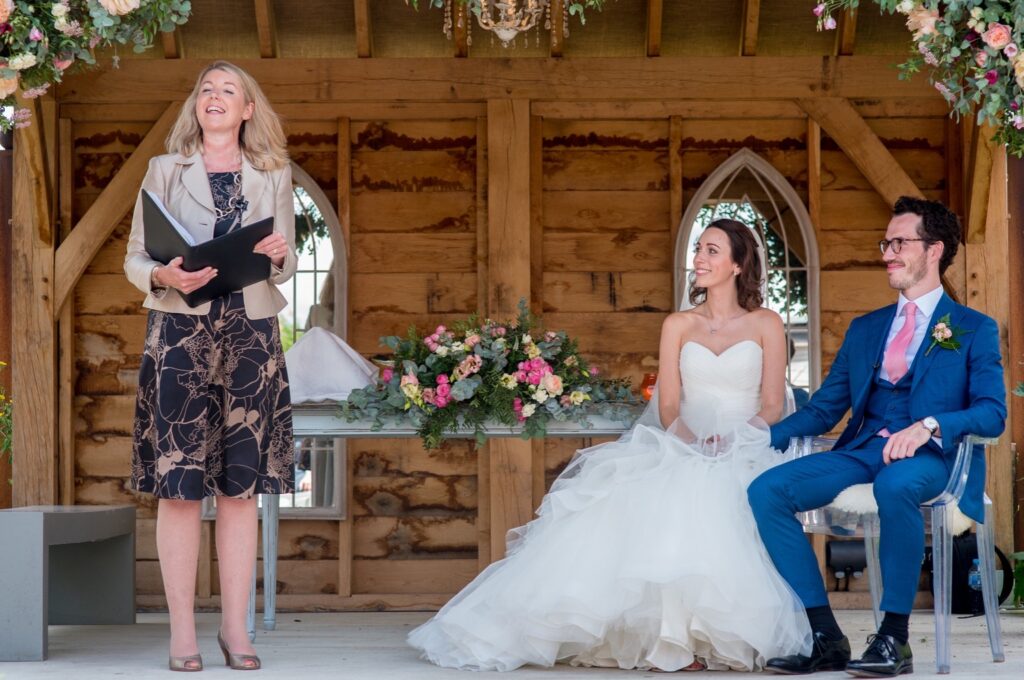 What advice would you give to couples getting married now? What mistakes could they do with avoiding?
Know that you have SO MUCH choice nowadays, and embrace that; take the time to create the wedding that shouts from the roof tops who you are as a couple and enjoy every moment of the magical ride. Don't be forced down any particular route that you're not comfortable with. And of course don't leave it too late to choose your celebrant – we often get booked a long time in advance!
What do you love about being a wedding Celebrant?
A very long list of things, including . . . meeting and spending time with incredible people (the vast majority of whom are amazingly thoughtful, positive and understanding of the work that goes into getting a ceremony just right); being my own boss and managing my own diary; being creative; being surrounded by people in love (!). . . spending time in beautiful places . . . how long have you got . . . I could go on!
What aspect of your job as a wedding Celebrant gives you the most satisfaction?
Delivering a moving, meaningful, joyful ceremony, that truly engages everyone there . . .walking away afterwards, knowing it was exactly what the couple wanted on their big day and that they'll never forget the experience.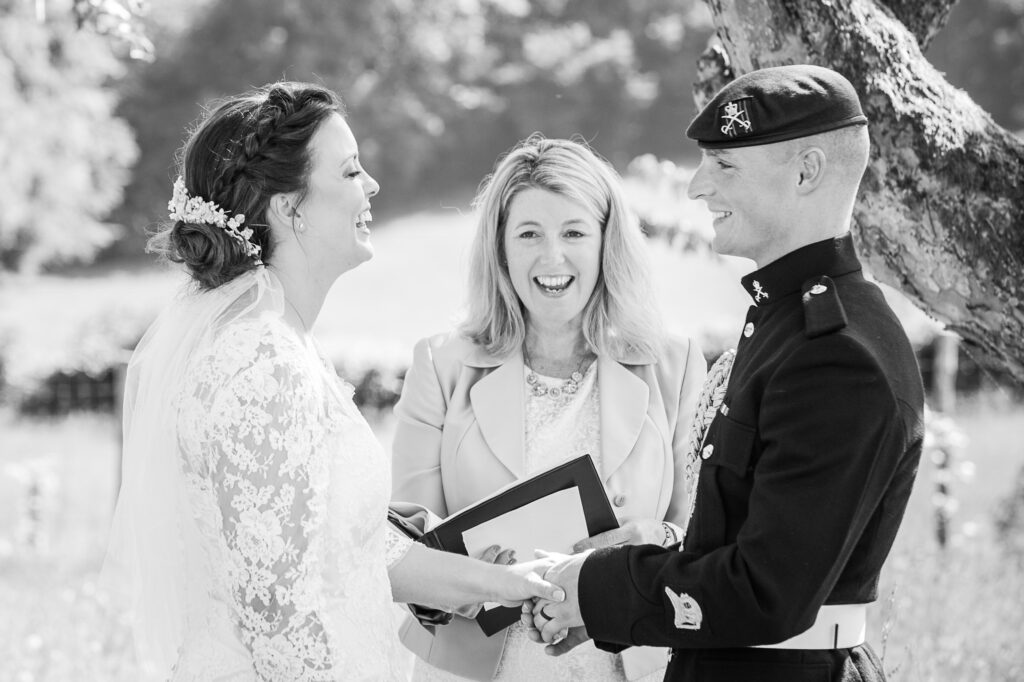 What are your favourite types of wedding ceremonies?
I love outdoor ceremonies (when the weather is kind!) and ceremonies full of fun and laughter – those with a relaxed vibe, suit me perfectly. But I actually love the contrast I experience and taking ceremonies in very different settings with really varied content, is a part of the job I'd never want to lose.
If you had to sum yourself up in three words, what would they be?
Positive, grateful, optimistic.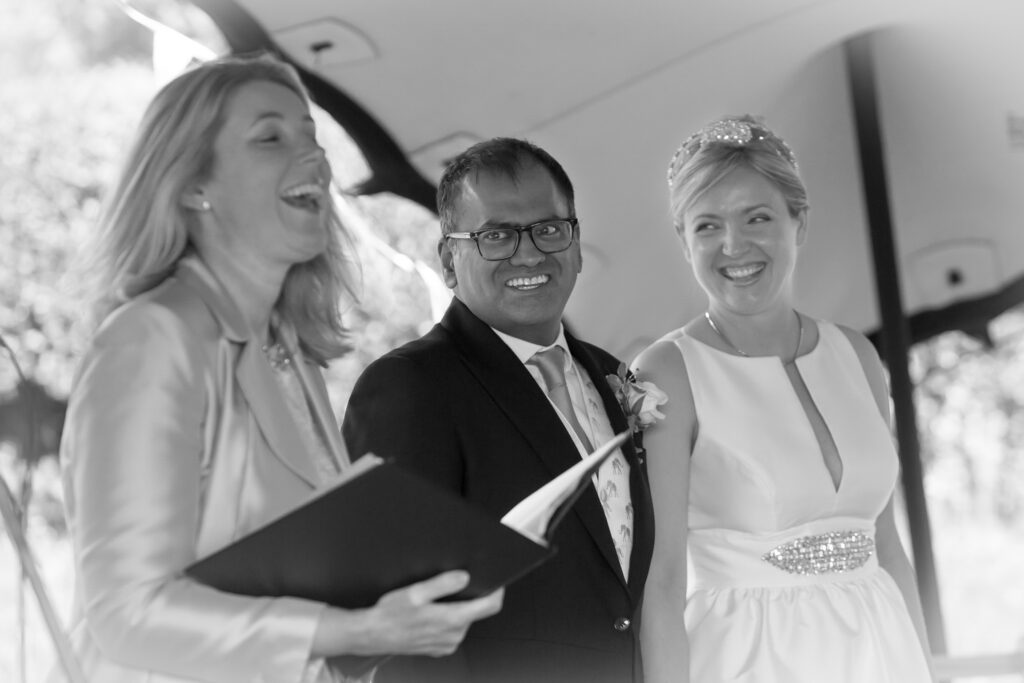 What's your favourite symbolic ritual, and why?
I've recently really got into sharing rituals – couples drinking wine, sharing food, making cocktails, etc in their ceremonies – I love the creativity this kind of element allows and the symbolism that can be cleverly woven within the wording. These sorts of rituals are visually interesting for guests too. But I also love other more traditional symbolic elements, such as hand-fastings and warming of the rings.
What would be a dream ceremony for you?
One that includes live music (I love all kinds of music and I think live music in particular makes a ceremony really magical) and perhaps guest singing (but that only works if they're really up for it!) – and a ceremony outside, on a warm, still, sunny day . . . bliss.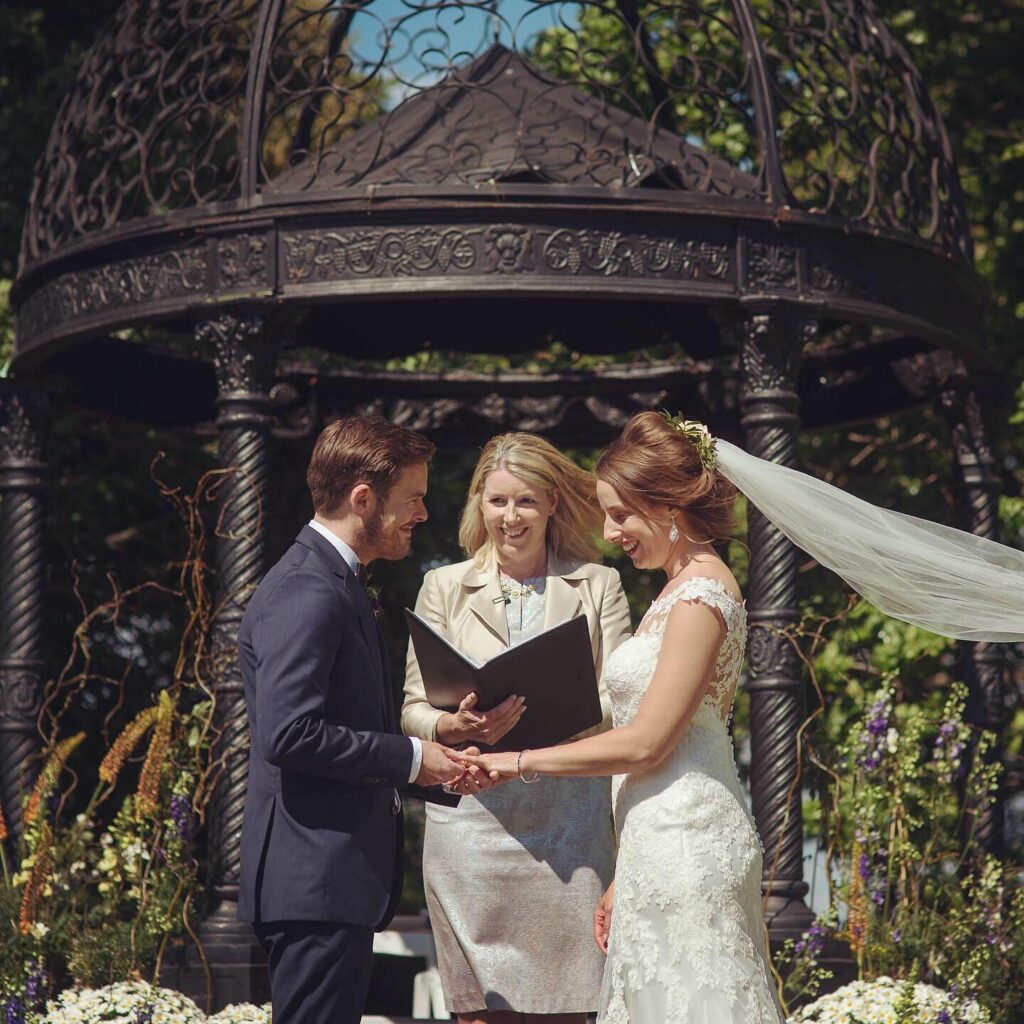 How would you say the wedding industry has changed in the last fifteen years?
There is now such vast choice for couples – so many different options for ceremonies but also venues, styling, location, etc – it amazes me therefore that people STILL don't fully understand the celebrant option for ceremonies – we need to continue to do so much to educate! And I'm truly delighted that inclusivity and same-sex marriage here in the UK is no longer seen as anything out of the ordinary.
What kind of couples do you enjoy working with?
Those who feel their ceremony really is the MOST important part of their wedding day!
Tell us about a funny/hair-raising/near-miss wedding experience that you've had as a Celebrant
I've had missing rings a couple of times and in one case the bride's ring was never found (so we had to use her engagement ring instead – and we were doing a ring warming, so it was essential the ring we used would be worn by her). I heard from the couple, months later, that the missing ring finally turned up, having fallen into the footwell of the bride's father's car – it was tucked under the mat! Thank goodness though, really nothing more serious than that little hiccup.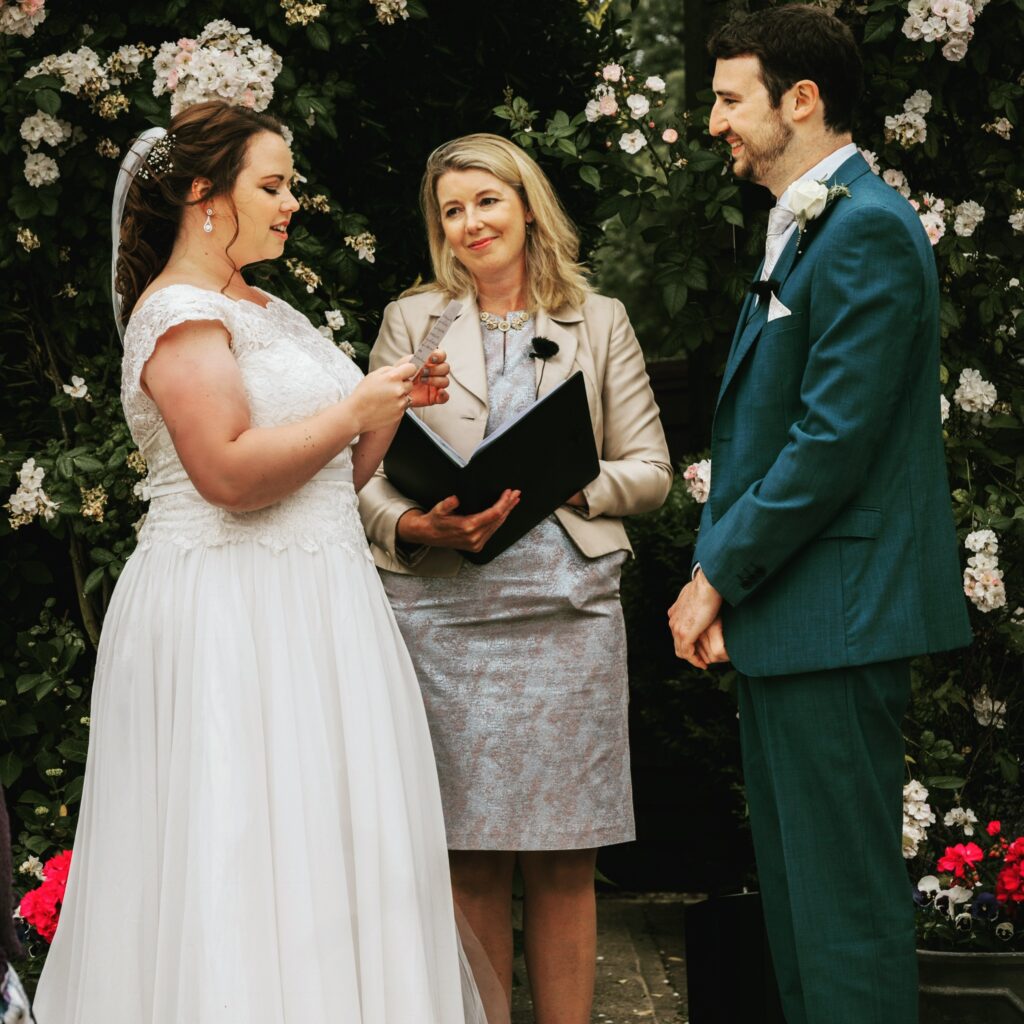 What are your favourite types of venues/spaces for weddings?
I love the variety I experience and really wouldn't want that any other way. But the great outdoors in all its forms for ceremonies just can't be beat (when the weather is playing ball): woodland weddings are a particular favourite, as are garden weddings – as long as there is a well-thought-out plan B in place, in case of wind and rain!
When you're not busy being a Celebrant what do you love doing?
Walking in the countryside or along the beach at the end of my road; pottering in the garden; eating out; anytime spent with my hubby; socialising with family and friends; dancing; spending time with my two naughty rescue cats; travelling and holidays – exploring new places.
---
Isn't Jane a blooming delight? Can you picture her leading an amazing wedding ceremony for you? Of course you can! Get in touch with Jane here about your upcoming wedding ceremony.
Main photo image by www.fireflyphotographic.com