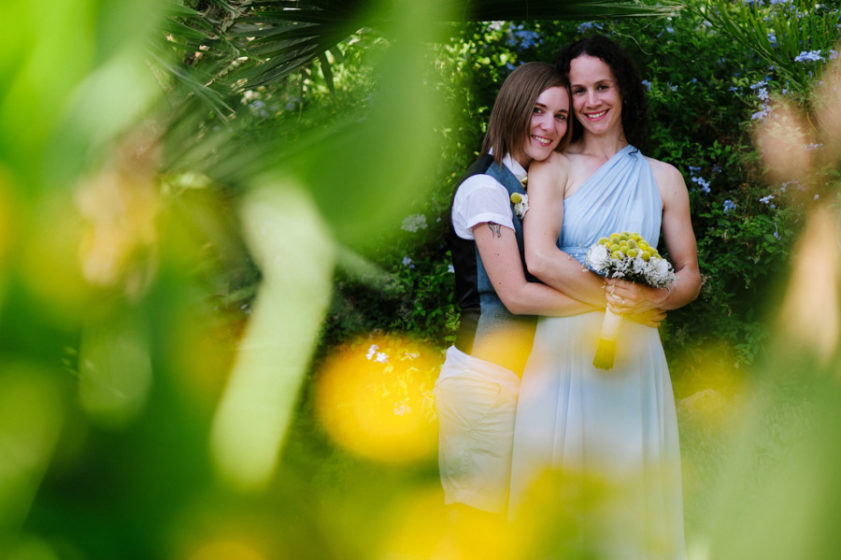 Sigh!
I have been looking at these photos and all I keep doing is sighing. Happy sighing, mind you. Sighing and reminiscing about yet another gorgeous couple whose gorgeous ceremony has already been and gone. Weddings can be so bittersweet. These amazing moments that make you so happy and feel so incredibly lucky to be a part of, yet ever so slightly sad when they day is over. And that's just me!
But sighing and reminiscing aside, it is also totally amazing to get to relive this whole ceremony again through the fabulous story-telling of Ruth Blamire Brown's photography.
Emily and Ellie were such joy of joys to work with. They bought everything to the wedding table and more and it was so beautiful to watch their ideas come alive in their ceremony. Plus, anyone who crotcheted hanging tea light holders to hang off the trees in their ceremony area, most definitely gets a few extra house points. Not that anyone is keeping score, mind you!
With their ceremony taking place at the stunning Casa de Laila, a venue which actually chooses its couples as much as they choose it (seriously!), the setting just seemed perfect for them and their celebrations. So why not see for yourself.
The venue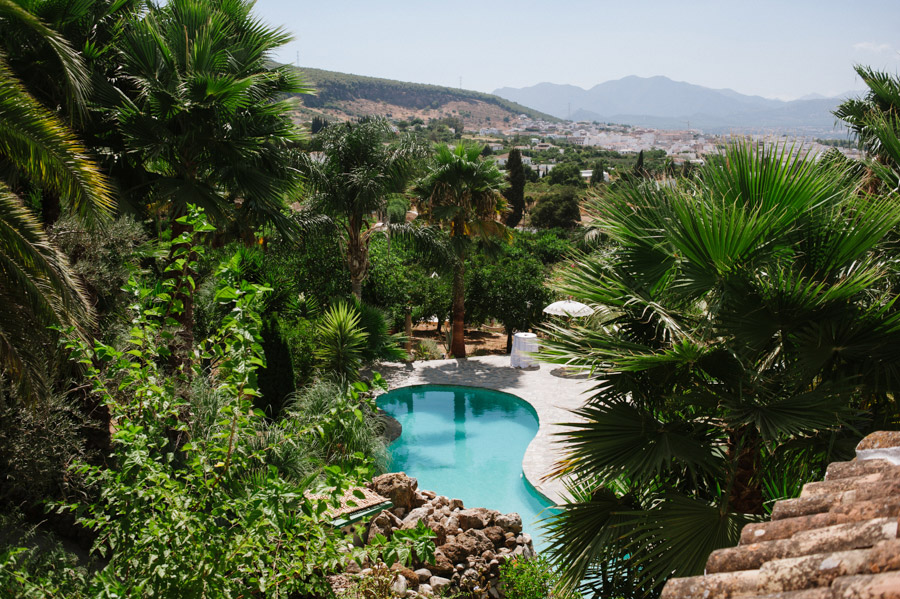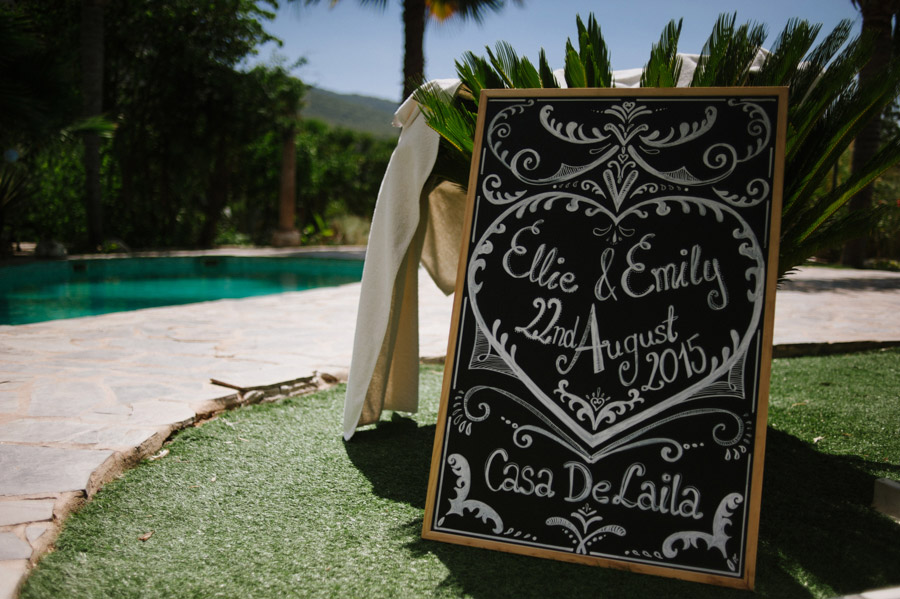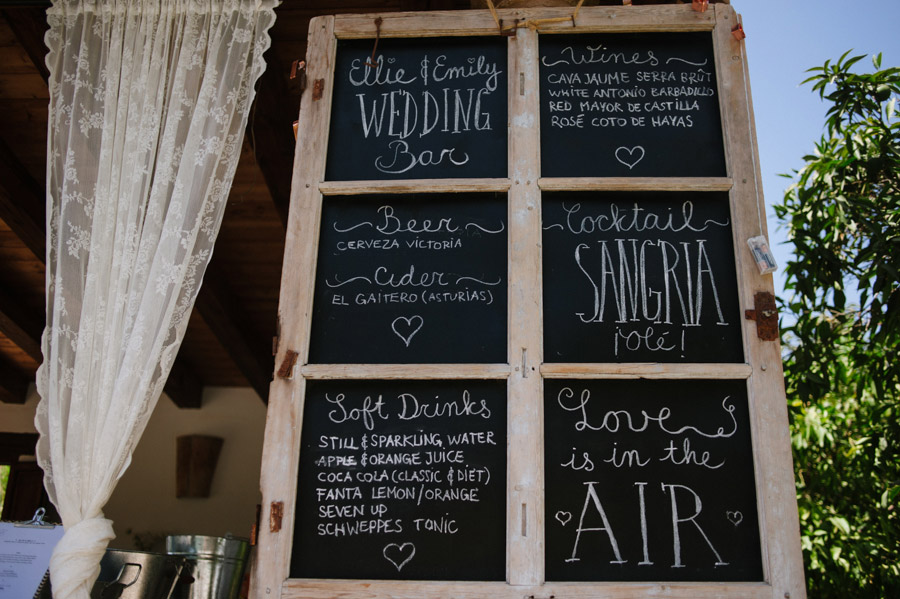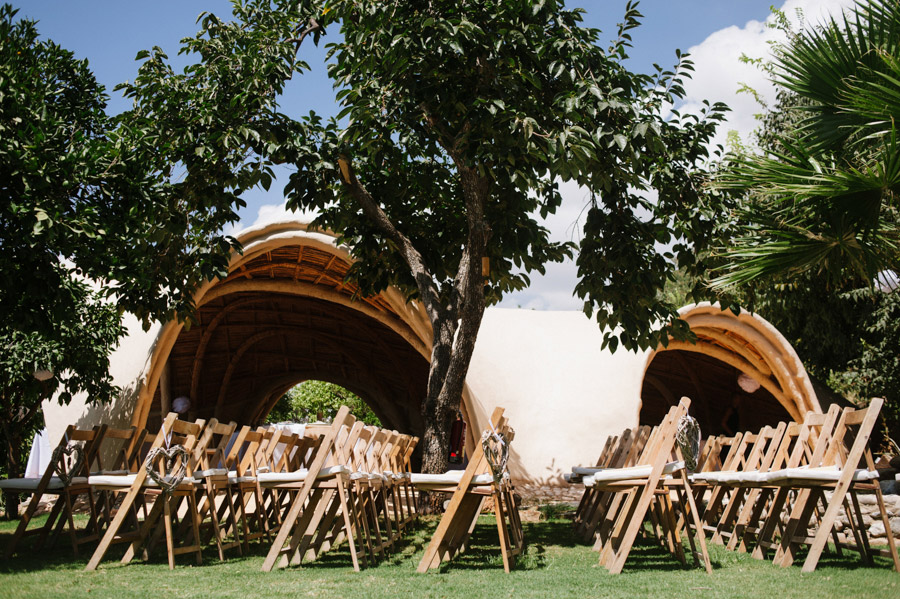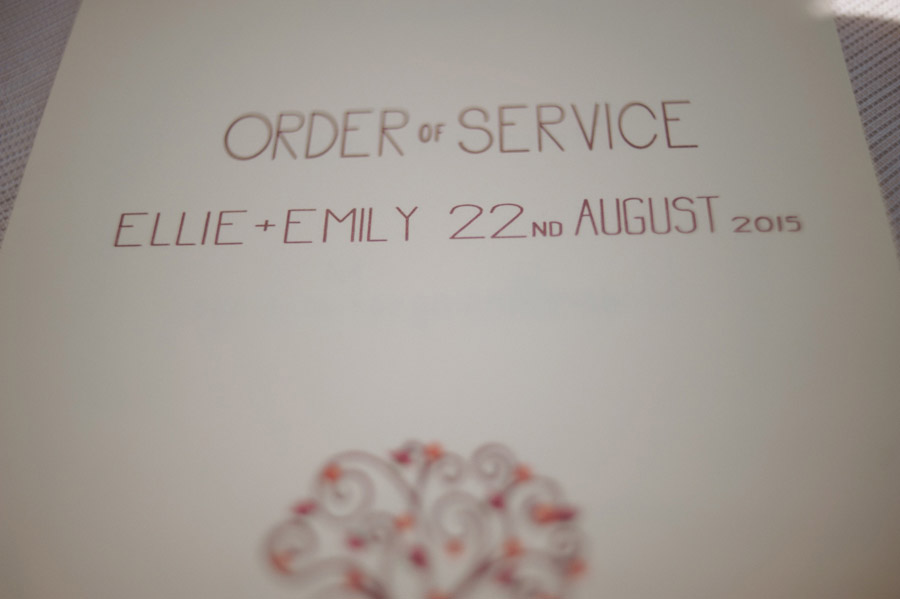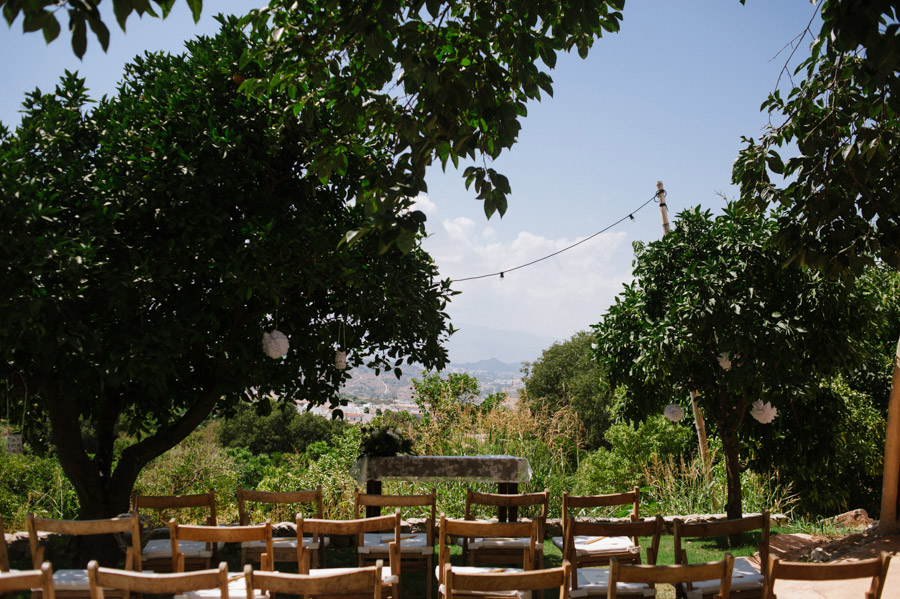 Pre ceremony
♥ that Iggy Azalea tunes were in free flow, as was the San Miguel! ♥ that everyone in the wedding party got ready together en masse and that everyone was helping everyone to get ready ♥ that there was not a white wedding dress to be seen ♥ that Ellie and her bros wore bow-ties ♥ that the brides maids wore white
Emily and Ellie's vision for their ceremony
From the moment we got engaged we knew we wanted to get married outdoors and we knew we didn't want a religious or traditional ceremony.  We both felt that traditional wedding ceremonies can be quite impersonal and we wanted a ceremony that was unique to us and that really reflected us as a couple.  It was important to us that our ceremony have a casual, relaxed, intimate vibe and we wanted to involve our close friends and family in the ceremony as much as possible.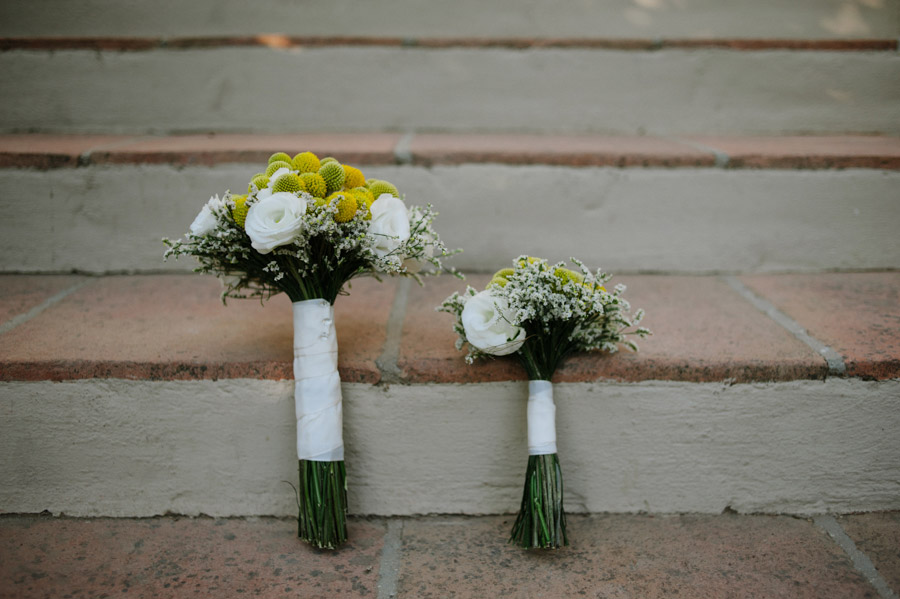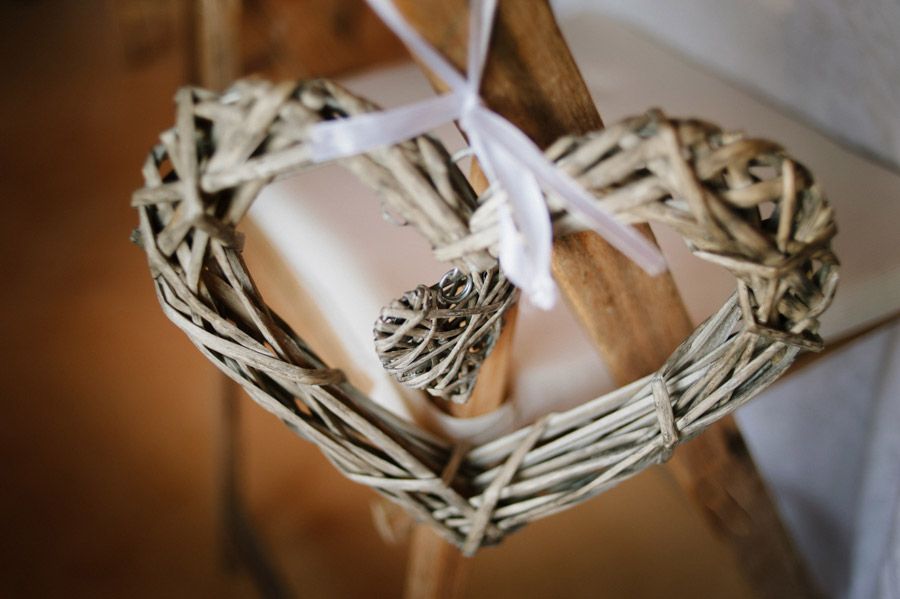 The ceremony
One thing that really stands out for me about Ellie and Emily's ceremony was the way that they had so many of their loved ones involved in different roles. From one of Ellie's brothers being part of the wedding procession down the aisle to another brother playing the guitar as they entered, a close friend doing a reading and another singing! It really was a community marriage with guests giving their blessing in many different ways.
I loved that Emily and Ellie walked down to their ceremonial area together, following down in their own time behind their brides maids and Ellie's brother. It is so special and symbolic to start your married journey together, literally and more and more couples are doing this. Yes!
As the ceremony got underway, I noticed people drying their eyes. I know! Guests were crying before any words were even said! That just goes to show how much Emily and Ellie and their ceremony meant to everyone present.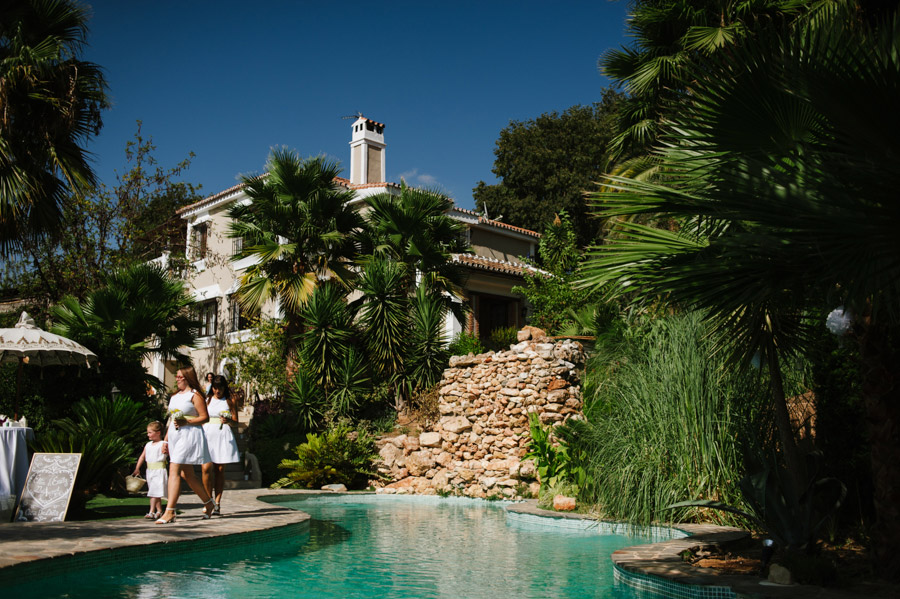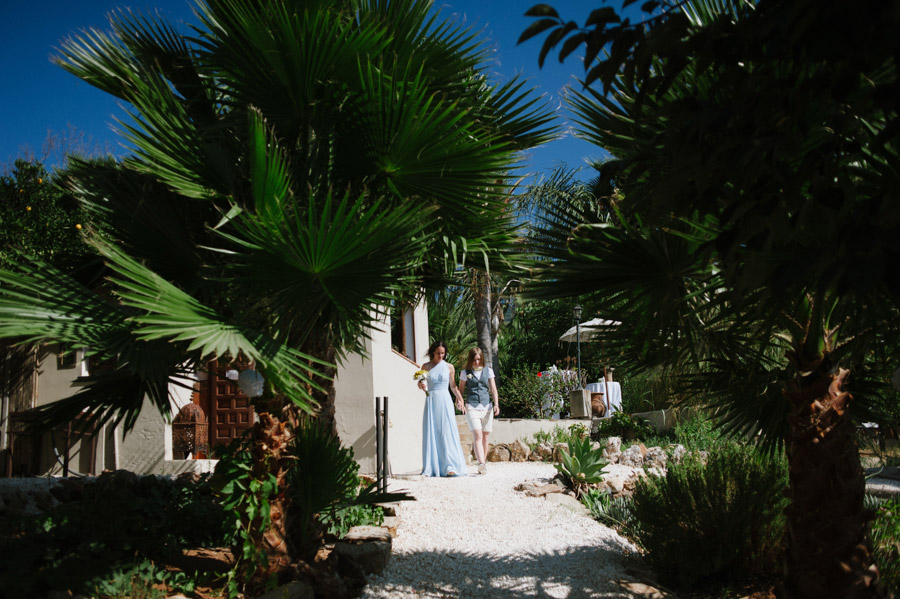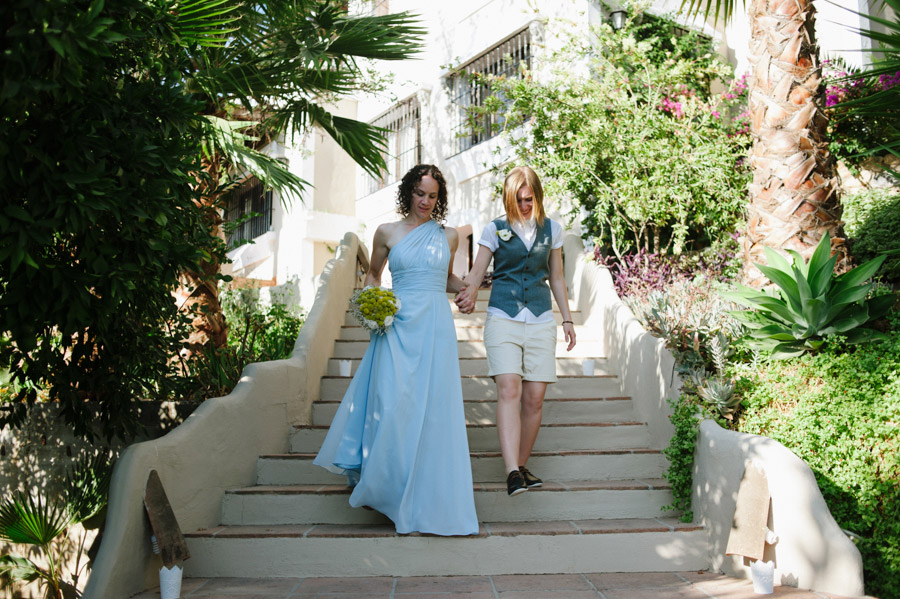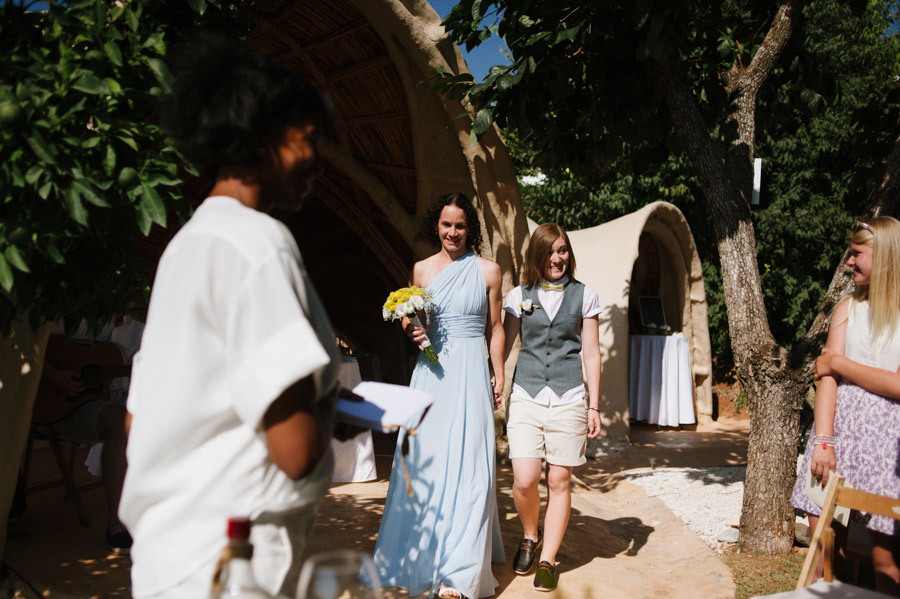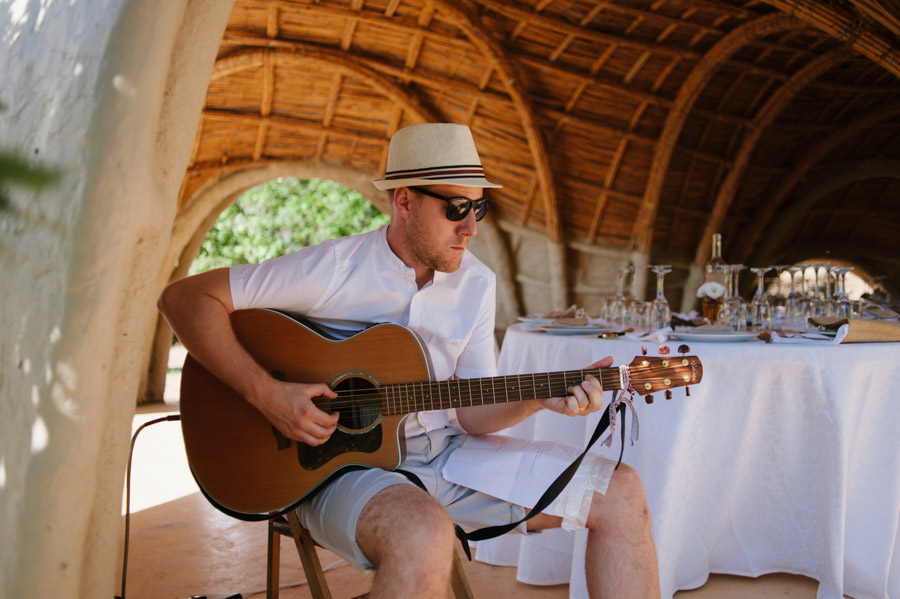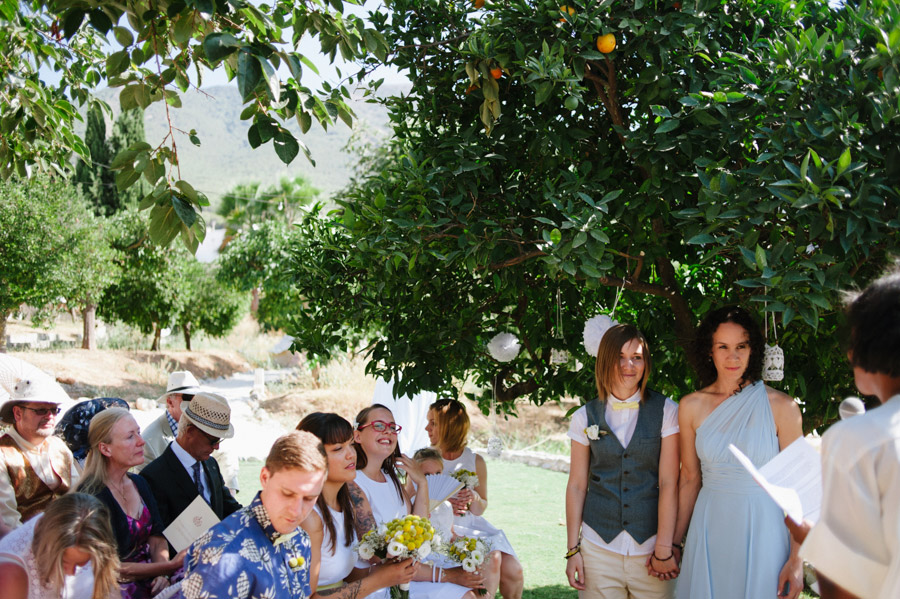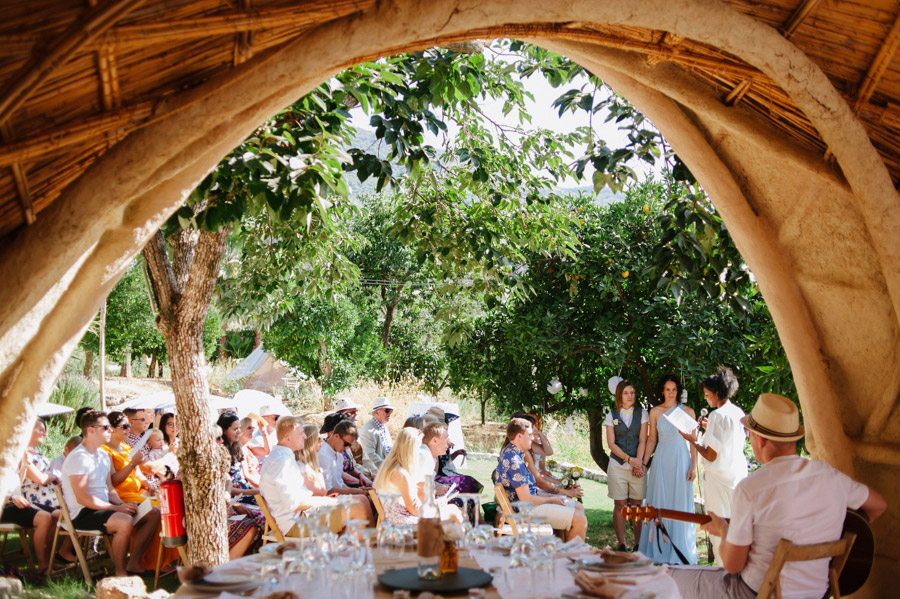 After the ceremony welcome and introduction, we had a brilliant reading, 'A marriage made for two,' read by E&E's good friend Liv. I loved that they changed parts of the reading to make it reflective of them and their hobbies and interests too.
The reading then led the way really nicely for another good friend Gemma to sing whilst accompanied by Ellie's brother on the guitar. A.M.A.Z.I.N.G. I am still wondering how Gemma is not famous yet. Maybe one day soon! It's always so lovely to have live music at a ceremony.
Emily and Ellie then took part in a wine ceremony, a fab way of toasting their past, present and future relationship and of course a great way to have a little tipple during the ceremony!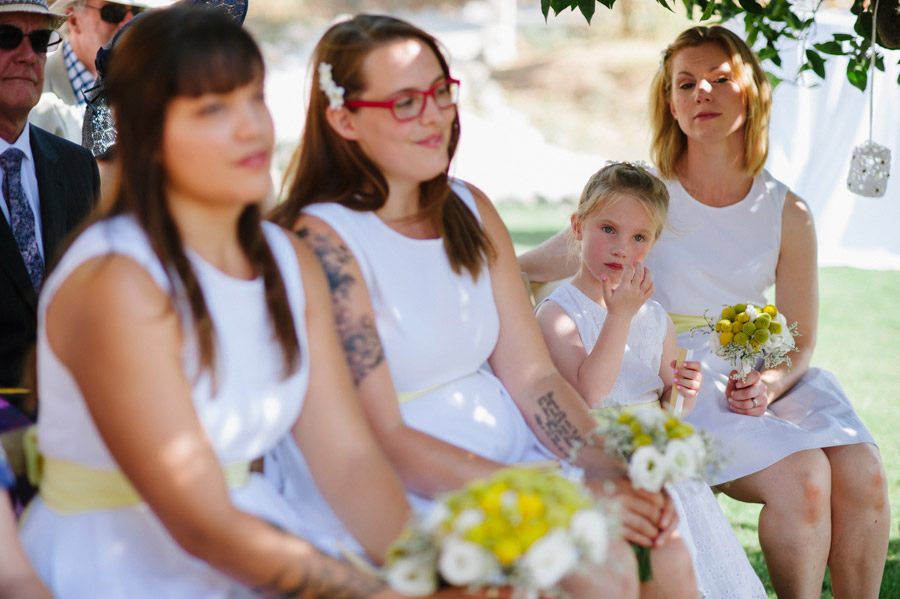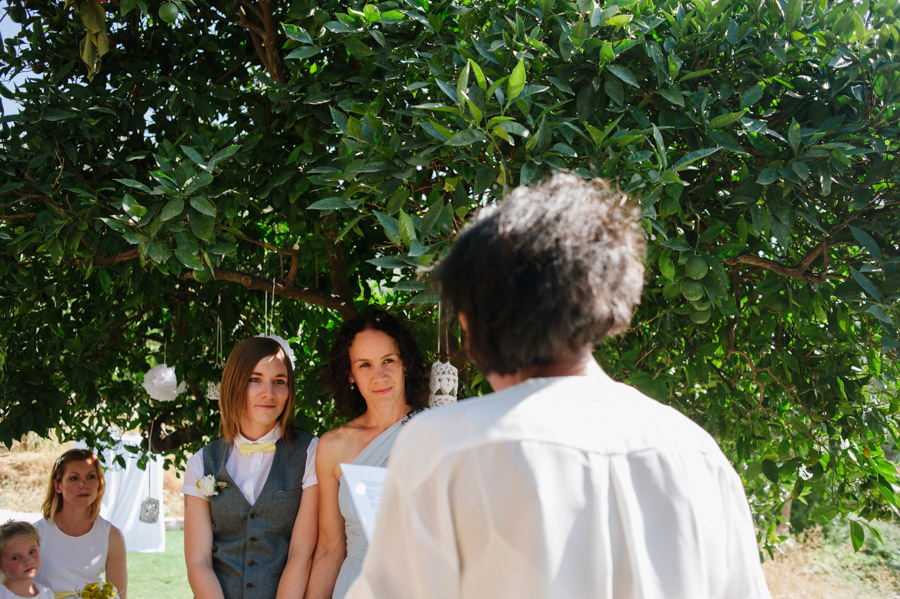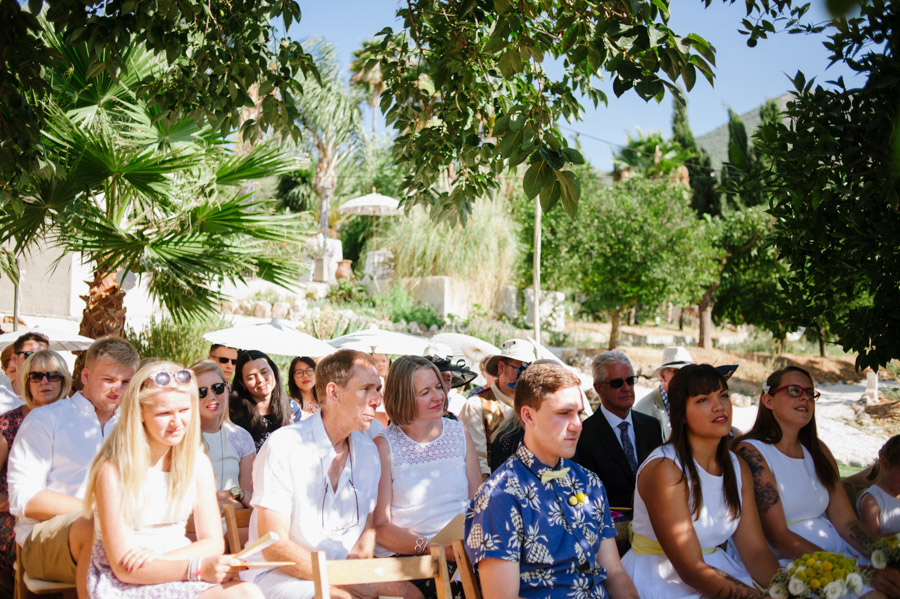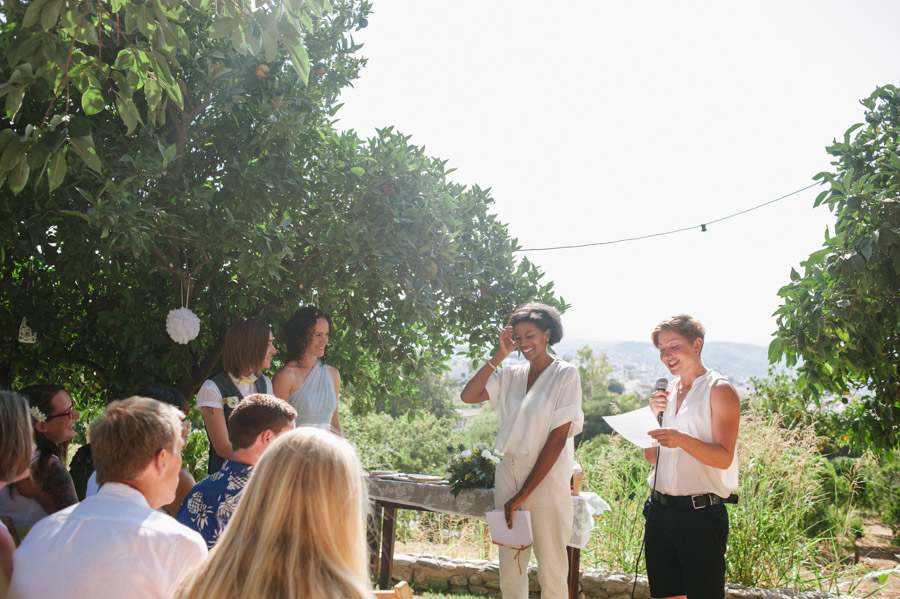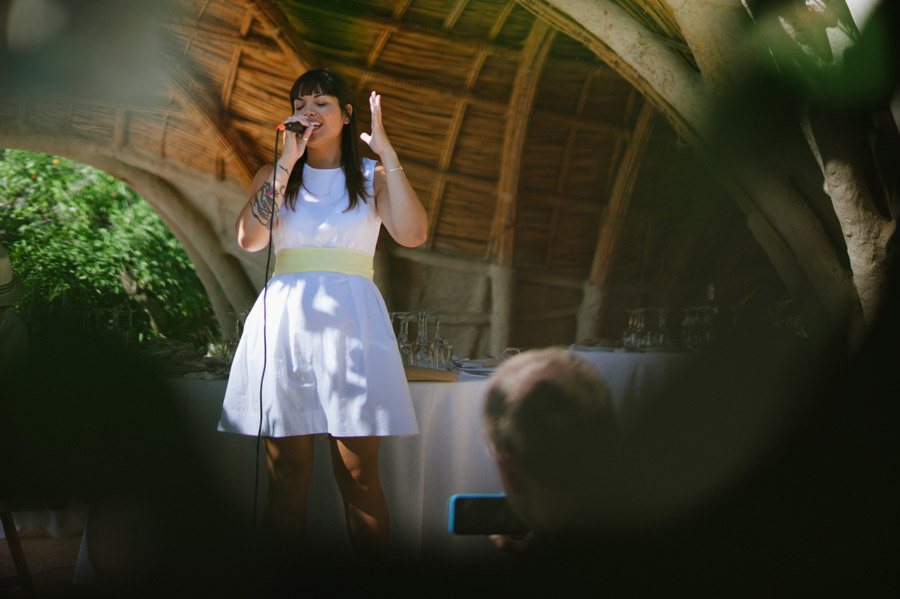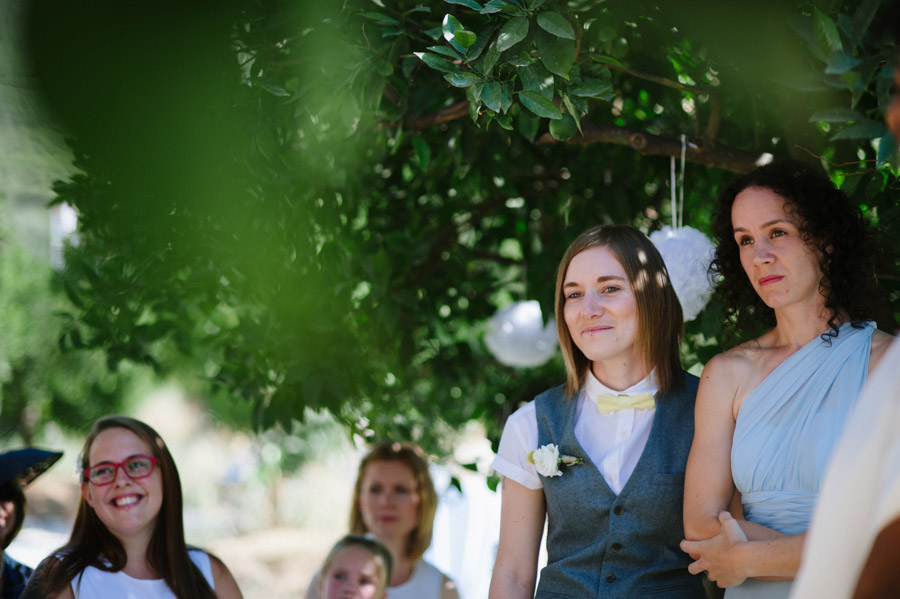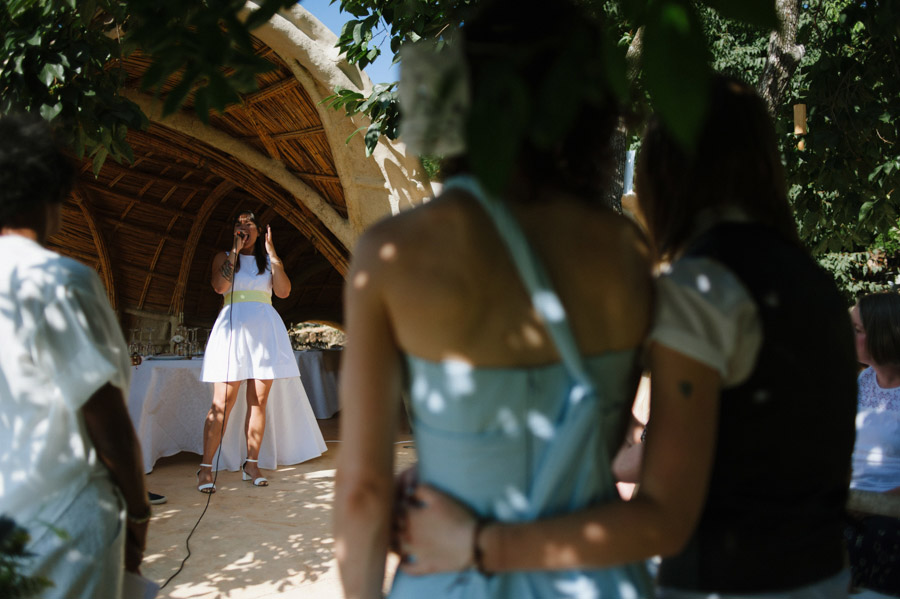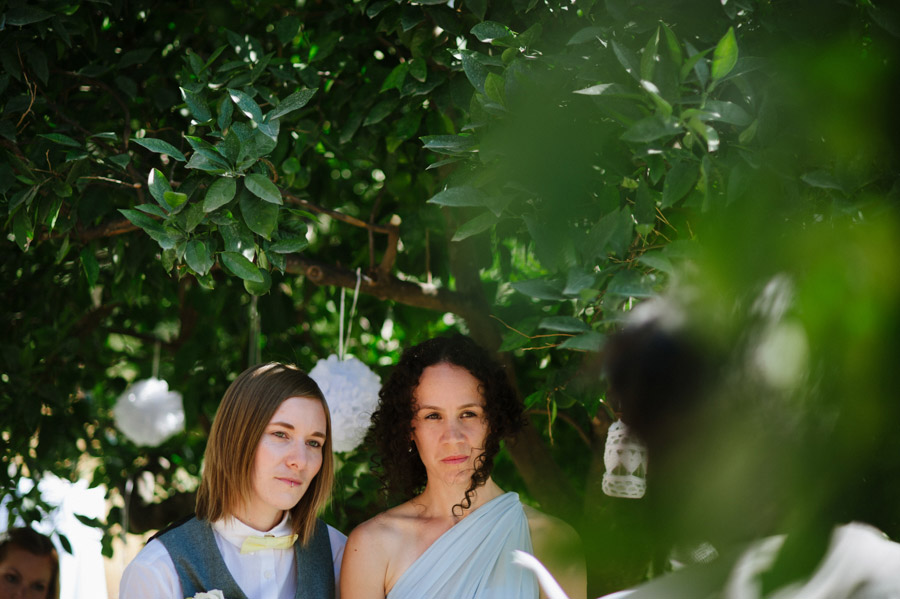 And then we came to the vows. These vows were off the scale. There's just simply no other way to put it. They had everyone laughing and crying in equal measure. First of all, I asked them this gorgeous vow that they wanted to respond to, followed by their awesome personal vows.
Do you, Emily/Ellie, take Ellie/Emily to be your partner for life, to be her constant friend, her partner in life, and her true love? To love her without reservation, honour and respect her, protect her from harm, comfort her in times of distress, and to grow with her in mind and spirit?
Click on the plus sign if you've got a tissue handy and want to read the vows in full.
[accordion title="Ellie's vows to Emily"] Emily, It seems like only yesterday that we were sitting having our first real conversation at Pride – you were insulting my choice of footwear and I was telling you how determined I was to avoid a serious, long-term relationship. Three years later and here we are, making an official commitment to each other in front of our closest friends and family.
In the years since I've known you you've been nothing but a positive force in my life and have given me a sense of peace and stability I never thought I'd find. You always have my best interests at heart, whether you're calling me on a hot day to make sure I'm wearing suncream or forcing me to go to and get those travel vaccinations I really don't want but probably need. You are one of the kindest people I know, always willing to offer your help to others and never expecting anything in return. You listen to my endless ridiculous worries with patience and seriousness and you never let me think badly about myself.
I never have to doubt or second-guess your love for me, and I'm grateful every day for that. I love your enthusiasm for your many strange hobbies and interests – you know your own mind and are not afraid to be yourself and I really admire that about you. I can't promise you that I will ever truly understand what "snagging" means, or learn how to change my own brake cables, or fully comprehend what it is you do for a living, but I can promise you this: I promise that I will always be ready to listen to you, to support and encourage your dreams and to give you the freedom to follow them.
I will always treat with you kindness and respect and be sensitive to your needs, whether that means giving you your space, or presenting you with a plate of sweet potato chips at the end of a difficult day. I promise that I will always be willing to work to keep our relationship strong and that we will always be a priority. I will continue to make it my mission to not only tell you I love you and appreciate you every day but to make sure you feel it, and I will never take you for granted. I promise that I will continue to be the one to get out of bed to investigate when we suspect our home has been infiltrated by spiders, poltergeists or serial killers.
But most of all I promise to love you as you are, with all of my heart, in happy times and not-so-happy times, every day for the rest of my life. You are my best friend, my calming presence, my musical duet partner and from this day on, my wife. I'm so lucky to have you and I hope I get to share this life with you for many, many years.[/accordion] [accordion title="Emily's vows to Ellie"]
The first time we met I don't remember, the second time we met we hardly spoke because I thought you were too cool, then, third time luck we met at pride and i knew I wanted you in my life. We have grown so much as people since then and i promise to keep growing with you so we can be old ladies together, drinking our tea and moaning about the youth of today to our children.
I promise to always trust, protect and respect you and I will never intentionally hurt you. I promise to let you live your life as Ellie, as well as Ellie and Emily and always be there for you. I love that you encourage me in everything I do, especially my hobbies, even when they are ridiculous and mildly dangerous. I love that you always persevere with me when I cant find the words and listen to my boring stories from work of fish relocation and cofferdams when I can find the words. I love that you join me in visiting the highest points of skyscrapers despite not liking heights.
I promise to keep allowing you to do all of these things because i find them exciting and you think it is cute. I promise to always let you follow your dreams and help you achieve happiness and fulfilment, even if it means watching loads of crime documentaries. I promise to take care of you when you are sick and help you thrive when you are well. I promise to keep making you tea and toast in bed, tuck you in and put socks on your feet in the morning before kissing your sweet face goodbye.
I am yours forever, you are my 'happy days'. [/accordion]
I told you so, right?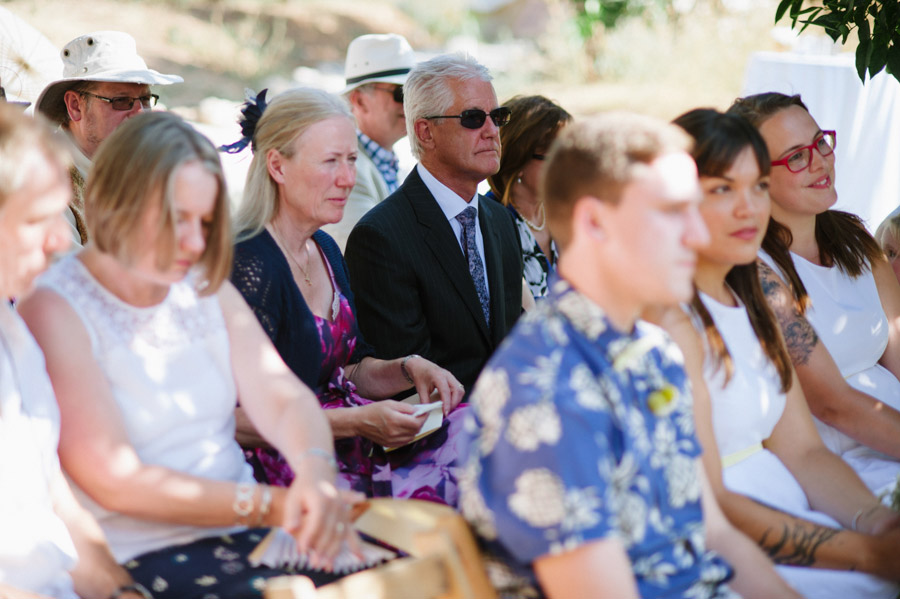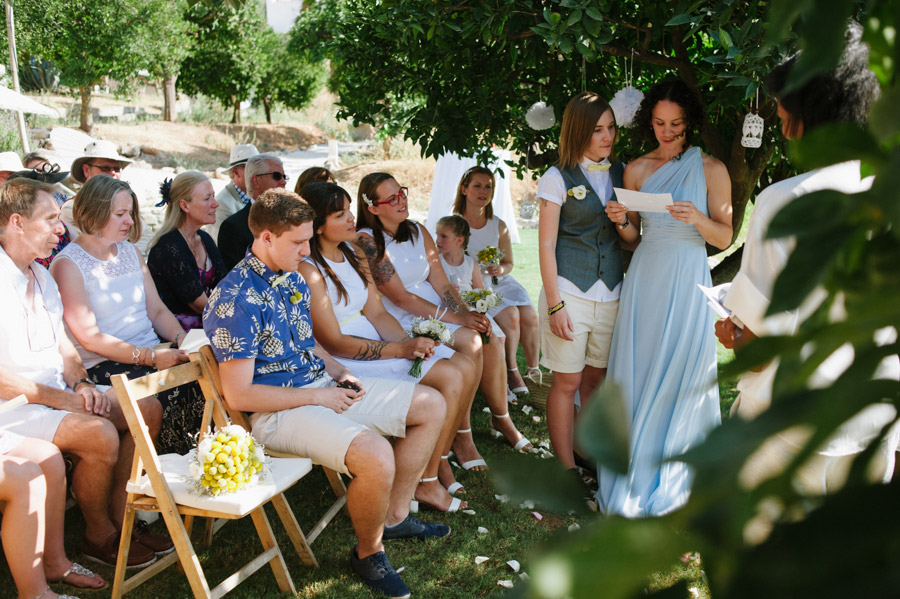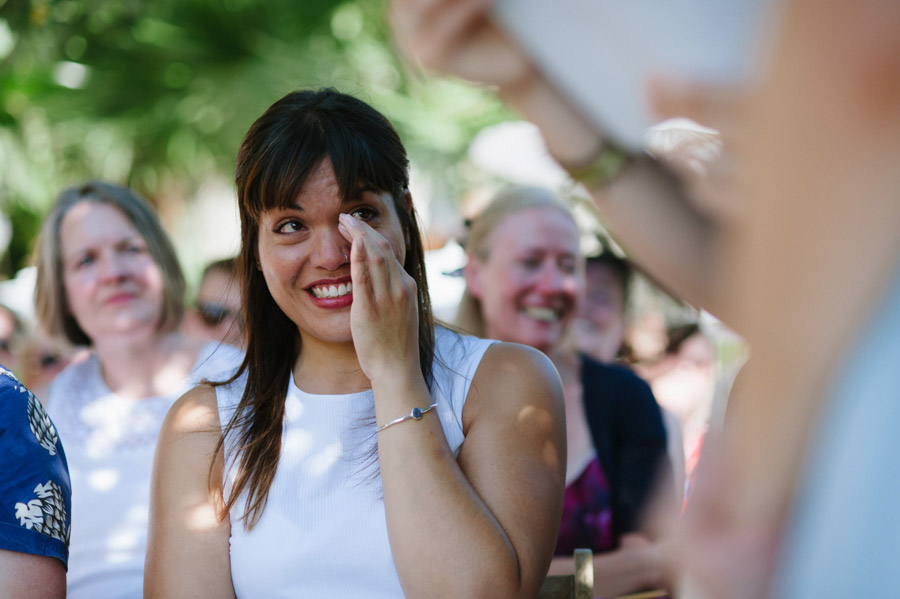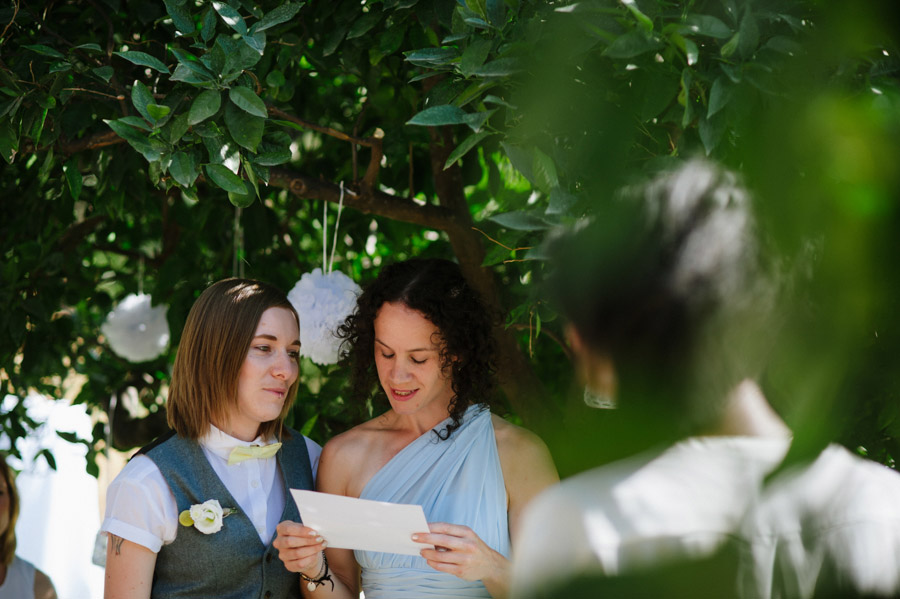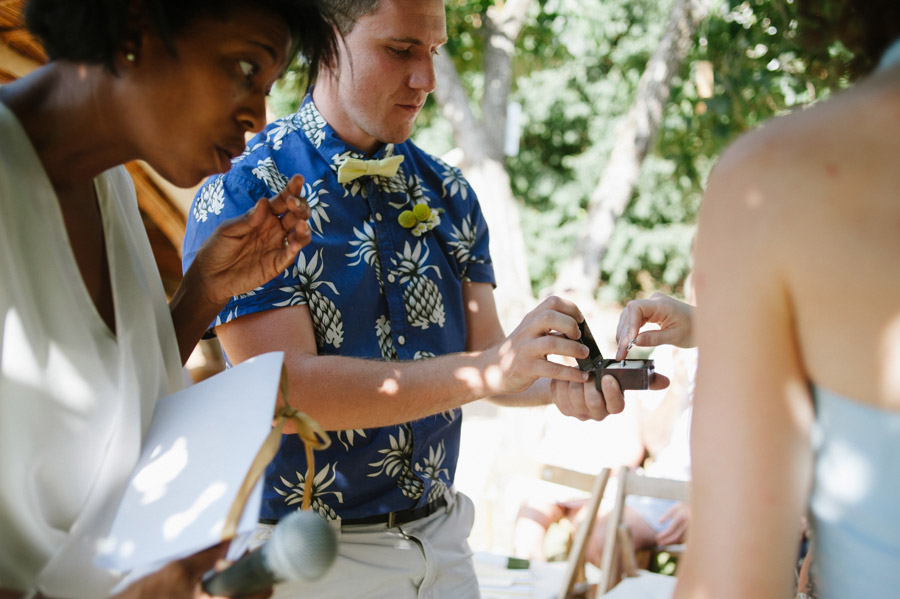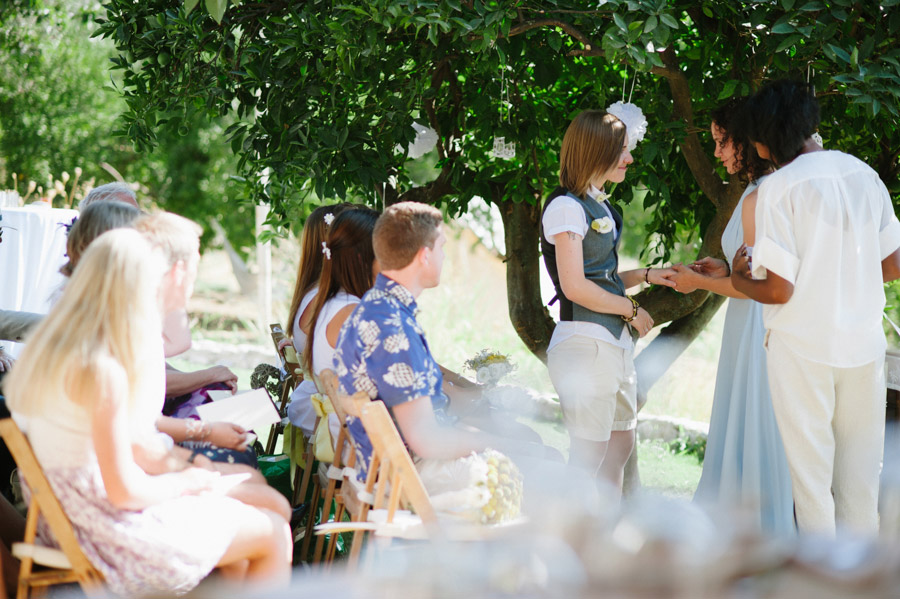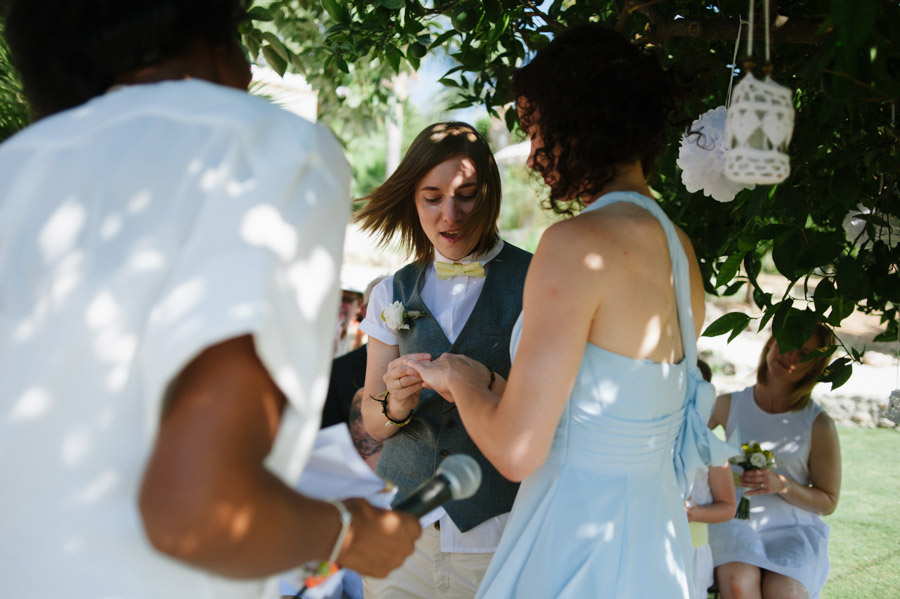 We would tell other couples to really consider writing their own vows, even if it seems like a scary/awkward/horrifying prospect in advance! We were both very reluctant at first but it made our ceremony so much more personal, memorable and authentic and we are so glad we did it!  Also, if you are worried about nerves during your ceremony (we were!) including readings and singing/live music is a good way to help you relax and to give yourself a break from being the focus of attention for a few moments!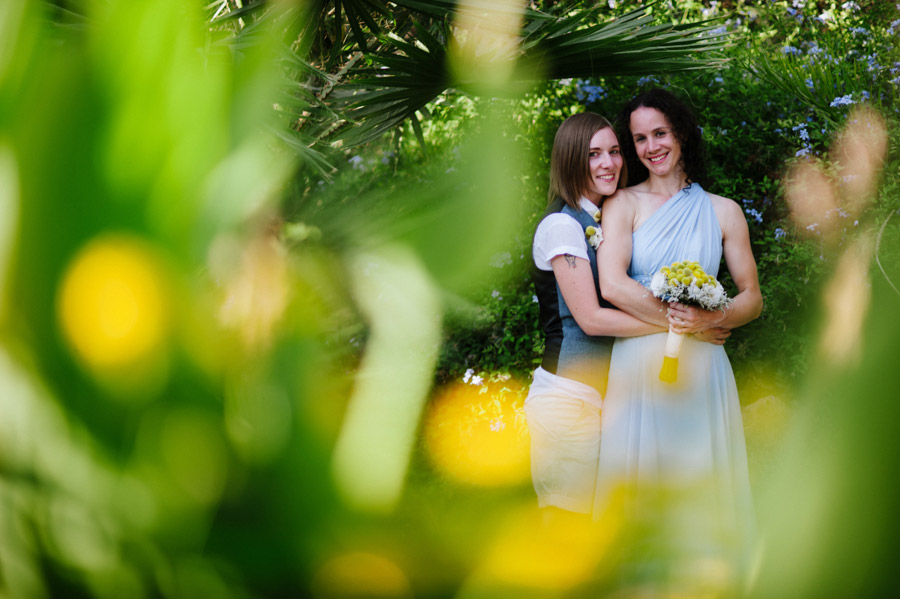 We loved every part of our ceremony, from the readings and music to the wine ceremony and exchange of vows.  The atmosphere was so happy and relaxed and every part of our ceremony felt like a true reflection of us as a couple.

Emily and Ellie
Mad love to;
The amazing Ruth Blamire Brown and her stunning 'never misses a thing,' photography.
The awesome Casa de Laila that fills me with house envy every time I am there.
And the lovely lovely lovely Emily and Ellie, whose ceremony I loved every second. Could you tell?