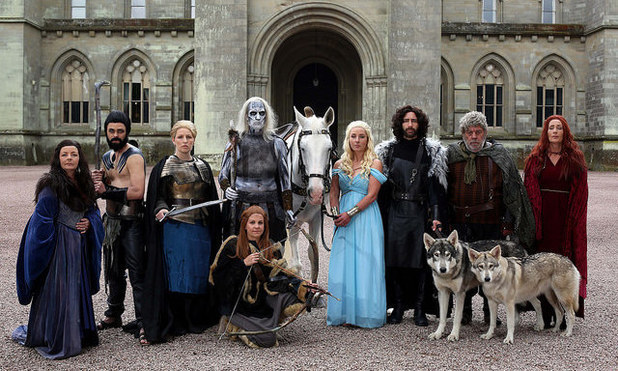 Hold the phones everyone. Game of Thrones has hit our screens again for its fifth season and do you know what that means? Yes, that's right. I'm one happy bunny. And do you know what else it means? It means I get to write a new Game of Thrones inspired wedding post. Woo hoo. Like I need an excuse to do that!
Any of my regular readers will know not just how much I love weddings, but how much I also love Game of Thrones, too. And so whenever I get to write a post that combines the two, well, you can imagine the utopia I currently find myself residing in.
I also love combining the two subjects, because I know there are a lot of folk out there who share my enthusiasm obsession with Game of Thrones and maybe even weddings, too! After all, there must be a reason why my post on Game Of Thrones inspired vows, is my most read post ever!
So I thought this time around, I would write a little run-through of the best of GOT weddings and how you can apply them to your own, because let's face it, there are some elements of GOT weddings that most people would not want happening at their own. I mean no-one wants to emulate the 'Red Wedding, do they? Well, I hope not.
(PS: This post does contain some spoilers if you've not watched GOT yet and are planning to. Although, I'm not quite sure what you're still waiting for!!)
The ceremony
One thing that I love about the GOT wedding rituals are the vows. You've simply got to admire the mind of George R.R Martin for coming up with such beauties. I love them and their simplicity so much so that I dedicated a whole must-read post to them. If you are a big GOT head then this is perhaps the easiest and most profound way to have some GOT inspiration on your wedding day. They are truly egalitarian, romantic and heartfelt and for the shy ones out there, short!! I also love the hand-fasting element too, which is so full of symbolism and meaning and just so damn awesome.
Another element that I love is the cloaking of the bride. Basically, at the start of a GOT ceremony, after the bride walks down the aisle, the groom is instructed to cover her shoulders with his cloak that bears his family crest.
Now, it is quite unusual for me to like something like this, which is so patriarchal in nature and fundamentally about a man protecting his woman! Yes, I know there is nothing wrong with a man protecting his woman, but I'm not sure how much us women need protecting. However, that said there are elements of this that I love and that I could so see being applied in a more modern way!!
Couples wanting something a bit more equality based, could have matching cloaks and cloak each other at the start of the ceremony, so that they are both offering each other love, protection and shelter, instead of bit being so one-sided. On my last GOT wedding post, a reader called Mel left this comment;
My fiance and I are hoping to include the 'cloaking of the bride' in our wedding. I plan to make a cloak in the colours of his coat of arms, perhaps with the crest on the back or maybe just elements of it…
Amazeballs! I love that! This just gets my imagination going even wilder. If you don't have a family coat of arms (I sure as hell don't!) and you're really creative, you could think of some amazing designs for your cloaks. What about patchwork cloaks made from pieces of material that are symbolic to you both? Or if you've got kids, do what Angelina and Brad did and get them to write and draw stuff to go on your cloaks, which symbolises the cloaking of the whole family and not just two individuals. If my husband and I ever get around to renewing our vows, I could see us doing something like this. I love the patchwork idea, even just a square of patchwork, made up of smaller squares of material from our son's first baby suits, a square of my wedding dress (if I can bear to cut into it! and if I don't have a daughter who may one day want to wear it!) or my husbands wedding suit! There are so many creative ideas to play around and have fun with. This is exciting stuff, people.
The venue
Most Game of Thrones weddings take place in either luxurious palaces or voluminous castles. This may be your thing too! A huge, wooden-beamed, high-ceilinged hall, with candles EVERYWHERE or a medieval type castle with a regal touch. Joffrey's wedding may have ended with his rather gory but well-deserved death, but the Medieval-type styling was absolutely to die for. Oops. The vast top table with its lush greenery, colourful bowls of fruit and lavish dinnerware were amazing.
Personally, because I am an outdoor freak, my favourite ceremony has to be that of Rob and Talisa's. Private, personal and outside at night-time in woodlands. How wonderful to have nature surround you, during such a special time. Check out my gallery below for some GOT inspired imagery. You can also find more photos and the original sources here on my Pinterest board. Who wouldn't want some of this on their big day?
All the pretty
Once, you've got your ceremony content sorted, there are so many more GOT ideas that you can incorporate into you big day. From GOT style cakes, to dress attire and wedding stationery. You can have the Seven Kingdoms or family house names for your reception tables, scroll-type invitations sealed with wax, elaborate throne style chairs for the bride and groom (David and Victoria Beckham style.) Medieval-type banquets, wine goblets and fancy candelabras. Not to mention the wedding rings, jewellery and hair styles. Oh my goodness, I could be here all day. There really is so much that you can do. I'll stop talking about it now and throw in some photo inspiration instead!
If you're on Pinterest, you can hop over to my Game of Thrones Wedding inspiration board at any time and pin the hell out of it, over there! Most of this comes from Etsy. If it isn't already, make it your new best friend, apart from me, of course!
So my dear GOT heads and hopefully one or two converts too, I want to hear from you and know what plans you've got up your sleeve for you big GOT-loving wedding day. Are you going for the whole hog (excuse the pun) or are you just going to weave a few elements in, here and there. Share, share share, I'm nosey and I'd love to know!
Psst! Get your vow inspo right here…