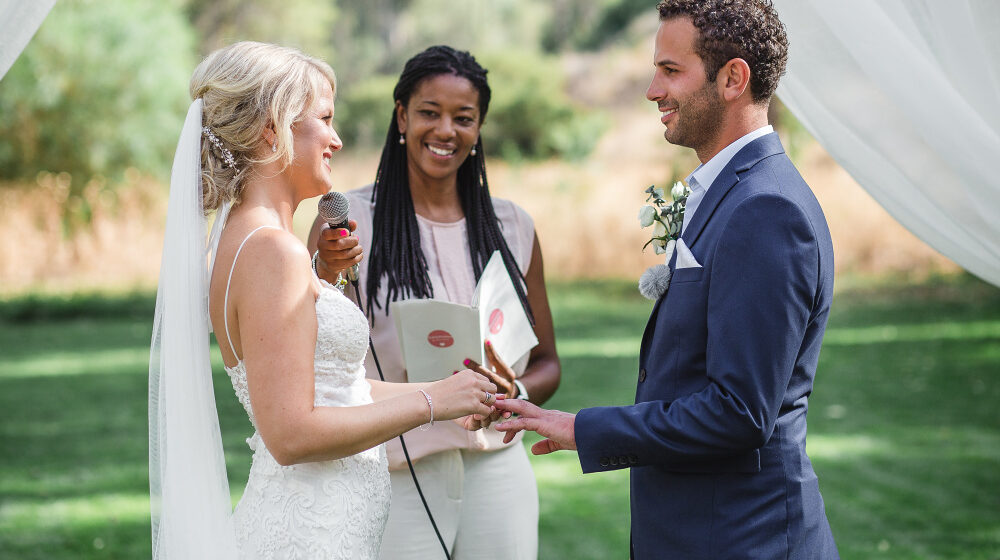 If you've clicked on this page, and you're reading this, it can only mean two things. You're keen on training to be a wedding celebrant. Yay! And you're interested in doing your celebrant training online. Yay!
Well you've clicked on the right page, because this post will tell you everything that you need to know about online celebrant training courses.
Why do your celebrant training online?
We now live at a time when technology is at its best and most creative. Where thanks to technology we can learn new skills, start new careers, meet new people and join new communities all through the power of the internet. 
At the time of writing when we are in the midst of a global pandemic, when many of us are facing physical and geographical restrictions, the fact that technology allows people to still learn new skills and develop a new career is nothing short of amazing. And to be able to do it all within the comfort of your own home is an added bonus too!
Online celebrant training gives you the best of both worlds. The ability to keep learning, the flexibility of self-study combined with being a part of a wider online community of trainees, for that much needed personal touch.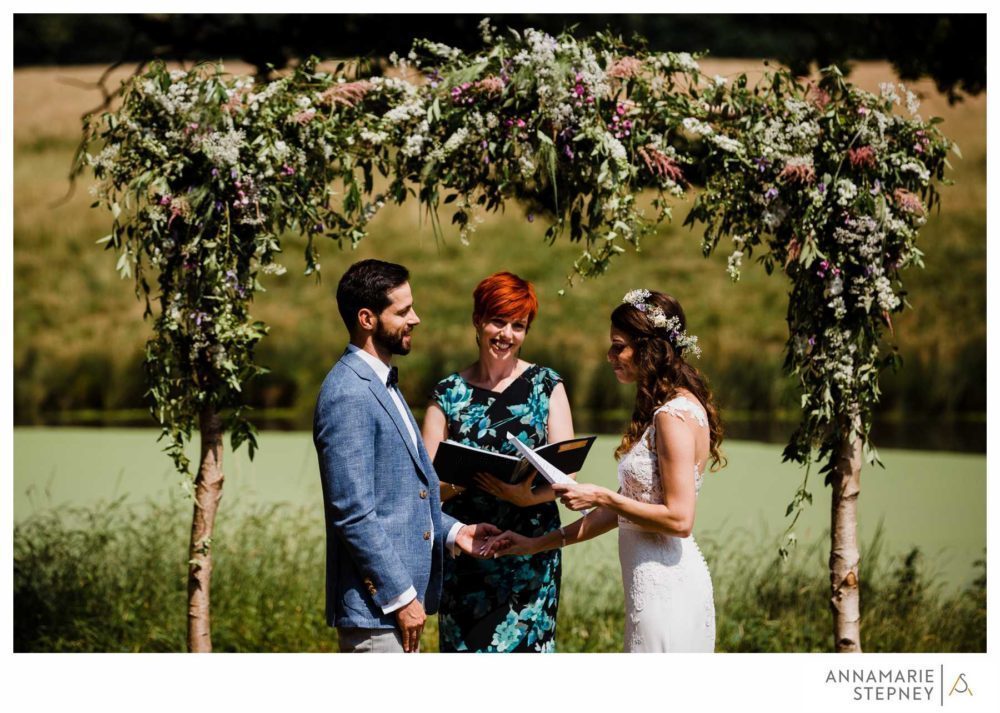 How does online celebrant training work?
As a wedding celebrant, wedding blogger and celebrant trainer for my sister company the Celebrants Collective, with my business wife, Claire Bradford, we absolutely love sharing our wisdom and knowledge through our online wedding celebrant training.
Our wedding celebrant training has been thoughtfully designed in two parts. We have the main online wedding course which is available to our trainees via their personal training account. This means that once a trainee is approved to join our course, they get access to their training account where they can get stuck into the course immediately. Or whenever they have the next opportunity too! And that's one of the great advantages of our online celebrant training, trainees can start whenever they like and can work their way through the course at their own pace. You don't have to wait for a next available course start date or for a course group to have filled enough places to go ahead.
The second part of our training involves our twice weekly two-hour group tutorials. Over Zoom we come together online to have deeper discussions around the wedding celebrant training course and to explore themes and answer questions that our trainees have. These sessions are so much fun and are such a wonderful way to bring the online learning alive, as well as getting to meet the other course trainees too. And the great thing is that you can attend as many sessions as you want, which our trainees do! We only ask that you come to a minimum of three to satisfy the course requirements, but most trainees continue with the sessions well past the minimum.
Our celebrant training is fun, flexible and thorough. We don't tell you how to be a celebrant, we show you. We use the skills that you already have from your previous life experiences and we show you how to use them in the best way as a wedding celebrant. This makes our online celebrant training, modern, sophisticated, relevant, diverse and inclusive. 
When you complete your training, this doesn't mean your time with us is over, either. Once you graduate you then become a part of our wider Celebrants Collective community, where you'll continue your celebrant development as you build and grow your celebrant business within our fabulous international community.
We have trainees who have joined us from the USA, France, Spain, England, Scotland, and Ireland. Some of our recent trainees and graduates had this to say about training with us.
I loved that it also had such a focus on building a career and business being a Celebrant, not just training to be one. This felt like a really really comprehensive course to start a career rather than singularly gaining a certification. I also loved the delivery – some things I think about I can't recall if Claire said in a pre recorded lesson or a live tutorial.. it felt so personal the whole time.

Danielle N
I particularly loved the option to do it in my own time. That I wasn't being "taught" at and your generosity in additional resources and information. Not to mention the fact that I can access the course in the future.


Mark P
I loved the hybrid nature of the course – the fact that I could complete the course in my own time, taking notes and going back to bits that I wanted to revisit, so I had all the benefits of the online aspect, but then we also had online group tutorials, and access to a friendly face and the wonderful tutorials whenever we needed them. Really fantastic.

Timna P
There's so much information and it is laid out in a really easy format to follow. Natasha and Claire, you really make the zoom meetings interesting and on hand for any questions throughout the course

Susan E
It was so full of excellent information, and answered questions I had not thought of. The style of presentation was very clear and having the PDfs a real bonus. The tutorials are beyond helpful and I shall continue to attend them after accreditation as I have so much to still learn for the future of my business. Congratulations on a really well put together course. Thank you so much.

Gill M
Doesn't this sound like the best thing ever! Well, that's because it is! Being a celebrant is hands down the best job in the world. Fact! And we'd love to show you how to become a wedding celebrant and have the best job in the world.
If you'd like to be trained by us, jump over to our online wedding celebrant training site where you can find out more about the course, our prices and pricing plans and more about us as celebrant trainees. Visit us here.
Hope to see you soon!
Natasha & Claire x