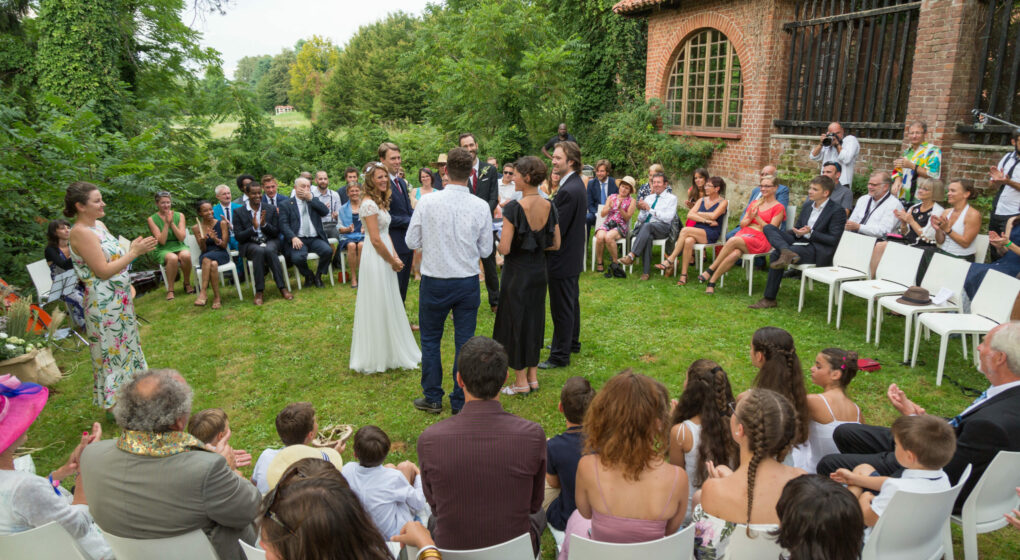 I love it when I do celebrant interviews for celebrants who I have met in person because I can really attest to just how special they are, and with Aleksandra, there is no exception!
We met at a celebrant workshop that I was teaching and after chatting with her for twenty minutes during lunch, I was left seriously mind-blowned.
As well as being an amazing wedding celebrant Aleksandra is a systemic practitioner who works with people to resolve their life situations with the help of a therapeutic framework called 'systemic family constellations' and systemic ritual.
It's based on the idea that members of any family system are interconnected and what happened in the past might be influencing what is happening in their life now. It has a number of principles observed which can be used to strengthen any family system, anywhere in the world, and she uses those principles to design wedding ceremonies as well. Fascinating, or what?
What has been the highlight of your wedding career so far?
When parents of the couples who at first are a little sceptical, are then deeply touched and full of understanding. This work moves hearts in so many ways.
What has being a wedding Celebrant taught you about life and people?
Ah, good question. To never assume anything or judge; and to be flexible. There is my way and there is a right way, and I will only find out the right way by truly being present to what is going on for the couple – their needs, their family dynamics, their belief systems about themselves and the world.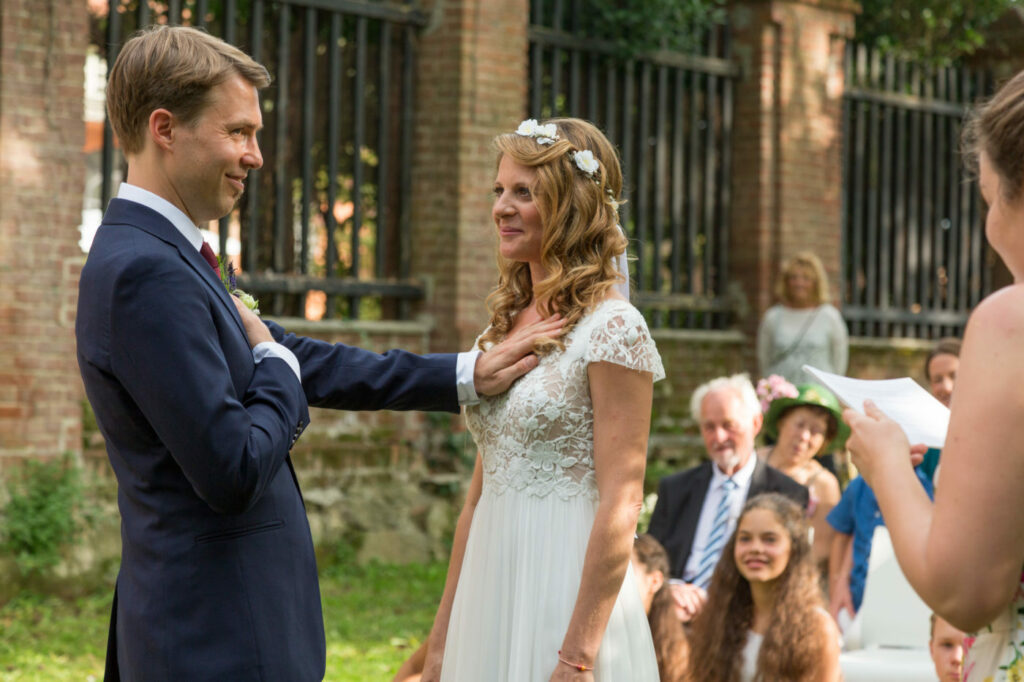 What advice would you give to couples getting married now? What mistakes could they do with avoiding?
I really enjoy the whole process from the first phone call to the ceremony itself and I love seeing the couple going deeper into understanding what they want and why they want it. Usually there is quite a lot of time to prepare and in this preparation to learn more about each other, to see what maybe hasn't been seen before and have time to work through it. It is an adventure in itself. So I'd say enjoy the process and use it to bring you closer together.
What do you love about being a wedding Celebrant?
Being able to transfer my knowledge and skills to real life event of great joy and systemic significance (two families becoming one) and to be there to witness the birth of something new – a new chapter, a new stage of life, a new reality for two people and beyond.
What aspect of your job as a wedding Celebrant gives you the most satisfaction?
Co-creating. When what I offer to the couple inspires their dreams and I can see that creative spark in their eyes as we begin to get the ceremony together.
What are your favourite types of wedding ceremonies?
Those where you feel the love and wholehearted contribution of their community – friends and family. There could be only two people present but their hearts are totally in it. The ceremonies that connect you to a sense of being part of something larger than yourself.
If you had to sum yourself up in three words, what would they be?
Why limit myself to three words?:)))) Life Flow Love
What are your celebrant ninja skills? What are you awesomely good at when it comes to wedding ceremonies?
Creating and holding sacred space for the ceremony. Because I work with ritual and shamanic healing, creating the right space for any deep work to happen is key, so I do take time to work with the actual space where the ceremony is taking place and with the ceremony space within a day. In systemic work we talk a lot about setting the intention to guide the process, so in ceremony I do the same.
What's your favourite symbolic ritual, and why?
One of the symbolic rituals I do sometimes before the ceremony is imagining that I invite in all the ancestors of the couple to witness the ceremony and to give their blessings for the new family to be abundant and happy. We talk this through with the couple in advance, so they know that when they enter the ceremony space, it is not only their family and friends present, it is the whole of their ancestral field supporting this step in their life. Often the couple is not able to invite and have everyone they want in the ceremony, they could live-stream it of course for those unable to travel, and they can also spiritually stream it for those who are long gone. It is a beautiful way to connect with your roots and see the love flowing through generations.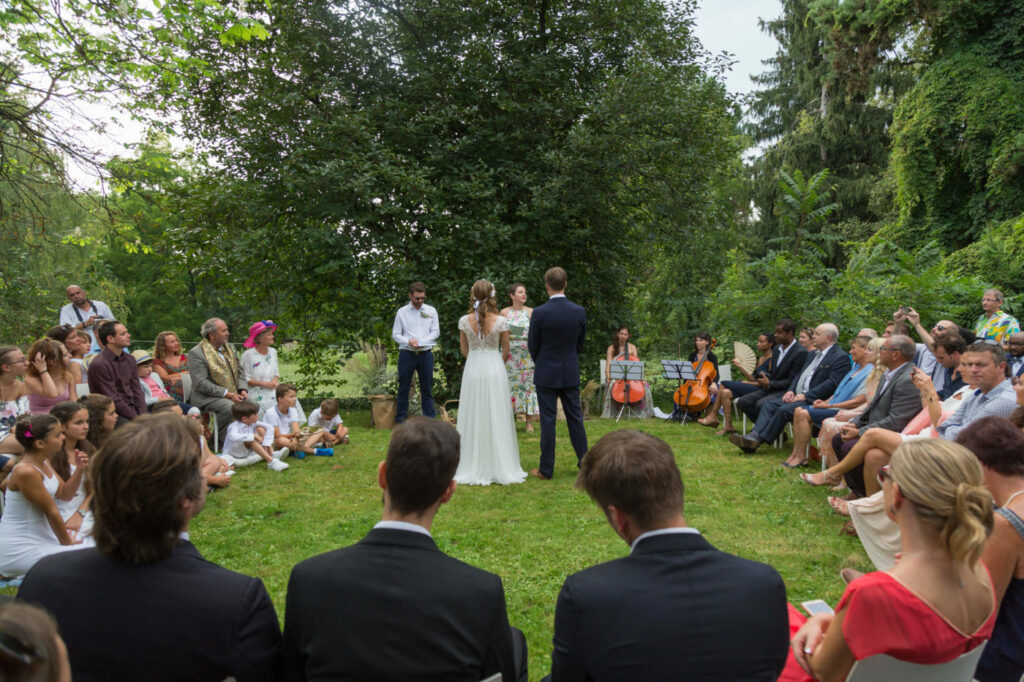 What would be a dream ceremony for you?
Every ceremony is a dream ceremony in some way, as we dream it up together with the couple.
How would you say the wedding industry has changed in the last fifteen years?
I don't think I've been in it long enough to say, but I guess the fact that I am doing this interview is because celebrancy is a market shows signs of a big change happening.
What kind of couples do you enjoy working with?
Those who would like a special meaning for their ceremony, who are interested to go beyond the usual, who enjoy being themselves and who are curious about the world and all its mysteries.
Tell us about a funny/hair-raising/near-miss wedding experience that you've had as a Celebrant
Once I thought I was going to faint in the middle of a ceremony. It was around 40C and it took all my grounding skills to stay present, digging my heels into earth and praying to stay conscious till the end. It was a bit scary at the time but now it feels funny. Also it taught me that no matter how well you plan, there could always be something unpredictable – like the weather.
What are your favourite types of venues/spaces for weddings?
I love holding ceremonies outside in nature, to have it as support and creative inspiration. Also spaces/venues with a heart (in looks and hospitality) especially when they match the character of the couple.
When you're not busy being a Celebrant what do you love doing?
I love traveling. Both work and fun. New places, new people, new experiences all inspire me to stay curious and creative and teach me about ways people do things in their culture – very useful knowledge in my work with people from all ways of life. Being bilingual (Russian and English) helps to find more ways to connect.
Doesn't Aleksandra have such a unique and fascinating approach to how she creates wedding ceremonies? Get in touch here with Aleksandra if you love the sound of her and what she could bring to your wedding ceremony.