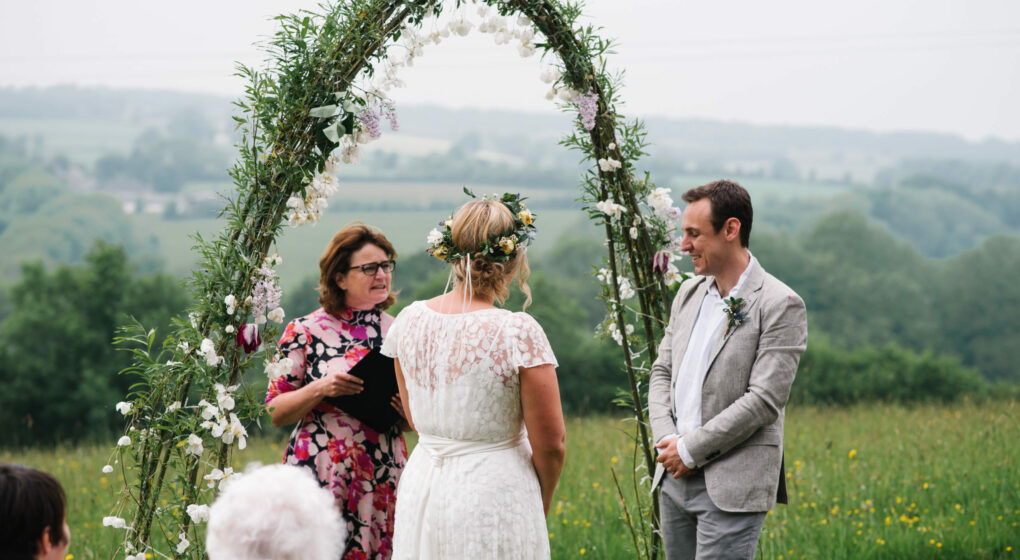 Devon wedding Celebrant Frances Cave of Fanfare Ceremonies is lucky enough to not only call stunning Devon home, but she also gets to lead the most amazing wedding ceremonies in some of the most wonderful locations in and around Devon.
As a self-proclaimed hopeless romantic and people person, Frances absolutely loves meeting all of her lovely clients and learning about them and their plans for the wedding ceremony.
If you're getting married in Devon, read on for more about Frances and how through Fanfare Ceremonies she can help you bring to life the wedding ceremony of your dreams.
What has being a wedding Celebrant taught you about life and people?
That love really does make the world go round and that there really is a lot of love out there.
What advice would you give to couples getting married now? What mistakes could they do with avoiding?
To not get overwhelmed by it all and get influenced by others. Enjoy it. Follow your instincts. Your way will be the best way.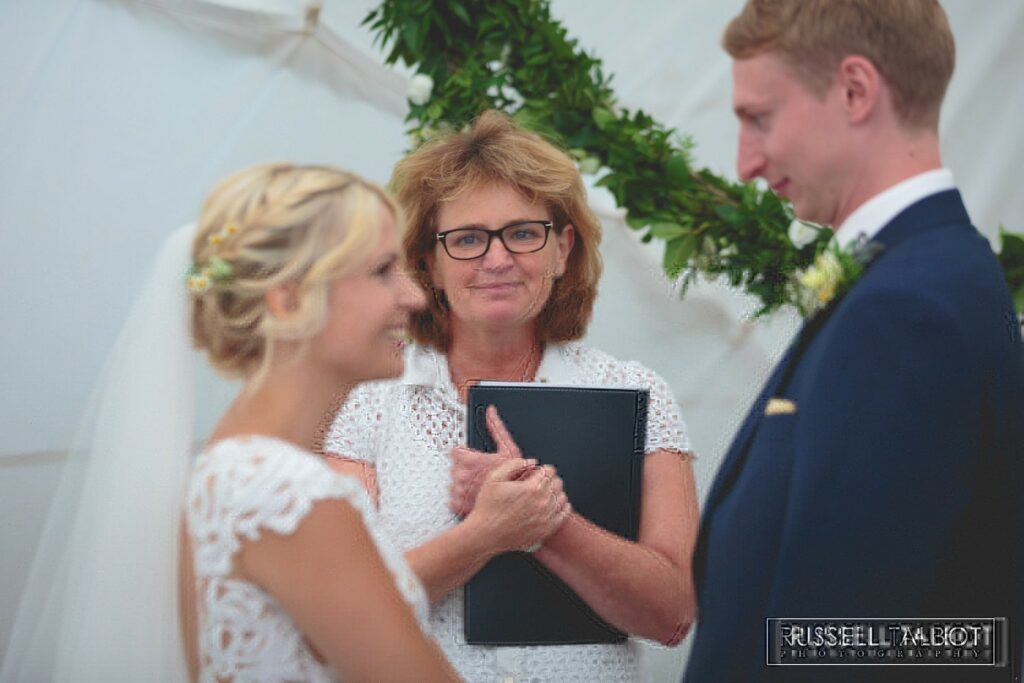 What do you love about being a wedding Celebrant?
I love meeting all the people I meet. I love hearing their stories and at the risk of sounding saccharine the whole process is just so happy! What could be better?
What aspect of your job as a wedding Celebrant gives you the most satisfaction?
In my experience there are still so many who don't even know what a celebrant is. And so I love that first conversation with a couple who are unsure about what a celebrant ceremony involves. I love explaining how I can help them, and how we can make their ceremony really special and personal. Then of course the icing on the cake is when my passion has clearly been conveyed and they book me. That gives me enormous satisfaction.
What are your favourite types of wedding ceremonies?
I was married in church and so I do lean towards the traditional. The beauty of what we do though is that the ceremony can be traditional with some cool, very personal tweaks.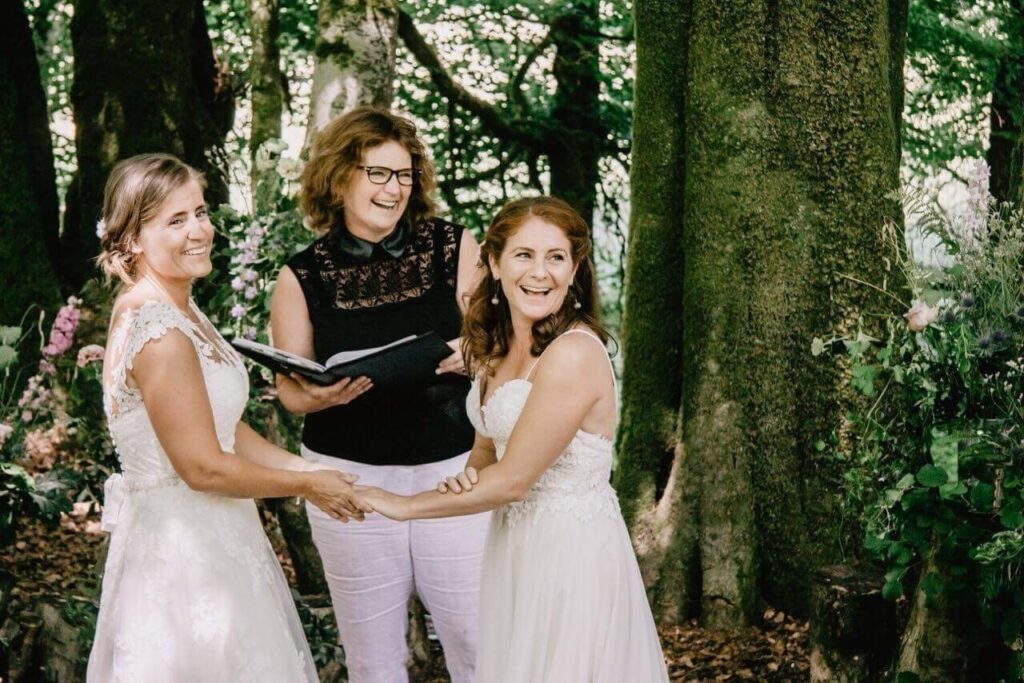 If you had to sum yourself up in three words, what would they be?
Warm. Fun. Genuine.
What's your favourite symbolic ritual, and why?
Handfastings! For me it absolutely is the most intimate. It draws the guests into the moment.
What would be a dream ceremony for you?
I have 2 dream ceremonies. Either outside in a beautiful english country garden with a glorious view as a backdrop, some sunshine but not too much, the music provided by friends or family, and the actual ceremony to be relaxed, to include a hand-fasting, with vows written by the couple and stuffed to the gunnels with sincerity, humour and happy tears. My second dream would be all the previously mentioned but in a barn in the winter lit by candles with, guess what? A unity candle ceremony!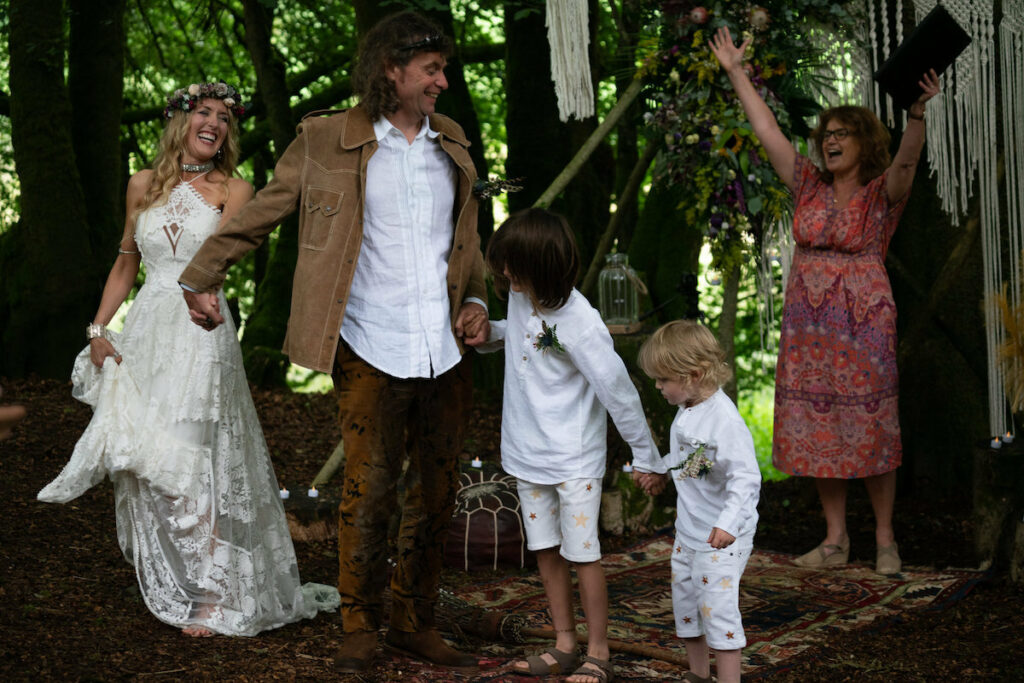 How would you say the wedding industry has changed in the last fifteen years?
Venues, venues, venues. Hundreds of them. All offering the same. Every barn, stately home or hotel now does a wedding. I applaud the rise in the more simplistic wedding when the focus is on the couple and their friends rather than the grandeur of the venue and the party.
What do you think wedding ceremonies will look like in the future?
I'm hoping that the trend I refer to above will continue and that couples will concentrate more on the ceremony than just the party.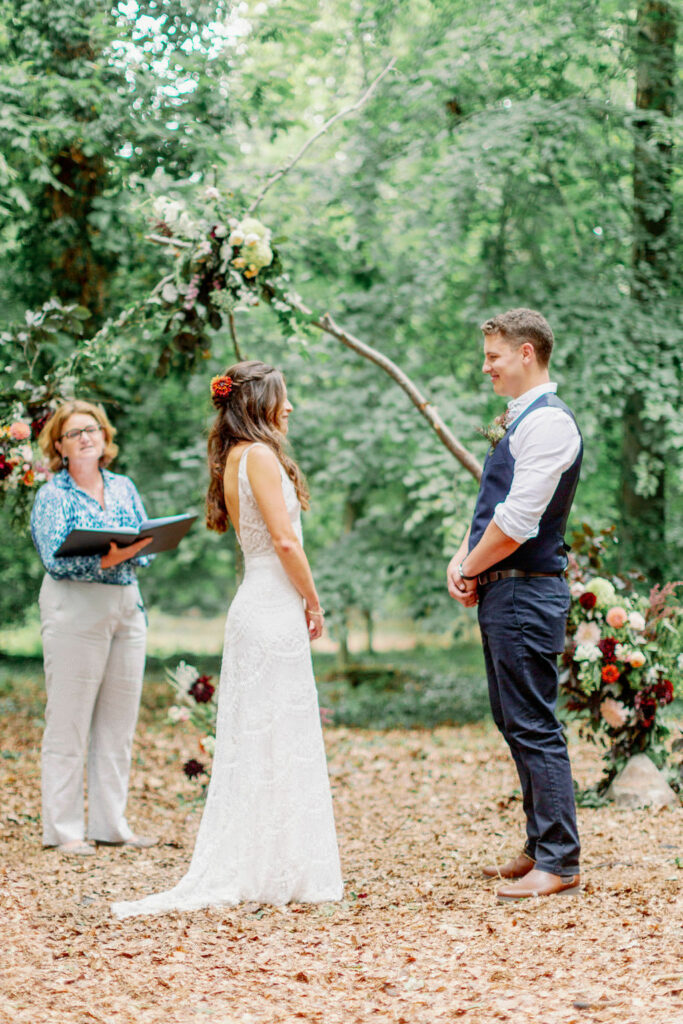 What kind of couples do you enjoy working with?
All of them really but I suppose those especially who have given their ceremony enormous thought and have wonderful creative ideas. There is always so much to learn from others.
Tell us about a funny/hair-raising/near-miss wedding experience that you've had as a Celebrant
When my adrenaline starts pumping my nose runs like a tap. I'm always armed with tissues. At one wedding my nose had been doing its thing for while and I had knelt down to introduce myself to a young page boy who said very bluntly as only a child can 'what's that stuck on the end of your nose'. I shall be forever grateful to him. I would have had tissue stuck to my nose in all the photographs!
What are your favourite types of venues/spaces for weddings?
I absolutely love a wedding that is held in the garden of the family home of one of the couple.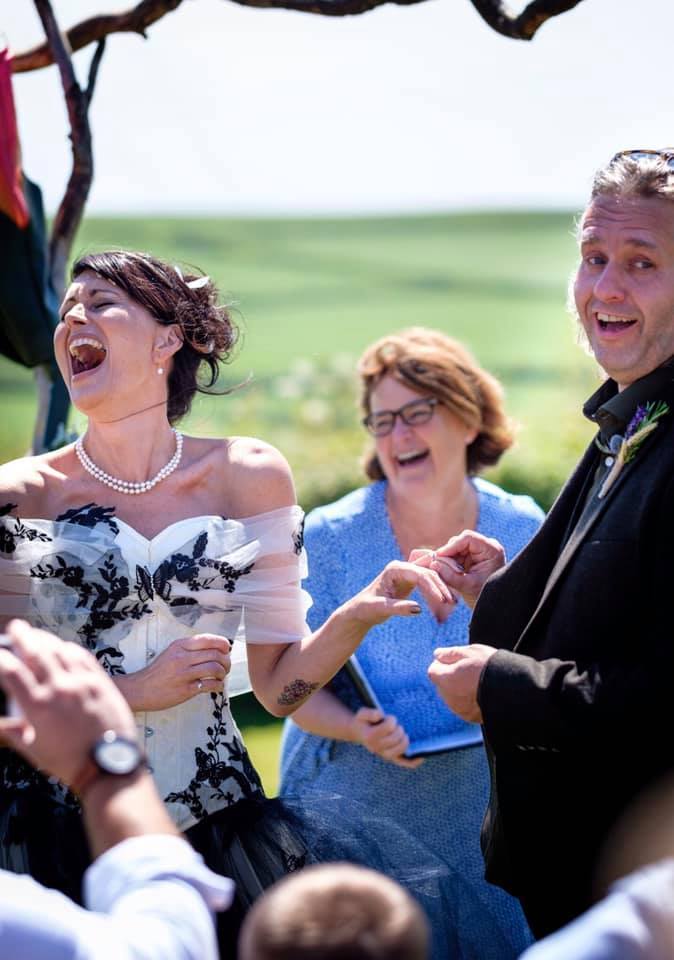 Can you share with us one of the nicest things/comments one of your couples has said about you.
"The ceremony exceeded all our expectations of what a wedding service could be, especially for second-timers, with adult children to consider and other issues in the mix. You were absolutely brilliant in every way, right from day one and until the very last moment at the kirk, you kept us straight, you got all the right info out of us and most importantly, you put together all our random thoughts and feelings into a beautiful, coherent and truly meaningful service for us, VERY CLEVER! I know that everyone in the congregation felt the same, and I think you must have noticed all the over-emotional 'lairds' dabbing their eyes discreetly, with their less inhibited wifes in full flow and fast running out of tissues (so I'm told!). A brilliant result in my book. We have had so many compliments on the service itself that I shall gather up some of the quotes for you from the letters we've received, as I think you should benefit from their lovely comments too. Thank you thank you Fan really so truly. I can't over-emphasise how delighted we both were with the results and it was all down to you. I think you really have hit on a skill and passion in this work which shines through and which you so obviously love to do"
I nearly wept when I got this one!
When you're not busy being a Celebrant what do you love doing?
Spending time with my husband and family. My children (not really children anymore) are all working in London so I visit them as regularly as I can often tie it in with meeting clients. I'm also lucky that they come home often. I love my friends. I love the countryside, walking my dog Prudence, swimming in the sea, eating, drinking, shopping and entertaining. Life!
Get in touch with Frances now to find out if she's available for your big day in Devon.
Main image photo by DHW Photography