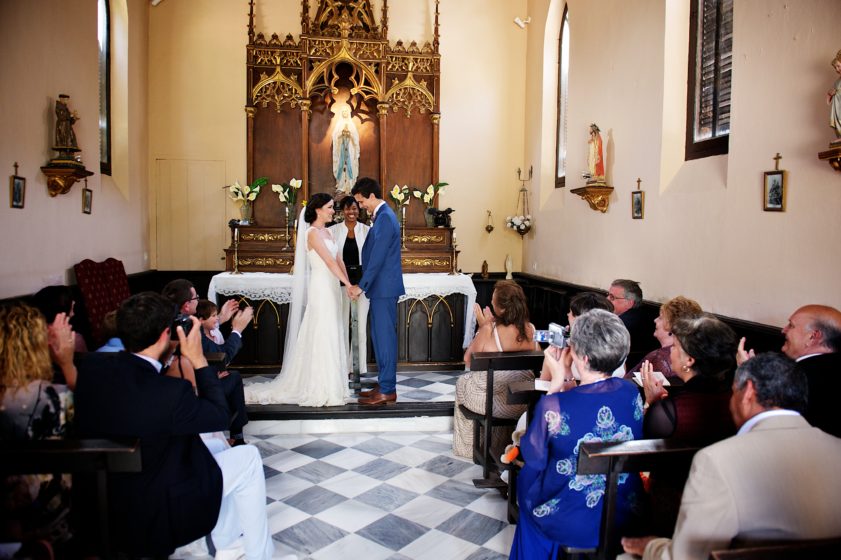 So you've got engaged (congratulations) and your first thoughts turn to your wedding ceremony (naturally!). Maybe you are someone who knows straightaway what type of ceremony you would like, however maybe you are someone who doesn't have a clue! Well, that's where I am here to help.
Check out my super duper guide to the different types of wedding ceremonies that exist, from civil to pagan, to non-denominational to Humanist. The key rules are to choose a ceremony which resonates with you and expresses how you and your husband or wife-to-be feel about one another and your lives within the wider world. And it's as simple as that really!
Religious ceremonies
Generally speaking, if you have a strong faith or religion that you are a committed follower of, it naturally follows that you will get married in accordance with your religion. In the UK, most religious clergies of the main religious faiths (Christian, Catholic, Jewish faith,) are licensed to conduct a religious ceremony, which is also legally binding but for other faiths you will need to check if you will also need to have a civil ceremony before or afterwards to make you legally married (See below for an explanation of a civil ceremony).
Religious ceremonies include: Roman Catholic, Protestant, Jewish, Muslim, Hindu, Quaker, Buddhist, Pagan
Bear in mind: Religious ceremonies follow their own process and structure in accordance to their religious doctrine. Depending on the religion in question, it is very unlikely that you can have any form of personalisation or include any personal elements in your ceremony, especially if your ceremony is taking place in a holy/spiritual building. You will be expected to comply with the demands  and the protocol of the religion in question. For example, in traditional Jewish ceremonies there are no actual exchange of vows.
I personally, feel you should never ever have a religious ceremony, if you do not 100% believe in the religious doctrine of the religion in question or you are not 100% committed to its practice and protocol. I also think it's a bit out of order to get married in a church or beautiful religious building, because you find it er, beautiful. That should be an extra reason, not the main one! Just saying!
Interfaith ceremonies
Perhaps you and your partner are of different religions and you would like to instead of celebrating just one of your religions, celebrate both! This is what an Interfaith ceremony is, where a specialist celebrant can help you shape your ceremony to reflect both of your religions or cultural practises. Check out the amazing Secret Wedding Blog for fab ideas on multicultural and multi-faith weddings and wedding ceremonies.
Non denominational ceremonies
A non denominational ceremony means that both of you would like the ceremony to mention God and to reflect some religious spirituality but without alluding to any God or religion in particular. This is a great alternative for couples who have a general religious or spiritual faith but who do not prescribe to one particular type of church or religion.
Non religious ceremonies
Non religious ceremonies are just that, ceremonies which do not contain any religious references or content. The most common type of non religious ceremonies are Humanist ceremonies. Humanism is the belief that we, as individuals can be good and loving members of society without needing to adhere to any religious codes, but simply following the good, strong moral codes which society asks of us. This means that Humanist ceremonies focus on the couple in question and how they view their relationship in relation to their family and friends and in wider society. Humanist ceremonies are very personalised and very much tailored to each couple. In most Humanist ceremonies couples will be given the option of saying/writing their own vows and including symbolic gestures which they feel resonate with them and including songs, music, poetry and readings that they enjoy and wish to hear during their ceremony. For couples, who really want to show their love throughout their ceremony, to be themselves and to reflect their thoughts and feelings for one another during their ceremony, then a Humanist ceremony is possibly the best ceremony for that, but then I am MASSIVELY biased!
Civil ceremonies
A civil ceremony, in most countries, refers to a ceremony that makes you LEGALLY married. A civil ceremony takes place in a town or city hall, registry office or other official or recognised building/location and are conducted by a local official or a registrar. As the main purpose of the civil ceremony is to make your marriage a legal one, you will need to follow a legal process and pledge legally approved vows in order to satisfy the marriage contract and to have a legally recognised union. Therefore, there is often little scope for personalisations in a civil ceremony; personal vows, readings, music etc.
It all depends on your country/area's own requirements, the place of marriage and the time of marriage. Nearly all civil ceremonies are of a secular (non religious) nature and do not include any references to religion. Because of the legal nature of a civil ceremony there can be many restrictions in place such as the time, day, and location of where the ceremony can take place, in the UK for example, in some register offices you are not allowed to throw confetti! And so you should consider this and do your research well.
Depending on what country you live in, you may be able to have a religious ceremony or other ceremony of your choice which is carried out by a licensed clergyman or official who has the power to legally register your ceremony, which means you will not have to have a separate civil ceremony. For example, in Scotland and Ireland, Humanist ceremonies are now legally binding, so you do not have to have a separate civil ceremony, as you do in England.
Bear in mind: In a nutshell, as a human being in love, you are free to have any type of ceremony you wish, that reflects you and your love for one another in the way you feel best. But in order to also make sure that are also legally married (if this is important to you) you will need to check that a) the ceremony of choice makes you legally married and b) if it does not make you legally married, make sure to cover the legalities by having a short and sweet civil ceremony before or after your ceremony of choice.
I think I have covered everything but I'm sure there is someone out there who can think of something that I haven't, so do let me know if there is any type of ceremony you've heard of and would love to know more about.
Good luck choosing your ceremony! x