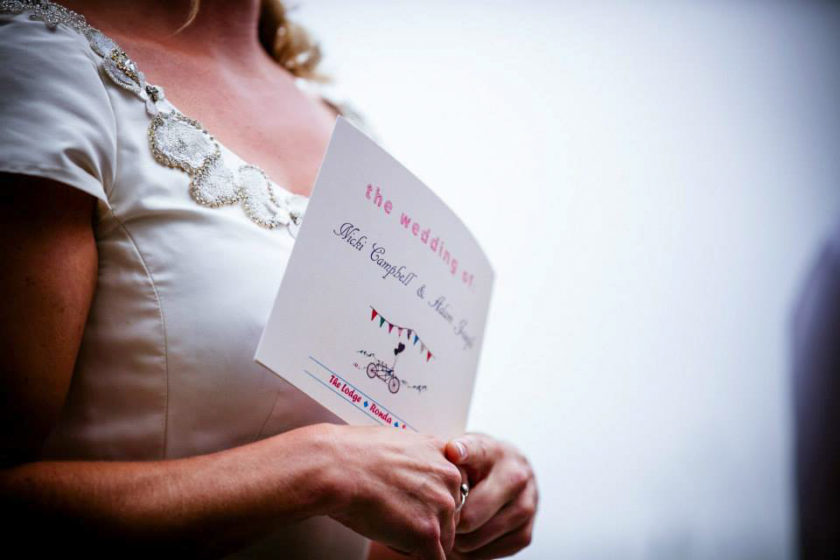 My long-term regular readers will know about my obsession with wedding vows. I've tried to get over it, but I just can't help it. The exposure that I've had over the years to so many awesome vows, means their goodness has rubbed off on me like some sort of healthy non-radioactive substance.
I love vows so much that I've even written two awesome (yes, I'll say so myself) e-books about them to try to give couples as much inspiration and ideas to help them include personal vows in their ceremony. As much as I love it when couples write their own vows, I also know that although some people want personal vows, they don't necessarily want to have to write them themselves, so that's why I have two e-books. One is full of 30 awesome pre-written vows, which you can literally pick a vow from and have it as your own. By the way, there is no shame or a lessening of meaningfulness in doing this. What is important is that the vow speaks the words that you want to say, whether you write those words or not.
The second e-book is for those who want to have a go at writing their vows using a foolproof vow writing template, which helps you write your own vows with minimal stress. And that's my 15 minute wedding vows book, called so because the template is so thorough, you could write your vows in 15 minutes. And I'm now in the process of writing a third e-book for those brave ones out there who want to go for the complete free-form vow expressions. One of my brides begged me to have this book finished before her wedding early next year, so gosh I hope I can!
Okay, so let's get back to penguins, dinosaurs and ninjas.
These vows were said by one of my grooms at his and his love bunny's wedding just a few days ago and they were so awesome that I knew I had to write about them as soon as humanly possibly. I never saw these vows in advance because the groom said he'd run out of time to send them to me, something I have heard before, which usually means that they were written a few hours before the ceremony!! However, I love this. As long as they get written, I don't care when and some of the best vows I've ever heard were written very close to the wedding date, like the day before or even the morning of. I totally get that some people need this level of pressure to get the job done and produce their amazing goods. I do like to see vows beforehand when I can though because a) I am so nosy and b) I like to have a spare copy, but it's also really lovely when I don't and I get nice on-the-day surprises like this.
So anyway, I know you're already begging me to shut up and share the vows already, so here they are.
' A pair of penguins mate for life, across hundreds of miles of tundra. The female penguin travels to bring food to the male, as he watches over the egg for a month of sub-zero temperatures. As your husband, I promise to NEVER ask you to do anything like that!

I vow to protect you from all the ills of the world, even if a scientist invented a way to clone dinosaurs and the dinosaurs escaped from the zoo and then came after us. I would protect you as well as I could from said dinosaurs.

I vow not to take any of your less pleasing habits personally, even though I really wish you would empty your pockets of tissue before it ends up in the tumble dryer. And perhaps if you could not booby-trap the route to the toilet so that I have to play an intricate Ninja Warrior balancing game at 2am, that would be great.'

Most of all, I vow to always try and make you laugh and to bug you with my never-ending love. I love you lady.'
Ten out of ten, five stars, Gold star, every highest possible rating for these vows.
Why do I love them?
Because they reflect the groom's personality
Because they are honest
Because they reflect the relationship that the couple have
Because they're original and unique (this however is not a pre-requisite for vows but this is why I love these vows)
And that's what's important to remember. Gold star vows are vows which come from that special place in your heart, that connect with who you are and express how you and your love bunny love each other. And so if everyone approaches their vow writing or vow selection with this in mind, you will undoubtedly find yourselves with gold star, ten out of ten vows.
Cover photo by Rebecca Louise Photography
MORE VOW INSPO RIGHT HERE
If you could do with a little more vow inspo to get your wedding vows just they way you want them to be, check out my two vow-ebooks and all the reviews from happy couples who've used them at their own weddings. There's something for everyone.