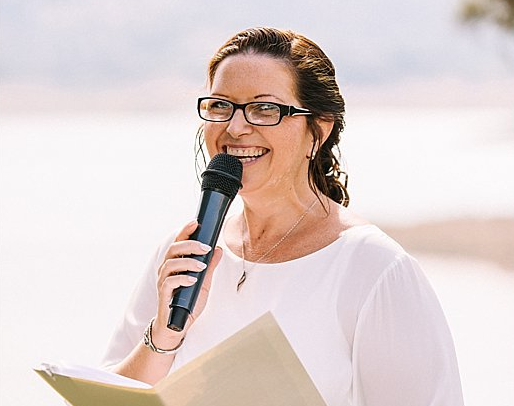 A wedding celebrant is a joyous human being who helps couples to celebrate their love and their transition into being a married couple. Depending on where you are in the world, some wedding celebrants will be able to combine the legal act of getting married at the same time as the kick-ass awesome celebration of marriage too. However in other countries, you may need to do your legal marriage registration separately to your amazing marriage celebration. Easy peasy.

So what does a wedding celebrant do?
Basically, a wedding celebrant will work with you to make sure that your wedding ceremony is a personal celebration of your commitment to each other. Most celebrants write all their wording for the ceremony in conjunction with you and work with you both to create a highly personal ceremony that reflects both your personalities, characters, ideals and wishes for the future and to do this, they really get to know you as a couple.
You want a GOT fantasy-filled wedding ceremony? There are wedding celebrants who can do that for you. You want a Disney-laden ceremony? There are wedding celebrants who can make that happen for you. You want a romantic and traditional affair? There are wedding celebrants who can bring that to life for you. You want a Hindu-Christian influenced ceremony? Yup, there's a wedding celebrant out there for you. You want a fun, musical, outdoor, barefoot ceremony? Well, you know what I'm going to say. Wedding celebrants can carry out whatever you envisage for your wedding ceremony, you just need to find the one who matches perfectly with that vision.

And, a wedding celebrant does this regardless of whether they can make you legally married at the same time or not. Here's a quick run down of what wedding celebrants can and can't do in terms of marriage legalities in some countries. But don't forget, always check what your options are for yourself.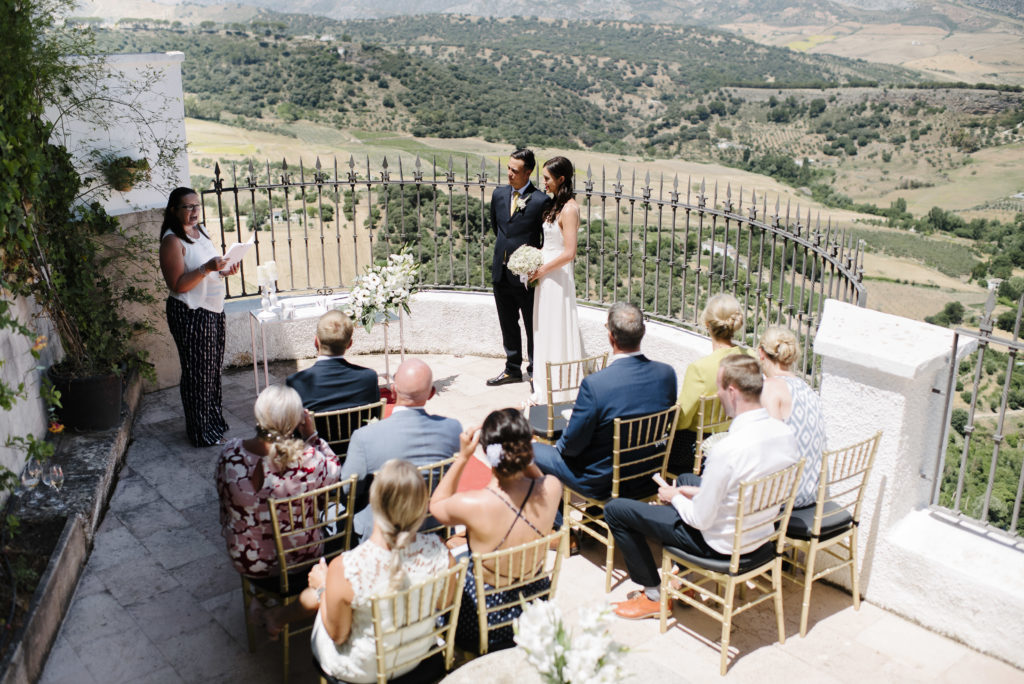 England and Wales
Prior to your wedding celebration with a wedding celebrant (although not mandatory and can be done afterwards, although we recommend doing it prior), you will need to have a legal registration with a registrar. This can be done very simplistically, through the process of a statutory signing, ie you basically sign all of the required paperwork and say the required wording to make you legally married. You can then have your bespoke, 100% personalized wedding ceremony with a wedding celebrant at a time, venue and location of your choice and enjoy a more personalised process from start to finish, where you will meet your celebrant before your wedding celebration and will get to know them throughout the planning stages.

Scotland and Northern Ireland and Ireland

Humanist wedding celebrants can carry out both beautiful bespoke wedding ceremonies and the legalities at the same time. However, non-Humanist wedding celebrants who can carry out non-religious or faith-inclusive ceremonies can also lead wedding celebrations without the legal aspect.
Jersey
In Jersey (Channel Isles) authorised Civil Celebrants can legally marry people, in all manner of locations around Jersey from heritage sites to the zoo. So a bespoke wedding celebration and legal marriage can take place at the same time.

Iceland
Humanist wedding celebrants can legally marry you and carry out bespoke wedding celebrations at the same time.

The Netherlands
Wedding celebrants can carry out legal and beautifully bespoke celebrations at the same time.

Spain
It is not possible to be legally married in most parts of Spain, unless you are Catholic or a Spanish resident. So most couples are encouraged to have their legal registration in their country of residence prior to their wedding ceremony with a wedding celebrant in Spain.
For people having a wedding in Southern Spain, there is the possibility of carrying out the legalities in Gibraltar, too, ahead of your ceremony in Spain. Consult the Gibraltar registry office for more info.
America and Canada
Wedding celebrants, or officiants as they are more well known can carry out both the legalities and bespoke celebrations at the same time.

Australia and New Zealand
These two countries have the same process as America and Canada.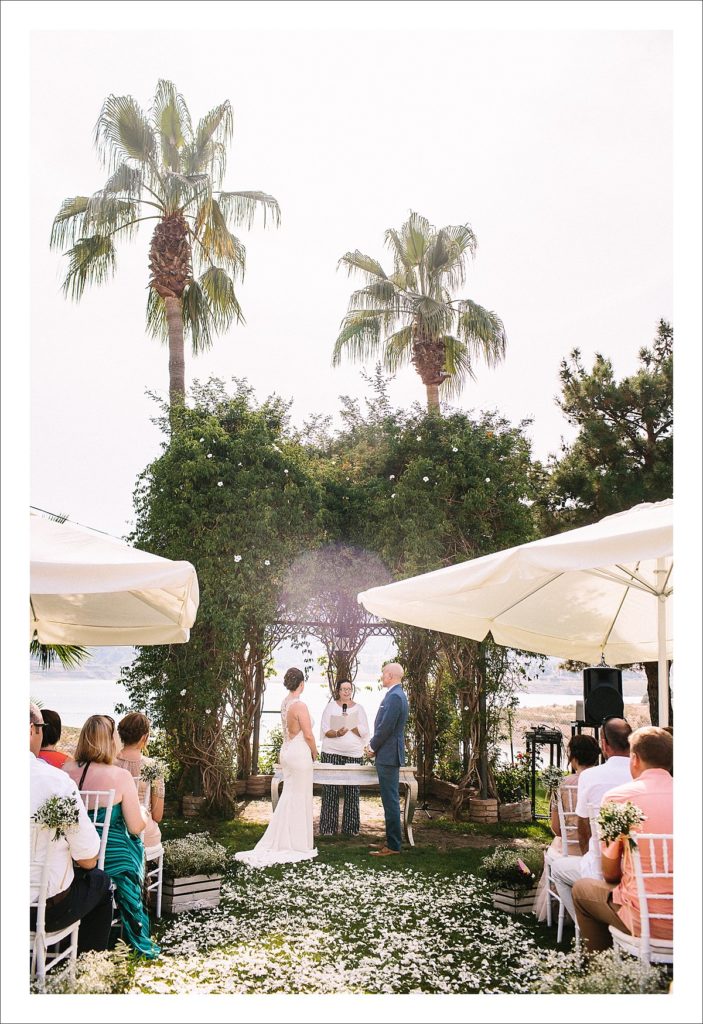 Nowadays it is generally accepted that when you have a wedding celebrant, marriage celebrant, marriage minister or wedding officiant, they will create a bespoke personal experience for you, as mentioned above. A ceremony that has been created and fashioned for you both, whether they can do the legal side of the ceremony at the same time or not.

There are registrars, officiants and marriage celebrants who can and often do only take couples through the process of becoming legally married, without any other form of celebration. You may have heard of them; the city hall, registry office, coffee house or home signings where a celebrant/registrar or officiant will carry out a simple marriage licence signing and declaration of marriage to make the couple legally married. Many couples only want this and for those couples this too can be a simple and beautiful affair. But for couples who want a personal celebration in addition to being legally married, then working with a wedding celebrant who creates bespoke and custom ceremonies is going to make that possible.
So what are the benefits of a personal celebrant-led ceremony?
Working with a wedding celebrant means that you are doing just that, working with an individual to create a special celebration for you. It means you are getting a ceremony which is unique to you and your love bunny. Created with you, and for you, a ceremony that reflects and represents who you both are. You get to be 100% yourselves, which means your ceremony will be something that you can cherish and remember forever. How nice is that?
It also means you will have a professional who is full of lots of great advice about what you can do for your ceremony and how you can do it, which is invaluable in itself. They're like a walking-talking awesome ceremony encyclopaedia and reference book rolled into one!
Having a wedding celebrant on your side also means that you build a really beautiful relationship with them and get to meet them, talk to them and know them as a human being, because life is all about connection, is it not?
This is why you will often hear celebrants say that by the time the wedding day comes around, they feel like they are conducting a ceremony for close friends and not just clients. And that my friends, is a beautiful thing in itself. A wedding celebrant is your own personal ceremony planner, who's in charge of not just creating the most amazing marriage celebration for you, but expertly hosting it too AND goes on to become someone who you have a lot of time and appreciation for, and in many cases, a dear buddy for life! What's not to love?
We asked a number of celebrants to sum up how they feel they help their couples and families, and this is what they said.
Celebrants celebrate love; celebrants launch metaphorical ships; some celebrants launch literal ships too…

UK Wedding Celebrant Charlotte Simpson 
Celebrants…live in the moment… point out the less obvious… celebrate the magic… calm frazzled nerves… the list goes on and on!!'

USA based Chaplain Claudia Meyer
Celebrants love a love story 💕. They love hearing it, writing it and telling it 😍

Spain and UK Celebrant Nikki Kulin
Celebrants…make memories.

Spain Wedding Celebrant Debbie Skyrme
Celebrants help couples and families find the best words to express their wishes and feelings, words that only really get said the once but are so important and last a lifetime 😊💛

UK Wedding Celebrant Grace Jevons
Celebrants are Muses, we inspire and spark the imagination of our clients!

UK Wedding Celebrant Gaynor Stickels
Celebrants bring presence, time & a willingness to listen and learn about those we work with.


UK Wedding Celebrant Terri Shanks
Celebrants listen to their clients. Really, properly, listen.


UK Wedding Celebrant Judy Mansfield
UK Wedding Celebrant Glenda Procter

Celebrants consistently create (great) content!


UK Wedding Celebrant Michelle Taylor

Celebrants hold the vibe of the whole wedding in the palm of their hand.


UK Wedding Celebrant Lynn Tierney



Celebrants are listeners, writers and performers. Trained to support and guide you through the most important element to a wedding..the Ceremony. We go on a journey with our couples getting to know them and then creating a ceremony around their personal wishes.. Our toolkit contains Love, empathy and a bit of pixie dust.


UK Wedding Celebrant Alexandra Harrison


Wonderful, right? So now that you know what a wedding celebrant is, you are now more clued up about whether to have one for your ceremony or not. And of course, my answer would be, 'of course you should!'
So go forth and find your wedding celebrant! You can even browse our wedding celebrant directory too. And if you're on still sitting on the fence, here are some more reasons why. And if you're toying with having a male or female celebrant, read this first, please!