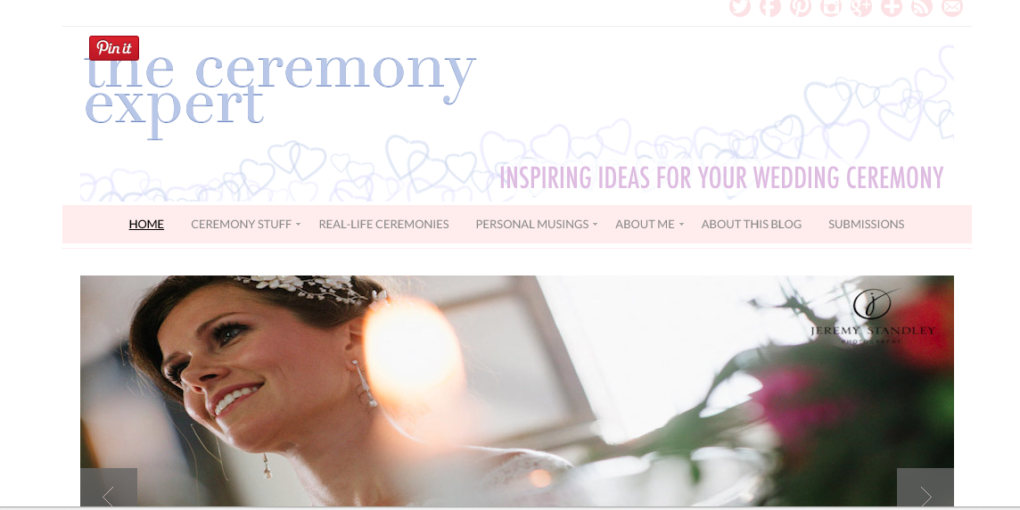 I'm slightly regretting writing this post already, because I really don't know what made me think I could possibly whittle down hundreds of wedding blogs that I love and admire to ten measly choices. But I'm one of those people who once I've decided to do something I have to do it, and so here I am, rather reluctantly.
As you know, my blog focuses purely on wedding ceremonies, the bits in and around the 'I dos,' the content, the traditions, the etiquette and the stamping on said traditions and etiquette. It also covers the design, styling and look of a ceremonial area, too. And most of all, it aims to inspire and encourage couples to get married, in exactly the way they want or maybe in the way they never even thought possible. That in a nutshell is what I blog about, as well as some personal musings on weddings, love and marriage.
So, I was thinking the other day, as you do when you're stirring a pasta sauce on the stove, that it might be a nice idea to share with you some of my favourite wedding blogs which are great resources for all things weddingy from DIY crafting to amazing themes and styles, and real wedding inspiration, to give you an outlook on the bigger picture. This in turn might be a nice complement to all the ceremony advice and information that you may get from me on my blog here.
Another reason is, when I talk to brides about wedding blogs, I often get blank stares. 'Which blogs do you read?' I ask and I am met with silence! Blogs are the ultimate wedding resource. If you are engaged and soon to be married you should read/be signed up to at least one wedding blog to help you through the process, just like your own personal wedding buddy, who you can pester consult at any time of the day or night!
So before I spill the blogging beans, let me just give some background to my 'favourite' criteria. Before I was a blogger I read and still do read blogs avidly. I know what I like and I know what I don't like. All of these blogs on my list are UNIQUE, ENGAGING AND INFORMATIVE. Of course, there are so many more wedding blogs out there that drop into this criteria easily too, but these are my current faves that I will happily sit and read and neglect my own blog, in the meanwhile!
So here in alphabetical order, because I'm fair like that, are my fave wedding/wedding-related blogs of the moment. PS I don't know why it is that most begin with 'B'. They just do.
[thumb]http://apracticalwedding.com/[/thumb]
It's really hard to pinpoint what I love about this blog, so I'll just say ALL of it. For me, I love the way that it tackles all themes and practicalities relating to weddings and beyond, from marriage, children, careers and even divorce and relationship breakdowns, as well. For me, this wedding resource is more like a life resource and it doesn't separate your wedding as a separate event from the rest of your life. This also means that when your wedding day has been and gone you could still tap into this blog for lots of tips and discussions about what it means to be married, how to deal with arguments, to discussions about annoying people who ask you from the second you are married when you're going to have kids! I just recently enjoyed their post about marriage hacks for when times get tough and it's posts like this why I love this site!
Bespoke Bride
[thumb]http://www.bespoke-bride.com/[/thumb]
I have been reading and enjoying the blog written by these gals for some time now. Emily and Jessica are the type of girls that you want to go and have a coffee or a glass of wine with and if you did you'd know you'd have so much fun. They are so bubbly and full of life and this is really reflected in their blog. Their love of loud, bright colours shows in everything that they do, from their real wedding coverage to their DIY crafts for weddings and beyond. Personally, if I'm feeling down I will just look at their Instagram feed and that will be enough to cheer my insides up. They're a little ray of wedding sunshine. And being winners of Wedding Magazine's Best DIY wedding Blog award and nominated for Cosmpolitan's Best wedding Blog award confirms their status as a top wedding blog, too.
Beyond Beyond
[thumb]http://beyondbeyond.co.uk/[/thumb]
Amma, the editor of Beyond Beyond, is beyond beyond! She really is. Her style, her style of writing and her personality are so bloody funny and engaging and slightly random that you can't help but catch up with her blog and see what she is up to. Her blog has a little bit of everything wedding-related; real weddings, DIY tutorials, inspirational shoots and bridal fashion. There is a little of something for everyone and even if you didn't love the blog (impossible), you will love Amma and her original way of inspiring you in all things wedding.


Budget Savvy Bride
[thumb]http://thebudgetsavvybride.com/[/thumb]
Can I just say here for the record that being budget savvy does not mean being cheap! It really doesn't. There is a huge difference between being budget savvy and being cheap. You can for example have a very expensive wedding which is actually still a very budget conscious/budget savvy wedding. So this is what I love about the Budget Savvy Bride blog. It's a great blog for helping you to work out what your wedding budget should be, working out which parts of your wedding are most important to you and helping you to stay within that budget, whatever your budget is! It has really good ideas for how you can save money and how you can do things in ways you might not have even thought of, which may make your wedding budget go even further. It's a US blog, so some of the money saving offers and shopping tips are dollar/US brand related but in general the tips are great tips for wherever you are in the world.
[thumb]http://www.festivalbrides.co.uk/[/thumb]
I love this site. I really do. I love the look of it and I love its whole concept; Free-spirited inspiration for your big day. Being a lover of the outdoors I am generally drawn to all their amazing real wedding features which show couples who have wonderful weddings in fields, woods and all manner of outdoor spaces. They totally incapsulate that feeling of being at one with nature, being a bit boho and being totally badass about it as well! I follow these girls on Instagram too, as I think they are totally unique and I could look at their posts all day long! And their boho bridal fashion inspiration is gorgeous.
[thumb]http://flyawaybride.com/[/thumb]
Getting married abroad? Then get yourself over to this blog, for everything destination wedding related. I urge you to know where you want to get married before you hop over there, because if you don't, you will NEVER decide. All the destinations they cover ALL look so amazing and 'wantable' (yes, I invented that word) that you will spend your entire life trying to decide where to get married, that you'll probably never actually get married. It's also full of great tips for things that you should consider when going down the destination wedding route, things you may not have even ever thought about!


Lia Griffith
[thumb]http://liagriffith.com/[/thumb]
I have been following Lia Griffith's lifestyle blog for years, before I even blogged myself. I can't even remember how I came across her blog, I was probably googling how to make something, although I can't for the life of me think what! Although, not a wedding blog at all, her wedding section is jam packed full of the most amazing DIY wedding and craft tips. She specialises in paper crafts too and just recently she posted a brilliant DIY paper flower crown. I love this idea. And not only do they look fab, they last forever. So if you really like the idea of DIYing as many elements of your wedding as possible, I would definitely urge you to head over to Lia's blog. She has great wedding accessories ideas for DIY bunting, decorations, invitations and great gift ideas, weddings favours and anything else wedding related that you can think of! And if you find you ever get a bit weddinged-out (as we all do!), she has a whole other host of lifestyle tips to keep you entertained and to give you something to think about other than weddings!


Love my dress
[thumb]www.lovemydress.net[/thumb]
I love that Love My Dress, which is probably one of THE biggest wedding blogs on the planet, supported by a fab team of people, still feels like one lovely best friend who chats to you all day long about your wedding ideas and feeds your wedding curiosities so much inspirational stuff. Their passion for inspiring people, although starts with a dress, does go so much further beyond the dress and looks at all facets of a wedding day with a real strong mantra on encouraging couples to be themselves. I have a lot of time for this blog, a lot of time.


Nu Bride
[thumb]http://nubride.com/[/thumb]
Nu Bride is THE UK blog for showcasing the beauty and diversity of the wedding industry and featuring couples of all races and all backgrounds, which in turn inspires all couples from all backgrounds to have the wedding that they've always wanted. Nu Bride is for any bride (or groom) from any walk of life and I cannot tell you how refreshing it is to see a bridal resource that is totally inclusive of every single one of us, no matter what size, colour or shape we are! I also love Nova's (the editor) blogging voice and every post she reads sounds like she is sat right there with you, your personal wedding expert giving you guidance, comfort and oodles of love and support. Nova is also great a writing really emotive, debate-inducing posts, which really get you thinking about what you want or don't want for your wedding. One of my fave posts recently was on evening-only wedding guests, and whether you should go down that road! The comments that followed were just as fab as the post! Yes, I am a huge fan. Nu Bride won the Wedding Blog Awards Best Big Day Inspiration award, which was a huge nod to Nova and a massive industry development, that I wrote about at the time.
[thumb]http://whimsicalwonderlandweddings.com/[/thumb]
I love Lou and I love her blog. I talk like I know her because I feel like I do because her blog is so open and honest and full of passion for what she does. I love that she is a mum too and that you get little snippets of her mummy life (through her social media) as well as the wedding world that she curates. Her blog is beautiful too, with a gorgeous mix of fun and free-spirited weddings, planning advice and her brides' diaries which I just love the idea of. Brides getting to read what other brides are up to! When I go onto this blog, I feel like I want to skip around the room afterwards!
So there you have it. My fave blogs in the wedding world. Hope you enjoy them as much as I do.
So before I go, let me leave you with one last tip. When you find a blog that you love, whether it's any of these or not, you should SIGN UP to those blogs immediately, so that you get a heads up on everything that gets posted. Although, I read most of these blogs regularly, I've just realised I have missed out on a lot of fab blog posts that I haven't seen because I'm not subscribed to all of them. Subscribe (it's free!) and then you don't miss out! So there!
x