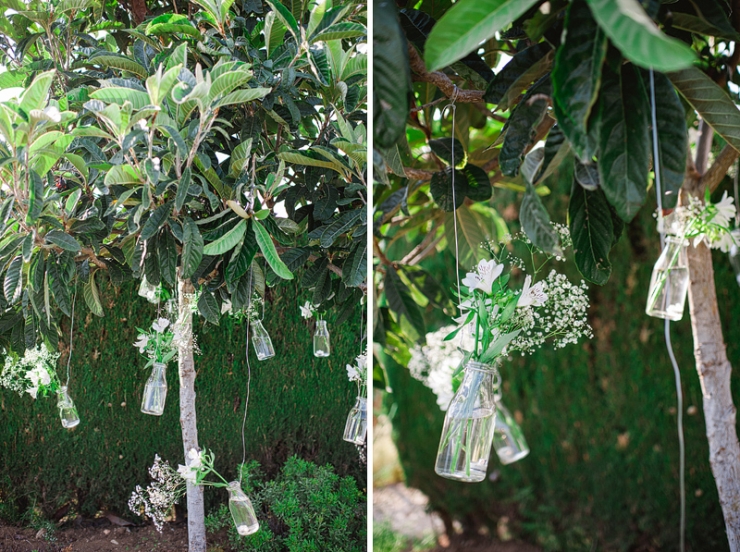 Do you know what? I bloody love Ikea. I don't care what anyone says, there is something in Ikea for everyone, even the bespoke-loving, vintage-hunting, furniture people out there! Ikea may make you think of flat-pack furniture and all the lame jokes that follow, but I'm telling you people, Ikea is so much more about blooming flat pack furniture.
It is, I'll have you know, a great place to buy amazing stuff that will transform your ceremony area, into a really lovely, decorative space. And even better, it won't make your credit card implode either. All of the items on this page are less than 30 Euros, with the average price being 10 Euros and the cheapest 69 cents! Ikea is so handy and most people have one near or not far from them, so it's a win-win situation really. I bloody love Ikea, did I say that already? And I mean that from the bottom of my purse, because Ikea isn't even paying me to say this, either!
So if you're looking to have as many DIY elements in your wedding as possible, then here are some top tips and products that you can use for your own ceremony area or in fact any of wedding space that might need a bit of spicing up. The great thing about Ikea products as well, is that they lend themselves wonderfully to being painted, sprayed, embellished, and pimped and preened to fit your theme and colour schemes, so you really can't got wrong.
Lantern love
I love a lantern. My house is full of them. Especially on our veranda, where most of our summer is spent. You cannot have an outdoor wedding and not have your space dripping with lanterns. That would be like a night's sky without any stars. Lanterns are so pretty and when darkness does eventually fall on your wedding night, it will be these little beauties that light up your space and make everyone feel warm and dreamy. And the great thing about lanterns is that they can be pretty much hung and placed anywhere; in trees, from beams, on the floor, on tables. I would have them EVERYWHERE. For an early evening outdoor ceremony, an aisle-way adorned with lanterns would be pretty spectacular to walk down! And you can spray paint them too, to match your look and because they are fairly cheap, going crazy and buying a shed load probably will not hurt your purse too much, either.
Classy glassware
Ikea has so many amazing, decorative bits and bobs, it's hard to know where to begin. Their glassware, such as vases, candleholders and bottles can transform any table, aisle-way, or free space. Some of these vases, filled with flowers, petals or decorative stones and coloured sands can make beautiful features for your ceremony table, or guest book table. And bottles and vases can be wrapped in lace and burlap for a more rustic effect.  Also, if you wanted to include a candle ritual in your ceremony, instead of buying a ready-made set, you could make your own bespoke set. Two of the candleholders in image five and the vase from image 13 with the candle inside would make a perfect candle ritual set. I can also picture aisle-ways with two rows of image two or seven, filled with tea-lights, running alongside the chairs and down the aisle. What an entrance that would make, especially for an evening wedding ceremony. (Hover on the image to see the number.)
Candle central
Just like lanterns, candles are one of those things that you can't go wrong with (well, except cause a fire, which you must take care not to do!). But done well, the effect of lit candles is magical and really does transform a venue or ceremony area. And Ikea is a little candle haven. All colours, all sizes, scented, non-scented. A Candle heaven just for you. And when you've gone candle crazy and decorated your entire venue with them, you just need to find that special person whose job it will be to go around lighting them all, ha ha!
Miscellaneous bits and bobs
I don't know exactly what you could do with all these amazing little bits and bobs, but I know some of you out there will. You may look at these items and think, 'yes, that's it. I can do A,B,C with this and put them in/on X,Y,Z.' Some of these items are just so delicious, I think you should make it a mission to have some of them featured somewhere on your wedding day!
Mirrors and frames
Even the least creative people out there, can get a little creative with the use of a frame or a mirror.  Something as simple as taking the mirror in image 6 and writing a cool message or a love quote on it, and already you've created something unique. And if black isn't to your liking, paint or spray it whatever the hell colour you like. Frames are also great, not just for photos but also prints and text. You can have love quotes printed out and framed and placed on your ceremony table or you can hang personalised frames on to the end chairs of your ceremony seats. They can be personalised frames with photos of you as children, love quotes, favourite art work, whatever goes for you.
Some examples in action
These photos below will give you some great ideas of how you can use Ikea products in a similar way, to style your own ceremony space.
Right, that's me done. Guess where I'm off to? Yep, that's right. All of this has got me in to house-pimping mode.