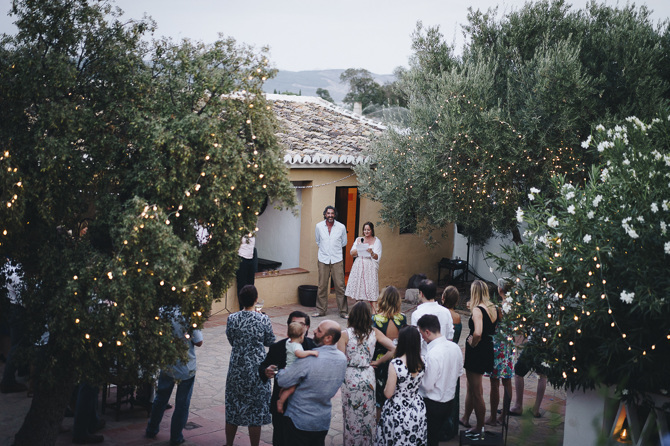 A look at the growing popularity of wedding ceremonies where couples are doing away with wedding ceremony formalities and creating their own ceremony definitions.
The welcome drink was indeed very welcomed by the wedding guests as they gathered round in the courtyard and mingled with everyone, Those they knew and those they would soon know better. The couple, drinks in hand, also weaved amongst their guests, chilled, happy and excited to get the show on the road. The show being of course, their wedding ceremony. After a good while, the Celebrant taps a glass and the voices settle down to a hush and then silence. Everyone is invited to stand around the the couple, who by this point are standing next to the Celebrant. The wedding ceremony begins. The awesome ceremony takes place, full of heart and symbolism and ends with the guests moving in closer to congratulate the couple with hugs and kisses. The end. Welcome to the un-ceremonial wedding ceremony
What I have described above is a very loose outline of an actual awesome ceremony that I conducted and a summary of the type of ceremony that I am doing more and more of. And it's not just me. Many of my Celebrant colleagues around the world are also doing more un-ceremonial ceremonies too.
So what is an un-ceremonial ceremony?
In a nutshell, an un-ceremonial ceremony is a ceremony that has none, or very few of the traditional elements, but still absolutely packs one hell of a punch. It's a ceremony without formal entrances, usually without a wedding party (brides maids, grooms men, ushers, best man etc), and without a formal exit, too. The couple may be more casually dressed or not wear traditional wedding clothes or colours, or even exchange wedding rings.
Often un-ceremonial ceremonies are a bit more casual in their layout, too. Guests may simply stand in place for the ceremony and gather around the couple, although there's no hard and fast rules about it. But generally the whole idea is that the ceremony itself is (mostly) free of formal traditions and etiquette, yet still very much a bonafide, genuine, heartfelt ceremony.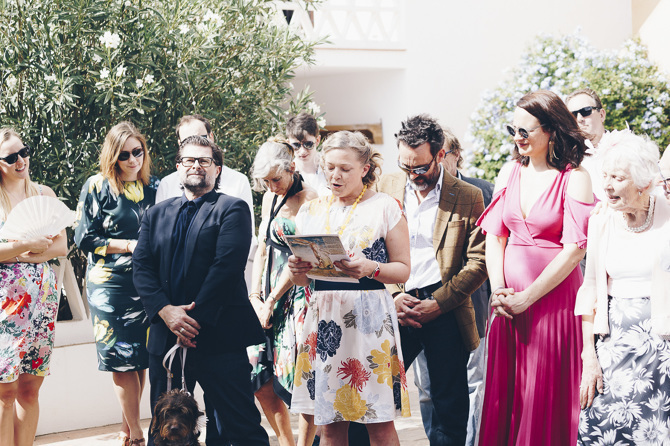 So let's take a deeper look to see why some couples prefer to get married like this.
Not everyone wants to make a formal entrance or exit
The formal entrance is without a doubt one of the most traditional elements of a wedding ceremony, which has seen us through the ages. Let's not forget, how formal entrances and exits are historically steeped in fanfare and pomp and circumstance. Look at the grand entrance walks that both Kate Middleton and Meghan Markle carried out for their own ceremonies. And whilst most people don't have entrances as grand as royalty, the mere idea of such a choreographed formal entrance for many is just too much. So many people do not like the idea of being the centre of attention, even just for a few minutes and so for them the idea of making an entrance can be a turn off.
For many the idea of a formal ceremony entrance just does not sit comfortably with them, especially couples who are approaching their wedding ceremony with more of a egalitarian, feminist, modern approach. Let's face it, the whole idea of a wedding entrance or a bridal entrance is for some very out of place with our everyday selves. I talk more about wedding entrances in this piece that I wrote a while back, but the long and short of it is that a) you do not have to have a ceremony where one or both of the couple enter a ceremony space, separately or alone and b) if you don't have formal entrances, it doesn't make your ceremony any less valid or symbolic.
Many couples don't want a wedding party
There are lots of couples who no longer see the point in wedding parties. It's not that they don't like the idea of their closest friends and families being their main people on their wedding day, but that they feel like those people can support them and will support them, without needing to assign specific roles to them. And so they do away with the co-ordinated wedding party outfits, do away with the bridal squads and gangs of groomsmen and just allow they friends and family to be guests with no other expectations of them.
Lots of couples want a more relaxed feel to their ceremony and wedding day in general
For many couples, it's the most formal parts of the ceremony which make them feel more uncomfortable and less relaxed, and so the doing away with those elements, can mean a more relaxing and enjoyable experience. A ceremony is still a ceremony without entrances, exits and wedding parties. Without bouquets, buttonholes and petal covered aisle-ways. When it boils down to it, what makes the ceremony a ceremony is the love of the couple, the love from the guests and the exchange of their wedding vows. And so if you strip a wedding ceremony back to those simple things, you still have a wedding ceremony.
Ceremonies that I have led which have been stripped of formalities have still been beautiful and every inch of a wedding ceremony that you would expect them to be.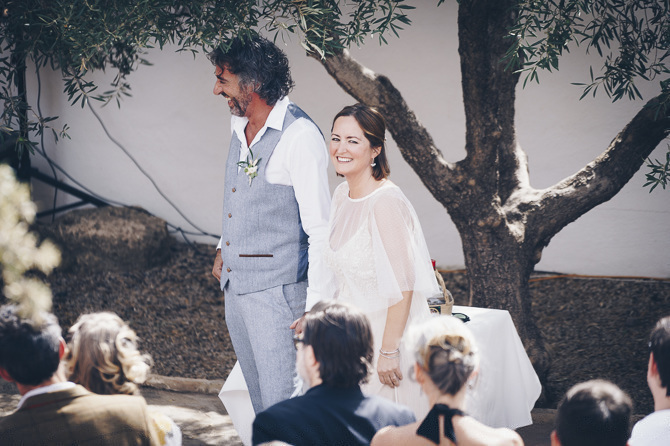 Many couples don't want to make a fuss
It's true that for many couples, the idea of a traditional ceremony with entrances, exits, bridal and wedding parties, seats for guests and a proper ceremonial set up etc, feels too fussy! Even having rings feels too fussy for some couples. It feels like way more than they want to sign up for and actually takes away from how natural and organic they want the moment to be. Sometimes it is the simplicity of the occasion which can make it all the more powerful and meaningful and everything else may feel too OTT, for some couples, anyway. Un-ceremonial ceremonies will often get to the heart of the matter straightaway and cut the fussy bits out.
Surprise weddings
Surprise weddings are a really good example of stripping back on the formalities. In this case, couples invite their friends and family to a gathering, on the pretence of an engagement party or whatever clever idea they come up with in order to get them together. Then once everyone is in place, the couple surprises their guests and lets them know that it's actually a wedding.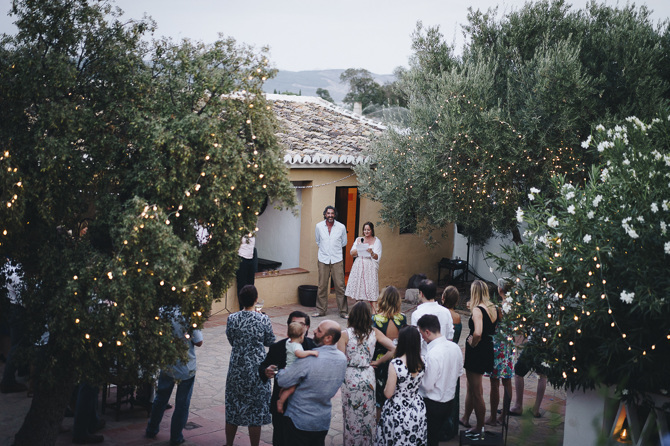 Holy crap, that's awesome right? And so because it is the couple who has created the surprise, they are usually already in the space mingling with their guests and being the perfect hosts, and so when the announcement is made, guests simply gather round and the ceremony takes place. How cool is that? I'm sure there are some surprise weddings that still take on the fanfare of traditional ceremonies but in my experience most don't because it's the lack of formality that makes it so special and unique.
So what can you take away from all of this?
A wedding ceremony will be no less meaningful if you remove the fanfare and other ceremonial elements.
As long as there is love and declarations and demonstrations of love, a wedding ceremony will still be a wedding ceremony.
Formal entrances, exits, and everything else are traditional ceremony elements, but they are not wedding ceremony requirements.
So tell me, who's up for a non-ceremonial ceremony any time soon?
Photos by Esther Pita of the gorgeous Colette and Richard.