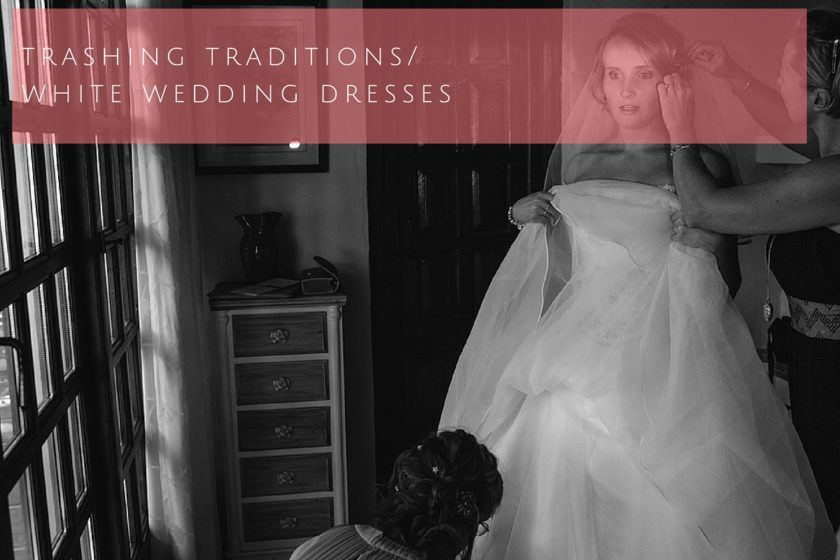 Did you know that the tradition of a bride wearing white is not as old as you might think? It was actually only in the mid 19th century that brides, kick-started by Queen Victoria, went all impractical and started wearing white or cream wedding dresses. Before then, coloured bridal dresses were all the rage, with brides usually wearing bold colours that represented their family or house colours. Think GOT and Sansa Stark. And so once royalty started to do it, the rest then followed. Not much has changed really, especially with Princess Kate on board!
So this next Trashing Traditions post is not only looking at the tradition of wearing white as a wedding dress but also about the antiquated etiquette of not letting your guests wear white either.
There has always been a common idea that white wedding dresses were worn as a sign of purity and virginity and maybe this did develop as a thought once white dresses became fashionable. But as I mentioned at the start, the real reason why white dresses became popular in the western world was down to Queen Victoria seeking out white material to match some exquisite white lace that had come into her possession, which she wanted to use for her wedding dress. She wasn't even the first royal to wear white but her wedding day was more widely publicised and documented in newspapers and so more people got to see it and be inspired by it. And so from there white and her sisters, off-white and cream became popular wedding staples.
As the use of white as the bridal colour of choice escalated, so then did many of the traditions and etiquettes around it, such as the highly bad-mannered move of being a wedding guest who dare to wear white! Such a move could get you serious bad looks, head shakes and tuts for being so audacious and daring to upstage the bride and make her own dress seem less outstanding on her own wedding day!
When white isn't so bright
So seeing that white is a really bloody awkward, impractical colour at the best of times, and for clumsy oiks like me, a nightmare colour of choice, it does seem funny that we impose it on ourselves on such an important occasion! And given that the reason white was introduced in the first place was more about fashion and co-ordination than any strong cultural or religious reasons, there doesn't seem to me like any good reason why you should wear white, if you don't want to. Well, apart from the fact that it does look blooming lovely.
I personally have married brides who have worn red, purple, green and a beautiful silver sparkly dress for their weddings. They certainly did not look any less bridal or beautiful! And this year, blush bridal dresses have been really popular. I'm definitely loving this look, having just seen a blush wedding dress, up close and personal only last week. And if celebrities are your thing (and even if they're not!) the likes of Anne Hathaway, Jessica Biel, Reese Witherspoon and Kiera Knightley all wore different shades of pink from blush to bright pink and all totally rocked them. And my gorgeous friend Frances who is a celebrity in my eyes, wore a stunning canary yellow dress for her wedding and looked one hundred per cent awesome. So if that's not a bad-ass enough group of women right there to make you think differently then I don't know what will.
Also, seeing how easily trashed white dresses can look by the end of an evening, toppled with some brides' sheer panic from even being near to a glass of red wine on their wedding day, a coloured dress doesn't seem like too bad an option. You'll probably also find that because most wedding dresses still come in white, you would be buying an ordinary, as in non-weddingy type dress for your nuptials and I bet you any money it will be much cheaper than the cost of an 'actual' wedding dress.
I'm sure there are some brides-to-be who would worry about not standing out on their special day if they didn't sport the bridal whites, but I honestly think brides will always stand out, simply by virtue of being a bride, not because of what they are wearing.
All white weddings
Another new trend that I love and would love to see more of, is couples who ask all their wedding party to wear white! Honestly, this is such a good look. I think it is a great way to turn an old tradition on its head and also to do something different yet include all of your guests. A bride whose wedding I conducted this summer had the best EVER explanation for why they wanted everyone to wear white.
As white symbolises purity and love and we feel our love is pure love we wanted everyone to be a part of this. We didn't want only the bride to wear white, as we wanted all of our families and guests to feel like they were the stars of the show too! They've shared our memories with us and they have made us the people we are. This day wasn't only ours. It was also a big thank you to them for being the best family and friends ever!
How bloody marvellous is that?
And as I was at this wedding and a few other all-white weddings, I can honestly say that both the bride and groom were very much still the bride and groom and were not lost in a sea of white and mistaken for being anyone other than the bride and groom! They stood out because they were themselves, not because of what they were wearing.
And I think this is the point. Although wearing white is a huge bridal tradition, as much as wearing a suit is for a man, when it all boils down to it, on your wedding day whether you were to wear white or not, you are still getting married to the love of your life, wearing whatever it is that you feel inspired to wear on that day. And that is all that should matter.