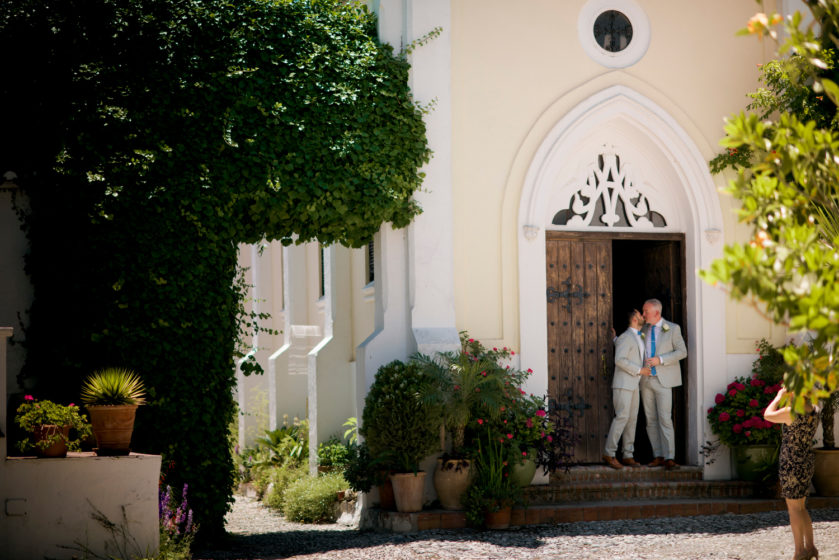 These two. You seriously will want to roll them in sugar and eat them up. When we met earlier this year to chat weddings, we were still chatting two hours later. If Dean and Matt didn't have somewhere else to be, I think we could have easily notched up another two. Dean and I can talk for England and Matt for Wales! And with these gorgeous guys being so loving and open and warm and friendly, I knew as did they that their ceremony was going to be a very emotional one. That, and the fact that they had tears in their eyes just talking about it!
Fast forward to a few months later and when their big day arrived. Yes of course, it was emotional, but how could it not be when these two have been together as long as they have been, getting married in front of their nearest and dearest, in the venue of their dreams! Of course, it was!
So let's get stuck in to these absolutely delicious Albert Pamies photographs for the best showcase ever of Dean and Matt's stunning Spanish countryside love-fest, on a beautiful sunny day this June.
Pre-ceremony
♥ Their matching suits ♥ Their shoes ♥ The bow tie, tie combo ♥ That they got ready together ♥ That they wouldn't let me leave the room until I'd had some cava! ♥ Their edible nieces and nephews♥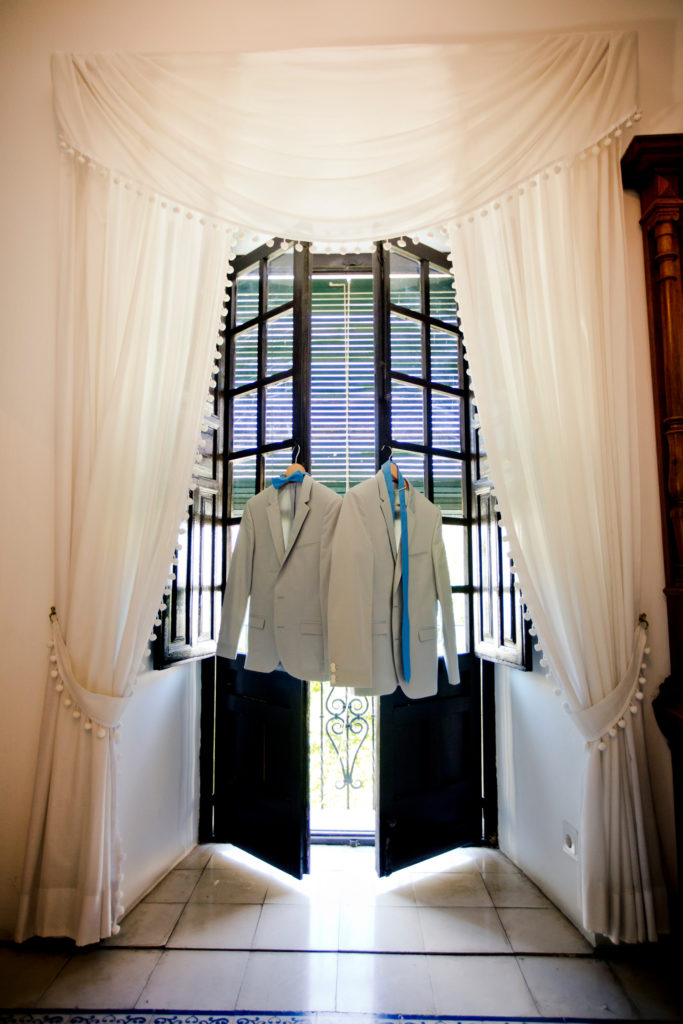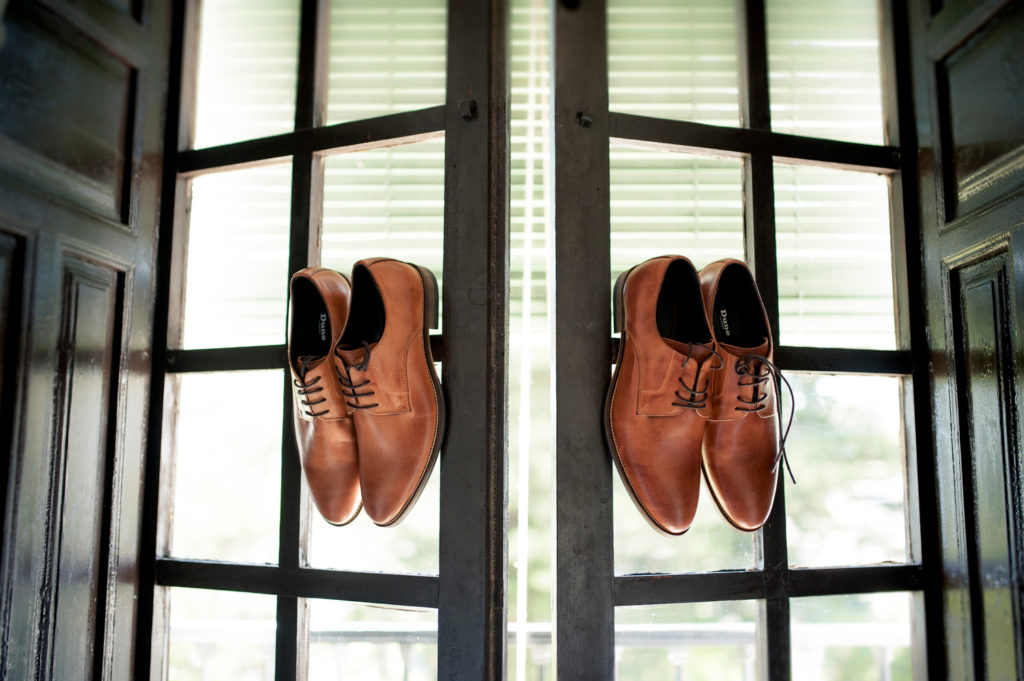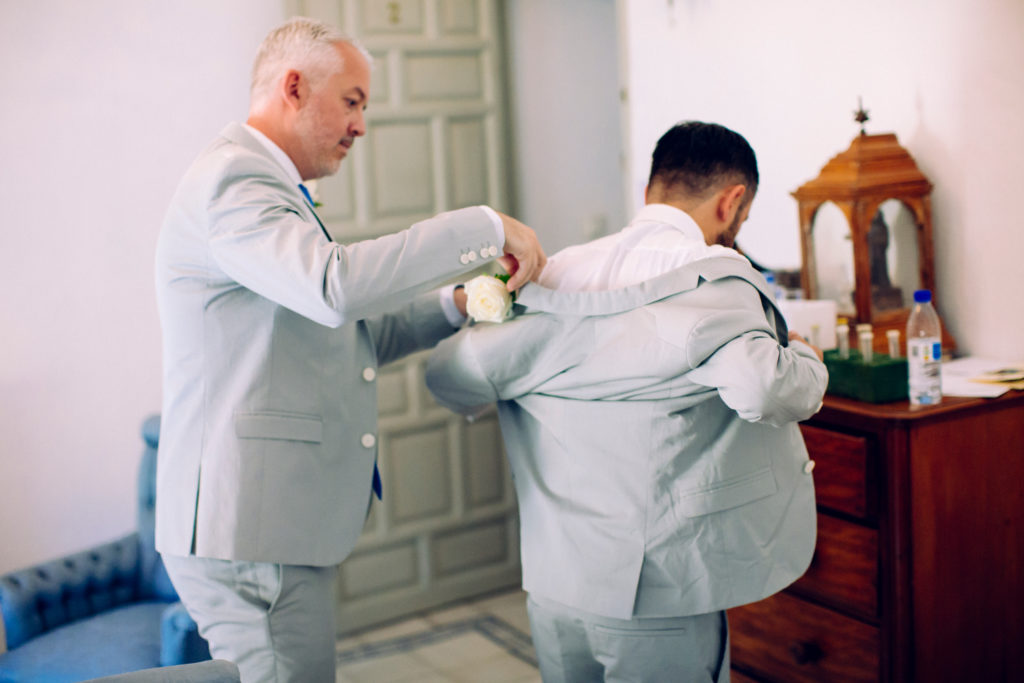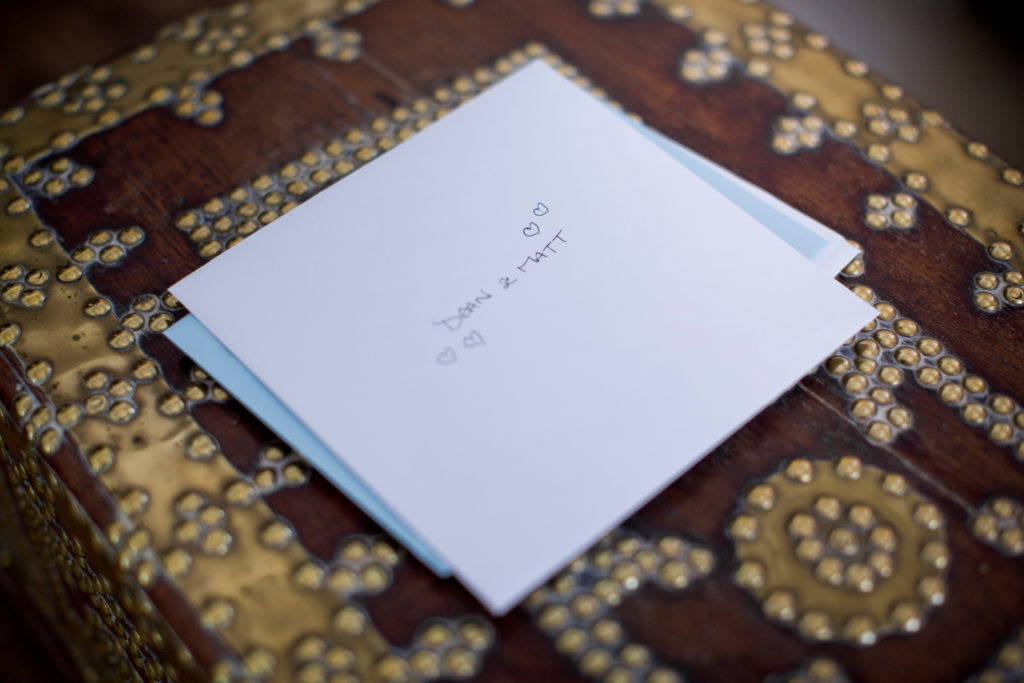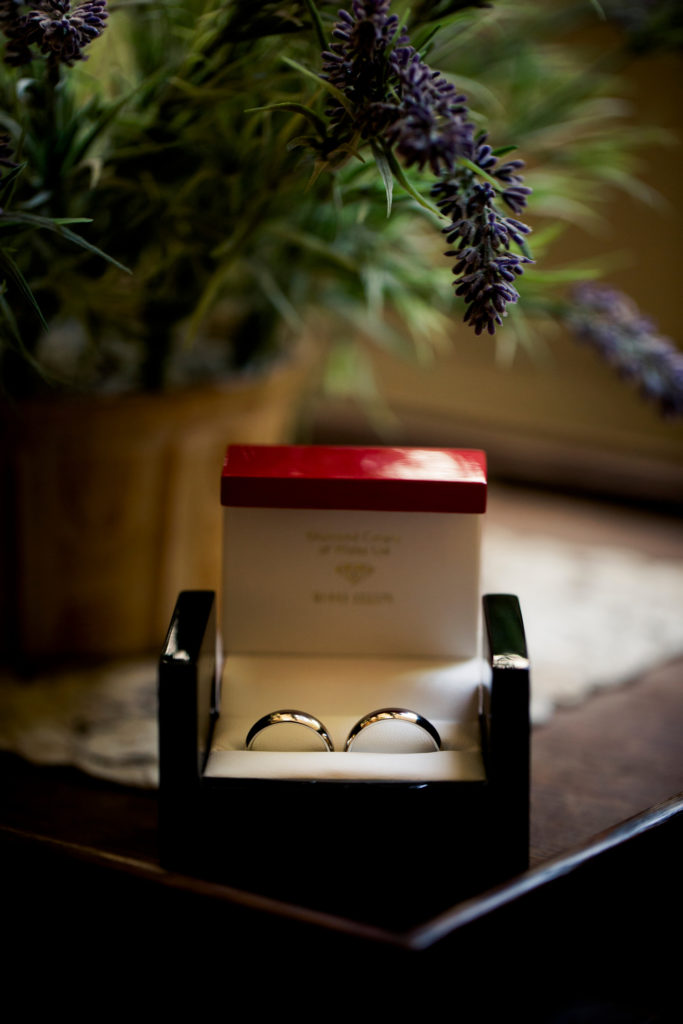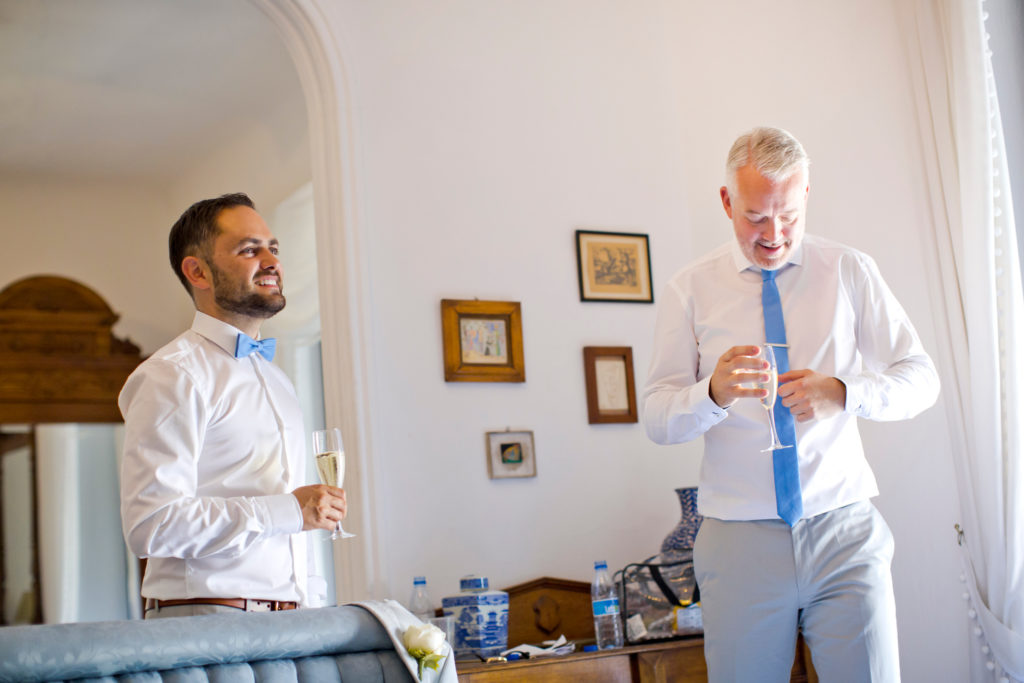 The ceremony
It's so cool when you can rely on the talents of a good mate to kick start your ceremony for you with some fab acoustic music. Dean and Matt's friend played the guitar for their entrance and also a little bit of music whilst their guests were getting seated and ready for the ceremony. I loved how they decided to make their entrance too. Matt walked in on one side of the ceremony area with his page boy, nephew and Dean walked in on the opposite side with his flower girls. Beyond cute.
Our vision was to have a beautiful ceremony with meaning, that was low key and not too stuffy, but still with structure. We were able to tailor the ceremony to make it right for us and to make it unique and special.  – Dean & Matt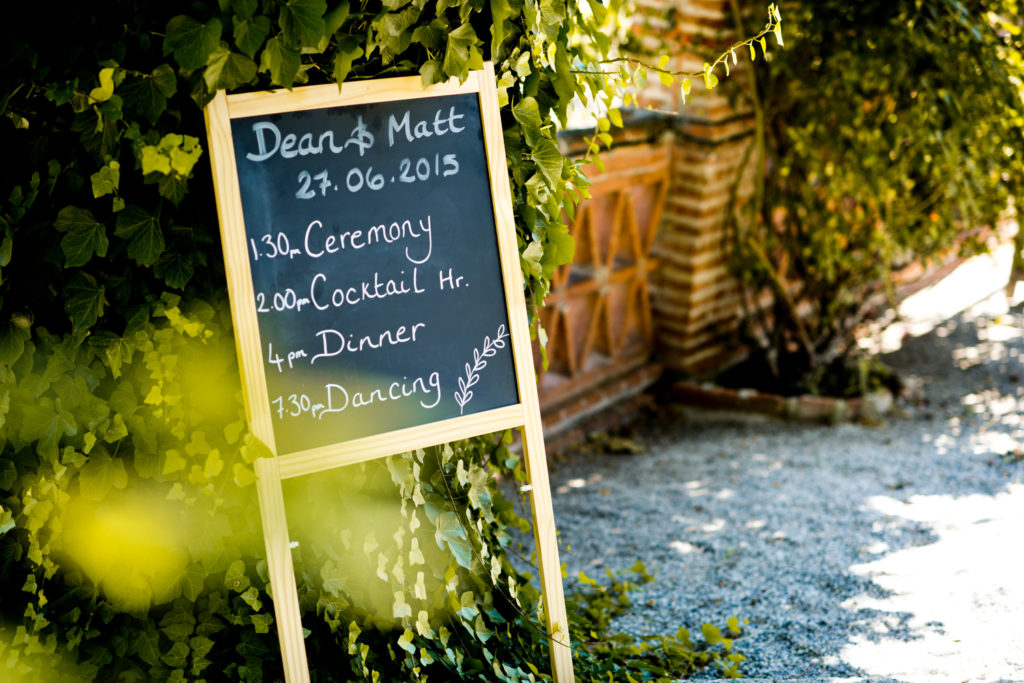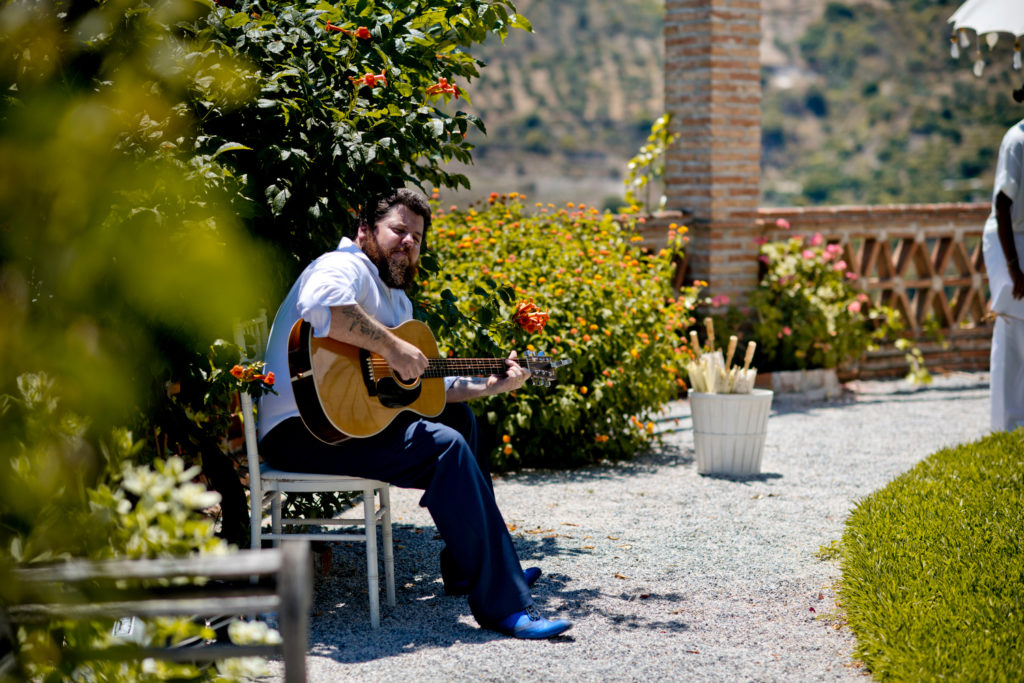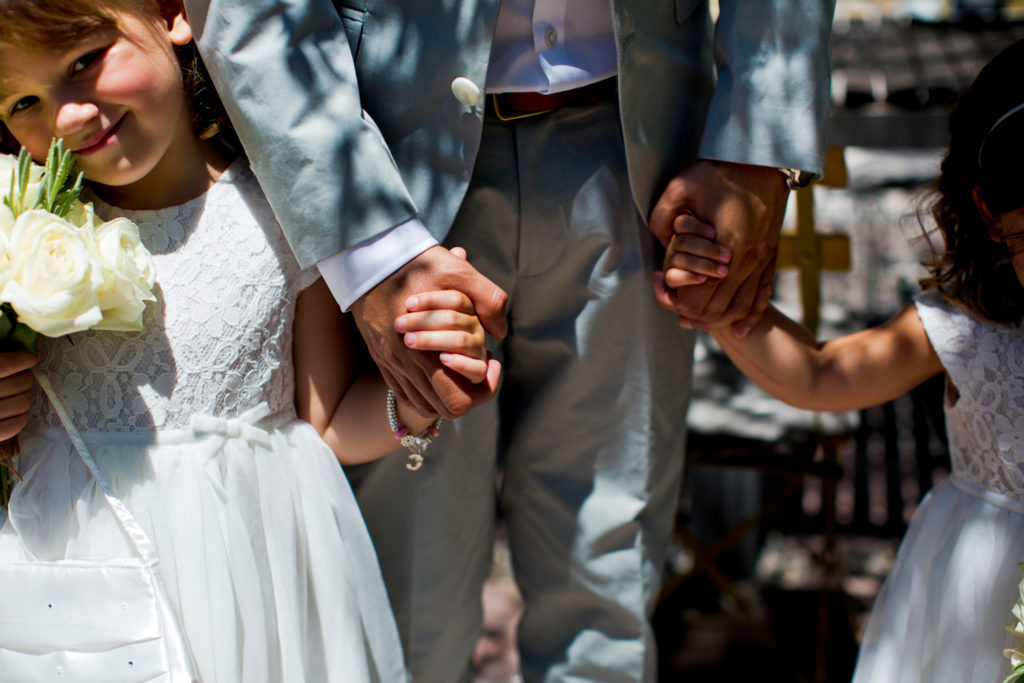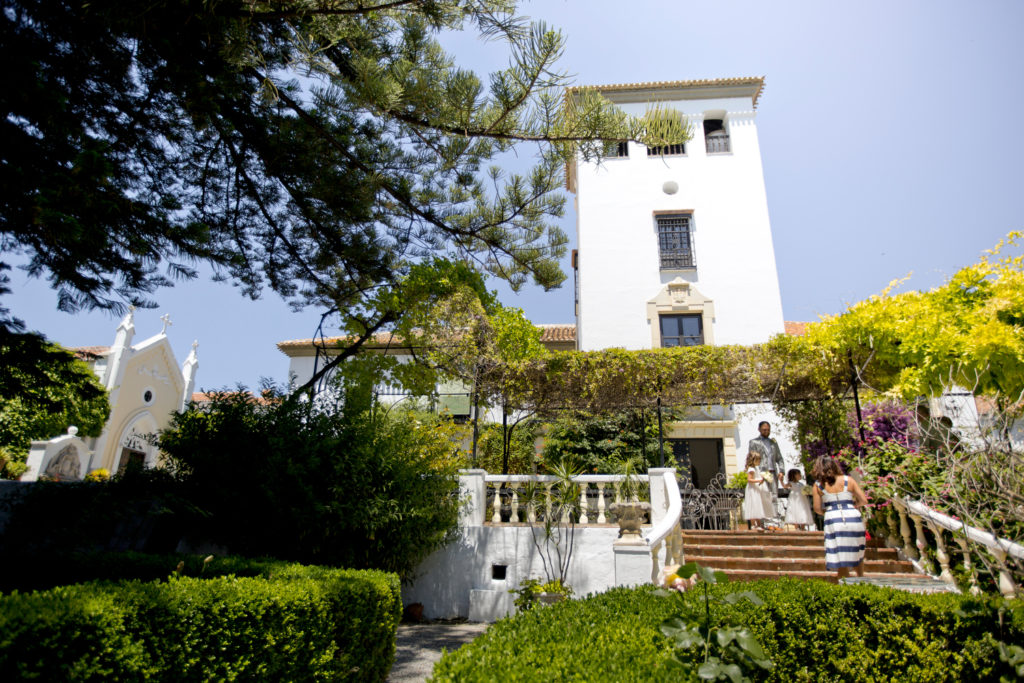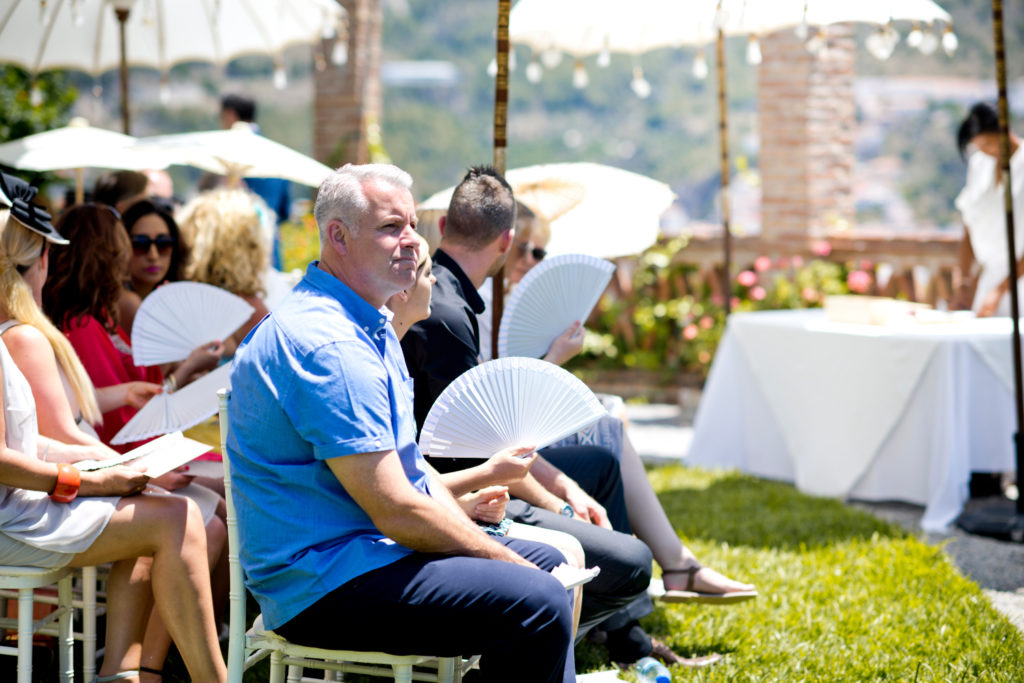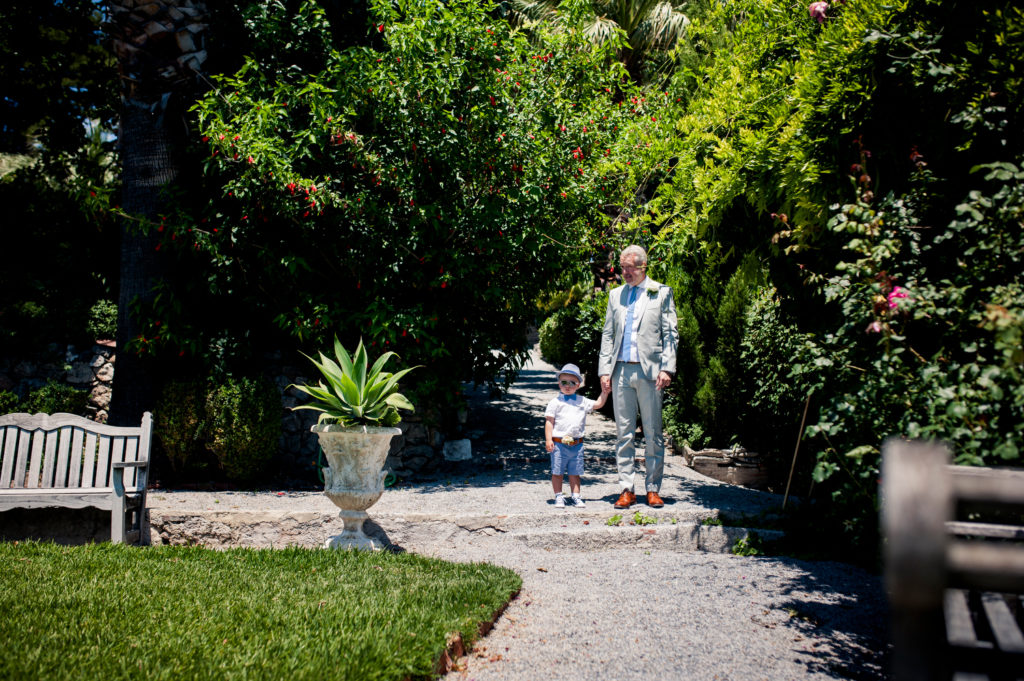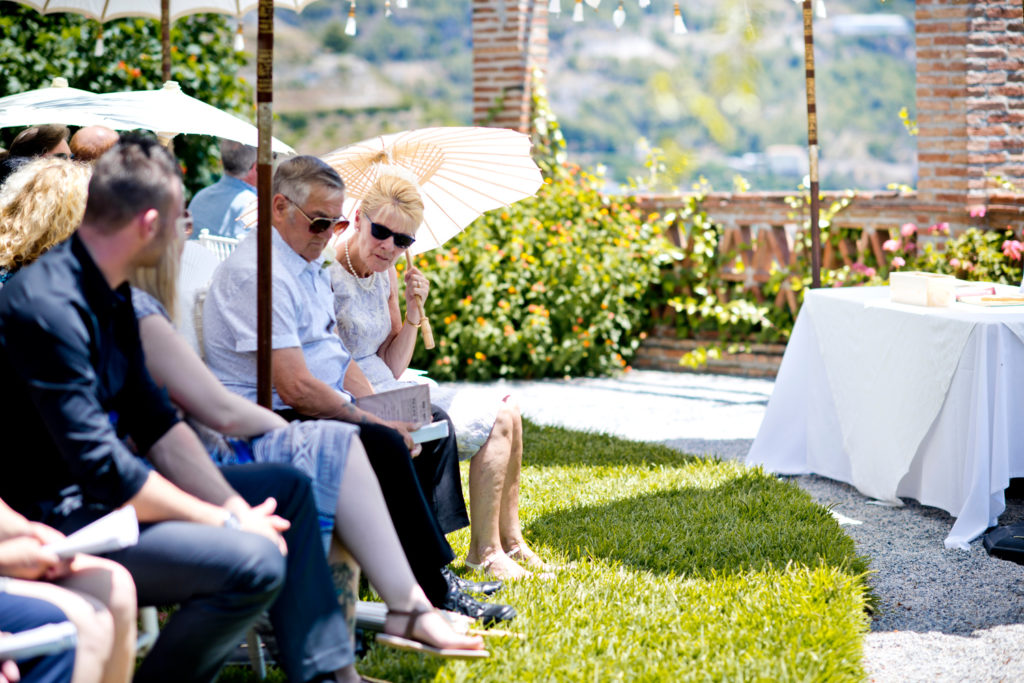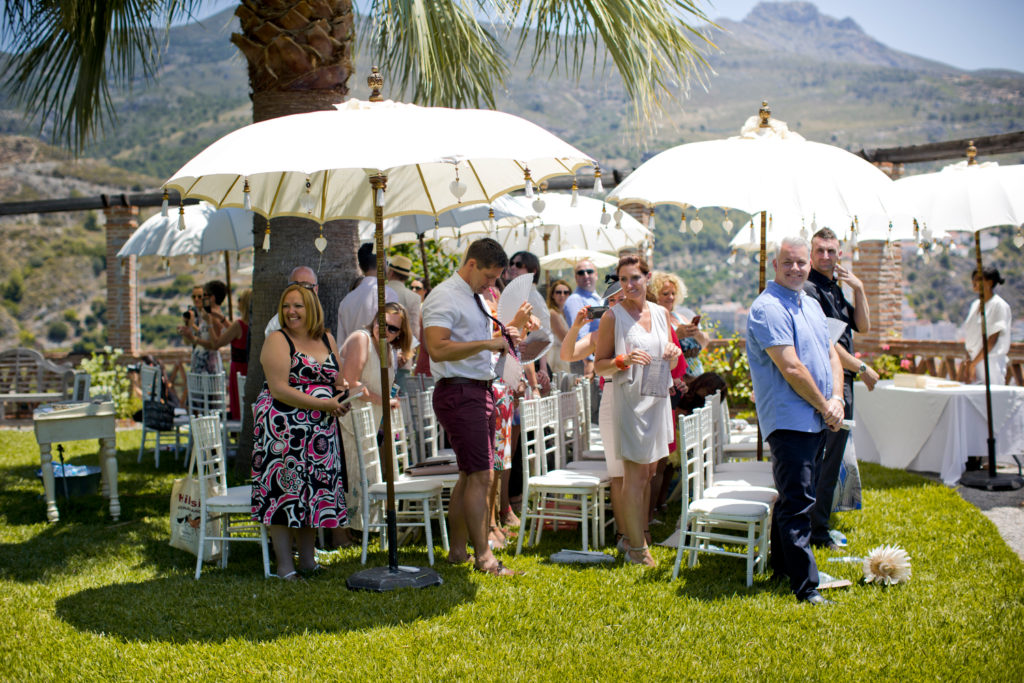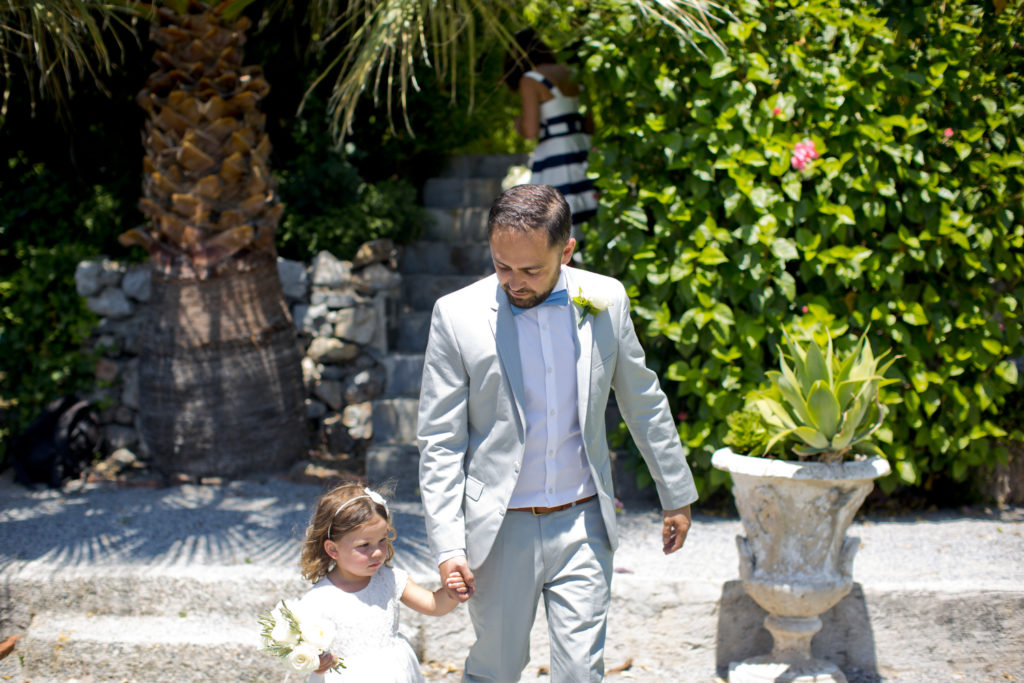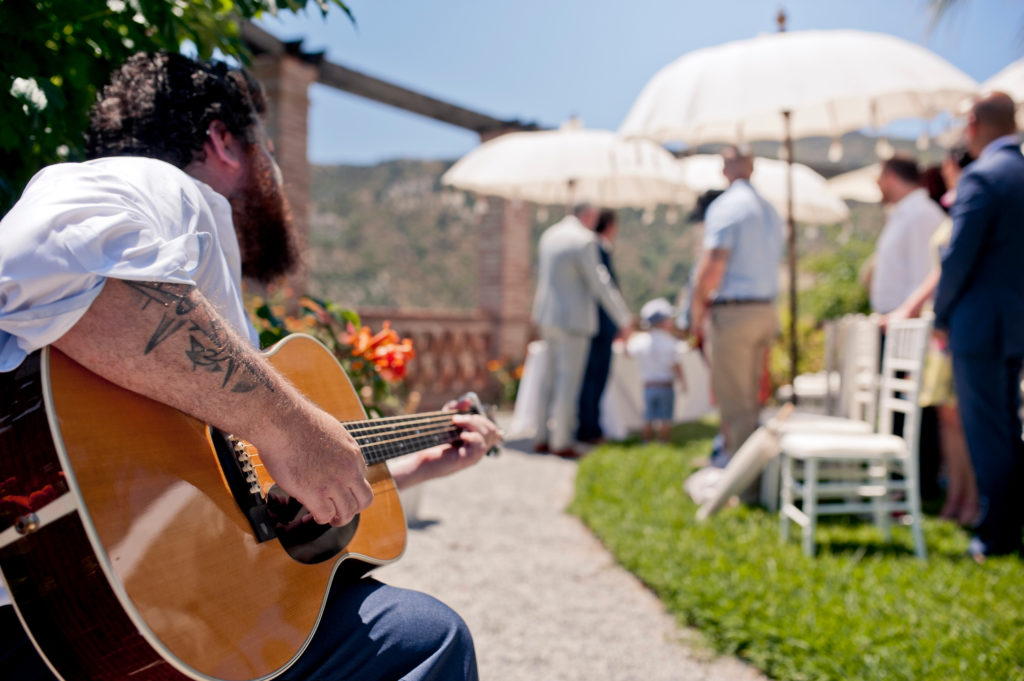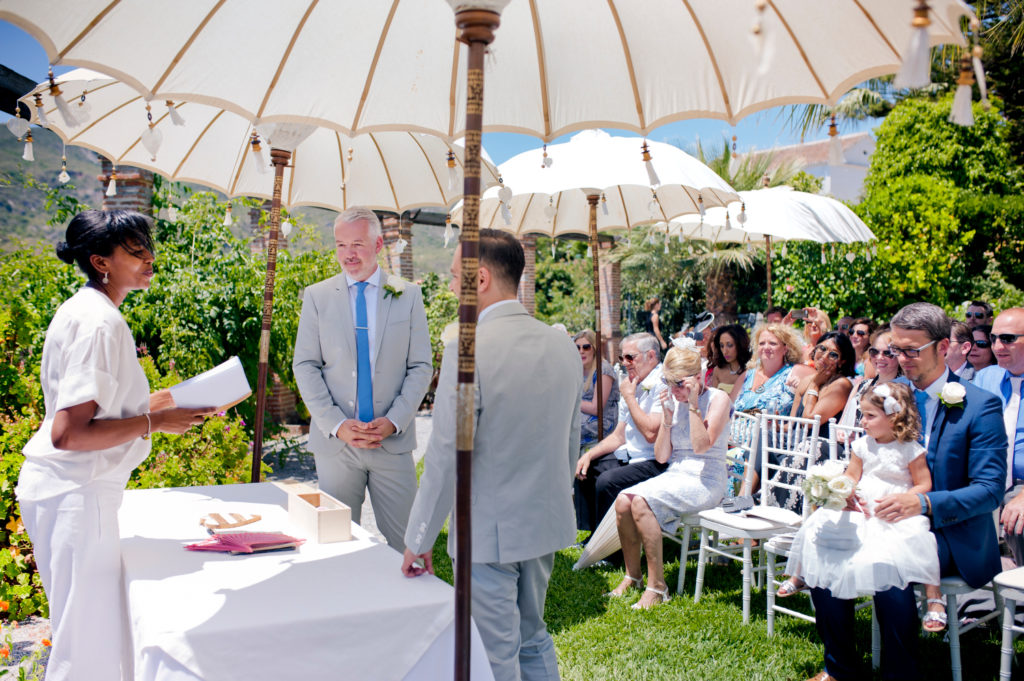 Because Dean and Matt knew that their ceremony was going to be extremely emotional and that they'd have quite great difficulty containing their emotions, they wanted to include elements in their ceremony which although expressed how they felt about each other and their relationship, didn't come directly from them! Because they knew they'd be in tears. So they had two good friends, Alison and Stacey read poems that they chose. Stacey read an extract from a passage by the Law of Relativity by Albert Einstein.
Gravitation cannot be held responsible for people falling in love. How on earth can you explain in terms of chemistry and physics so important a biological phenomenon as first love? Put your hand on a stove for a minute and it seems like an hour. Sit with that special person for an hour and it seems like a minute. That's relativity.
And later on towards the end of the ceremony, good friend Alison read Tracy Emin's 'For Now,' which I love.
Hurry
But do not hurry me,
Push
But do not push me,
Hold
But do not crush me'
Love
But do not change me
Let us stay the way we are

Devour
But do not consume me,
Thrill
But do not frighten me,
Excite
But do not scare me.
Teach
But do not change me
Let us learn from the way we are

Kiss
But do not smother me,
Embrace
But do not break me,
Adore
But do not suffocate me,
Love
Let me love you
Just the way you are.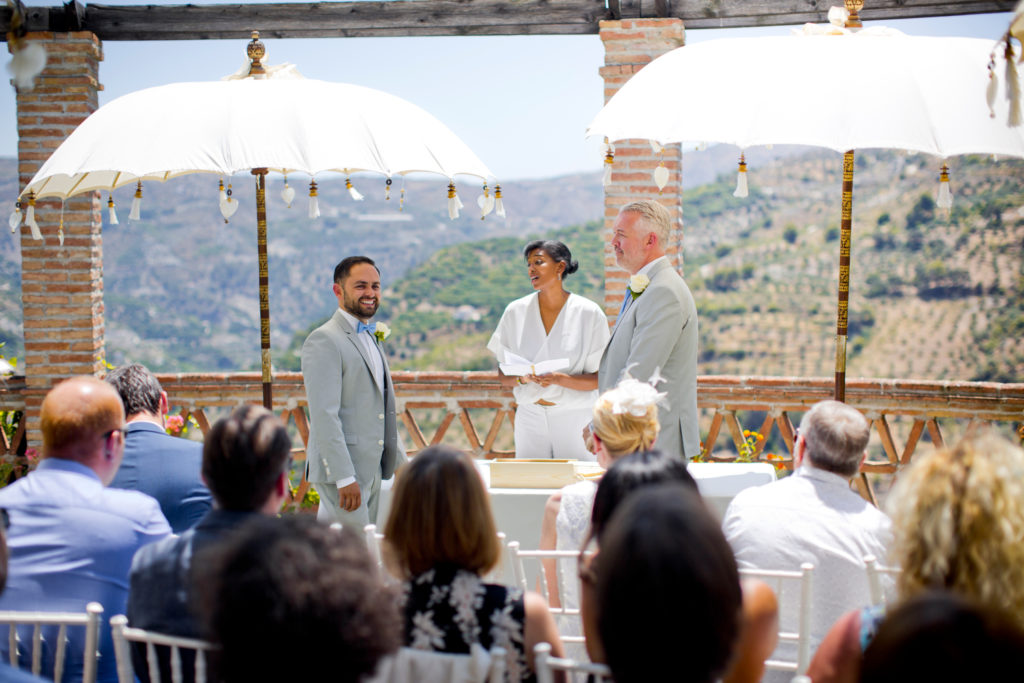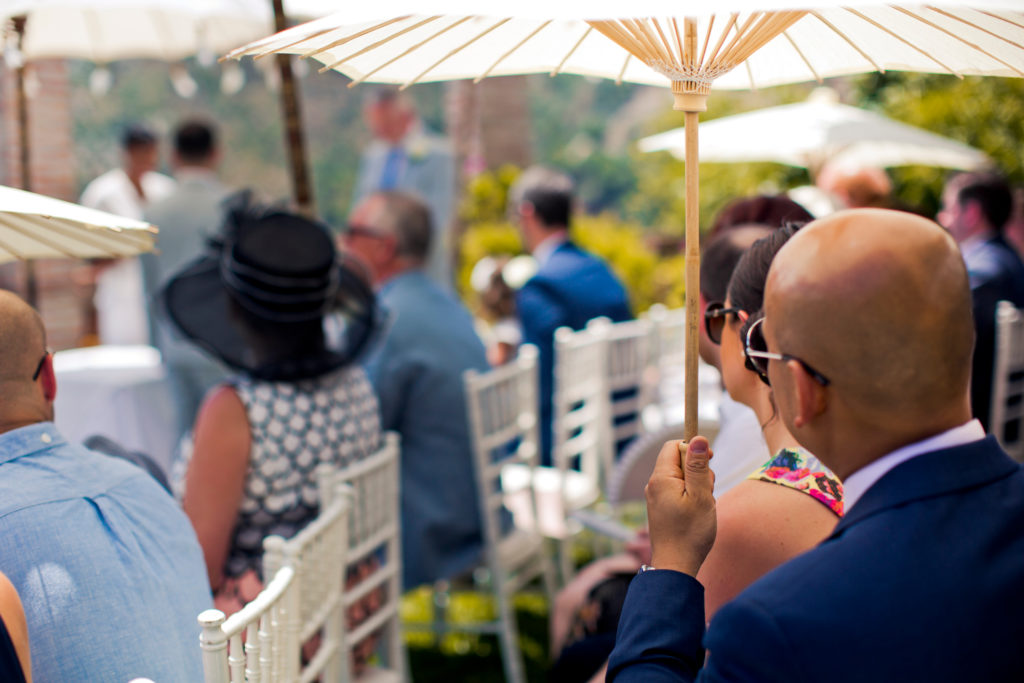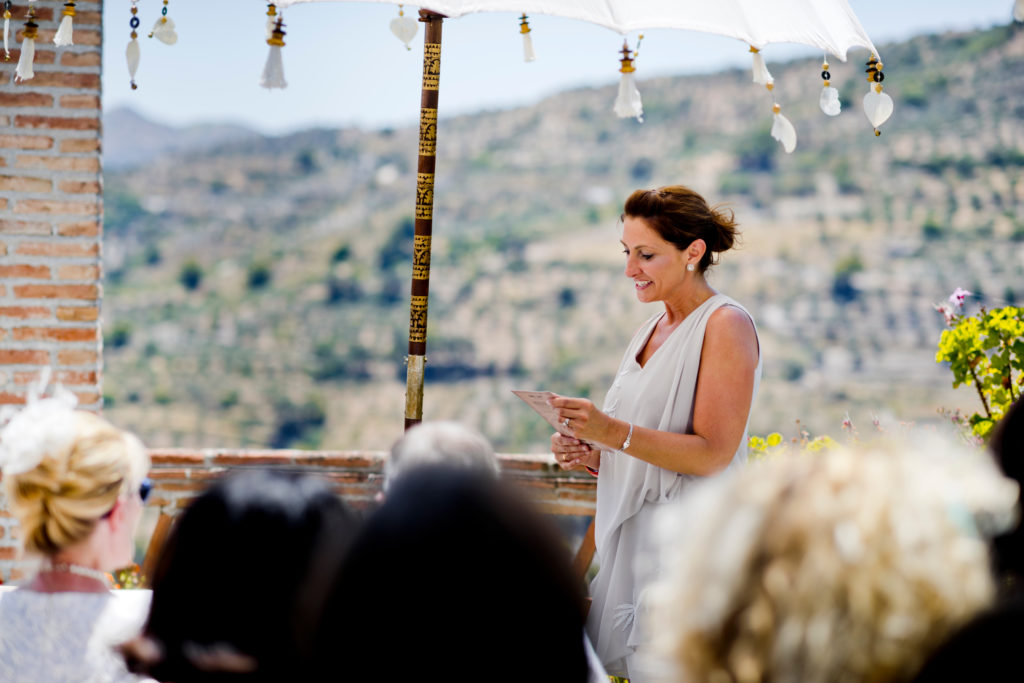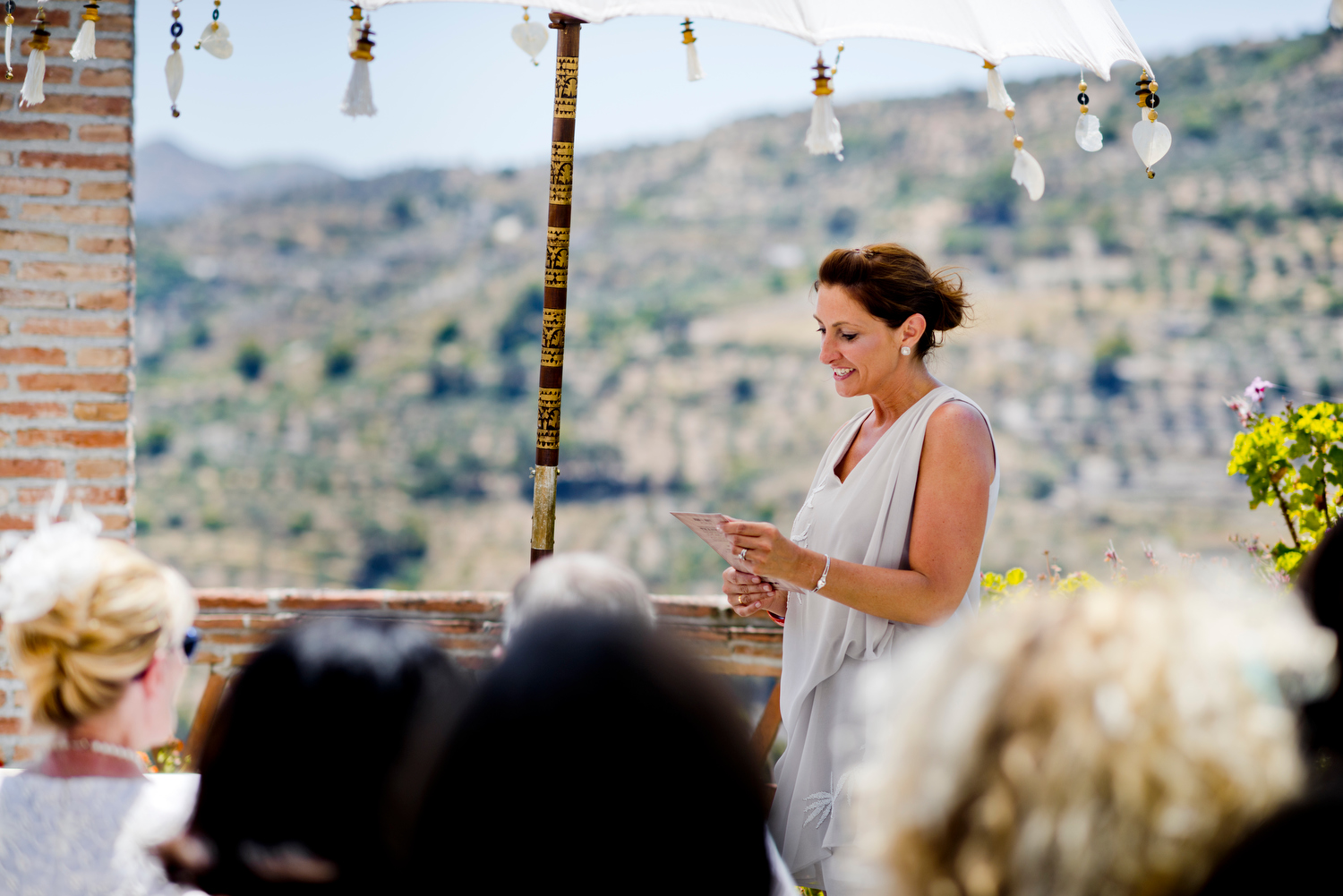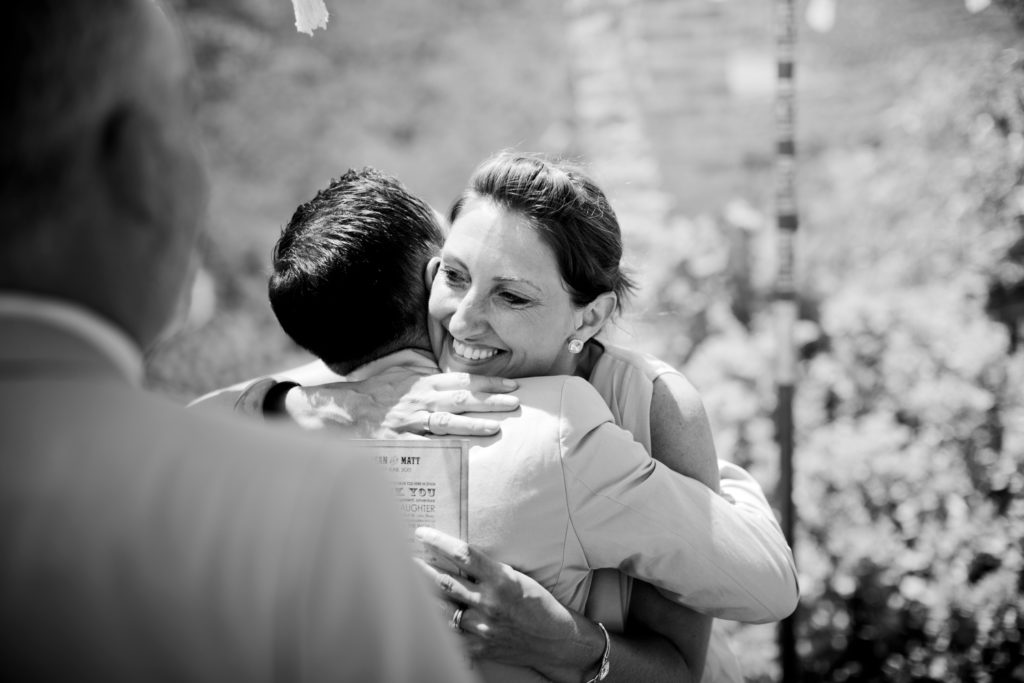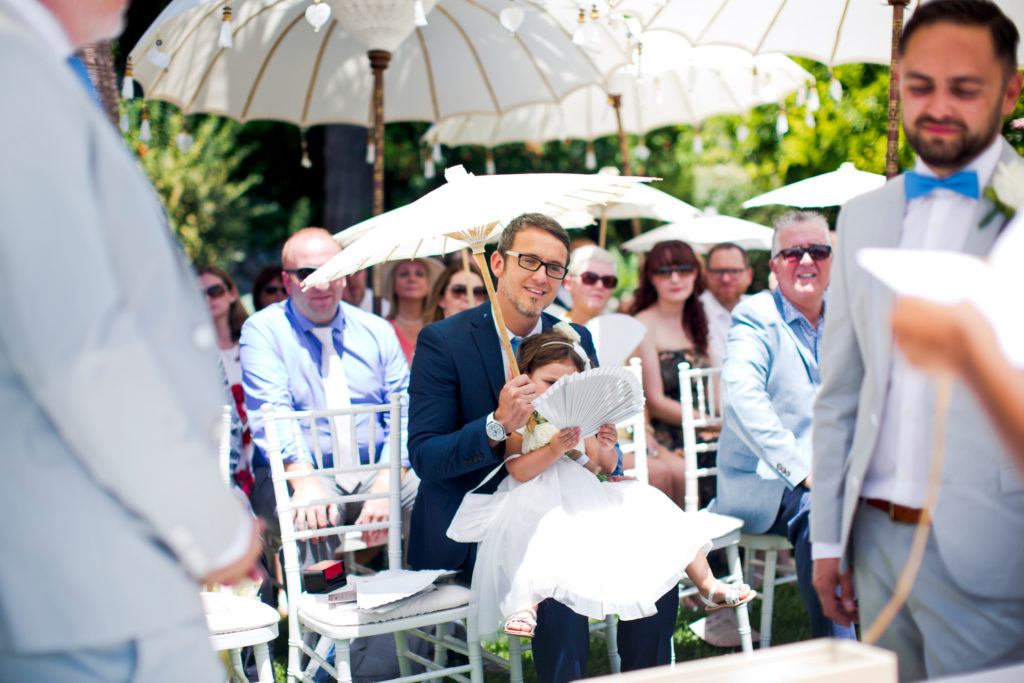 In between the readings Matt and Dean had a gorgeous memory box ritual and for their ritual they had packed a wooden wine box with a bottle of red wine and a love letter that they'd each written to one another, to be opened on their ten year wedding anniversary. The letters will be read and the wine drunk and they will celebrate this amazing day. Don't you love that? After they sealed the box together, they then went on to respond to their wedding vows. They chose a traditional question vow that they wanted to asked and this is what they chose for me to ask them in turn.
Dean do you take Matthew to be your wedded husband, to live together in marriage? Do you promise to love him comfort him, honour him and keep him for better or worse, for richer or poorer in sickness and health? And forsaking all others, be faithful only to him, so long as you both shall live?
And after their vows, Matt's brother and best man presented their wedding rings for them to exchange, before the second reading, signing of the wedding register and a well deserved kiss.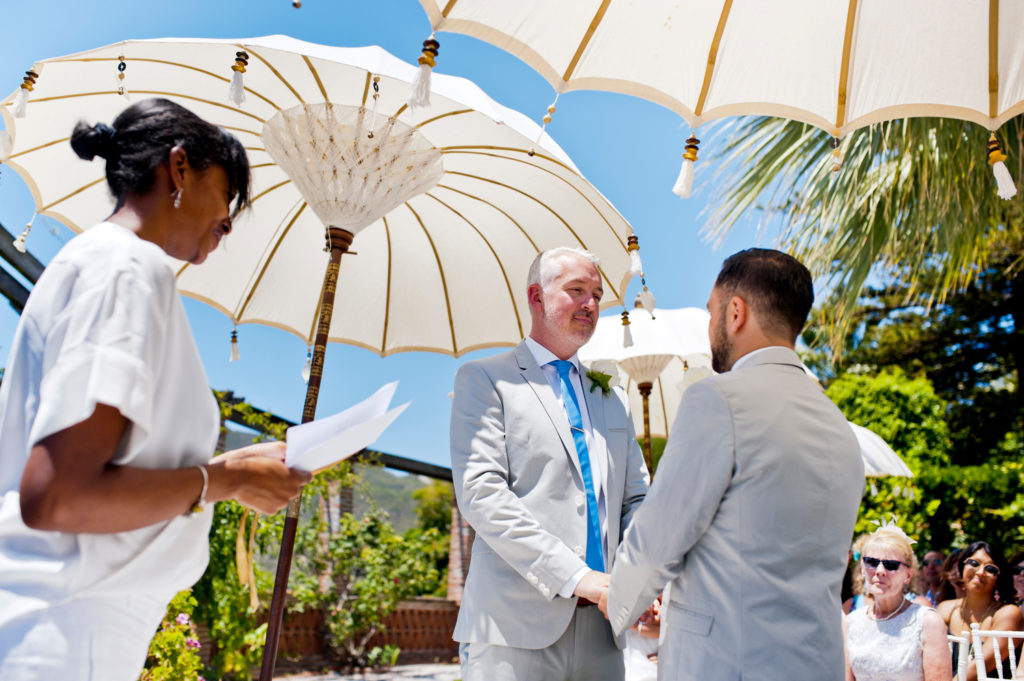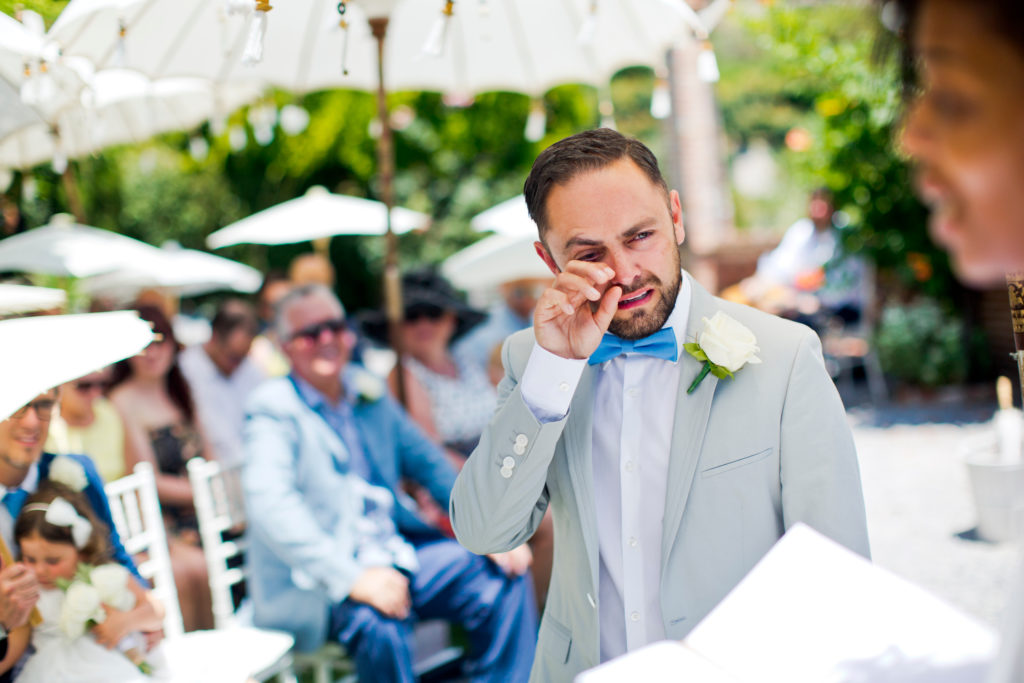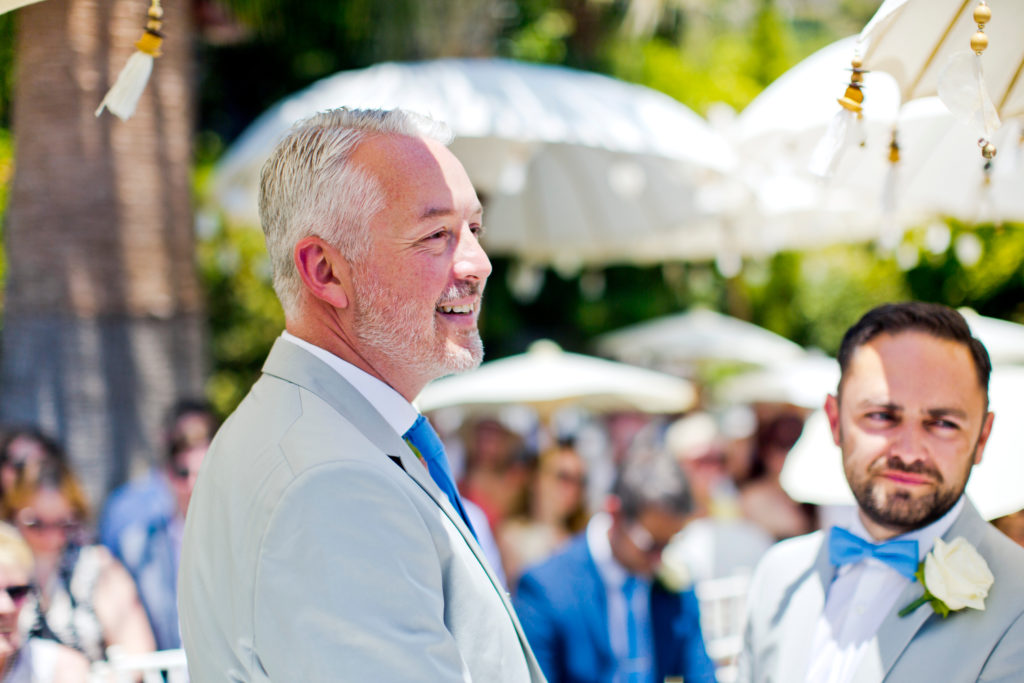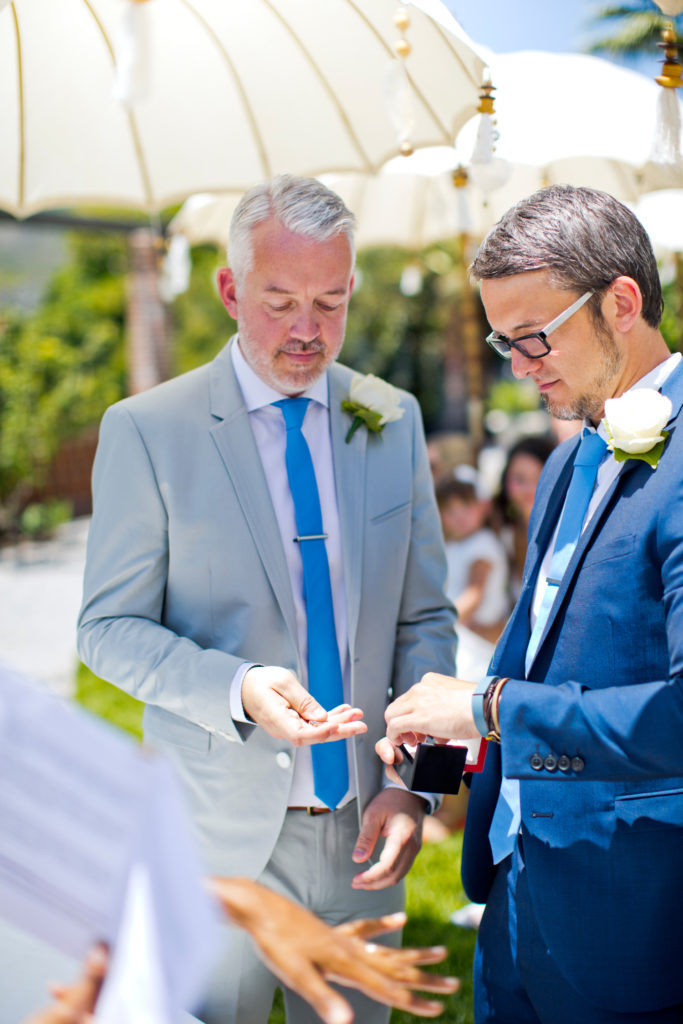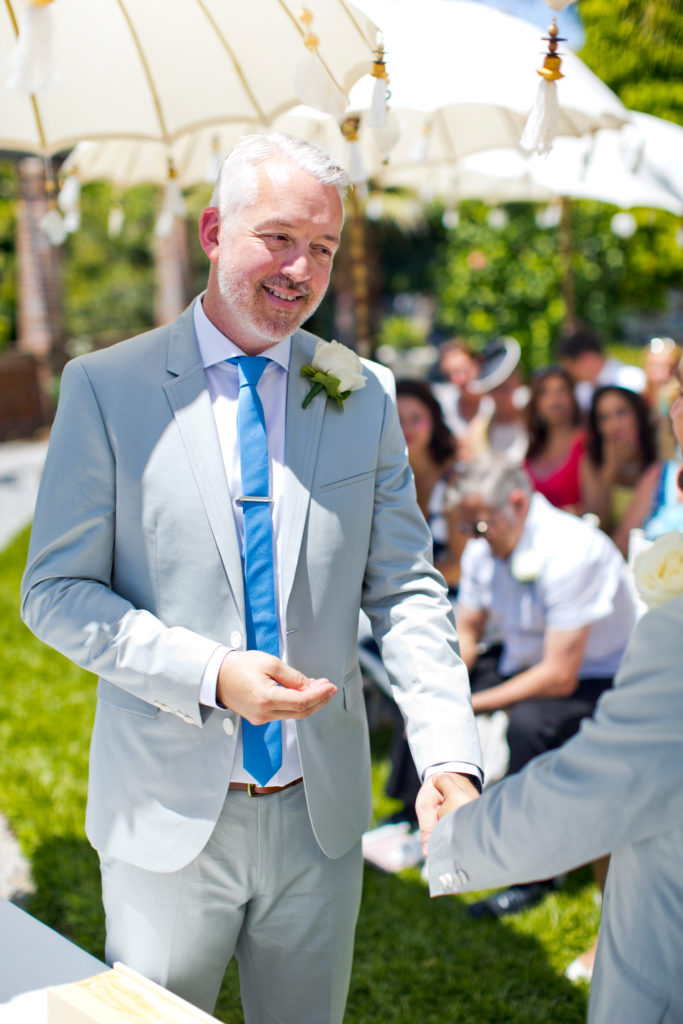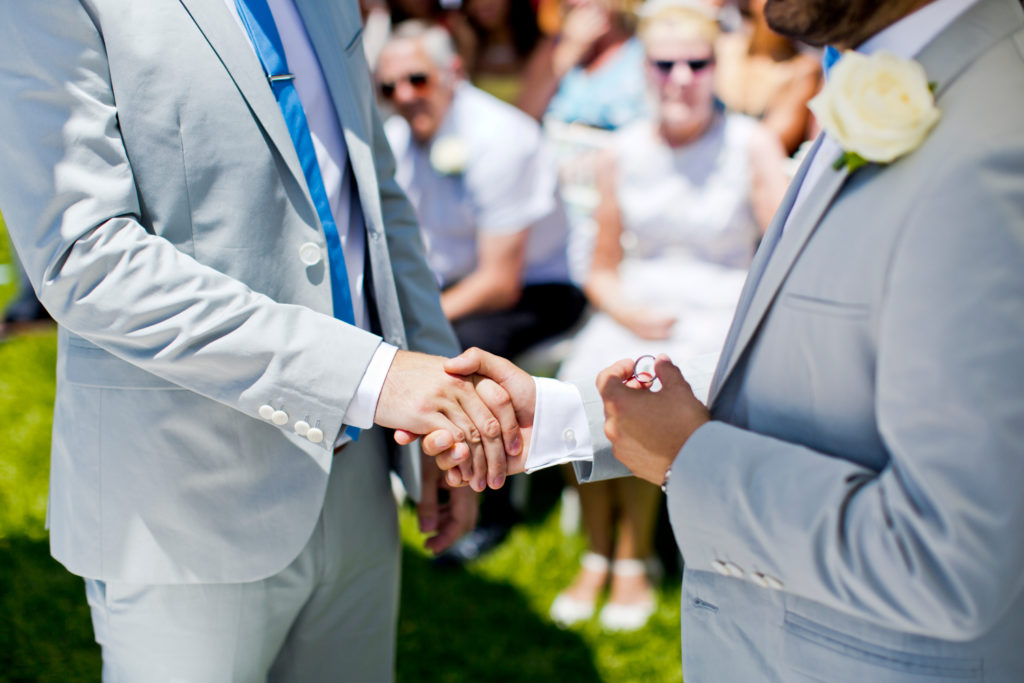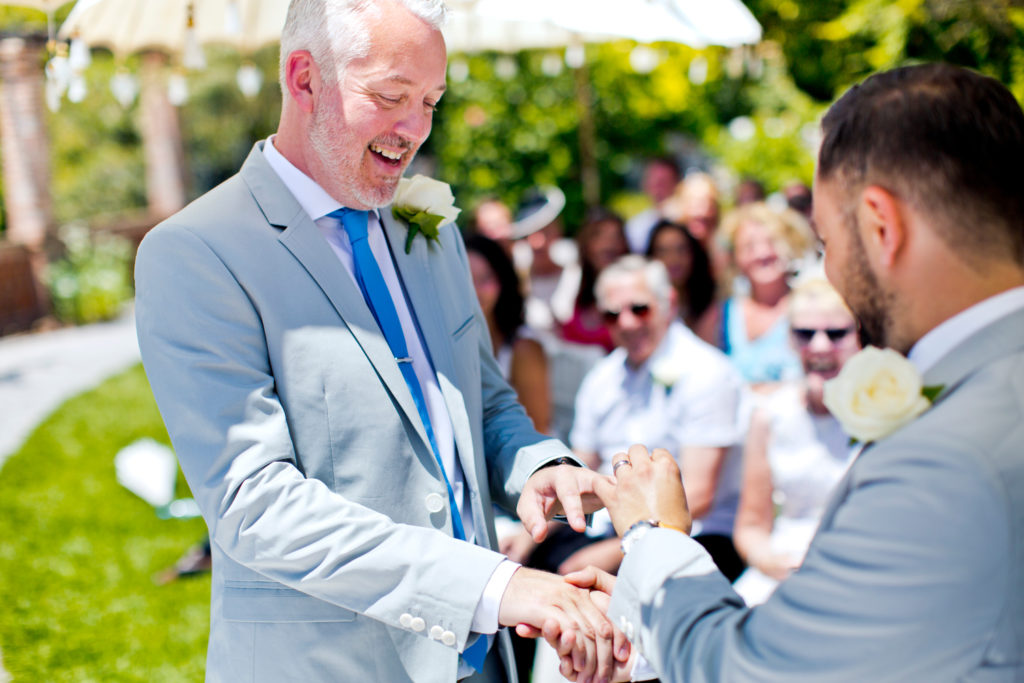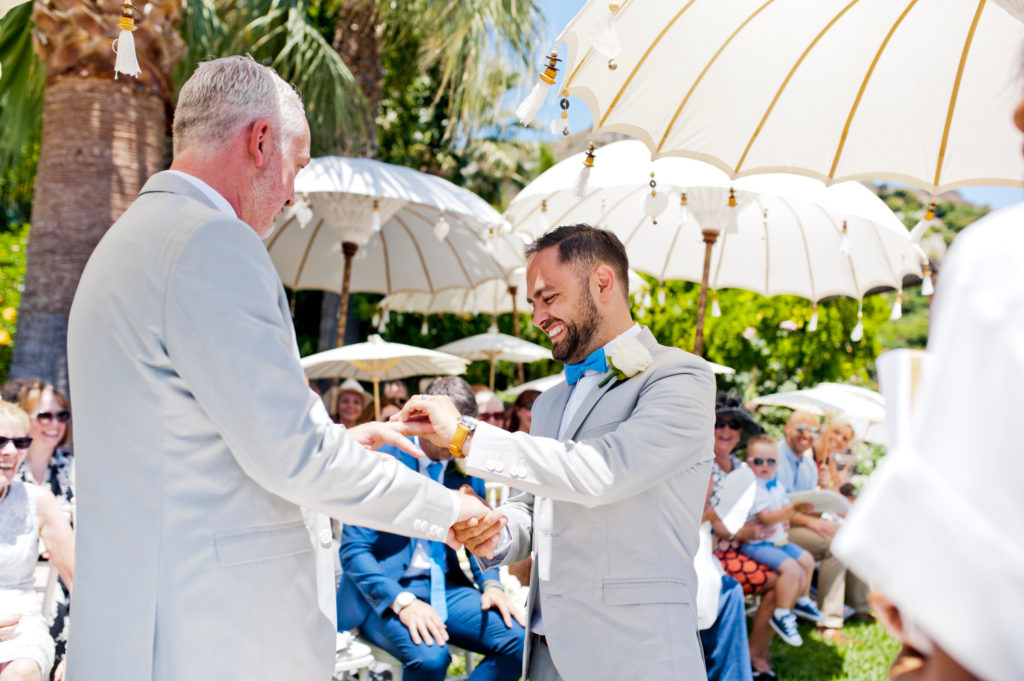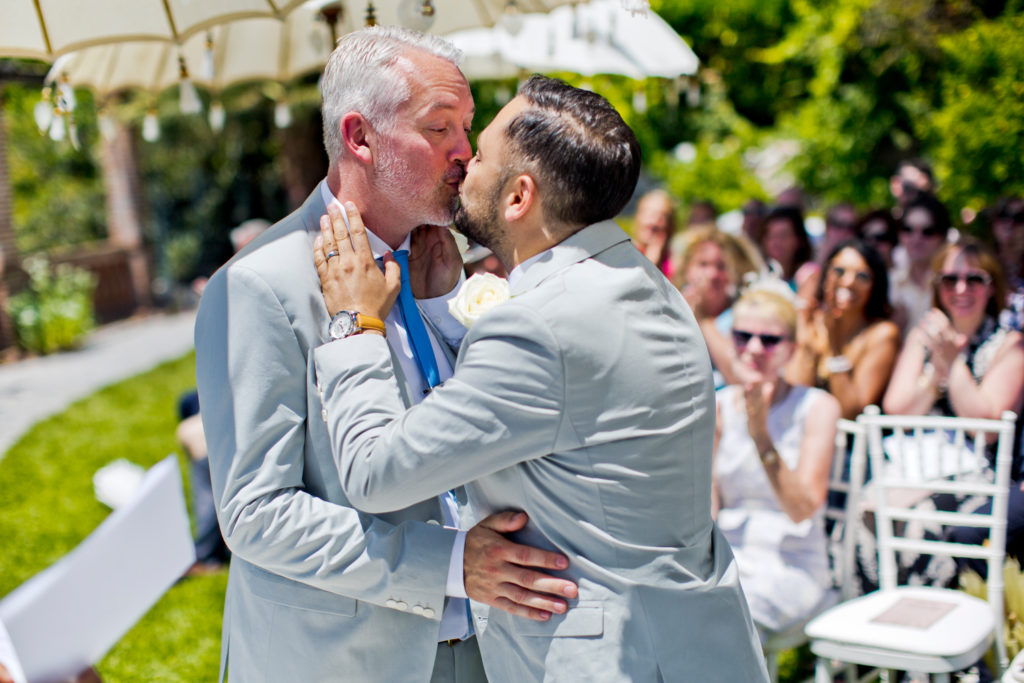 I am sure pretty much everybody shed a tear of joy at the ceremony as it was quite emotional.  We were so elated after the ceremony, and if we could, we wouldn't change a thing! – Dean
Love these two…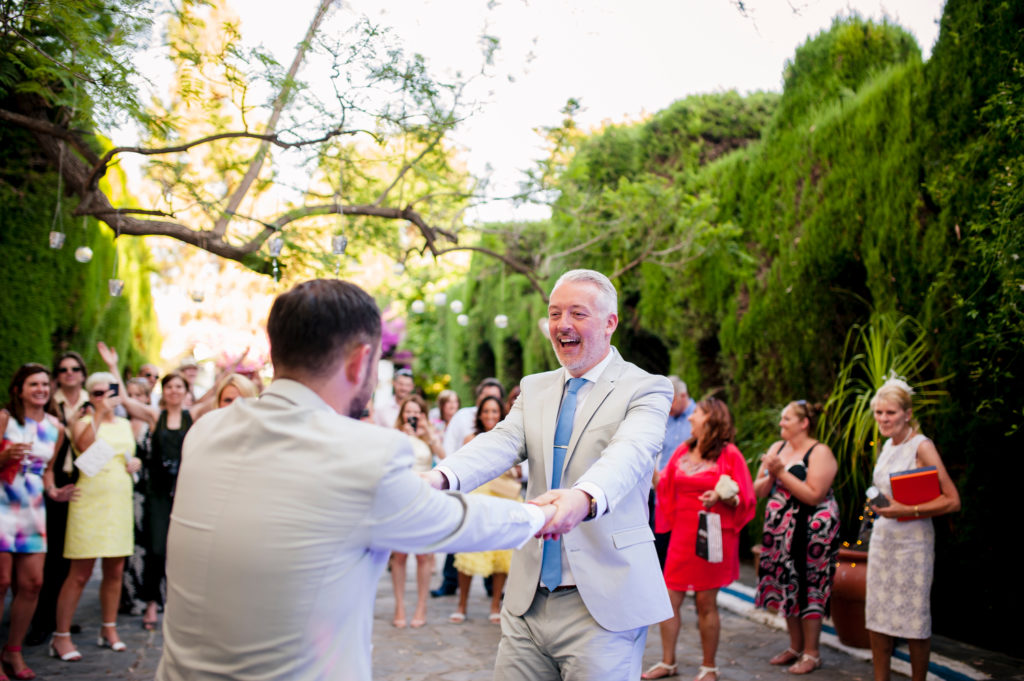 Mad love to;
Albert Pamies for the wonderful images
The gorgeous Matt and Dean for letting me share their fab ceremony and for just being so bloody wonderful. That's all!
Venue: El palacete de las Cazulas
Wedding planners and stylists: Fiestasol Weddings