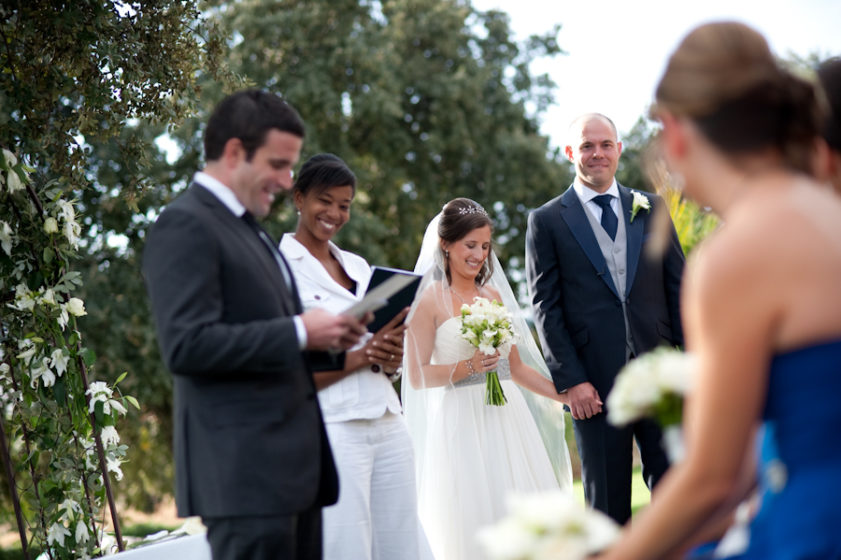 One of my brides asked me this very question the other day. Apart from looking at her blankly for a few seconds with my mouth slightly ajar, there was very little else I could do. It wasn't that I didn't welcome the question but simply that this question falls into the realm of those unanswerable questions such as 'what is your favourite film, what is your favourite country, city, dog?' Maybe it's just me! Maybe I like too many things to have favourites.
There is also the fact that wedding readings are so varied, so different, so individual to the person who enjoys it or with whom it resonates. That said, I most definitely have a handful of readings that I do love to hear, which I think are reflective of certain moods and feelings. These of course are reflective of my opinion, and so I equally accept that many people will find these readings hideous, which is great! Strong reactions are brilliant, good or bad. There should be no sitting on the fence and umming and arrhing with wedding readings. You should either love them or not. The Marmite effect.
So here is a short selection of readings I love. Ask me again tomorrow and they'll probably be something different!
Romantic
My Love by Linda Lee Elrod
When I met you I had no idea
How much my life was about to be changed….
But then, how could I have known?
A love like ours happens once in a lifetime.
You were a miracle to me,
the one who was everything I had ever dreamed of,
the one I thought existed only in my imagination.
And when you came into my life,
I realized that what I had always thought was happiness,
couldn't compare to the joy loving you brought me.
You are a part of everything I think and do and feel,
and with you by my side, I believe that anything is possible.
Today gives me a chance to thank you for the miracle of you….
You are, and always will be, the love of my life.
More than Enough – anonymous
One touch, your touch is more than enough,
A smile, your smile is too.
The way they lift all my troubles away Is all that I need from you.
A heart, your heart is open to me
For all my wishes and desires
For my highs and my lows, my pains and my woes,
It's a heart that never tires.
An embrace, your embrace is all that I need
To get me through the day
The love, your love that you have for me
Will guide me on my way.
I hope in return to be more than you need
To give comfort and solace when fear plants its seed
And to offer a smile that will warm your insides
And my touch, just one touch that will fill you with pride.
And when on the day that life really gets tough
My love, our love will be more than enough.
Funny
Yes, I'll Marry You – Pam Ayres
Yes, I'll marry you, my dear, and here's the reason why; So I can push you out of bed when the baby starts to cry, and if we hear a knocking and it's creepy and it's late, I hand you the torch you see, and you investigate.
Yes I'll marry you, my dear, you may not apprehend it, but when the tumble-drier goes it's you that has to mend it. You have to face the neighbour should our labrador attack him, and if a drunkard fondles me it's you that has to whack him.
Yes, I'll marry you, you're virile and you're lean, my house is like a pigsty you can help to keep it clean. That tasty little dinner which you served by candlelight, as I do chipolatas, you can cook it every night!
It's you who has to work the drill and put up curtain track, and when I am in a mood it's you who gets the flak. i do see great advantages, but none of them for you, and so before you see the light, I do, I do, I do
He Never Leaves the Seat Up by Pam Ayres
He never leaves the seat up
Or wet towels upon the floor
The toothpaste has the lid on
And he always shuts the door!
 She's very clean and tidy
Though she may sometimes delude
Leave your things out at your peril
In a second they'll have moved!
He's a very active person
As are all his next of kin
Where as she likes lazy days
He'll still drag her to the gym!
He romances her and dines her
Home cooked dinners and the like
He even knows her favourite food
And spoils her day and night!
She's thoughtful when he looks at her
A smile upon his face
Will he look that good in 50 years
When his dentures aren't in place?!
He says he loves her figure
And her mental prowess too
But when gravity takes her over
Will she charm with her IQ?
She says she loves his kindness
And his patience is a must
And of course she thinks he's handsome
Which in her eyes is a plus!
They're both not wholly perfect
But who are we to judge
He can be pig headed
Where as she won't even budge!
All that said and done
They love the time they spent together
And I hope as I'm sure you do
That this fine day will last forever.
He'll be more than just her husband
He'll also be her friend
And she'll be more than just his wife
She's be his soul mate 'till the end.
PS: I love that many couples who choose this reading, change parts of it to reflect their own lives. 
Practical
Words of wisdom by Bill Swetmon
Happiness in marriage is not something that just happens; a good marriage must be created. And it is created in the following ways:
It is never being too old to hold hands.
It is remembering to say "I love you" at least once a day.
It is at no time taking the other for granted.
It is having a mutual sense of value and common objectives.
It is standing together facing life. It is forming a circle of love that gathers in the whole family.
It is doing things for each other not in the attitude of duty or sacrifice, but in the spirit of joy.
It is speaking the words of appreciation and demonstrating gratitude. It is not looking for perfection in each other.
It is cultivating flexibility, patience, understanding and sense of humour. It is having the capacity to forgive and forget.
It is giving each other an atmosphere in which each can grow. It is finding room for the things of the spirit.
It is a common search for the good and the beautiful. It is establishing a relationship in which independence is equal, dependence is mutual, and obligation is reciprocal.
It is not only marrying the right partner, it is being the right partner.
Playful
Us Two from Now We Are Six By A.A. Milne
Wherever I am, there's always Pooh,
There's always Pooh and Me.
Whatever I do, he wants to do,
"Where are you going today?" says Pooh…
"Well, that's very odd 'cos I was too.
"Let's go together," says Pooh, says he.
"Let's go together," says Pooh.
"What's twice eleven?" I said to Pooh,
"Twice what?" said Pooh to Me.
"I think it ought to be twenty two."
"Just what I think myself," said Pooh.
"It wasn't an easy sum to do,
But that's what it is," said Pooh, said he.
"That's what it is," said Pooh.
"Let's look for dragons," I said to Pooh.
"Yes, let's," said Pooh to Me.
We crossed the river and found a few…
"Yes, those are dragons all right," said Pooh.
"As soon as I saw their beaks I knew.
That's what they are," said Pooh, said he.
"That's what they are," said Pooh.
"Let's frighten the dragons," I said to Pooh.
"That's right," said Pooh to Me.
"I'm not afraid," I said to Pooh,
And I held his paw and I shouted "Shoo!
Silly old dragons!"… and off they flew.
"I wasn't afraid," said Pooh, said he,
"I'm never afraid with you."
So wherever I am, there's always Pooh,
There's always Pooh and Me.
"What would I do?" I said to Pooh,
"If it wasn't for you," and Pooh said… "True,
It isn't much fun for One, but Two
Can stick together," says Pooh, says he.
The Owl and the Pussy-cat
 The Owl and the Pussy-cat went to sea
In a beautiful pea green boat,
They took some honey, and plenty of money,
Wrapped up in a five pound note.
The Owl looked up to the stars above,
And sang to a small guitar,
'O lovely Pussy! O Pussy my love,
What a beautiful Pussy you are!
 Pussy said to the Owl, 'You elegant fowl!
How charmingly sweet you sing!
O let us be married! too long we have tarried:
But what shall we do for a ring?'
They sailed away, for a year and a day,
To the land where the Bong-tree grows
And there in a wood a Piggy-wig stood
With a ring at the end of his nose
Dear pig, are you willing to sell for one shilling
Your ring?' Said the Piggy, 'I will.'
So they took it away, and were married next day
By the Turkey who lives on the hill.
They dined on mince, and slices of quince,
Which they ate with a runcible spoon;
And hand in hand, on the edge of the sand,
They danced by the light of the moon!
Realistic
For now by Tracey Emin
Hurry
But do not hurry me,
Push
But do not push me,
Hold
But do not crush me'
Love
But do not change me
Let us stay the way we are
Devour
But do not consume me,
Thrill
But do not frighten me,
Excite
But do not scare me.
Teach
But do not change me
Let us learn from the way we are
Kiss
But do not smother me,
Embrace
But do not break me,
Adore
But do not suffocate me,
Love
Let me love you
Just the way you are
Maybe the run-of-the-mill wedding readings just aren't your cup of tea. Why don't you look at some alternative wedding reading ideas?
What is your favourite wedding reading? Do tell?