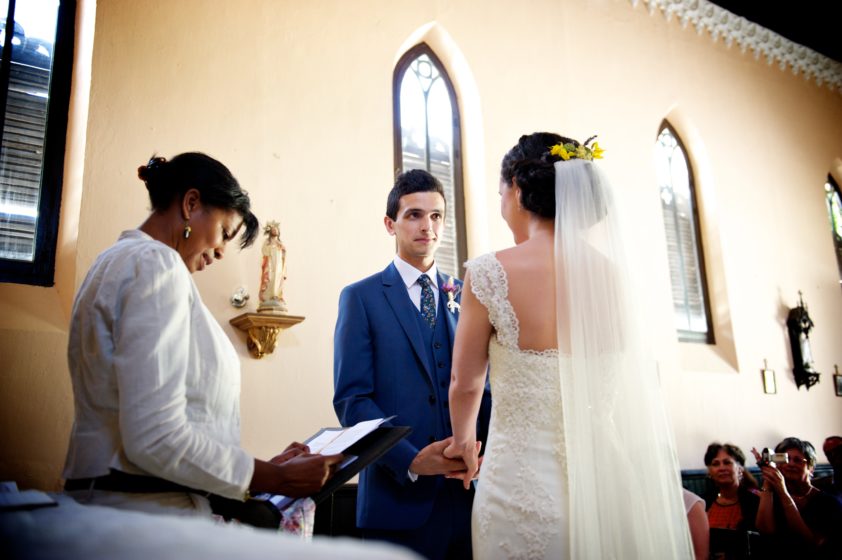 Carol and Ollie were infectious. No, I don't mean they were carrying some nasty bug that made my skin itch, I mean their very beings, their energy and presence. The minute I met them, I loved them and the buzz that they had for their wedding day was so catching! That's exactly how it was for me. I don't know who was more excited, me or them!
I loved that they knew what they wanted for their ceremony and it was even better to see all of their personalisations come to fruition in the chapel of Palacete las Cazulas, the wonderful venue that they chose for their ceremony. They peppered their ceremony with readings that resonated with them, including Edward Monckton's Lovely Elephant Story. With Carol's Irish roots, they choose a wonderful hand-fasting ceremony which has Celtic origins and to personalise it even further they used a beautiful scarf that belonged to one of Carol's late grandmothers.
I loved their order of service too, which included a cast list of all their wedding party with biographies. My favourites were;
The Father of The Bride – My daddy, steak eating legend, videographer extraordinaire, Guiness lover!

The Mother of the Groom – There's only one Mama G. 21st century hippie, partial to dark rum, best cook ever. My mum.
Actually, they were all amazing, I just don't have the space!
Bridesmaid – Gossip queen of Arghallon, Topshop veteran, does Beyoncé's bum shake better than Beyoncé.
I just love all that! You can just get a sense from these how their entire celebrations were.
A special thank you to Darragh Casey for his beautiful images of their fantastic wedding day and to the gorgeous Carol and Ollie for letting me share their story. x
Mad love to the following;