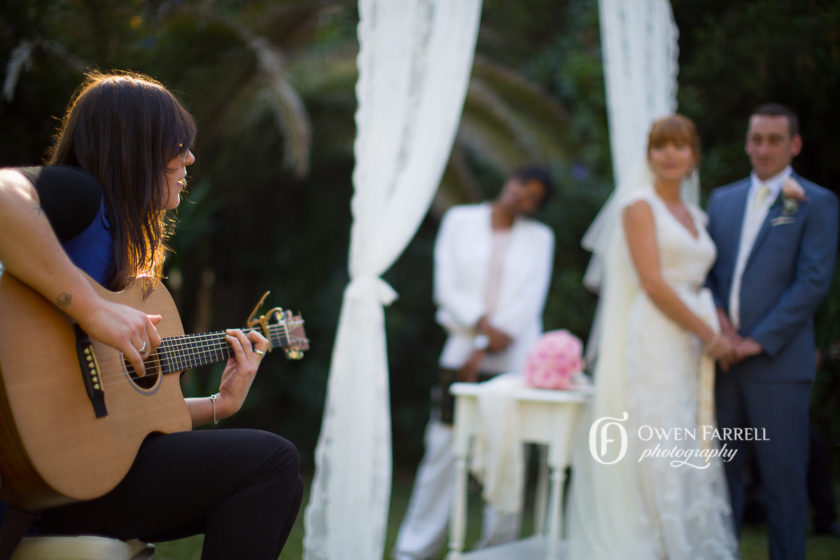 Music for wedding ceremonies is a pretty big deal, more than anyone ever realises it is. Not only does what you choose shape and set the tone for the rest of the day but the songs you choose also should reflect a little of your personality or be something that is special to you, or at the least, be something that you actually like!
So not only do you have to deal with all of this, but you'll also probably spend a lot of time wading through the entire virtual soundtrack of your lives together to whittle out songs that mean something to both of you (luckily, I have already written lots about choosing music for your ceremony!) And then when you've done all of that you'll be left to decide how you're going to have that music played at your ceremony, whether it will be live or recorded music.
Live or recorded?
If you asked me any time of the day, month or year whether I would have live or recorded music at my wedding I would say 'live' every time. There is nothing more beautiful or emotive than having someone or even a number of people play music during a ceremony and also during a wedding, as well as the practical benefits of having live musicians. It's like the equivalent to listening to your favourite song on the radio or listening to it being played live right in front of you. There are few who would say they'd prefer the recorded version! We had a Mariachi band at our Mexcian wedding and it was amazing. And even the popular Christina Perry's A Thousand Years is even more beautiful when played live, I think! You've got to admit, staring at the musical skills of a singer or pianist is far nicer than looking at an PA system or an i-pad.
And just as the music that we now choose for our ceremonies has changed from being largely classical to anything you want, we are now at the stage where live music is not just provided for by string quartets and solo violinists but anything from singers, guitarists and ukulele players. However, although I am all for live music in all shapes and forms, I do completely understand that there are times when it might not be feasible, practical or possible to have live music or even cases, where recorded music is more beneficial. So let's have a look at some factors which might help determine whether live or not live music might work for you or not.
Costs
The money factor has probably got to be the biggest influences over whether people decide to have live music or not, and I think it's one reason why people don't even consider this idea in the first place. But the good news is, it really doesn't have to cost a lot of money, if you don't want it to. If you are going to have professional musicians, then you have to expect to pay what they ask and rightly so, because you are paying for the services or a professionally trained musician and their beautiful, expensive instruments. You may also find that musicians offer various packages too, and may just have a ceremony-only package which might be more affordable. Alternatively, if you are lucky enough to have a talented friend or family member, who although may not be a professional, is still very good at what they do, then why not get them onboard? I have seen many friends and relatives provide live music for ceremonies, and yes, although they may not have had the finesse of a professional musician, they still did an amazing job and if anything, bought a more personal touch to the ceremony too. And the best thing is, they get paid with love!
Venue/ Ceremony location
Where you are getting married, can also heavily influence your decision to have live music and also what type of musicians to have. If you're marrying besides a river that requires a little walk through the woods then a string quartet might not be ideal, i.e I'm pretty sure most musicians might not want to lug their equipment down a woodland path, no matter how pretty the scene, but you never know! Wherever you choose to marry, you need to weigh up the suitability of the venue. Will your musicians need electricity? Will the venue allow live music? Seriously! Some venues have some strange restrictions you know! Will acoustic work?  At many of the beach ceremonies I have conducted, there have been ukulele players providing the music. Not just because it sounds great but because ukuleles are so easy to transport, as well as being cute and trendy and all of that! But generally, it's not brain surgery and it really only requires using 5% of your overall brain power to know if live music will work for you in the venue/location of your choice.
Music choices
One of my good musician friends is a classical Flamenco guitarist. This means he plays classical Flamenco music. Duh! But that doesn't stop people from asking if he can learn a Guns and Roses song or Pharrell's 'Happy'. If you have the songs in mind that you would like, you need to make sure that the musicians you choose, can a) learn these songs and b) that the songs are already in keeping with what they can do or are willingly to do. Also, you need to give musicians time to learn the music that you'd like. Another musician friend of mine, was given only a week to find and learn a song that was new to her! You may find that there are some songs that you love that just cannot be played live. It could be that it is too complicated, or that the song sheets don't come readily available for the required instruments, or the musician that you have doesn't feel he or she can do the song justice. It's a good tip to narrow down some music choices first and then check with the musicians who you like the sound of, whether they can perform your favourite pieces of music for you, before booking them.
Friends and family
Although I've touched on this briefly before, I wanted to make a point of it and how beneficial it can be for you in terms of having live music at your ceremony. If you have a super-talented friend or family member then they can be your next port of call, if the option of having a professional musician does not suit your budget. For some couples it is a no-brainer and they cannot think of anyone better than a loved one or great mate to do the honours. If this is the case, of course you just need to make sure that who you ask is 100% happy with it (why wouldn't they be!?). I have first hand witnessed some beautiful music being sang and played by friends and relatives of couples. I had a ceremony recently where the brother and good friend of the bride sang during the ceremony and it was magical and so very powerful. My eyes had all sorts of allergies that day.
So there you have it, in a small wedding nutshell. Live music in general is pretty amazing, whether it's enjoying your favourite artist at a concert, or listening to a talented busker. If you can make it a feature of your wedding ceremony, I don't think you'll regret if for a moment. And if you really have no way to have live music at your ceremony, or simply don't want to, then don't worry, because your emotions will be flying all over the place on hearing that special song, no matter how it is played.