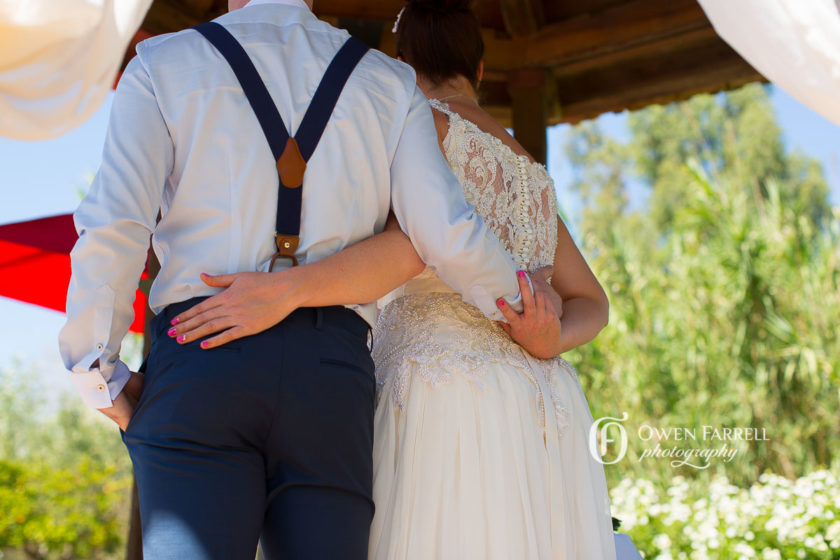 'Everything, I'd probably change everything'.
I'd made the mistake of asking my husband of fifteen years, what, if anything he would change about our wedding day. We reminisced a little and remembered our day, it really was great but I could see why that had been his response.
We had married in Las Vegas on his 30th birthday (he's never forgiven me for hijacking his day), we drank way too much champagne, yes that is possible, and then we chartered a helicopter to set us down in the Grand Canyon where we drank some of the aforementioned bubbly and ate a picnic of sandwiches, cake and strawberries. Our flight back took us over the strip and we ate dinner across from the fountains at the Bellagio prior to falling in to a deep boozy sleep.
All in all it was amazing, but it was luck and not judgement that made it that way.
Let me be honest, we had thought about and planned virtually nothing, buying the ceremony 'off plan'. We had no planned music for me to shimmy down the aisle to, no personalised vows, I only picked out my dress a few weeks before leaving a  seamstress feverishly stitching away until the day before our transatlantic flights. The only thing I had really given any thought to was the handmade head band I wore which I had lovingly and painstakingly decorated with costume pearls and small silk roses.
We had given our wedding no thought because that was the people we were then, we were incredibly time poor, managing our own business at the time which took us on lots of international trips so we had no time to think about themes, guest lists, venues, photographers, food, cake, bridesmaids, grooms, ushers, dress…aaaargh, thinking about it now gives me hives.
I know it would all have been down to me to research, plan and execute the wedding and quite frankly doing all of that on my own would have left me seeking a divorce halfway through the preparations. All I wanted was to be married, to show him my commitment and for him to give me his. Simple as. Being married was more important than the wedding.
So I look back with bittersweet memories about our wedding; it wasn't lavish, it wasn't thought out, but at the time it was perfect for us. I'm sure now I'm a Project Manager by trade and I've been to numerous friend's weddings I could do a half decent job at a more thoughtful day, but we married in 2001 and it couldn't have been any more perfect for that time. We were who we were then, not the people we have become, so we shouldn't judge ourselves too poorly.
My only regret and yes there is one, is our photographs are awful. We have one half decent one with my husband squinting in the sun and another shot inside the limo where we look like Lilliputians at the other end of the car, far, far away. Perspective is everything right? We don't have photos of us getting ready (together in our hotel room), or walking out to the car, or waiting nervously whilst The King presided over the ceremony before us. Let me add, we didn't have an Elvis look-a-like for ours, that might have required some forward planning!
But yes that's the one thing I would certainly have done differently, I would have sourced a better photographer and paid for more than twelve shots. So that's my biggest regret that we don't have any decent photos, I do have some awesome memories though and a funny, lovely, incredibly supportive husband and they will just have to do.
Sarah Whittaker-Gilbey is an International Project Manager based out of London with a husband who lives in a completely different city, but is thankfully on the same landmass. She is doggy-mommy to two crazy Irish Setters and has a love for music, singing and playing her saxophones, whenever time and the neighbours allow. When she gets a crazy idea in to her head Sarah is fiercely determined and has subsequently trekked to Everest Base Camp in winter, tackled the London marathon and sung her songs for a living in more countries than she can remember.
Have you got an awesome story about life, love and marriage like Sarah's that you'd love to share, too? Get in touch, I'd love to hear from you.