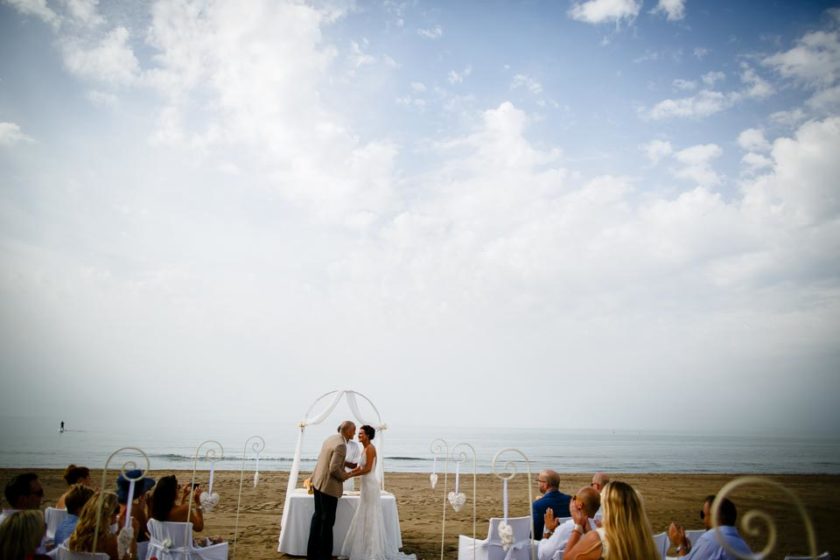 You've got to admit that getting married on a beach is up there when it comes to top wedding locations. To have the beauty of nature all around you; golden sands at your feet, blue skies over your head and the frothy seas lolling around you, there is not much more that is perfect. Nature at its best indeed.
So it's a no brainer really why so many people choose to get married on a beach and be able to take part in something so precious, in surroundings which are equally as precious.
But, and you know how I love my 'buts' sometimes in focusing on the idyllic and romantic nature of getting married on a beach, it is very easy to overlook, forget or simply not even realise that there are quite a few things that need to be taken into account when you decide that you want to get hitched on the beach.
So here are my five handy little tips of things to think about if you're going to be getting married on a beautiful beach, some day real soon.
Most beaches are public property
Unless you're Richard Branson and you own an entire island and its beaches, then it's probably fair to say that the beach you want to get married on is owned by someone. In most cases, beaches are 'owned' and managed by local public authorities and are free-to-use public spaces. So this means, if you haven't already, that you will probably have to get someone's permission to use the beach for your ceremony and may have to pay a fee to do so.
Some couples get married on a beach which 'belongs' to a hotel or a beach-side villa, so this might make it easier to seek permissions, if needed or it may be something that the hotel can take care automatically. In some cases, hotels pay some sort of beach taxes and so this means they can pretty much do whatever they want with the stretch of beach that they rent/occupy.
But in any case, the moral of this story is, it's probably not best to rock up on a beach, unless it is really really remote, without finding out if you need some sort of permission first.
And staying with this public property theme, this in case you hadn't realise can mean that the awesome space that you want to have your nuptials on, is likely to be a space that a whole lot of other people also recognise as an awesome space to be on! Beaches are beaches after all, and if the beaches are like any of the ones near to where I live, they are huge tourist magnets. And I'm telling you, no-one loves a wedding more than a random tourist on a beach!
I have done quite a few beach weddings where couples mentioned to me after the wedding day that they didn't realise that a) there would be other people on the beach (!) and b) there would be so many other people on the beach (!). So this is something you need to think about, people. If you don't mind scantily dressed people who you don't know,  standing around and watching you get married, then maybe you need to think whether a beach setting is for you, especially if it's a beach within a tourist resort or tourist-heavy area.
Some people love the extra visitors and embrace it as part of getting married al fresco and au naturel. So make sure you're one of these people!
Beaches can be noisy
I was chatting to a bride the other day who was telling me that she recently went to a friend's wedding on a Greek island. She said the setting was magical, but they did not hear a single word during the ceremony. The celebrant didn't use a microphone and the noise from the waves and beach-goers drowned out what was being said. What a shame!
Beaches are noisy, people! Even the most tranquil-looking ones that don't have any other people on them. With exposed beaches that aren't sheltered by a cove, even the natural sounds of lapping waves and the sea breeze and winds can be quite powerful. So, where possible maybe a celebrant should have a microphone or try to pick a spot which has some shelter or protection given by trees or rocks, or which isn't too close to the sea.
Beaches can be a logistical nightmare
Some of the best beach weddings I have ever done, have been in tricky beach areas. That's to say, beaches that needed a good ten minute walk through sand to get to the right spot, or a bit of clambering down a cliff face or an off-road drive. They were worth it though, for the peaceful, private spots that they led to.
But it also meant that these ceremonies had to be as natural and organic as possible. No seats for guests, no microphone for me or sound equipment for musicians, no table for the ceremony and only a little bit of natural and easy-to-assemble beach decoration. Also, depending on the time of your day for your ceremony, it may not be possible to get shelter for your guests, even though they probably might actually need it!
It also meant that in some cases some guests (the little kids and the older folk) struggled a little to get to the off-the-beaten track locations, but with a little bit of help they all managed it in the end.
Ceremonies like this make for some of my favourite because they are so natural, but they do often require a little bit more thought!
Beaches welcome the elements
If it's hot, it's going to be hot on the beach. If it's windy, it's going to be windy on the beach. And on the beach, there is usually nowhere to run and nowhere to hide and take shelter. So choose your beach location wisely. Hot beaches have hot sand too, even sometimes when the sun has gone in, so women should have a back up pair of sandals, in case the dream of being a barefoot-bride isn't gonna happen, unless you want to risk third-degree burns on the bottom of your feet!
Timing
When your ceremony takes place is so crucial. And this means not just the time of the day, but the day and month itself. If you are planning on getting married on a beach which is not local or well known to you, let the experts guide you. If they tell you a beach ceremony before 6pm isn't a good idea, listen to them. If they tell you a beach wedding in December will see you soaked to the skin, believe them! Sometimes what you have as wonderful romantic ideas for your ceremony, doesn't always work well with the reality of the location.
Good timing can be the difference between an awesome beach ceremony and a mediocre one. As a rough rule, the later or earlier a beach wedding takes place in a tourist area, the more chance you'll have of there being less people on the beach.
And you've got to think of the heat too. You might be able to have full-on parasols and canopies but individual parasols, sun umbrellas and fans are not only a lovely gift for your guests but a life-saver too!
So there you are, beautiful people. Find your beach spot, plan wisely and have the most awesome ceremony with nature all around you. What more can you ask for?