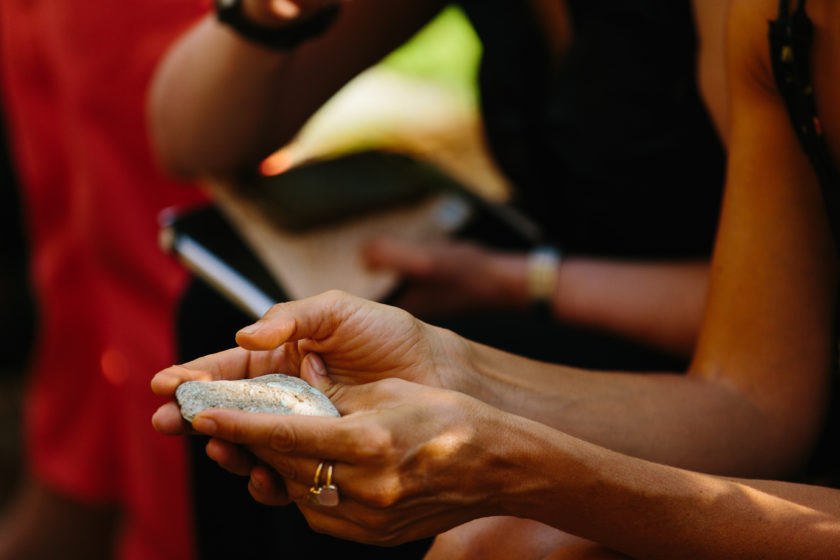 Now, bear with me. I know this ritual has the funkiest sounding name and you're probably already thinking 'oathing,' what? 'Stone', how? Yes, yes, I know, the oathing stone ritual is a funky sounding ritual BUT stick with me, because it is also one of the coolest most loving ways that you can get your friends and family folk involved in your ceremony. I guarantee it.
So let me break it down for you.
Steeped in Scottish roots, imagine a time before wedding rings could be forged from metal, when couples entering marriage wanted to have a deeply symbolic way to show their commitment to each other. Well, this is where the oathing stone comes in. It was believed that saying your vows whilst holding on to a stone was a very symbolic and very special thing to do.
If you think about it, a stone is very symbolic in itself. It's part of the earth, ancient in age and a strong symbol of life. You often here people say 'you are my rock,' and maybe this is where that expression comes from. A rock or stone is a sign of strength and endurance, so you can see why it would be so symbolic being used in a wedding ceremony where a couple are pledging strength and endurance to each other.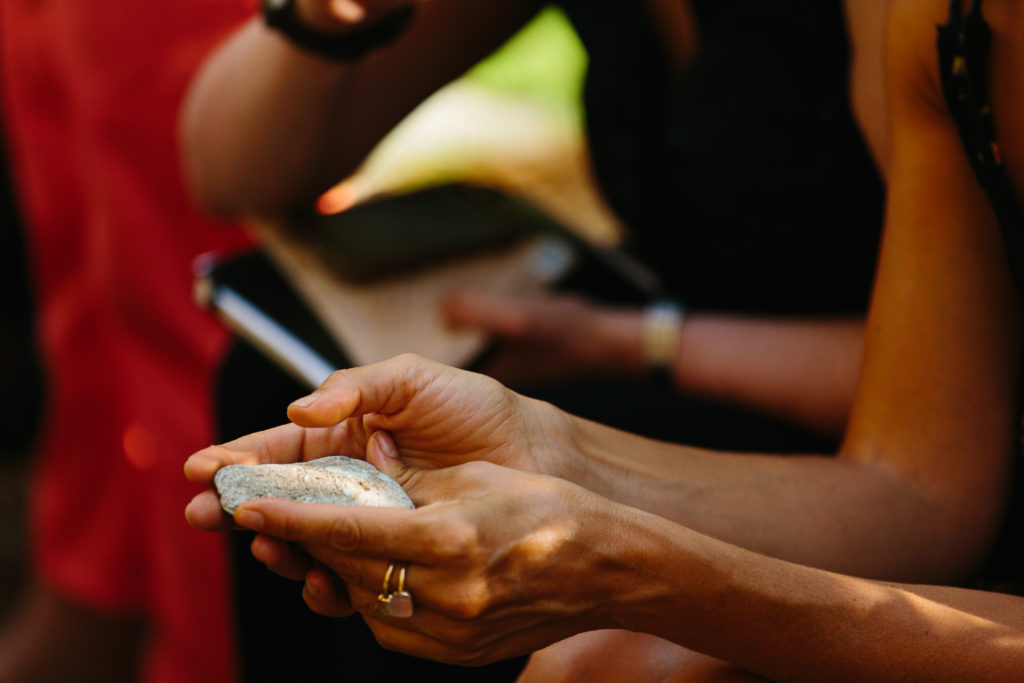 The ins and the outs
One way of carrying out the oathing stone ritual, is before you say your vows the stone is passed among your friends and family in order for them to hold onto it and to pass on the best wishes, love and good vibes. The stone is then passed back to you and you then hold on to the stone whilst your vows are said. You can either hold on to the stone together or one by one, depending on what type of vows you will do and how big the stone is, of course! Saying your vows whilst holding on to a stone is like you are literally casting your vows into stone.
I really love this (but then don't I love everything?)
Once the stone has been passed around your guests and then is back in your possession, you can then say your vows whilst holding on to it. I think the type of vows that work well with this are pledge vows where you are making pledges and promises to each other. This way it makes the act of holding on to the stone more symbolic. Or you and your love bunny could simply hold on to the stone together and then have your celebrant or person leading the ceremony, as you a question vow, which you will respond to whilst holding the stone.
An alternative to this ritual is instead of having one stone, you have lots of stones and the emphasis is on your guests being the focal participants and the symbolism comes from them offering their blessings and good wishes to you. So let me explain this in more detail, using some photos from a ceremony where the guests did this, to help illustrate.
With all your loved ones gathered around you, you can place some stones at the end of the rows or if you have actual seats you could place a stone on each person's seat. What I loved about what this couple did was that they had previously picked all of the stones from a local beach and they placed the stones on plates at the end of the aisles. So when the time came, the plates were passed along and everyone could choose their own stone.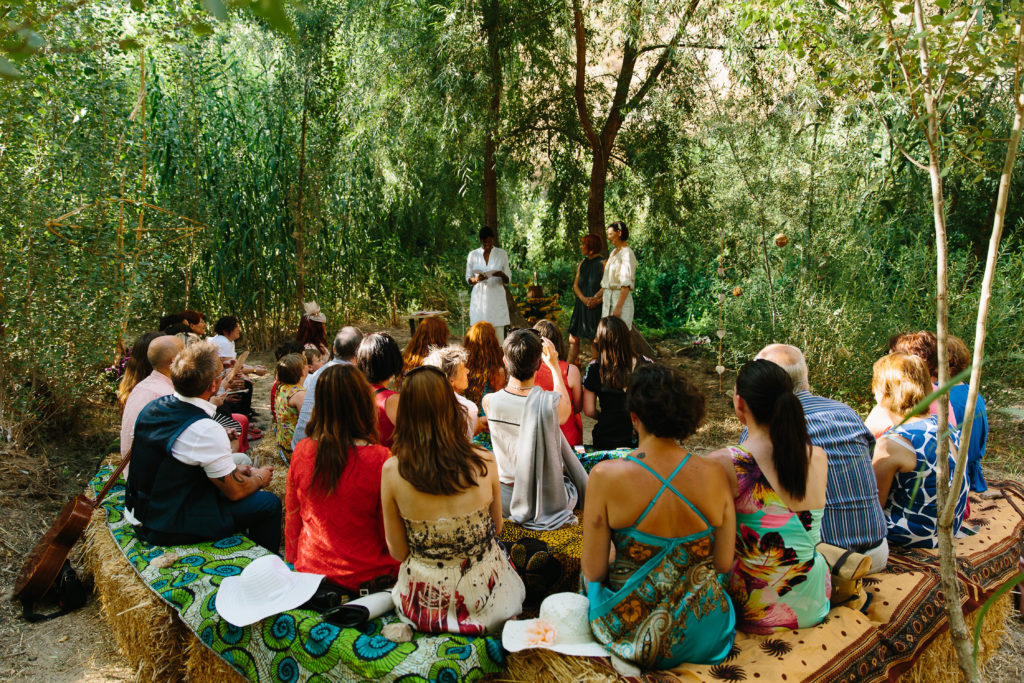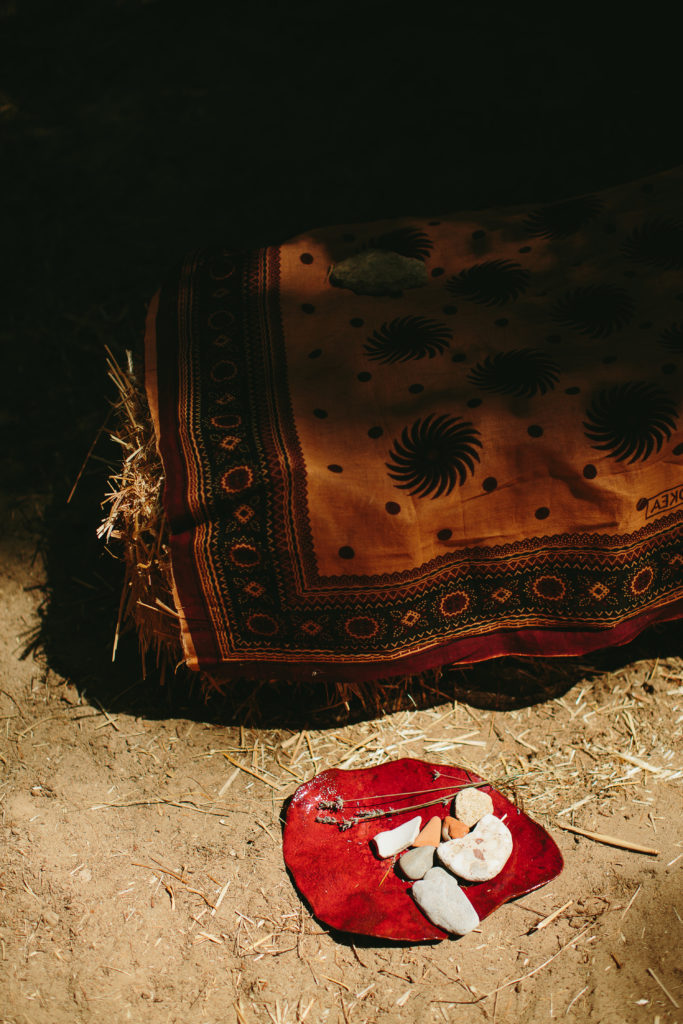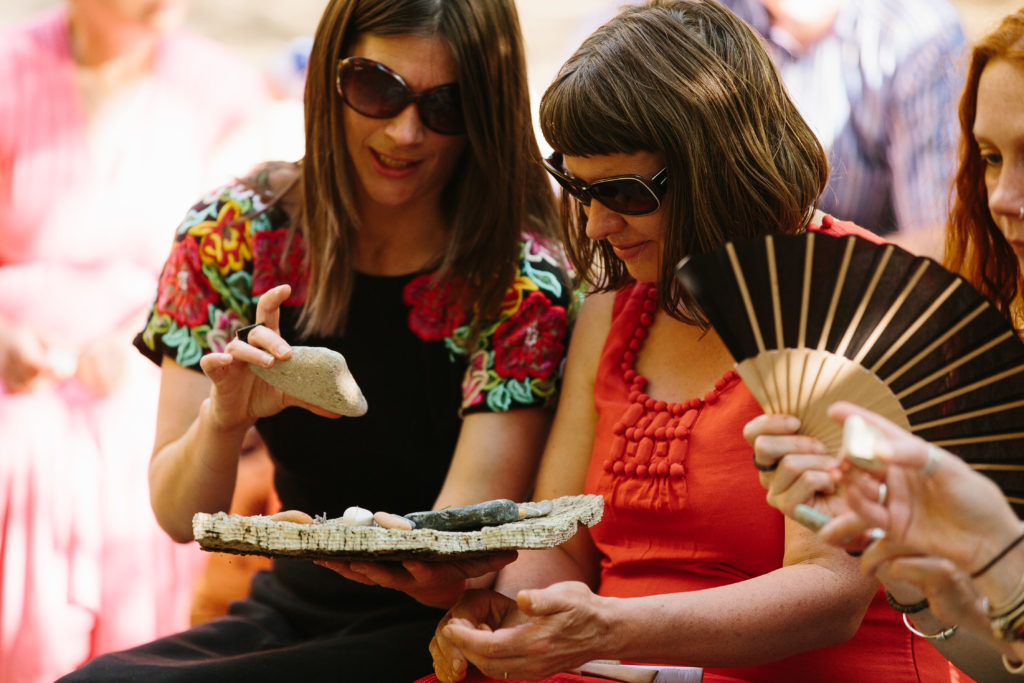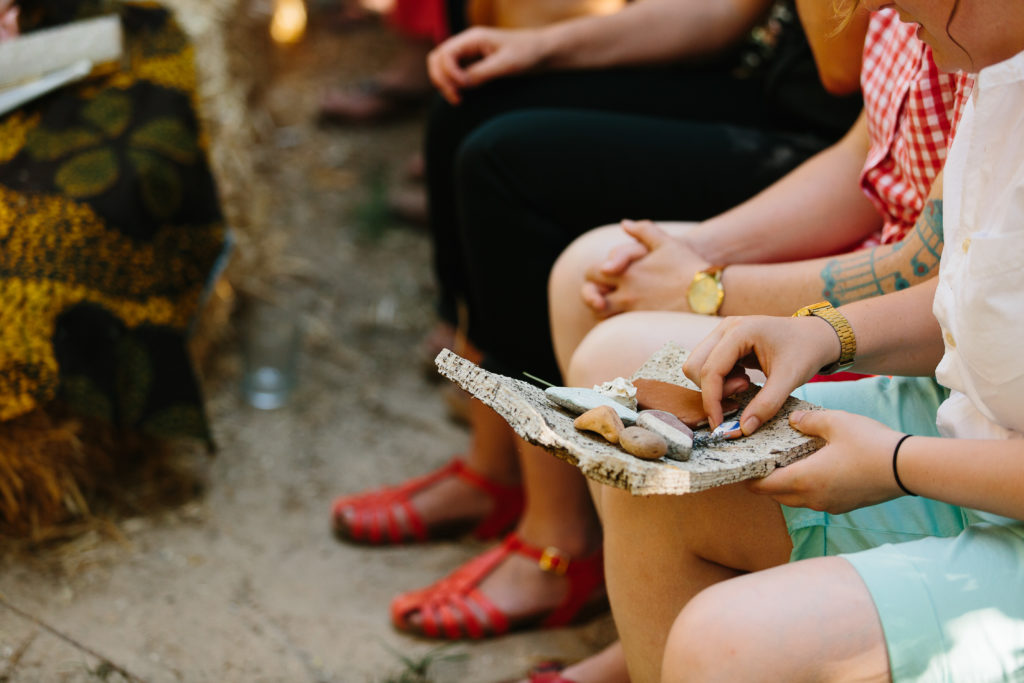 So at a good point during the ceremony, usually before you do your vows, whoever is leading your ceremony can ask your guests to pick a stone, whilst explaining a little bit about the symbolism of the ritual (and maybe the history and reason behind it) and also give brief instructions for what the guests are going to do with the stone.
In the ceremony that I conducted, once all of the stones were chosen, I then directed everyone to have a quiet moment to pass on their good wishes and love to the couple whilst holding on to the stone. It was really beautiful to watch everyone find 'their' stone and to see them taking time to connect with it and to pass on their good vibes. Some people were very emotional too, as if in connecting with the stone, they were speaking to the couple directly. I loved witnessing this so much and I think the guests absolutely loved having the chance to do something like this and the couple themselves were very touched by all the love and energy that they felt coming from their guests.
When everyone was ready, I then asked the guests to place their stones in a beautiful spot, near to the ceremony area that the couple had chosen. The resting place for the stones was a small tree which had been decorated in advance by placing some foliage around the base so that the stones could be placed on top. Some loved ones even took a moment to say a few words too as they placed their stone down. And I also added a stone too, which was the least I could do. It was such a joy and a honour to be able to pass on my good wishes for such a wonderful couple.
Amazing, right?
On a practical note, because I know I am one to get caught up in the romanticism of things, this ritual was actually really easy to carry out. It only took a few minutes, maybe ten minutes maximum, and at no point did it feel overly long, slow or lagging. It felt just right. Because everyone was involved and emotionally invested, it simply felt very natural. I think this is important to know, especially if you really like the sound of this ritual but are worried how it might play out in your own ceremony.
I also think that with any ritual which involves lots of individual participation, you do have to think about your numbers and if it would work with a big crowd. I would say that 40-50 people would be the biggest group numbers you would want, but that said, if, for example, you have some live music during the ceremony, you can have someone play music whilst this is happening and then it won't matter so much if the group size is slightly bigger, because music always helps these types of activities pass more smoothly and feel more fluid.
This is a really beautiful ritual to do in any circumstance, but I think it can be even more special if you do this ritual in your own home, or family space where the stones can stay permanently without having to move them. If that's not possible then of course you can pack the stones up and take them with you and lay them to rest in your own garden or in your house, after your wedding day.
It can also be a really special practise in itself, choosing your stone or stones for the ritual. As I said before, this couple selected all of their stones from a beach, but you could for example choose stones from your own garden or land, making the actual stones that more personal and symbolic. You could even (if you have the time) decorate and personalise the stone or stones in your own way, especially if they are ones which you'll be keeping after the ceremony and hoping to display somewhere nice.
Do you love the oathing stone ritual as much as I do? I hope so!
Mad love to;
Andreas Holm Photography for the awesome images
Want some vow inspo? These vow books will help!