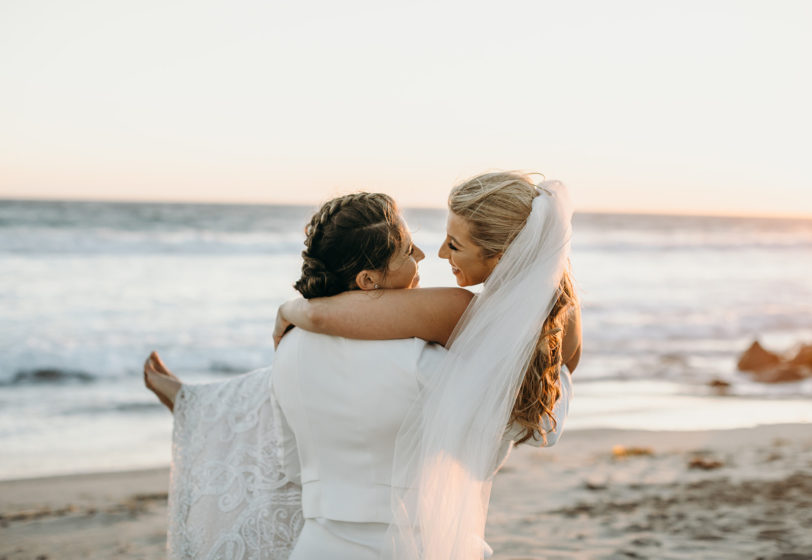 For this real wedding inspiration, I advise you to take a seat and hold on tight because you are going to be blown away by Samantha and Ashley's awesome Malibu wedding ceremony. And whilst you're at it, grab a glass of water too because your mouth will go dry from dropping open so much at the sheer beauty of their stunning beachside love celebration.
This fabulous couple met because of a glitch. Yup, you read that right. A glitch. Ashley was on the Tinder app to make new friends in the area…meanwhile, Sam was on there looking for a new guy to date! Yes—a guy. Sam had never dated a woman before! After being on the app for a little while, her app starting glitching and women started popping up! So Sam, being the open and loving person she is, said "screw it…why should I hold myself back?" And there people, was how their beautiful relationship started five and a half years ago.
Asking THE question
And if an engagement story gives an insight into how amazing the wedding day is going to be, then Sam and Ashley's proposal story does just that. Tv producer Sam (she works on New Year's Rockin' Eve with Ryan Seacrest and the Golden Globes, cool right?) had had a hectic couple of months working solidly, so Ashley seized the moment and made sure to have a relaxing, calming weekend planned, where they good both chillout and unwind and of course, where unbeknown to Sam, Ashley would propose!
After being woken up by Ashley and told that their bags were packed and that she had 15 minutes to get ready, and that yes, Ashley had packed her blow dryer, Sam had to don a blindfold for the surprise journey. They headed to Santa Monica where Ashley had arranged a day of ultimate pampering , indulgence and chillaxing.
When their spa time was over, the blindfold went back on as Ashley drove Samantha too the beach. She really didn't want her to have any clue as to where they were heading. And even when they got to the beach she piggybacked her over the sand so she still had no idea where they were! Ashley wanted to want this 'Perfect Beach' sunset proposal to be perfect!
Now if Ashley hadn't already excelled herself with the preparation and thoughtfulness of this proposal, she had also organised all of her and Sam's friends to be there too. Wow!
Once in the spot, she got down on one knee and told Sam to take off her blindfold. Sam slowly pulled off the blindfold and was in complete shock. Ashley then asked Sam to marry her, Sam said "of course!," took Ashley's face in both hands and kissed her! Ashley then put a thumbs up behind Sam's back, and their families and friends all screamed in excitement!!…and then Sam immediately turned around
and screamed right back at them!! They all cried, hugged and kissed…Sam couldn't believe this was all happening!! It was the absolute best day of both of their lives, until the wedding day of course.
So let's fast forward to that day, and let Ashley and Samantha take over the narration for their marriage celebration.
The big day prep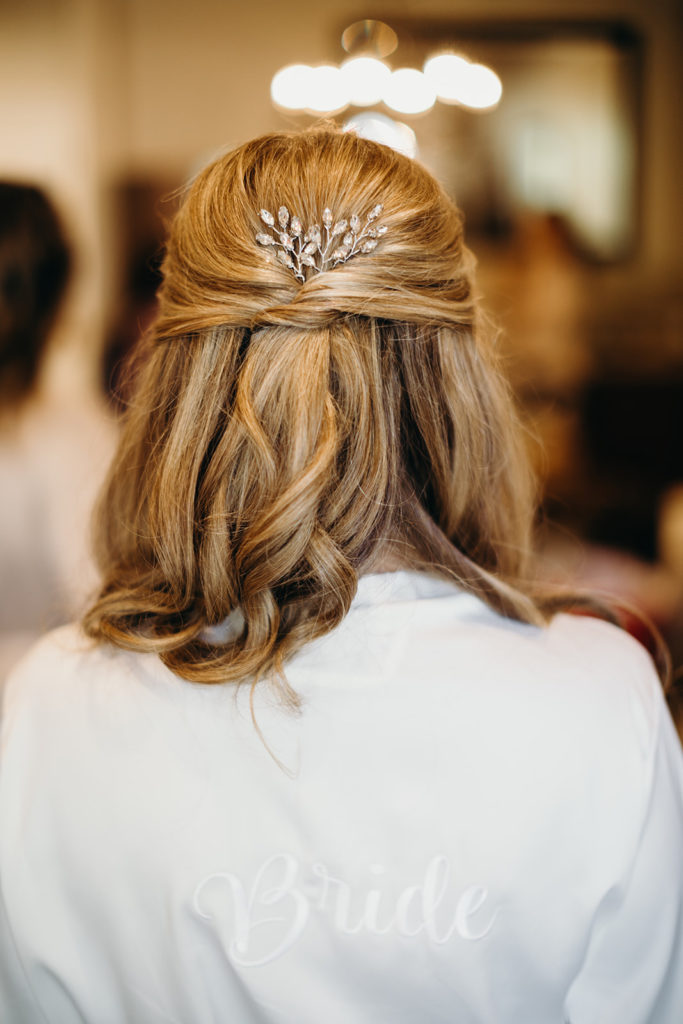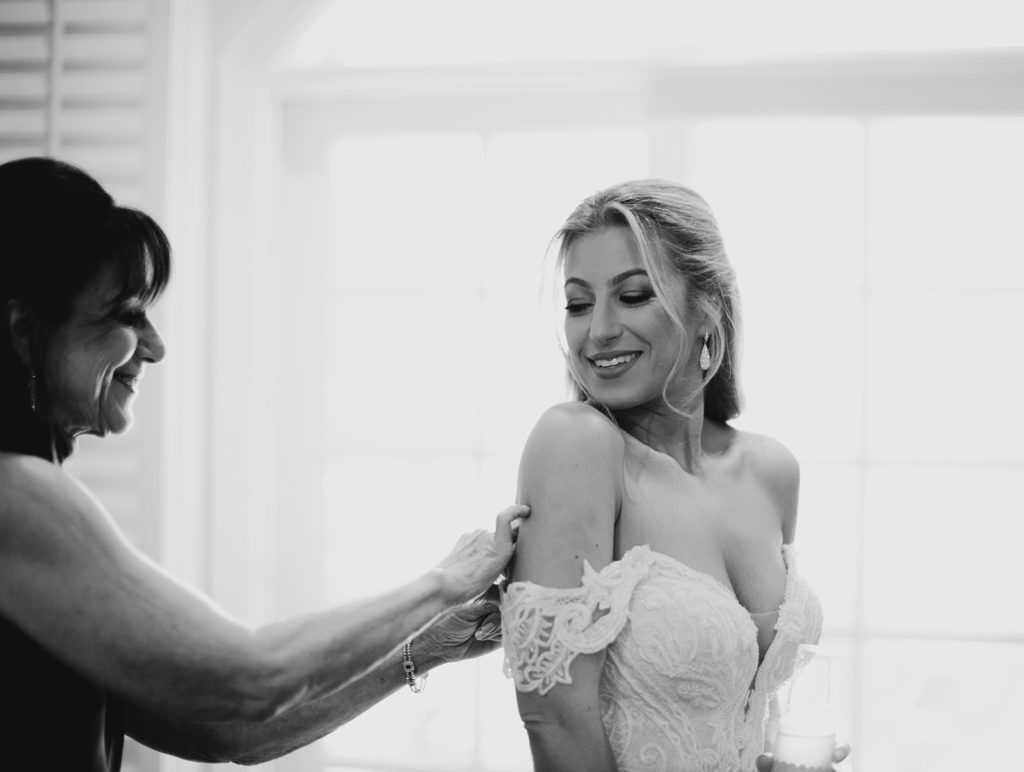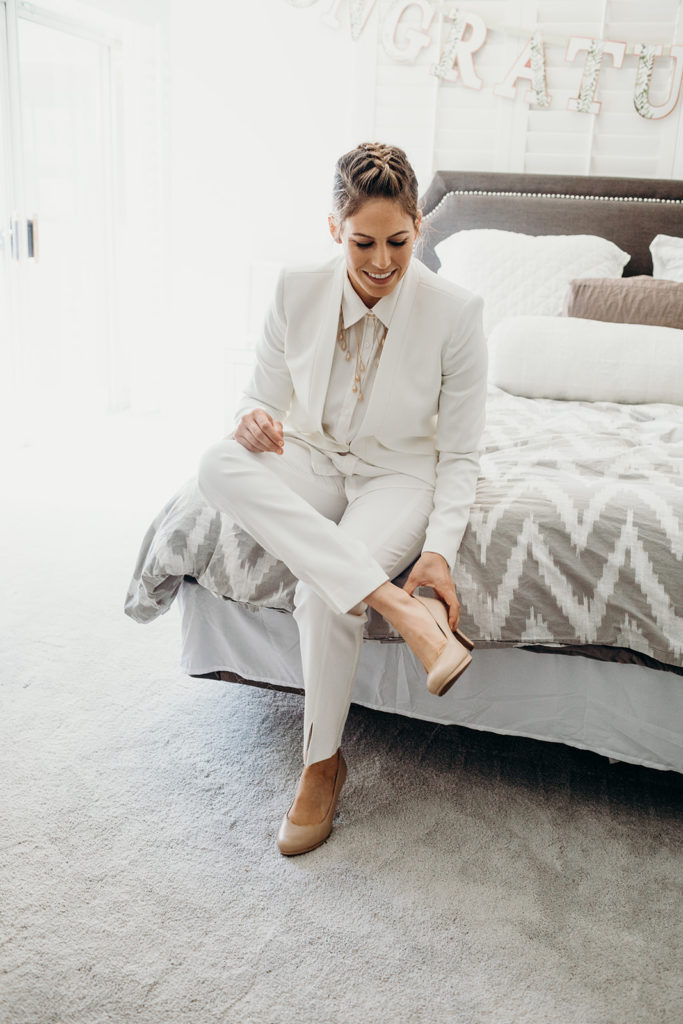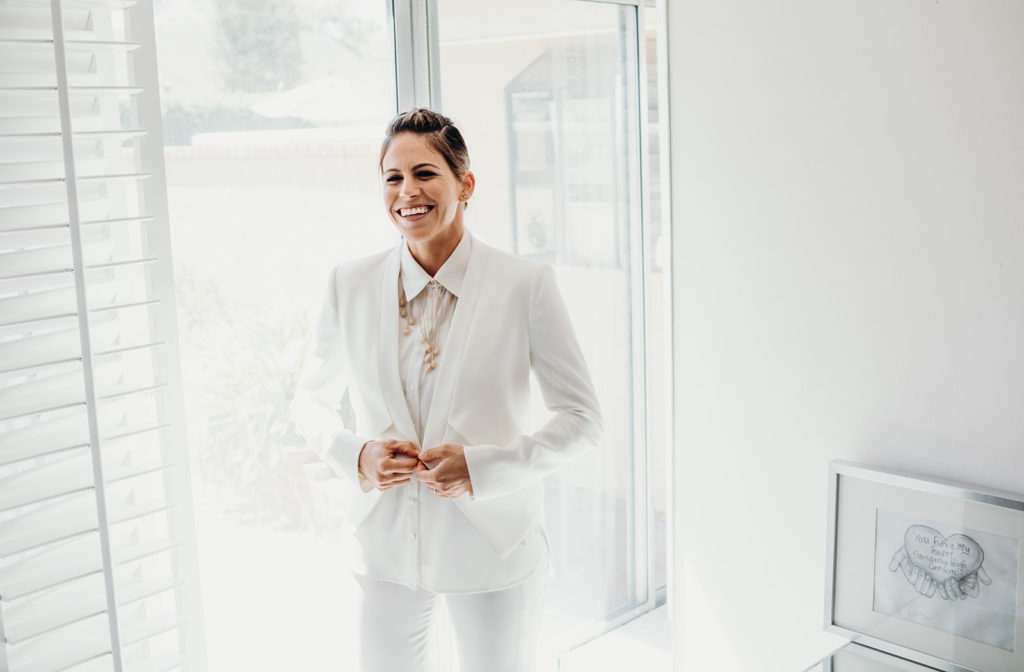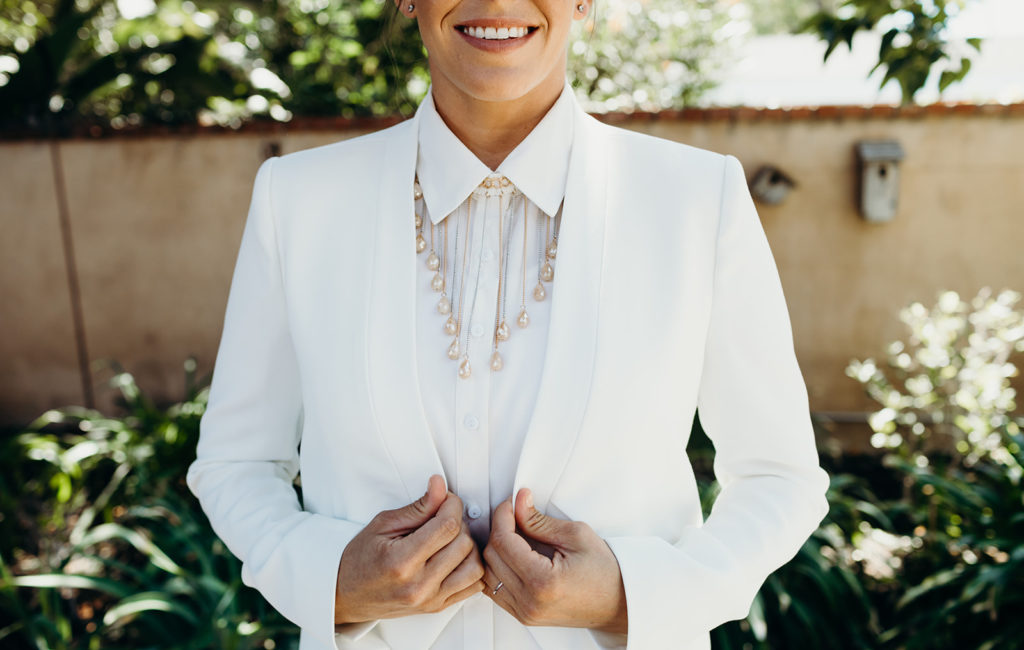 "Because we are both from LA, we each have a huge love for the beach. We knew we wanted a wedding that was outside and one that gave us a "wild and free" feeling while at the venue, as if you could throw your hands up and twirl around, without a care in the world. Neither of us had been to Malibu West Beach Club before, but after doing lots of research, it looked like a great option. When we walked in for the first time, we immediately knew that was it.
Sam is absolutely obsessed with sunsets, especially at the beach. So we decided we wanted to base the whole theme/vibe of our wedding (from décor to timing) around the sunset. We used muted, but warm sunset hues and tones in all of our florals, rentals and even our desserts! We used the term "beachy chic" to explain the beautiful aesthetic of our wedding.
As soon as you open the glass doors to the main room of the Malibu West Beach Club, you see the open concept reception room, and the expansive outside balcony, which overlooks a 180-degree view of the beautiful blue ocean and sandy beach. You can hear the waves crashing on the shore from the moment you walk in, and the golden sun beaming upon your face. It was perfect and exactly what we wanted. "
After getting ready for their big day with their families and their respective bridal peeps, Ashley and Sam opted to have a first look before the ceremony. Now I am telling you, if you've never thought about a first look before, or the absolute benefits of them a) look at these photos that follow and b) read this post about why first looks rock.It really is an amazing addition to anyway wedding day.
---
The first look
No words necessary.
The amazing wedding ceremony
"Our ceremony was outside on the balcony attached to our venue/reception space. It overlooked the beach and the crashing waves, where we'd be able to watch the sunset as the ceremony happened and led into cocktail hour.
We walked down the aisle to "Wild Love" by James Bay, played on the violin by the incredible Gabriel Wheaton. Our recessional song was "Viva La Vida" by Coldplay, also played by Gabe. We each entered our wedding ceremony solo—alongside our fathers. Ashley walked in with her dad first, then Samantha walked in with her dad. It worked out perfectly.
Our ceremony was officiated by Rabbi Zoe Klein Miles, who works out of Temple Isaiah. The ceremony was actually co-officiated and both women are close to us so it made it extra special."
"Our Rabbi included a blessing over the wine, which was one of the Jewish elements in our ceremony. It symbolises drinking from the cup of life and sharing all of its experiences together, both bitter and sweet."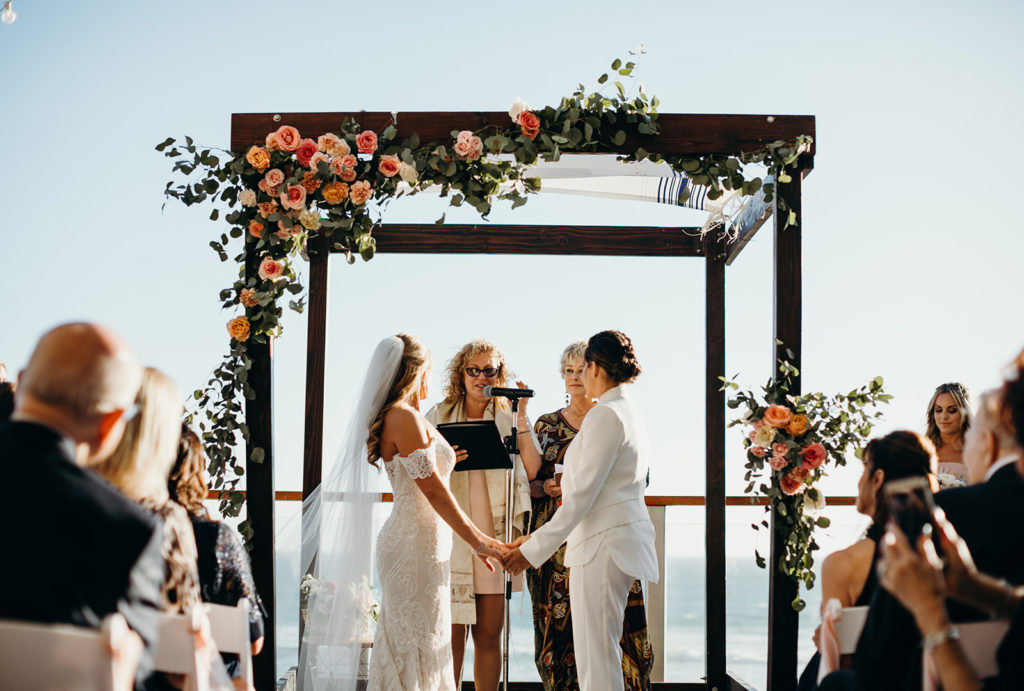 "We both don't love speaking in front of big groups, so we wrote our vows in a way that kept the format structured and similar to one another. However, we both personalised our vows separately and tailored them each to reflect our own thoughts on the love we share."
Smashing the glass in style
"Sam is a producer for various televised live events, one of which is New Year's Rockin' Eve with Ryan Seacrest (the ball drop in NY on NYE). Our officiants knew how involved Sam is with her work (as did everyone at the wedding), so they thought it would be fun to incorporate it into the ceremony! Just like there is a countdown until the NYE ball drops in NY, they decided to have our guests all join in for a ten second countdown to breaking the glass. We couldn't believe they came up with this cute idea and it was so fun to have everyone involved!!"
"After we kissed, we threw our hands in the air and celebrated down the aisle, grinning from cheek to cheek and looking out at all of our friends and family who witnessed us become wife and wife. Our bridesmaids and bridesmen followed us down the aisle, soon after. "
"Our ceremony and wedding day overall, was an absolute dream! The most magical day ever! It's truly an incredible feeling to celebrate and share your love with all of your closest friends and family surrounding you. We will never forget the feeling we had when we walked into the room for the first time. We poured our whole hearts into making this day happen and everything turned our better than we could have ever imagined!
If we had to give advice to anyone getting married, it would be, trust your instincts and go with your gut! You know you best. It's so easy to get caught up in all the details, but you really need to take the time to regroup and check in with your significant other every once in a while, to make sure you are both on the same page."
Most memorable part of the whole ceremony
"The best part of the ceremony was seeing each other—Ash at the end of the aisle waiting, and Sam at the top of the aisle walking down. It was an incredible feeling that just takes over your whole body! We were both fully engulfed with happiness."
I'm not crying. You are. OMG. Wasn't this story too lovely for words? Huge thanks a million times over to Ashley and Sam for sharing this with Engaged and Ready and brightening up our hearts with their massive slice of happiness.
---
The wedding crew
Bride: Samantha Gordon, @sammiemenin
Bride: Ashley Menin, @ashleymenin
Celebrant: Zoe Klein Miles – Temple Isiah
Venue: Malibu West Beach Club
Photographer: Katie Edwards Photo
Videographer: SJ Videography
Catering: DJ's California Catering
Florist & Signage: Shindig Chic
Cake & Desserts: Sweet & Saucy
Rentals: Party Pleasers
Makeup: Blushington
Sam Hair: Tonia Day Hair
Ash Hair: Roselle Rabara
DJ: Ben Goldsmith
Violinist: Gabriel Wheaton
Rings & Bridal Jewellery Accessories: XIV Karats
Stationary/Invites: Minted
Dress: Martina Liana
Bridal Boutique: Panache Beverly Hills
Bridal Suit Designer: The Royals Paris
Bridesmaid Dresses: Show Me Your Mumu
Bridesmaid Robes: Le Rose
Bridesmaid Earrings: Anthropologie
Bridesmaid Denim Jacket Calligraphy: Sammie Jeanne
Bridesmen Suits: The Black Tux
Bridal Shoes: Stuart Weitzman
Hotel: Westlake Village Inn
Custom Decor Elements: For Your Party