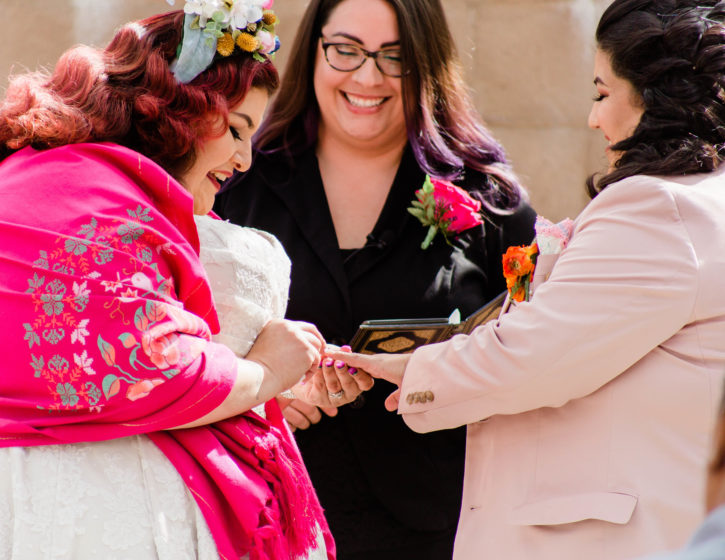 I am lucky enough to be in the position of having actually met Marriage Minister Marie Burns Holzer in person. Yep, seriously lucky. And so I have witnessed first-hand the power, beauty and energy that just emanates from this wise wonderful soul.
Marie brings so much to the wedding table, that it's no wonder that so many couples want to pull up a chair and share their wedding space with her.
From her base in Southern California, Marie helps hundreds of awesome couples to fulfil their wedding dreams and start their marriage off with the celebration that suits and honours them.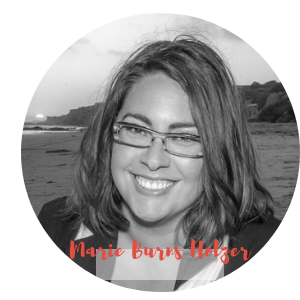 So let's hear some more from Marie and what she brings to this wonderful world of weddings.
Why did you become a marriage officiant?
I was asked to be the celebrant for a friend's wedding while I was considering going to seminary. After performing her wedding, I fell in love with the experience but didn't pursue it professionally until about five years later.
What did you do before becoming a marriage officiant?
I was a freelance writer and social media marketer. It was not easy back in 2009/2010 trying to convince small businesses that Facebook, Instagram, Yelp, and Twitter were going to be very important!
Is there anything about your previous career experiences that is relevant to you being a Celebrant or helps you now as a Celebrant?
I feel like engaging with my couples through my website and social media comes incredibly natural to me, which has really given me an advantage in the modern marketplace.
What has been the highlight of your wedding career so far?
I have done over 800 ceremonies now, so that's a hard one! But the highlight of my career happened in November 2016 when I was the celebrant for my brother's wedding. My brother is a very conscientious guy and thoroughly does his research before making any purchase. (He once did 30 minutes of research online while inside a Bed, Bath, & Beyond just to purchase oven mitts. I'm not joking.) So when he and my now sister-in-love asked me to be their celebrant, I knew it wasn't just for the family hook-up, but because they honestly wanted me – as a professional – to do their wedding. And you know what? It was a magical experience that brought our families even closer.
What has being a wedding Celebrant taught you about life and people?
I've learned that people are often so wrapped up in their experience of any given moment that they don't realize how they are affecting other's experiences. It's made me both much more conscious of how I affect people and a lot less likely to take another's actions personally.
What do you love about being a wedding Celebrant?
I love the fullness and depth of emotion that comes out! Quiet moments, uncontrollable giggles, those happy tears when my couples exchange vows. It just slays me and I adore it.
What are your favourite types of wedding ceremonies?
Interfaith and intercultural weddings are my favourite because I love exploring the seemingly surprising commonalities we all have. I'm specifically longing to incorporate more Indian and Japanese traditions. Both cultures have such beautiful, thoughtful rituals!
What symbolic rituals do you love?
I love it when my couples do some kind of common cup ceremony, which is a sharing a drink to commemorate the moment. There's something about sharing a drink (we've done coffee, beer, wine or a spirit even) that loosens them up but also feels surprisingly sacred. Writing custom common cup ceremonies have produced some of the most unexpectedly meaningful moments for me and my couples in the past few years.
What aspect of your job as a wedding Celebrant gives you the most satisfaction?
That feeling during the ceremony when my couples look me in the eyes as I speak to them. The emotion and life that radiates around them as they say their vows. It's one of the most real, honest moments of anyone's life and I get to experience that with my couples a hundred plus times a year. It's amazing!
Describe yourself in three words?
Curious, responsible, grateful.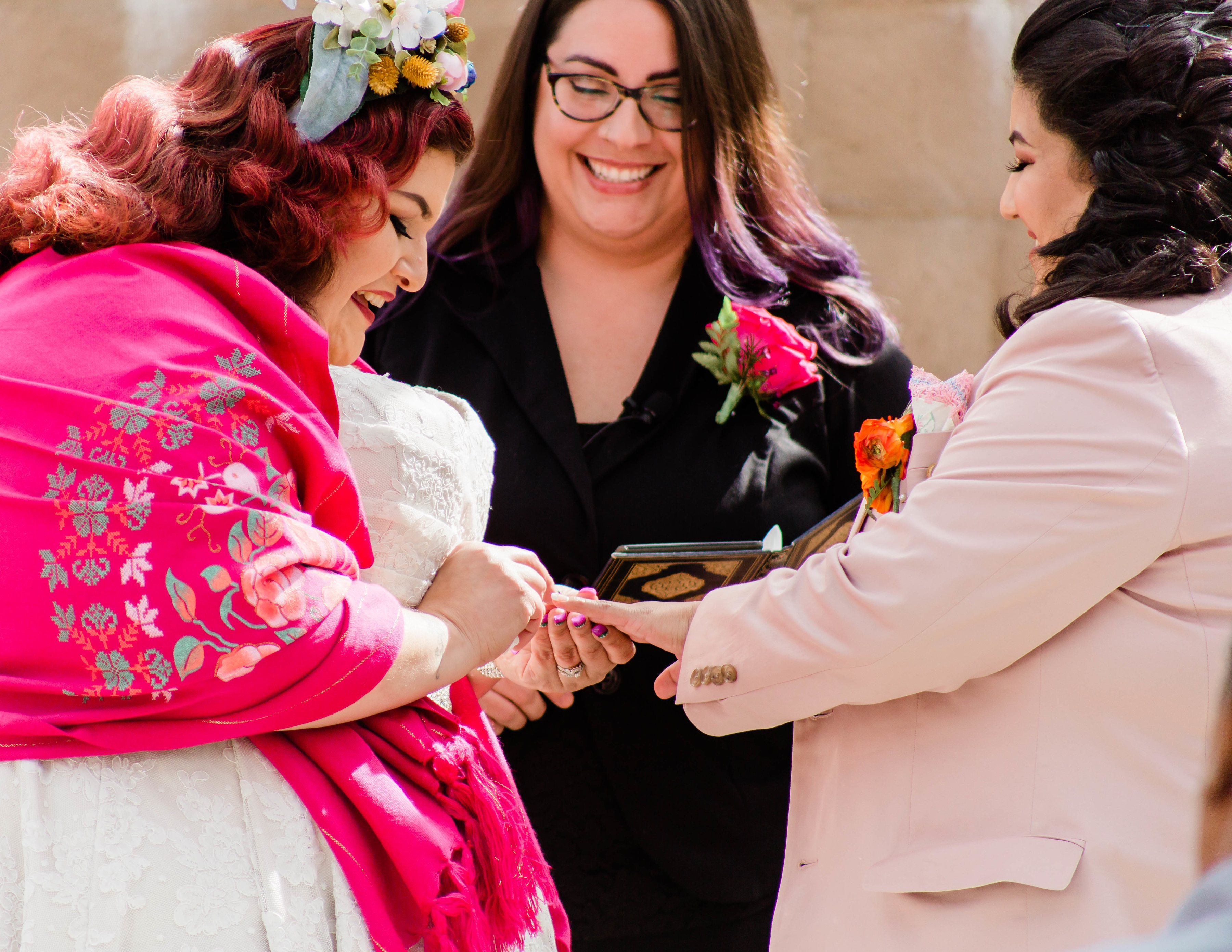 What advice would you give to couples getting married now? What mistakes could they do with avoiding?
Remember that this is your wedding. While your family and friends are important, this is the declaration of YOUR marriage, no one else's. You have to live with your choices you make for this moment for the rest of your life, so make sure you choose the experience that is right for you two.
Have you had any hair-raising ceremony scenarios, or things that nearly went wrong?
Well, I had a groom faint twice during a ceremony! I teased him before the ceremony about not locking his knees, but he insisted he'd be fine. What he didn't tell me is he had gotten over a horrible flu the week before and was too nervous to eat all day. To top it off, it was only 7-10 degrees outside. So just as I'm starting the repeated vows, he looks at me and his eyes are empty as he starts to drop. Fortunately, I caught him and he recovered quickly. He insisted we go on, but just as he was about to put the ring on his bride's finger, down he went again! I held him up and his best man brought a chair to put him in. We stopped the ceremony for a few minutes to give him hot tea with honey and bread. He recovered after about five minutes and we finished the ceremony with him in the chair. After that, it was all smiles!
How would you say the wedding industry has changed over the last 15 years?
When I got married 13 years ago, the rules were so much more rigid and people were offended when we didn't follow this weird protocol no one followed in any other aspect of modern life. Now, I feel like the culture and industry is rushing to meet couples where they are and a lot of the traditions that no longer serve are being tossed out in favour of more sensible options.
What kind of couples do you love working with?
People who know what they are about. Couples who know how to balance Netflix and snuggles on the couch with adventures and travel. People who are curious and kind. Couples who long for meaningful experiences but are totally cool if they snort-laugh during their partner's vows!
What are your favourite types of venues for conducting ceremonies?
Really, it's just about about the feeling. I've done ceremonies in Starbucks, in Joshua Tree National Park, in 150-year-old churches, and renovated speakeasies. The importance of the venue comes down to being the epitome of the couple's vibe as they celebrate.
And what can you be found doing when you're not celebrating?
I love reading, playing video games, debating nerdery with my husband, taking my daughter and her Girl Scout friends on adventures, hiking with my Chocolate Labrador, and helping other creative professionals get their web presence on point.
---
Told you you'd love her! If you can picture Marie as the Marriage Minister who could bring your ceremony alive in all the ways you've imagined, get in touch with her through her website. You absolutely will not regret it.
Photography credits
Jessica Taylor at jessicataylorart.com
Wanderlust Creatives at wanderlustcreatives.com
The Everlasting Photo at orangecountyweddingphotographer.com
Ineffable Photography JS
True Photography at TruePhotography.com