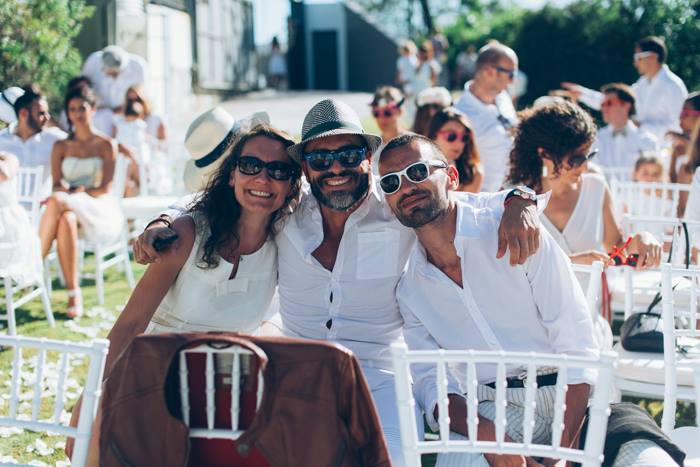 Now, we all know that a wedding ceremony is all about the couple getting married. Of course it is, that just goes without saying. It is their day and their moment in which they're going to express their love for each other and publicly declare their intentions for their future lives together. 
But do you know what, a ceremony isn't just about those two people. Seriously, I did mean to say that. Yes, the couple are the main focus of the ceremony and the rest of their wedding day but it is their guests that can be the driving force of the whole event and actually help take their ceremony to the next level of awesomeness.
This year I have been so lucky to witness some amazing ceremonies, which were made amazing not only because of the effort and personal input from the couples, but also because of the energy, love and good vibes that were passed on from their family and friends to the couple getting married.
For example, at a recent wedding that I did this summer, the reaction of the couples' loved ones was so incredible. They whooped and cheered whenever they could and vocally showed their support for the couple from the moment they walked down the aisle. The energy was palpable and it really took them from being spectators to being really passionate participants. It was spontaneous and so natural and without doubt, made the ceremony even better than it already was. The couple were completely overwhelmed by all the love that surrounded them.
Ceremonies like this are not rare, but sometimes it does take adding a few elements to your ceremony which will help stimulate your guests and evoke all of that energy, which naturally will then be transmitted to you and will create a really special, all-encompassing feeling of love and joy. Don't forget that just because what you are doing (getting married) is a serious moment, it doesn't mean everyone has to sit there in silence, looking straight-faced and solemn, watching as you get married, to the point where they actually might as well not even be there at all!
So let's take a look at a few elements that you can include and which will guarantee an outpouring of love;

Circular seating
Of all of the elements that I am discussing, this first one involves the least interaction from guests, in fact it requires no interaction at all. All it needs is for them to sit in a circular seating pattern which will encourage a more friendly, open and loving environment. When it comes to weddings, especially ceremonies, circles are so symbolic. Wedding rings are the ultimate symbol of your commitment and their circular nature is symbolic of continuity and eternity. So having your guests seated in a circular or even semi circular style is so full of symbolism. With you in the centre, you literally will be surrounded by the love from your friends and family. They all will have a clear unobstructed view of you and their love for you can flow freely and in abundance. If you are conscious that you may have your back to some guests, you can take steps every so often to change your standing position. Sounds dizzying, I know! But actually, it's very easy to do and most good celebrants will know how to get you moving without it seeming like there's a mass game of ring a ring o' roses going on! Easy peasy! Oh, and don't forget to leave a gap so that you can actually walk into the middle!

Passing of the rings
I love this. But then, I say that about everything. But seriously, I really do love this. Having your rings passed amongst each and every guest at your wedding is such an amazing thing to be able to do. Knowing that your rings have been in the hands of all your loved ones and nearest and dearest and have been blessed by their love and good wishes is such a wonderful way to include them in their ceremony. I wish I had done this at ours. I really can't think of anything more beautiful. Your guests will love it, because it's a rare opportunity to be a participant in your ceremony and to give a spiritual/personal offering to you via your rings, and you will love it, too. Imagine that feeling of receiving your rings back, knowing they have been given an awesome start in their journey to becoming your wedding rings. I once saw a bride burst into tears on getting the rings back. That's how emotional it can be. If you're loving the sound of this, check out a post I've written all about how to carry out a ring passing in your ceremony. You won't regret it!

Group reading
The next few elements that I'm going to look at, all involve making your guests get vocal. Woo hoo! You know how I love being vocal. A group reading is a fab way to do this and actually is really easy and great fun to do. For a more in depth breakdown of it, check out my handy post on group readings, but in a nutshell, there are a couple of ways that you can do this. You can either choose a reading which has quite a few parts to it which you could do a 'call and response' type reading of. So, your celebrant or an elected person, reads a few lines and the rest of the group reads the others, and you continue like this throughout the reading. Or the second way is that you have everyone reading everything, all together! Simples. It can be a funny reading or romantic reading or whatever has a good rhythm and can be broken into easy parts, if that's the style that you prefer. There is nothing like a bit of community action to get everyone feeling joyful, and to raise the energy of your ceremony.

Group sing a long
This is another of my favourites, but then isn't everything? I can't think of a more fun thing to do than to get your friends and family on their feet and singing their hearts out in the name of love. You cannot underestimate the power of singing. If you are as addicted to the BBC's Gareth Malone choir programmes as much as I am, then you will know that some people feel their lives have been saved by joining and singing in a choir. It's that powerful. And some of that sentiment can really easily be replicated in a ceremony too. To date, I've heard a whole host of Beatle song's being sung, and just recently 'Can you feel the love tonight,' from The Lion King. How cool is that?
I was driving the other day and this came on the radio….
https://youtu.be/POvdxgdtsHY
And I was like, 'Yesssss!' I've found my ceremony song, because obviously when we get around to renewing our vows, (it is on the cards) we will most definitely have a group song (because you know I think I'm Beyonce). This song was HUGE in my day and when it was on the radio, I sang every word of it without realising I knew them all, and so now I'm very excited at the thought of doing it as a group song. It's so uplifting and such a great song to sing. I can just see all those heads bopping and hear all those 'oh baby, oh baby' right now! And yes, you may steal my idea. I would be honoured! I also had a brilliant idea to do 'Endless Love,' with the men being Lionel and the women being Diana. Quite genius really. You can read about it here.

Friends and family vow
If singing isn't your thing (why ever not!!!???) you can still get your families to be vocal by having them respond to their own vow to show their love and support for you. It is a really lovely touch and again it takes them over the spectator threshold into that of a super duper kick ass participant. I mean, think about it. How often do any of us get to tell our friends and loved ones that we think they're an awesome couple and that we're so happy that they're taking the next step together? Er, like, never! So, this is a really lovely way to be able to do that. And I know that couples who get to hear that rapturous response of love and support are touched beyond belief. Here's a little example of what your loved ones could be asked.
Celebrant: As friends, family and loved ones of Ashton and Mila, you have witnessed the love and happiness that they have shared together. Do you support them and the pledges that are going to make to each other?

Guests: Hell yes! We do! (Obviously the 'hell yes' is my own additional twist!)
You can of course write your own friends and family vow, so that you have your nearest and dearest responding to a question that you've penned yourself. Don't you just love this?
There you have it, a selection of elements that you can include on your big day in order to get maximum participation and love out of your guests. So that's the plan, squeeze all of that goodness and joy out of your guests and let it radiate, along with yours, throughout the whole ceremony and beyond.
Have you got any other ideas that you like the sound of for involving all your nearest and dearest? I'd love to know.