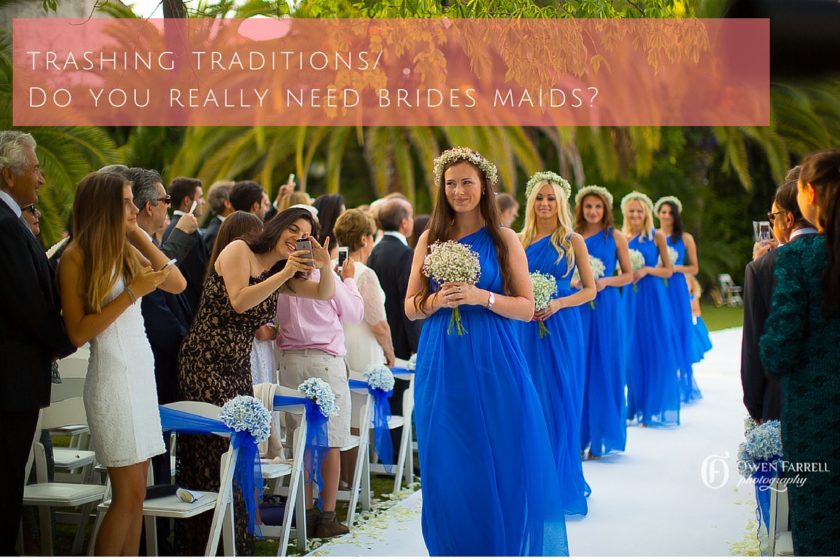 I was a brides maid once when I was eleven years old, for my aunt on my dad's side. I was a tomboy then, so it was quite an ordeal getting me to even wear a dress. A peach one at that, with puff ball shoulders and a lace, itchy-as-hell neckline. I also had lace fingerless gloves, (talk about bad ass!) lace borders on my socks and ballerina pumps that probably had lace on them somewhere, too. On top of that I also had a flower crown (the only cool bit), which sat rather badly on my unruly straightened-out-for-the-day hair. To say I was unimpressed is an understatement.
For the ceremony, I carried this silky pouch thing, which was full of rose petals that I had to sprinkle down the church aisle and I remember that every time I looked at my mum she kept pointing at the smile on her face, suggesting that I transferred that smile onto my own face. The aisle was only about the length of a bus, but boy was I glad when I got to the end of it. It felt like forever. But do you know what? Jokes aside, even way back then as an eleven year old, I kind of thought that my role as a junior brides maid/flowergirl was pretty pointless.
There were dress fittings for that godawful dress, a rehearsal and many phone calls between my mum and aunt that I gathered were about my ability to be on my best behaviour (warm, not shy, smiley not sour-faced, polite not a smart-ass) for such an important day.
Now, I will be the first to put my hand up and say that I imagine my views are very much influenced by my own inconsequential bridesmaid outing and the fact that I probably did much less than adult brides maid would but it doesn't stop me from asking twenty-seven years later, is it all really worth it and do brides really need brides maids? On my own wedding day, my best friend was my maid of honour and that was it. I can't remember what the thinking was behind her having the role other than it being a nice thing to do. She, my mum and I had the most fun getting ready together on the wedding day, quaffing champagne and reminiscing about the past, and although I wouldn't have changed it, I'm sure we would have done that anyway, whether she was my maid of honour or not!!
Now for the record before I start trashing this tradition, although I am focussing on the bridal party, I actually mean the whole wedding shebang, the guys included (groomsmen, ushers and best men). So, without further ado, let's get stuck into my first post for my new Trashing Traditions series.
Traditon smition
The tradition of brides maids and matrons of honours is a very long one, dating back to ancient Greek times, where a married friend or relative of the bride-to-be was chosen to be a witness to the the marriage proceedings and to make sure that that no impropriety took place before the wedding and that the bride was fully ready and willing to to be married. The role later developed so that matrons also attended to the bride's needs and helped to dress her and even make some of the wedding decorations and her bouquet. It seems with time, matrons then got so busy they needed some younger assistants to also help out and so the role of bride's maids developed, which was usually appointed to younger relatives and family friends. Traditionally, it would be the bride's unmarried sisters who acted as her brides maids, followed by the groom's unmarried sisters, if the bride didn't have any or not enough of her own female siblings.
Did you know that the saying 'Always a brides maid, never a bride,' came about during the sixteenth century? It was said that if you were a brides maid three times and yet to be married yourself, then the chances of getting married were very slim. But if you were lucky enough to be a brides maid seven times, the curse would be broken*. Phew! Thank goodness for that.
Let's get real
So in order to make myself sound like I am talking any sense, I am going to set out some of the key traditional roles played by matrons of honour and brides maids and then attempt to trash these traditions by either showing or proving that it is all pointless, ha ha! But seriously, the point of trashing these traditions is to show that just because they are traditions it doesn't mean you have to have them on your big day and that there are alternatives, if you want them, or want to consider them, at least.
Job #1 Help to plan and organise your hen/bachelorette party
Job #2 Help with wedding dress shopping
Job #3 Help to get the bride ready on her big day
Job #4 Precede or follow the bride down the aisle
Job #5 Hold the bridal bouquet and be on dress/bouquet watch
Job#6 Offering general support and helping you to relax and enjoy your day!
So even right before your big day, your brides maids and maid of honour will be busily engaged in organising some pre-wedding activities for you, bridal showers, hen and bachelorette parties or pre-wedding get togethers. A maid of honour or brides maid can also make a great addition when dress shopping, their valued advice and opinion will stop you from spending too much or buying a dress that doesn't suit you (you hope!). Then on the day itself, they will be there for you to help with preparations; getting you dressed and maybe even helping with wedding decorations too. Before the time of make up artists and hair dressers, your maids would be the ones responsible for this too! And during the ceremony, they may well be the first to start the ceremony procession or will follow you up the aisle to assist with your train, if you need it. In American ceremonies it's quite customary for brides maids and grooms men to stay standing during the whole ceremony, usually forming two lines on either side of the bride and groom. In the UK, they tend to be seated once they've made their entrance.
Then, the most thoughtful of bridesmaids will help to arrange the bride's dress once she is in place and take her bouquet if needed. And after the ceremony is over, brides maids will then make sure that anything else the bride needs is taken care of. There are lots more things that brides maids can be involved with, along side the rest of the bridal party. I have (of course!) already written a post about the wedding party roles, that might also be what you're looking for.
So that's what your bridal/wedding party should do for you and in return you should, according to tradition, a) buy their dresses/suits for them b) buy them thank you gifts. c) cherish for the rest of your life that they were your brides maids/grooms men etc
Need or want?
So here are my thoughts. Even if you didn't have a bridal/wedding party, you would still have trusted friends and family members who could pitch in and help with the organising and the on the day needs. You can ask people for help and appoint people with certain jobs without them being a focal point of the day. I think the questions you have to ask yourself are; why am I having a bridal/wedding party? Do I really want one? And could I do something better with the money being spent on extra dresses and gifts? Traditions can be wonderful things (or not, in some cases) but it's really important to ask yourself why you are doing something, rather than just doing something on automatic because that it is what everyone does or because that is what is expected.
I can also totally appreciate the theatrics of a beautifully choreographed ceremony entrance, seeing the brides maids in their stunning gowns starting off a much anticipated wedding procession. And then there are the photos, too. Brides maids in all their matching dresses and colours can make photos look that extra bit special and so can grooms men and ushers in their sharp suits. But surely, the need for a wedding party has to be more than just grandeur and beautiful aesthetics?
I know there is one final point which I know I cannot refute and that is the idea that making brides maids and grooms men of friends and family members, is a wonderful and cherished thing to do. I get this. And I really can't disagree with this. It is an honour for anyone to be asked to have a contributing role on a wedding day, whether it's as member of the wedding party or even as a reader or speech person. But what do you do when you're on a tight budget, when you have family politics, or face the impossible task of choosing between certain people without copping out and having ten brides maids and three best men, in order to satisfy everyone? Exactly, now this is my point.
Cutting out the fluff
Nothing that brides maids (and best men and grooms men) do can't be done by someone else in an unofficial capacity or resolved in another way which makes the role a redundant one. And so if that is the case, why go through the trouble of appointing specific people, at what can be a great cost, when you can have help from loved ones for free. I have done many ceremonies where there has been no wedding party at all, and I can honestly say that nothing was amiss. The bride and groom still had help and support from her friends, but in an unofficial capacity. And one bride even remarked to me that it was nice to have help from people which came naturally, rather than because it was expected of them. And it's also quite nice (for some) that during the ceremony there are no distractions and the key focus is on just the couple getting married.
So if you have no real strong desire to have a bridal party or a best man and grooms men, then don't! If your only reason is that it is a nice thing to do, then figure out who the nice thing is for, for you or for them? And if it's for them, is that something that you can oblige without causing greats costs and hair loss to yourselves?
As with anything to do with weddings, and life in general, it is all down to personal choices and what feels right. But I hope in trashing these wedding traditions it will help you to decide more easily, if something is right for you or not. Too many wedding traditions are presented as wedding necessities and this simply is not the case, at all. Your wedding will be no less real, important or normal if you choose not to have a wedding party. FACT!
*Source, Carry Me Over The Threshold: A Christian Guide To Wedding Traditions by Kristina Seleshanko