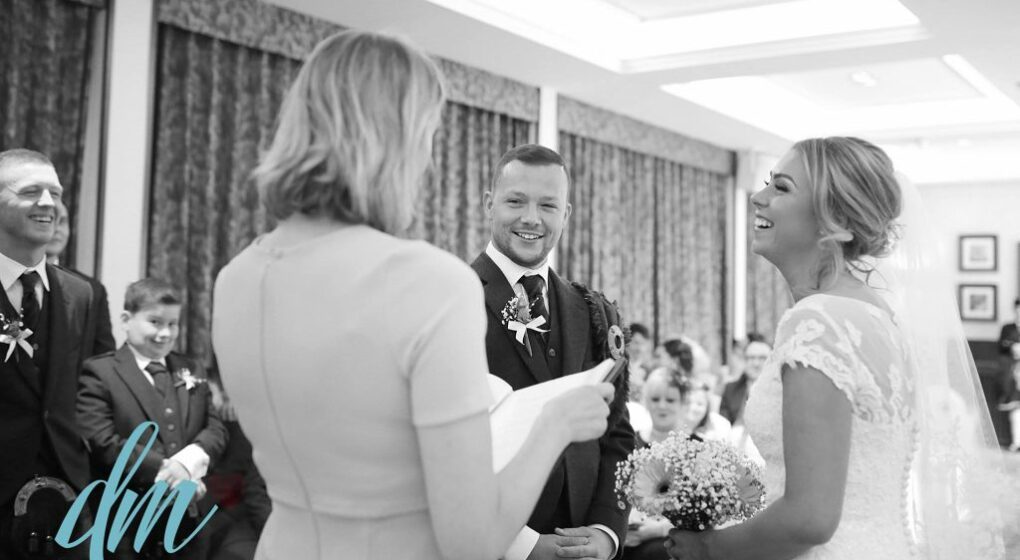 Scottish Wedding Celebrant Lindy Irving from Aye Do Weddings is full of all sorts of tips and advice for anyone looking for their dream wedding in Scotland.
Based in central Scotland, this former helicopter paramedic, life coach and lecturer and professional speaker on the topic of Mental Health Empowerment, is like a walking-talking encyclopaedia on the ins and outs of traditional Scottish wedding ceremony elements. I mean, she even knows how to say 'quaich' (the traditional Scottish two-handled drinking cup), so we must bow down to her!
Read on for more about lovely Lindy and how passionate she is about her wedding ceremonies in Scotland.
What has been the highlight of your wedding career so far?
Oh my! Too many to mention! I've just been asked to conduct an "Outlander" Handfasting, which is my own creation in Doune Castle this year, which is pretty awesome!
What has being a wedding Celebrant taught you about life and people?
That love is universal and at the end of the day, it's not about the dress or the cake or the giant martini glasses, it's about the vows that you make to each other. That's the moment in the ceremony that I love the most.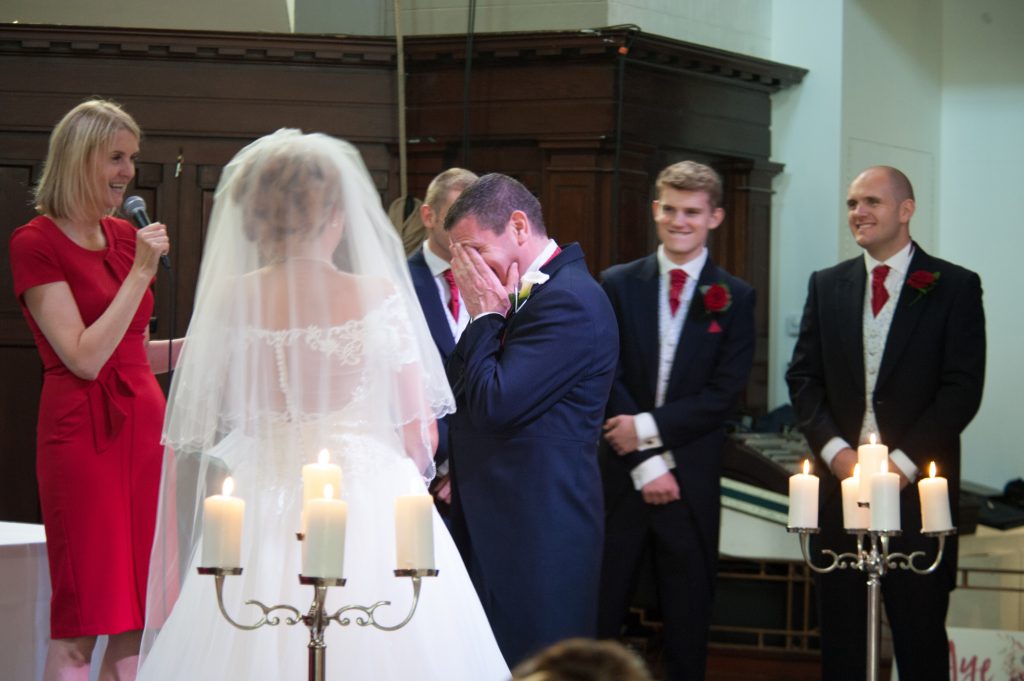 What advice would you give to couples getting married now? What mistakes could they do with avoiding?
Make sure you choose a Celebrant early on in the process. Always ask Celebrants if they have video of them conducting a Ceremony so that you can be sure they have the style you're looking for, and try to speak to a few different Celebrants before making your decision. Oh and don't just go on price! You get what you pay for!
What do you love about being a wedding Celebrant?
The love story! I adore hearing all about how a couple met and fell in love.But I also love being able to write and deliver a Ceremony that really captures the essence of a couple's relationship.
What aspect of your job as a wedding Celebrant gives you the most satisfaction?
Smiles! When you see a couple looking & smiling at each other like they're the only people in the world it just fills me with joy.
What are your favourite types of wedding ceremonies?
Hand-fasting ceremonies and quirky ceremonies. I love it when a couple ask for something a bit different and wacky!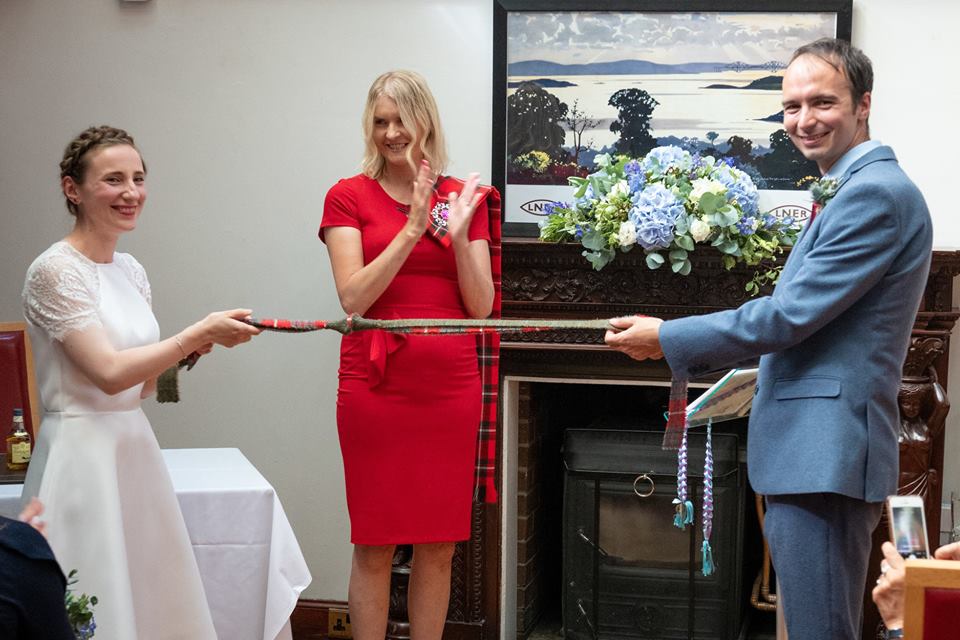 If you had to sum yourself up in three words, what would they be?
Warm, Friendly and Scottish!
What's your favourite symbolic ritual, and why?
Handfasting has to be my very favourite, because as well as being visually beautiful, it has so much depth and meaning. Once a year I travel to the Outer Hebrides in Scotland to buy Harris Tweed for my Handfasting ribbons. I then take them to the Callanish Standing Stones on the Isle of Lewis, where they are blessed in a "Two Hearts" Ceremony.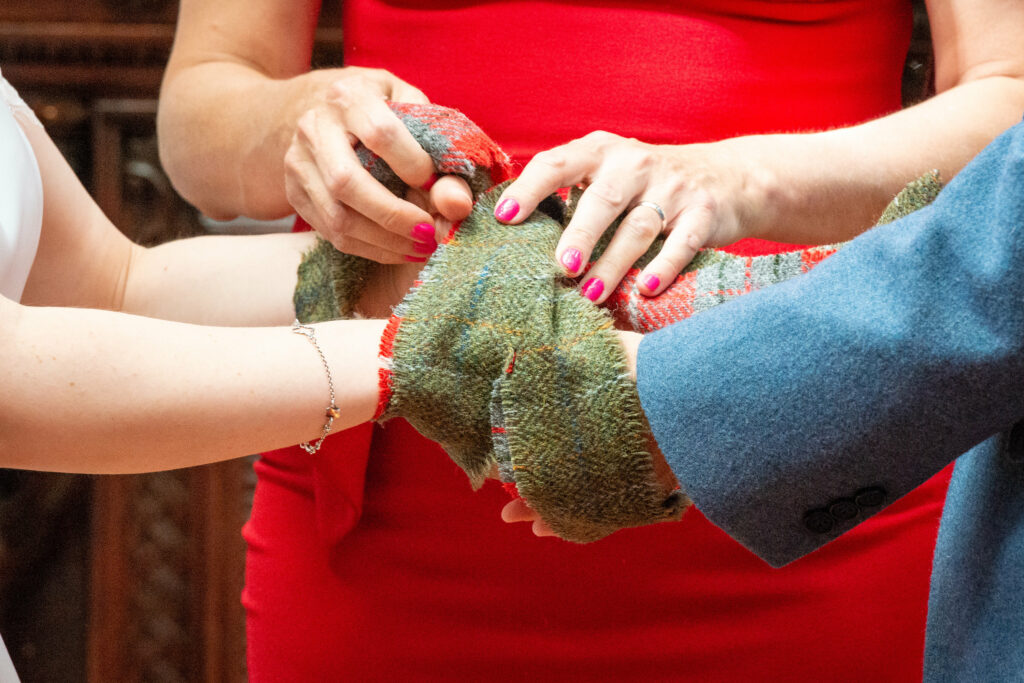 What would be a dream ceremony for you?
I would love to conduct a full Handfasting Ceremony at the Callanish Standing Stones. I was actually asked to conduct one next year for an American couple but the travel & accommodation costs were just too high. But one day!
What kind of couples do you enjoy working with?
I've enjoyed working with all my couples because they're all different, and their stories are all different but they all want the same thing…. a lifetime of happiness and love.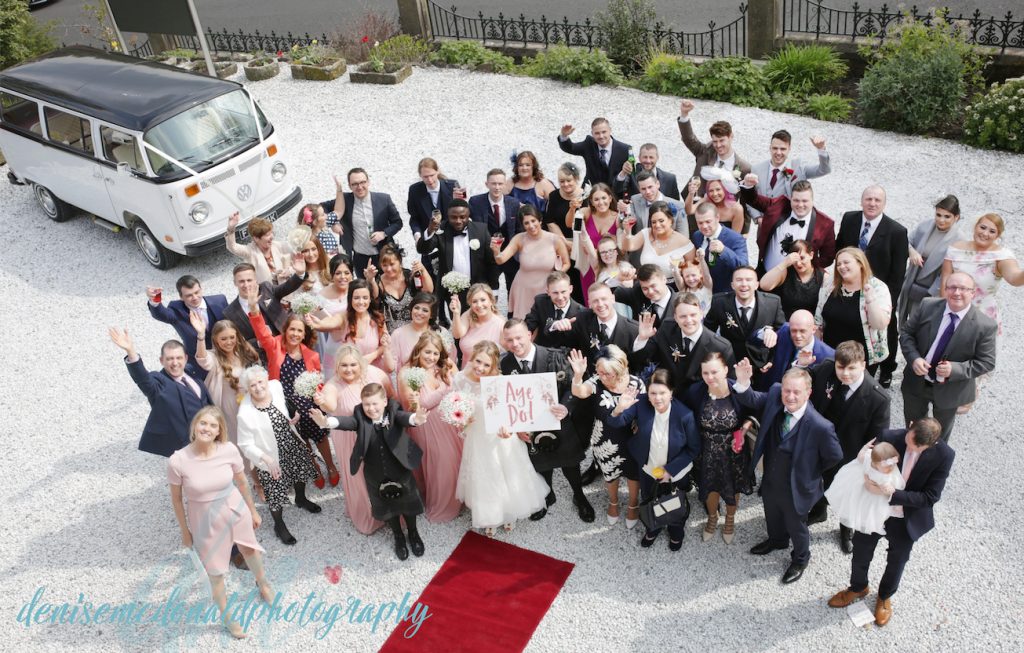 Tell us about a funny/hair-raising/near-miss wedding experience that you've had as a Celebrant in Scotland
That's easy!… when the bride forgot her shoes and refused to walk down the aisle without them because they'd cost £200! Luckily one of the wedding party offered to drive back to pick them up, and after a wee delay the bride came strutting down the aisle like a [shoe] Supermodel!
What are your favourite types of venues/spaces for weddings in Scotland?
Castles because they have such a majestic & romantic vibe! You can just imagine all the Wedding feasts that have gone on before. I also love outdoor Ceremonies (if the weather is nice!), especially for a Hand-fasting.
When you're not busy being a Celebrant in Scotland what do you love doing?
My favourite hobby is spending time with my gorgeous grandson Lochie, but I also think it's important to completely switch off from being a Celebrant for a wee while and so I'm also learning to fly fish on the River Teith!
Can you imagine Celebrant Lindy leading your amazing wedding ceremony for you in Scotland? If that's an 'aye', get in touch with her here.