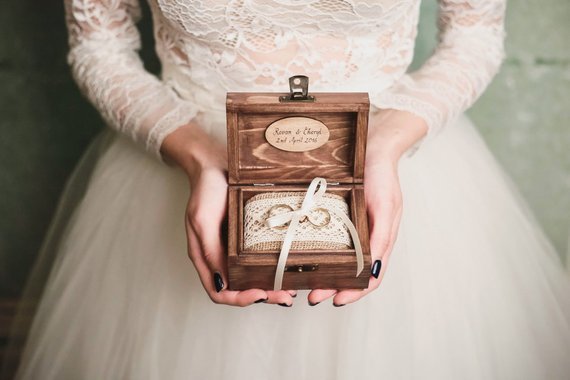 I'm constantly amazed by the creativity that goes into the wedding ring box designs that I often get to see at wedding ceremonies. Beautiful, unique creations which are a temporary home to those all important wedding rings but also in themselves become a special keepsake for years to come. Usually when I ask my couples where they got their exquisite ring boxes from, the answer more often than not is 'Etsy.' This is both good and bad for me. Good because Etsy is amazing for such unique, wedding goodies and bad because I have got a bit of an Etsy addiction and so don't need more of an excuse to hop on there.
What I love about Etsy is the level of craftsmanship and the fact that everything on there is handmade with love. To know that in purchasing products from Etsy you are supporting a small business is really very special. I love being able to support a talented individual who is creating and crafting such beautiful products and making lots of couples really happy with what they've chosen. And what's great about buying products directly from those who make them is that often what you buy can be personalised to suit you and your style. And that is amazing really, to be able to have good quality, hand-crafted products that have been tailored to your ideas.
Because there is SO much on Etsy and so many different types of wedding ring boxes, I thought for this post I would do my top selection of wooden ring boxes. Wood is one of my favourite materials and I love the versatility of the designs that you can find on Etsy. So here is my pick of ten of my favourites. It could have quite easily have been 50, but I had to draw the line somewhere.
Enjoy!
Handmade from oak wood, what more could you want? Such a simple yet pretty design and I love how the box opens up. Really cute.
Although these rustic log style ring boxes have been around for a while, I don't think they will EVER go out of fashion. So rustic and charming and such a nice touch if you're having a ceremony in a field or woodland setting.
I do love these circular wooden ring boxes and what's great is that you can choose from lots of different designs to really put your personal stamp on your ring box. So whether you want just your names and wedding date or something a bit more quirky, you can!
Okay, so I appear to have a thing for rustic log-style ring boxes, but how can you not? I love this version because it has a lid and so you have a little element of unveiling them, but they're just also really incredibly pretty.
This is such a pretty box and if you were able to source some of the moss that is in the photos, I think that whole look is so Lord of the Rings, so enchanting! But also, it's a lovely looking classic ring box too and the glass lid makes it into a really nice display box.
I really love this hexagon-shaped ring box, it's got my geometric-loving vibes all tingly. And what I love about this box is that is comes with the moss, which the crafter says can preserve naturally for two years. It's absolutely exquisite and has a touch of Jane Eyre about it!
So much personalisation packed into this pretty little wooden wedding box and incredible attention to detail. The rings sit on a cute little jute pillow and are tied in place with ribbon and you simply slide the ring off ready for the ring exchange. Ta-dah, perfect! Unless your best man ties the ribbons with shipping knots and it makes it really tricky to get them off – but that's a story for another day!
I LOVE this ring box. Okay, so I know I said that about all the others but this one is glorious and probably one of the most unique wooden wedding ring boxes that I have come across. Its mountain design is perfect for outdoorsy couples who want to add a bit of their hobbies or lifestyle into their ring presentation.
Let me just take a second to tell you why I love this box. Not only is it pretty but it's HELPFUL! I can count on both hands the amount of times that wedding bands which look very similar in colour and size can leave poor ring bearers a bit confused. So this box is super helpful in that respect, as each ring can go in its little clearly marked compartment, so there is no confusion! Great!
I couldn't do my pick of the cutest wooden wedding ring boxes without giving Harry Potter fans something to nerd over. But HP fan or not, this Deathly Hallows ring box is a really lovely and unusual wedding accessory.
Well, I hope you enjoyed my top picks of wooden wedding ring boxes. All I have to add is that I am pretty glad that I have no need for a ring box, because they would all be in my cart! Sorry, not sorry. If you're still on the look out for some more unusual ring boxes, including a lego ring box, this blog post has got my top pick of 20 awesome wedding ring boxes.
---
This post contains affiliate links. This means that if you click on the link and go ahead and make a purchase I get a teeny teeny weeny microscopic commission from Etsy. I am a huge fan and regular purchaser of Etsy products, so all goods listed here are products that I value and would purchase myself.