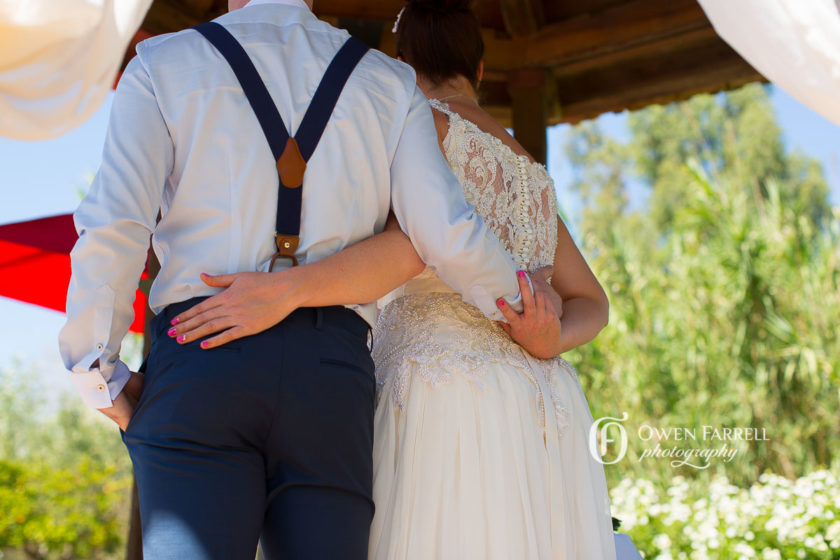 Sometimes, you just know. Other times you may need a little bit of convincing. No, I'm not talking about the moment you find your perfect wedding dress, as I'm sure they'll be no doubts with choosing that! I'm talking about knowing whether personalising your wedding ceremony is for you or not. I'm hoping it is, because you will never experience a more beautiful, meaningful, romantic moment like it ever. Honest! But if you're still not sure, check out these signs below to see if, without even realising it, a personalised ceremony is definitely for you. If you can say 'yes' to at least five, then you've got no excuse not to get on the case with personalising your ceremony.

You're not hugely religious. Okay, so let me start by saying religious people can and do have personalised ceremonies, however it is a fact that depending on what religion you are can dictate the structure of your ceremony. Many solemn religious wedding rituals would not allow for any personalisations of any sort, as the ceremony itself is entrenched in strict historical and cultural symbolism and generally not something that can be tailored to individual requirements. So for those of you who are not religious and not bound by any cultural or religious codes, there is no reason why you cannot personalise your ceremony to include your own ideas.

You're opinionated. This people, is a good thing! In a nutshell, if you have very strong views about your relationship and what it means to you, it is unlikely that you will sit comfortably with someone else telling you how your ceremony is going to be, especially if you are not happy with some of the elements of it. At my friend's civil ceremony the registrar read a poem about love. Annoyingly, I can't remember what it was! But I do remember the look on my friend's face as the poem was read out and her little eye roll! They found it way too cheesy and so not them at all. I'm not sure if they knew the registrar was going to read a poem or not. But again, this is my point! It's your ceremony, so make sure you know what is going on with it and if you don't, ask!

You want to shout your love from the roof tops. Your whole wedding day will be an expression of your love for each other and for your friends and family around you. But your ceremony will be one of few times that together, as a couple, you get to vocalise this. Maybe you want to share your wonderful love story with your guests, or publicly say your vows in your own way, the way that suits you best. And so personalising your ceremony to take these things into consideration will allow for that and allow you to shout your love from the rooftops!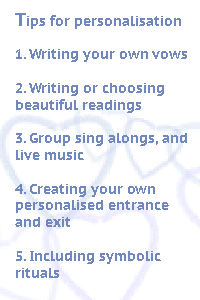 You're not a conformist. If you are someone in life who always does everything a little bit differently to everyone else, then it goes without saying that your ceremony should be a little different, too, no? You will not want to have the ceremony that everyone has or the ceremony that you think you have to have. You will have the ceremony that you want.

Your wedding venue is unconventional. If your wedding day is taking place in a field, in a forest or woodland, on a mountain top, on a boat, on a beach, in museum or even underwater, you are already a very creative person. So why not let that creativity start with your ceremony? Incorporate your ceremony into the flow of the whole day. Take inspiration from your surroundings and use it to shape your ceremony. If you are worried that a legal ceremony will not allow this, read this post about how you can be married anywhere and anyhow you want to be.

 You're inquisitive. If you are someone who relishes finding out the reasons behind everything and are never happy taking information on face value, then it's probably also unlikely that you will readily accept a ceremony format that has been presented to you. You will want to know why you have to do things in one way but not in another. You will ask questions, you will do you research and you will come to the conclusion that you want to add personal touches to your ceremony.

 Your wedding day is already going to be unique  I totally understand that for some people the ceremony can be languishing in the background a little whilst couples concentrate on their overall wedding theme and styling. it doesn't mean you think any less of your ceremony. So, if you are already planning on having a really styled wedding that suits your personalities then why not start it right from the outset, from the ceremony right through to the reception. It makes sense really.

You're not a fan of traditions. If you've never really understood why a groom should not watch his bride do her amazing walk down the aisle or why couples stand with their backs to their guests during the ceremony, then I'm delighted to tell you, you are already on the road to wanting a personalised wedding ceremony. Traditions can be wonderful things, but they are not for everyone. My advice is to get clued up about them and work out if they really are for you and if not, you've already taken a step towards personalising your ceremony! You can read another post I've written about fab alternatives to ceremony traditions, which you may find super helpful.

You have an amazing sense of humour. Is your relationship characterised by lots of fun and laughter? Are you a couple who love a giggle, love to goof around and always (most of the time) have a bright, cheery disposition. Well, then perhaps you need to consider having a ceremony that reflects this. There is nothing worse than witnessing a ceremony for two people who tick all of the above, yet the ceremony is serious, straight-laced and a little bit cold. I'd prefer to see my friends getting married, rather than two people who look like my friends but who have in fact been temporarily abducted by boring aliens. Your ceremony should reflect you.

Your ceremony is the most important part of the day for you. If you are already aware that before anything else; the dress, the reception, the band and the other little details, your ceremony is the most important part of the day, the very thing that establishes you as a married couple and then sets the tone for the rest of the day, then you will already have strong ideas about what you want to do for your ceremony. So make sure to follow through with those ideas and don't let anyone tell you otherwise.
Whoever is carrying out your marriage ceremony, by virtue of the wonderful, heartfelt job that they have, will already be a lovely, warm, approachable person (I hope). They will welcome your ideas and suggestions and probably give you some more in return. Your ceremony is your ceremony, so do with it what you please.