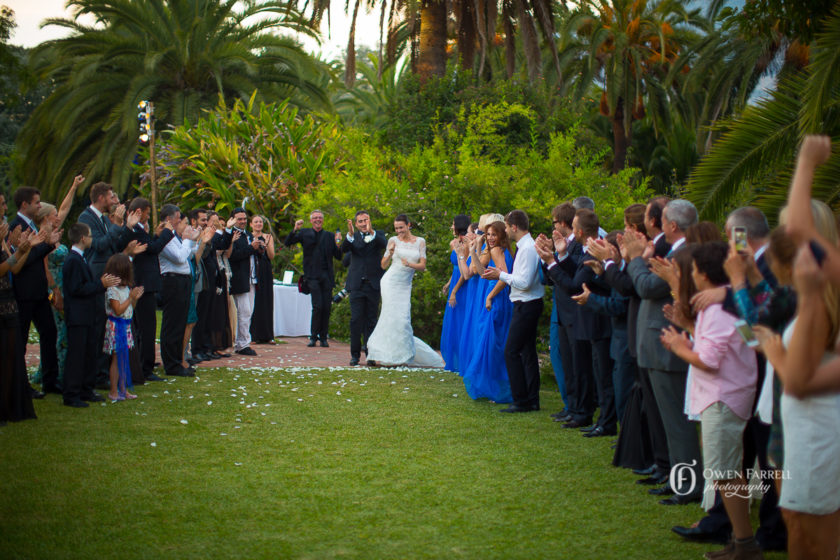 A love line, what the hell is that I hear you ask? Well, in a nutshell, it is a line of love. Ha ha, I love my clarity, don't you? A few years ago, when I married (officiated the ceremony of) one of my best and oldest friends, we did a love line. It was cool. It was fun and it was full of love. So what the hell is it? I hear you scream.
A love line is where after your ceremony, just before you walk back up the aisle (if you are walking back up it), your guests form two lines up the aisle and beyond, so that when you and your love bunny skip off, you will be walking through a corridor of love. Oh, how I love this! But then I love everything to do with weddings that is slightly kooky. It also means that all your guests get involved rather than just the guests who are lucky enough to be sat at the end of the rows. I can't think of a more fun way to end the ceremony and signal the start of the partaaay!
Practical considerations
My friend had about 60 guests at her wedding and it took no time at all for them to form two sets of orderly lines, and as they had music playing, it felt very right and very natural. It also gave them a 30 second breather, to kiss, hold hands and have a little post ceremony together time, something which many couples don't get until much later on.
I imagine if you were going to have 100 plus guests, you'd have to think about it practically, as to whether so many people can get themselves organised quickly enough, so that it doesn't seem like you are waiting for a bus that's never going to show, rather than getting ready to walk your love line. You don't want that amazing vibe from the end of the ceremony to dip either, so rather than ruling it out completely, think of some ways that might make the transition smoother ie advanced notice on ceremony programmes or get the celebrant to mention it before the ceremony.
And even if you are waiting a little longer than you hoped, once you walk that line, seeing those happy faces of your friends and family as they applaud you, kiss you, hug you and love you, makes it every bit worth the while.
I'm picturing it now…love lines with Pharrell Williams 'Happy' blaring out. Will somebody do it and send me a photo NOW! Thank you. x