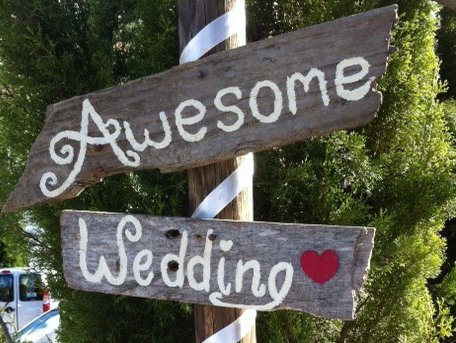 Dare to be different. Dare to invoke your own style. Have the ceremony that reflects you both, just as you are.
How about…
Walking down the aisle with your mum and dad
Why not make a head-turning entrance by proudly showing off both your mum and dad as you walk down the aisle, or two of your nearest and dearest relatives or friends? Tradition dictates that it is the father of the bride's role, based on the idea that the father is the head of the household.  But for those who want to challenge traditions and inject a more modernistic approach by honouring their mothers as well as fathers, this could be the new trend that you could launch your celebrations with.
Picking a seat not a side
As a wedding is all about the union of two individuals and their families, this new trend of getting your guests to sit wherever they like during the ceremony, and not on a set side, is fast becoming a popular one. Traditionally, brides' family and friends sit on the left and grooms' on the right. However, nowadays where friends are mutual and family are varied and multi-layered, it doesn't always make sense to stick to the traditional idea, which sees people being divided instead of being united. Of course, family members can still be honoured by sitting in the closest rows to the bride and groom but in order to get that feeling of unity right from the outset, mixing everyone up and getting everyone acquainted is the perfect way to ensure this.
Not standing with your backs to your guests
What better way to celebrate your love for each other in front of your closest friends and family, the people you love most in the world by facing them during ceremony. I have always found it strange that some people still choose to stand with their backs to their guests when there are so many nicer, more inclusive and much more personal ways of standing so that you and your guests can all be witness to the greatness of your ceremony and all that love that's swimming around. Check out my more detailed post about this here.
Passing around your wedding rings
There is no better way to ensure that your guests truly feel a part of your ceremony and not just a spectator, by allowing them to hold your rings during the ceremony. The passing rings ritual allows each of your guests to give their blessings and good wishes to you by holding on to your rings for a few seconds before passing them on to the next guest. It really creates a special feeling amongst your family and friends, knowing that they have had the chance to bless your marriage. It's also a nice touch to do this with some music playing in the background – your favourite song or a piece of music that means a lot to you. This also adds to the occasion, making it that little more special.
Having a sing-a-long
If you are having a church ceremony, your 'sing-a-long,' is what is otherwise more traditionally known as a 'hymn.' However, if you are not having a church ceremony, there is no reason not to include song and music throughout your ceremony. Singing a favourite song with your guests is a great way to include everyone. It makes your ceremony more upbeat and is a fantastic way to add some fun into the ceremony. Popular songs have included the Beatles 'All you need is love,' and  'Here comes the sun,' or classics such as, Dean Martin's 'That's Amore.' It does not matter if your song is sang slightly out of tune, if a few beats are missed here and there, or if one of your guests thinks she is Beyoncé. It all adds to the fun spirit of the ceremony and sets the tone for the rest of the day.
Not walking back up the aisle!
Bear with me on this one. As more and more ceremonies are taking place outside or not within the confines of bricks and mortar, sometimes it just simply is not appropriate or necessary to walk back up the aisle. If walking back up the aisle will take you in the opposite direction to where you need to be and to what follows on after the ceremony, then don't do it. Choose an exit that suits you best. I have had ceremonies before, where after the declaration of marriage and the applause by their guests, I have directed the guests to leave the ceremonial area and to make their way to the next designated spot, so that the bride and groom could then follow and be welcomed by their guests as their arrive in the new area. And how lovely it is to have those few precious moments after your ceremony to yourselves before being re-introduced to your guests again. Sometimes this is a better way to end a ceremony, especially if the traditional way of the bride and groom leaving, would mean the couple literally is going nowhere other than the car park. Alternatively, it is quite nice after the ceremony for your guests to come up to you and congratulate you on the spot rather than to follow you up the aisle. The keeps the momentum of the happy event going, too.
I'd love to hear your thoughts. Tell me what you have planned for your own ceremony, I'd really love to know! And I'll be posting some more ideas soon, so look out for them.