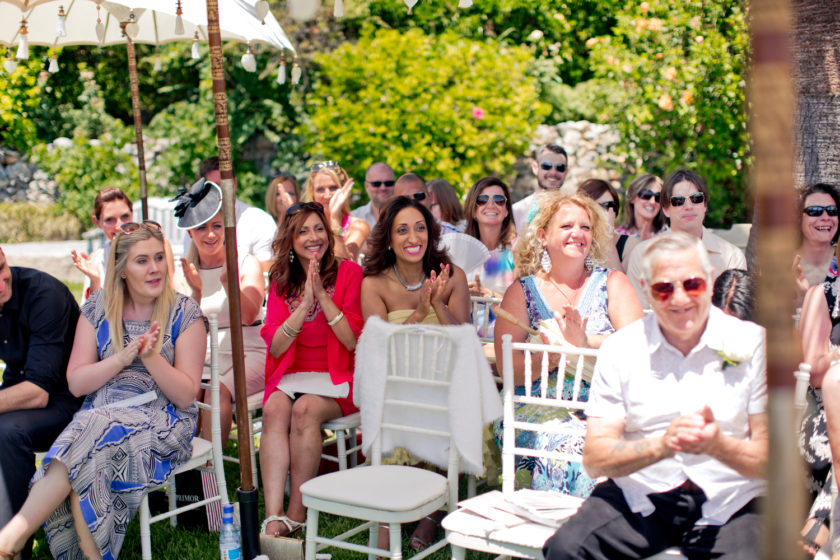 One day, along with learning to sew beautiful things on my sewing machine, mastering how to make jams and everything else that I have on my life's to-do list, another thing to add would be writing my book on marriage and wedding trends and how weddings have changed over time. I find it all so fascinating.
Something that really really excites me is the way that the role of our wedding guests has changed, particularly when it comes to ceremonies. It is now so much more acceptable and so much more welcomed that wedding guests, or let's just call them what they are, your nearest and dearest, your loved ones, your life's crazy people, are more involved, intertwined and invested in your ceremonies, than ever before.
Today's ceremonies are more about allowing loved ones to not just sit and watch you get married, but actually be an active, vocal part of the wedding ceremony, too and one way which this is happening more and more is through a friends' and family vow.
So what's a friends' and family vow?
Let's step back in time to the days where before a bride and groom said their own vows, the bride's father was basically asked what boiled down to a) him allowing his daughter to be married and b) if he was happy to do so.
We have gone from a time where this was pretty standard practice to now being something which is considered very archaic and simply not appropriate in today's modern marriages. However, that said, in my twelve years of being a wedding celebrant, I have once been asked to ask a father to officially give his daughter away in this manner. So, I'm sure for some it is still an important feature of a wedding ceremony.
Now, because many people on their wedding day recognise that getting married is not just about seeking permission from one person but more about receiving a communal blessing from all of their loved ones, something like the friends and family vow has much more relevance, prominence and more than anything, meaning!
Couples are now getting married later on in their lives than their parents and grandparents did and they tend to have a much longer period of time together as a couple pre-marriage. This means they've already built a home together and are in every way already living their lives as a married couple well before their own actual marriage!
And so those nearest and dearest who will attending the wedding day, will most likely be people who have not only known the two of them, before there were two of them, but also most likely have been a witness to the whole process of them becoming the couple they are. They will have supported them along the way, been champions of their relationship and simply been there for them with open arms.
And so what nicer way is it to have ALL of these people, offer and vocalise their support through their own communal vow? I can't think of anything that could be more awesome.
So before you and your love bunny say your own vows, your registrar/celebrant/officiant can address your gang of champions to explain to them that you, the newlyweds-to-be would love them to respond to a communal vow to show their love and support of you.
Here's a little example of what could be asked;
Celebrant: As friends and family of Kanye and Kim, who have witnessed the joy and happiness during their time as a couple, do you support them on their journey together and the pledges that they'll be making to each other?

Friends and family: We do.
Or
Celebrant: All of you awesome people gathered here today, are here to celebrate the love and commitment that J-Lo and A-Rod are making today. You've been lucky enough to be a part of their happiness and to revel in their joy of finding that special person who they want to spend their life with. Do you hell yes support them and offer them your love and friendship, in spirit or in person, whenever they may need it.

Friends and family: We do or hell yes!!
You can of course re-write or write your family vow to suit your needs and to say whatever you would like to ask them, and add a bit of humour if you like, too. Whatevs.
Why include it in your ceremony?
Including a vow like this in your ceremony is a really beautiful and touching way to include your nearest and dearest. They will feel so honoured and so grateful to be given the opportunity to vocalise their support of you, in such a special way and you will absolutely love hearing their heartfelt and genuine responses. And what's more it's fun and easy to implement in your ceremony and unlike many aspects of your wedding planning, it doesn't cost a thing! Woo hoo!
It's also a nice way to take the antiquated tradition of having the father of the bride give his blessing and to make it into a communal blessing where everyone who means something to you, gets to show that love during your ceremony. A truly modern blessing, for a modern ceremony.
Could you see yourselves adding this to your ceremony? Let me know in the comments below.
Header photo by Albert Paimes Photography
Second photo by Agata Jensen Photography
30 Awesome Wedding Vows