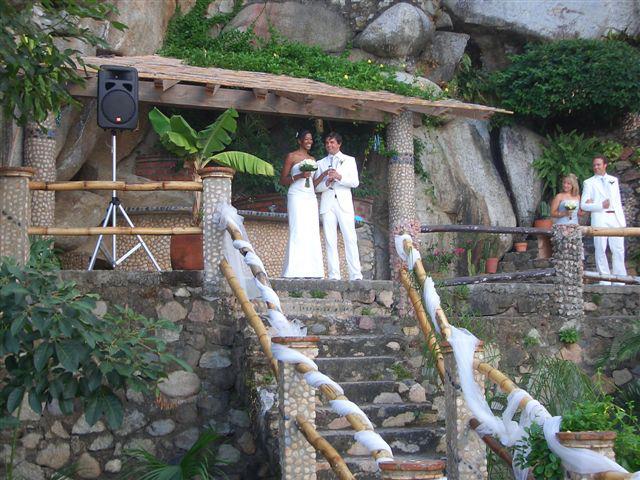 Wedding day and regret are indeed three words which shouldn't really be in the same sentence but if I am honest and I place my hand on my heart, I do have some regrets about our wonderful big day, especially since we have just celebrated ten year's of marriage a few days ago and thoughts of this happy day have been in my mind.
As with this post and any other post that I share which talks about my own wedding day or marriage, you will notice that I only ever share the one photo (yes, this one on the right). This is not because I am being super private about our wedding day, trust me I would love to share the hell out of it, but it's because it is the only decent photo that we have! Yes, that one photo (which isn't even a great one to be fair!) and that's purely because we did not hire a professional photographer to capture our special day. So there you have it, laid out bare, right in front of you, our wedding day booboo. Yup, I know! I am kicking myself on mine, yours and everyone else's behalf!
Before you feel too much pity for me though, let me just clarify that we do have some other photos that friends and family took. However most of these photos are not only haphazard but are haphazardly stored on CDs which neither of our macs can read and so we have not had access to them in a very long time. Part of me is worried that the discs, most of which are ten years old, may no longer be readable. We are perhaps being a bit lazy and I know all it takes is to go and find a friend with a PC or go to photo printing shop and ta-dah, our photos will magically appear. However, the slight delay in doing this, isn't just because of laziness, but also because I know the photos on the disc, whilst they will serve as a great memoir, will not be the best representation of our wedding day simply because we relied on friends and relatives to take them.
Why didn't we book a wedding photographer?
I do have to ask myself this question, 'why indeed did we not book a professional photographer?' Although, I can't remember back then to what the exact reasons might have been, I am pretty certain that it would have been due to costs and that makes me really upset to think this. The fact that we lost out on something so special because of MONEY, MONEY, MONEY.
If only I knew then, what I know now, I would have found it in our power to have found the money to hire a photographer. I could have done without my afternoon pamper session with my girlfriends.  We were on a week long holiday before the wedding, we were being pampered and spoilt all the time! We really didn't need a spa session, but we did need a photographer. I would have saved harder or used honeymoon gift money to go towards the cost of a photographer, anything to ensure that the memories we have in our minds (and now even those are faded) are still physically evident.
To save money, we thought of the brilliant idea of relying on our wedding guests to take photos for us. Let me just tell you now why that sentence is not only full of sarcasm but also why it is the worst idea in the world!
Even if your friend/relative has a great camera (many of ours did) and can take a great photo (many of ours can) they are not, I repeat, not, professional photographers. They do not take wedding photos for a living. They are not at weddings every week of their lives. Wedding photography requires a professional approach. I personally believe that even a professional photographer who doesn't normally do weddings, is not as good as a seasoned wedding photographer, just as a wedding photographer may not be as capable as a sports photographer! Always choose an expert in their field!
Wedding photography is unique. It requires an expert to capture moments which even the eye can't see. Emotions and feelings which require a skilled person to record, the little details that those not paid or trained to notice, don't notice!
Wedding photographers don't drink on the job! Many of our photos might have been quite nice had the person taking the photo not been holding a drink in their hand or just blatantly drunk!
Your wedding guests also have to eat and enjoy themselves. That's why we invite them. So when they are eating and enjoying themselves, who is taking your wedding photos? Yes, that's right. NO-ONE! Do we have any photos of our wedding meal? No. Do we have any of when we were drunkenly performing the Tango that we'd learnt? No. Because everyone was too busy having fun laughing at us and enjoying themselves to take photos. So again with hindsight, I think it was unfair of us to ask and rely on friends to take photos of our special day. They came to celebrate with us, not to work!
Naturally, we did not pay our friends and relatives to take photos for us. And so in not paying for their services, we had no rights or say over what amounted to being simply, a favour. When you hire a photographer, there is no favour! You are paying for their service and expertise. You have a special and professional relationship with them because they are working for you. They provide you with a contract and the work out with you what it is that you want from your wedding day. On the day, you could even point something out to them that you'd like a photo of, something you like the look of. It is very hard to ask your friend (with the best camera) who is snogging your other friend, to take the photos he said would be a pleasure to take.
Putting polaroid cameras or disposable cameras on your wedding tables also does not replace the need for a photographer. (We did the latter.) Nor does a photo booth, as fabulous as they are! All extras like this, should be just that, extras which compliment a walking, talking, breathing, photo-snapping photographer.
Photographers can also print your photos for you and present them in lovely albums. I remember being faced with the CDs of our photos and dreading having to sort through them all to find the best and most printable ones. In fact, we gave up, hence why none ever got printed. There's only so much sifting through photos of headless people and blurred images that makes identification of subjects IMPOSSIBLE, that one can take! Make life easy for yourself, I say.
As I said before, none of our friends are photographers and even if they were, if I did it all over again I would still not have asked them to do our wedding photos. Personally, I think as a photographer and a friend, you can only be one or the other on a wedding day. So if you are thinking of asking a friend who is a photographer, I think you need to have a serious think about how important a friend they are to you. If they are more of an acquaintance, then you will be able to treat them as the hired professional that they are being paid to be. If they are a close friend, I would err on the side of caution. Wouldn't you prefer that your close friend enjoys your wedding fully rather than has to work at it? What happens in the case that something were to go wrong or there was something you were unhappy with, would you be prepared to risk your friendship?
So are you catching my drift?
I beg you not to rule out having a professional photographer because of costs. If that is your only reason, then it's not good enough. Trust me, they are worth every penny. I can say that even more emphatically now because I work in the wedding industry and work with so many talented photographers who capture the most amazing images and precious moments on people's wedding days.  I see how hard they work and I see how happy they make everyone. These moments are priceless. Even on a budget, you can find a photographer who will suit your needs and provide you with something special that you can treasure afterwards.
Moments you will forget, photographs help to remember
So to end and without wanting to bad mouth amateur photographers any more than I need to (because of course their intentions are always the best and after all in our case, it was us who ASKED them!), they simply do not have the skill and knowledge that a professional WEDDING photographer has. Just take a look around my blog and especially my real weddings. Nearly every single image has been taken by a professional wedding photographer (thank you my dear buddies). My blog would not look anywhere near as pretty without the use of their images (all images are credited, by the way!). I get so excited to see these images come into my inbox, especially as I am often there on the day that the photos were taken, I can truly testify that the love, the fun and all the emotions that were felt on the day, really have been captured by the photographer. And yes, I am always just that teeny weeny bit jealous that I don't have photos like this of our day.
There is still hope for you!
But don't worry about me too much. All is not lost either. A) I will be getting around to finding the photos of our wedding day that we do have on disc somewhere! and B) When we celebrate our vow renewal next year I will be photographed the hell out of, by not one but maybe even two photographers and a videographer too, until I am sick of the sight of them!
There is hope for us yet!
So if you've got any re-bugdeting to do to make sure that this one important aspect of your day is covered, I suggest you get on with it NOW! (Please and thank you.)