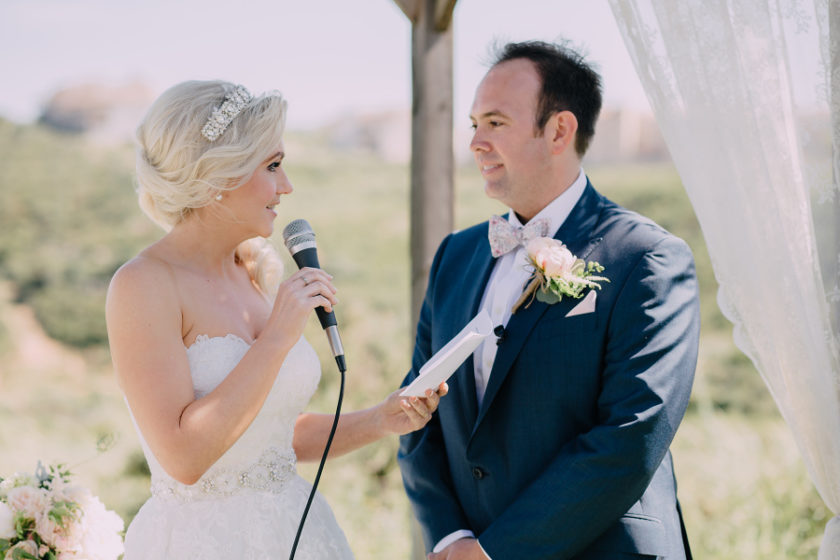 When it comes to planning the sound for wedding ceremonies, I think many couples do not give it masses of thought. Let me clarify that. I think couples probably think a lot about their ceremony music and how it will be played, but maybe don't give as much thought about their voices and how they will be heard.
So I thought I'd write a post about the pros and cons of using a microphone during your ceremony, so you can work out whether it is right for you or not.
Your celebrant/registrar/wedding officiant/clergyperson
The person conducting your ceremony may have their own equipment to use at your ceremony and depending on how many wedding guests you have, or the ceremony space that you are getting married in they will decide whether they will use it. Contrary to what people might think, microphones do allow voices to sound natural, as the main function is to simply amplify a voice not change it in anyway. And sometimes, there really is a need for some amplification, so all the folks right at the back can hear.
I personally have a love-hate relationship with microphones. They're annoying and ugly and don't always look nice in photos. And sometimes I feel like I am presenting a show, instead being a part of a warm and intimate ceremony. BUT BUT BUT (yes, three buts) for some (most) ceremonies you absolutely will need them and they will ensure EVERYONE hears what is being said, which is so important.
Your ceremony location
I was chatting to one of my brides recently, who told me she was a guest at a beach wedding a few years ago. She said the ceremony had the most amazing views, but the views turned out to be the only thing that they could appreciate about the ceremony because they couldn't hear a word. Nada. Zero. And they weren't sat at the back either!
Beaches can be really noisy, noisier than you may realise, so having a microphone for a beach ceremony is something you should really consider and should have a chat with your wedding officiant about. Especially, if you are having a lot of people celebrating with you. Check out this post I wrote for more info about beach ceremonies and what other things you should think about.
Outside spaces in general can also be deceiving. And the more open a space is, ie not sheltered by trees or buildings, the more vacuous a space it can be. Sound can get lost and swallowed up by all that space, and so sometimes a bit of voice projection is needed.
Even if you aren't getting married outside, some rooms will definitely require you to have a microphone because of the size and maybe, the shape of them. Even some small rooms may require it because the acoustics of the room could be quite bad.
Who else should use a microphone?
As my general rule of thumb, if I am using a microphone then so should anyone else involved in the ceremony, namely the readers. There isn't much point in your wedding officiants' voice being heard but no-one else's! So if you are going to have a microphone for your ceremony, and you are going to have readings, then make sure to pre-warn your readers that they will be using a microphone, too. I have seen readers lose the colour in the face, when I drop the mic bombshell on them. For people like me who use microphones all the time, I don't even give it a second thought, but for the unsuspecting wedding reader, it can be a big deal and something they might need a bit of mental prep for!
Okay, so now I am going to contradict everything that I've just written above, by saying that there are two people who I think do not have to use a microphone, at all, even when the celebrant or officiant is, and they are the two people getting married. Yup, you heard me correctly.
I know it is such a beautiful thing to get to witness and hear the wonderful vows that a couple have spent time preparing and pouring their hearts into BUT (you know I love my capitalised 'buts') if a couple doesn't want to use a microphone when saying their vows, I am all for that.
Your vows are an expression of your love for your love bunny and your chance to speak to your love bunny directly. Your vows are meant for the two of you. If you do not want to project what you're saying for everyone to hear, then don't. I do marry many shy and nervous couples, who really do not like the idea of using a microphone. I would even go as far as saying they hate the idea of using a microphone. And so, they don't use it and just speak to each other in their normal, natural voices.
This is fine, people. It really is.
Yes, your guests may be disappointed that they didn't get to hear the actual words that you said to each other, but tough doo-doo, you aren't marrying them, your marrying your love bunny who is standing right there with you. And as long as your love bunny hears what you're saying (and your celebrant/officiant), then all is right with the world.
That said, I do also have many couples who practically rip the mic out of my hand, so excited they are to proclaim their love loudly, and to anyone who will listen, and that my friends, is also a beautiful thing.
I don't tend to ask couples in advance anymore if they want to use a microphone or not, now I ask them just before their vows, because I know I get their honest reaction straight away. I've had couples say they want to use a mic for their vows and then in the moment when I introduce their vows, they give a little shake of head or quietly whisper that they don't want to use the mic. Perfect. Do as you wish. If you feel like you're gonna throw up all over a mic if you speak into it, don't do it, especially because I don't want to be cleaning your sick out of my mic for days on end, nor does any other celebrant or whoever the equipment belongs to!
Couples who definitely don't want to use a mic and know this in advanced, tend to be more prepared for their ceremonies. They organise printed copies of their vows, sometimes in framed copies, which they place on a table with their guest signing book/ or present table, which gives any one who didn't catch the vows during the ceremony, the chance to read what was said. I love this idea.
Here's some quick mic usage tips;
Check with your celebrant/officiant or venue if a microphone should be/will be used for the ceremony
Find out who is responsible for providing the mic. Will your celebrant have his or her own? Will then venue provide it? Or do you have to hire it?
Have a think about whether you want to use a mic to say your vows, but try to save the decision for closer to the time, so that you do what feels right in the moment.
Have copies of your vows available if you want to display them after the ceremony. It may be nice for guests simply to be reminded of what you said, even if they heard them, or not!
And if you do opt to use a mic, do hold it close enough to your mouth so that you can be heard, otherwise you'll be holding it for no actual reason!
As with anything related to your wedding day, it's all down to how you both feel and what you both want to do. Don't feel pressure to do something because you feel you have to.
Do as you please.
The end.