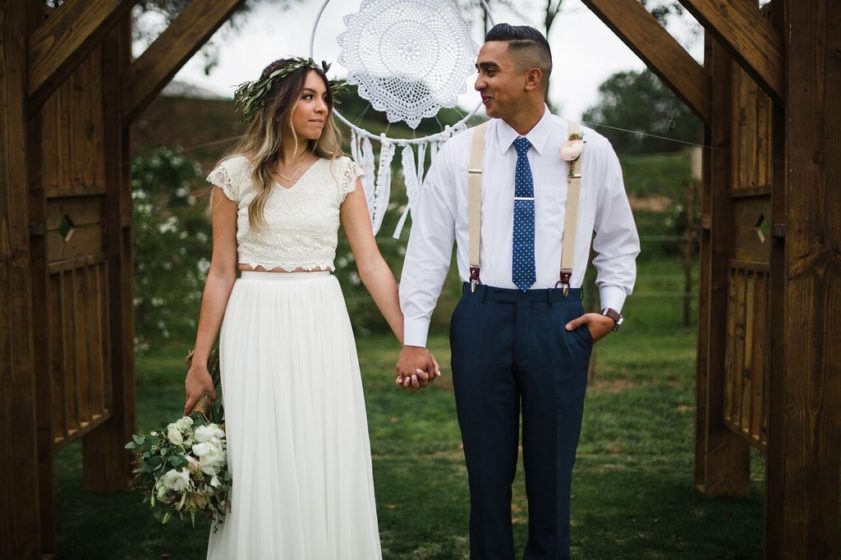 Lauren and Jesse have the sweetest engagement story EVER, not to even mention the beautiful wedding ceremony that followed. Having met and started dating in high school, the two have maintained a committed and loving relationship, even with Jesse serving in the US Navy and being stationed abroad for much of their time together.
The evening that Jesse proposed to Lauren was not only an awesome surprise organised by Jesse, but which both their families were in on to. Lauren was 100% unsuspecting, which always makes for the best proposals!
Here Lauren explains,
'I was supposed to pick Jesse up from the airport the next day, but the night before, it was his sister's birthday dinner and we were all at dinner, just his family and I. I noticed everyone was acting a little funny at the table and then his brother in law gave me a piece of paper which I noticed was a plane ticket from Chicago to LA and on that plane ticket was written "Will you marry me?" Then, I saw that everyone had their cameras out because Jesse was standing behind me, in his dress whites, on one knee, along with my family behind him. It was so emotional and one of the best nights of my life because it had been a while that we had seen each other.'
Oh my goodness, too cute, right?
Fast forward to their wedding day this April, which although planned to precision to include a stunning outdoor garden ceremony, the threat of rain meant there was a chance that the ceremony would have to be inside (where a second set up was already laid out and ready!) but phew, the rain held off for them and they were able to have the outdoor ceremony of their dreams amongst the lush greens of the wedding venue. 'The Meadows', as it is called, at the Temecula Creek Inn, California, isn't called that for no reason! You will see why in a second.
So let us dive in and enjoy these awesome photos by photographer Adrianna Ybarra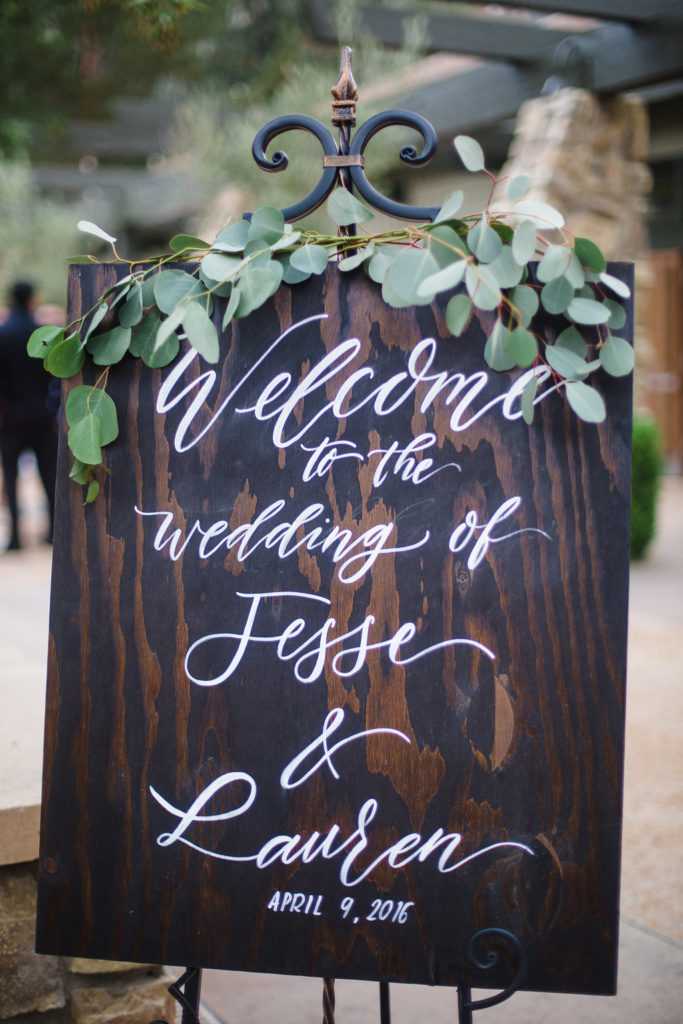 The ceremony
With Jesse being in the US Navy, it goes without saying that he would wear his military uniform for the wedding ceremony. And Lauren rocked equally in her own uniform of choice, stunning bridal separates which included a gorgeous lace crop top and pretty full length skirt. After the ceremony, Jesse changed into a trouser and braces combo to match his bride's boho style.
Lauren made her ceremonial entrance on her dad's arm and joined Jesse and her uncle who was leading the ceremony, at the ceremony area.  The ceremony canopy was beautifully decorated with a white lace dreamcatcher (to compliment Lauren's boho style and which she created HERSELF!) and a rustic floral centre piece with pops of pink and blush.
'Our entrance song, Everlong by Foo Fighters, was played acoustically by a friend. Due to the possible rain and our ceremony being outside, we weren't able to have our DJ play the bridal entrance and exit songs but our friend saved us with his guitar and strummed sweet noises and actually it worked out perfectly!'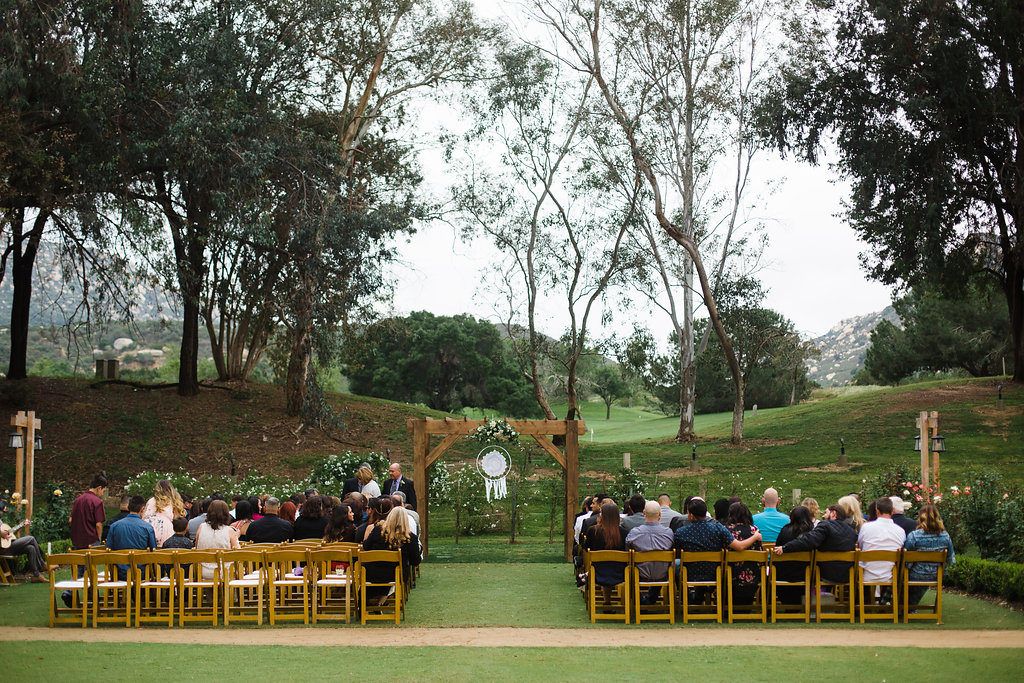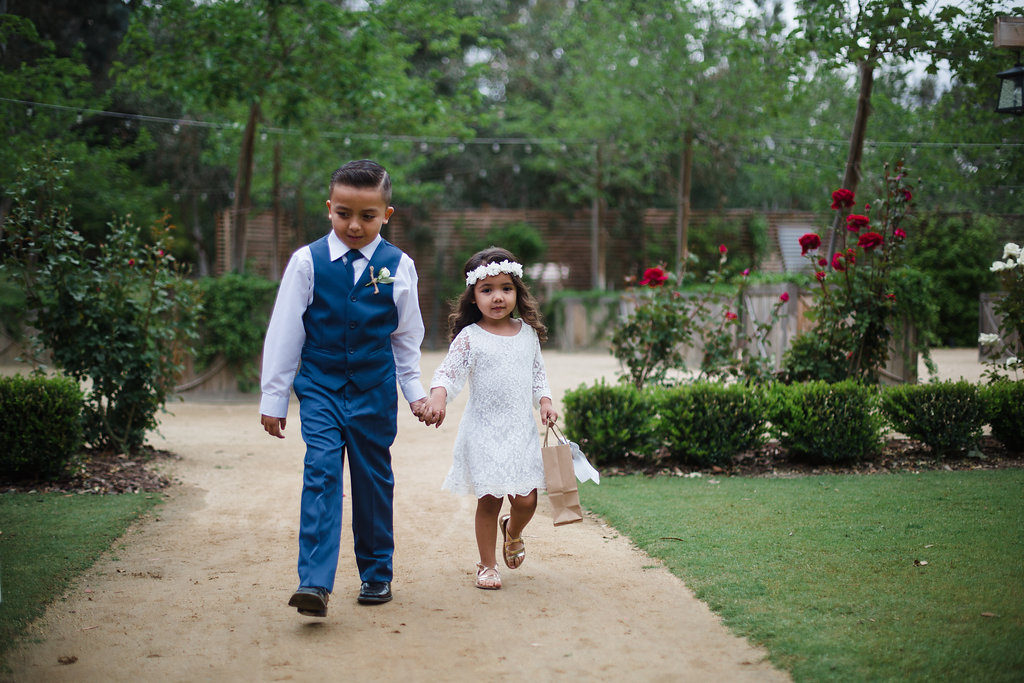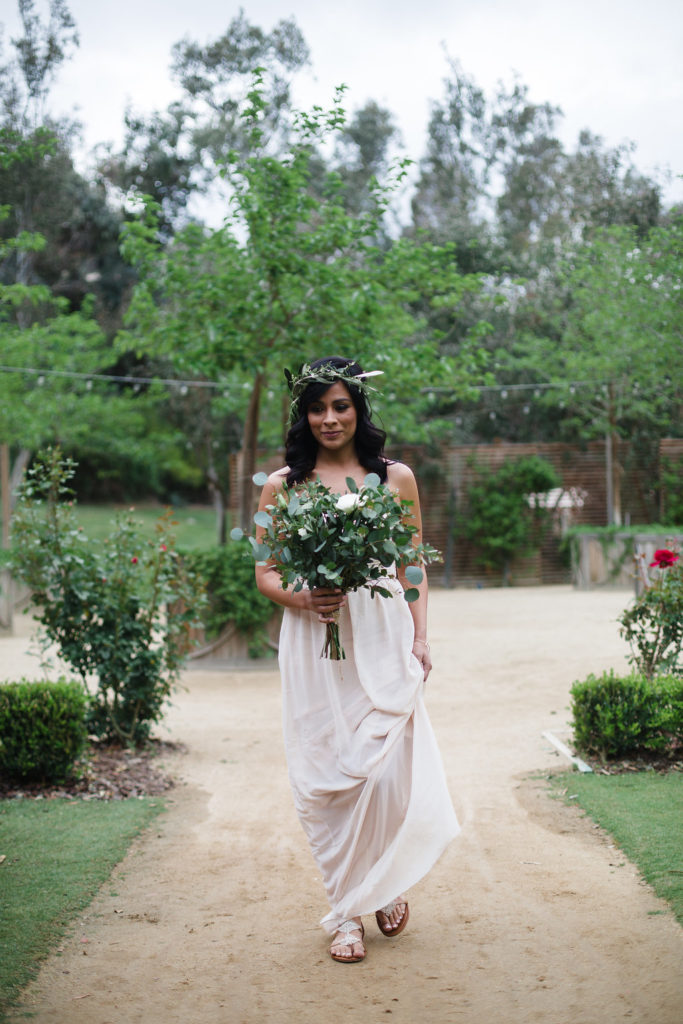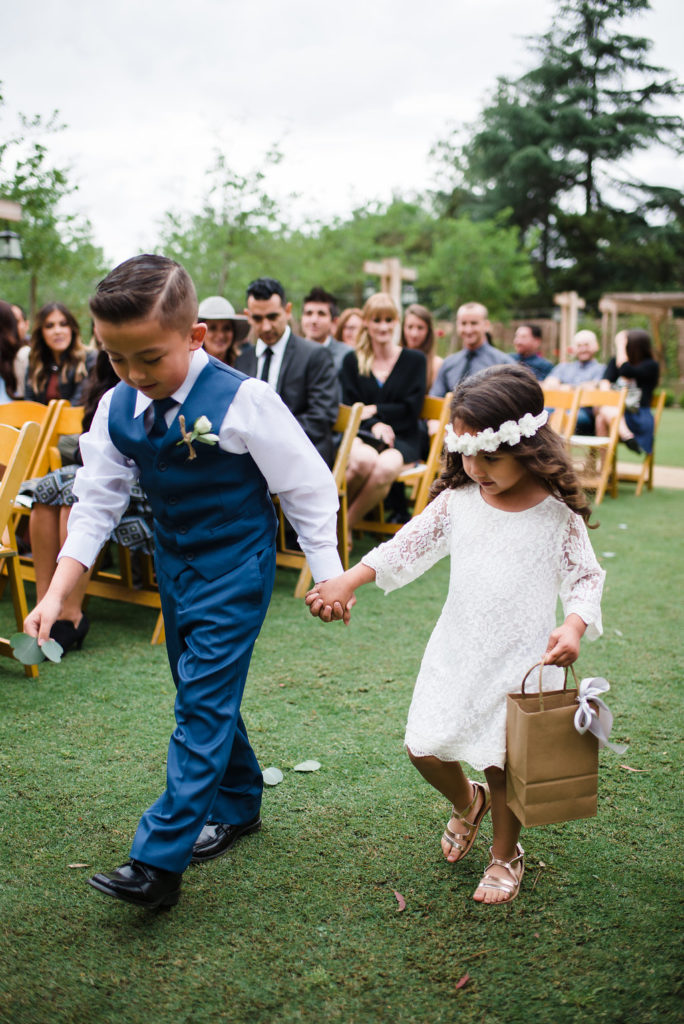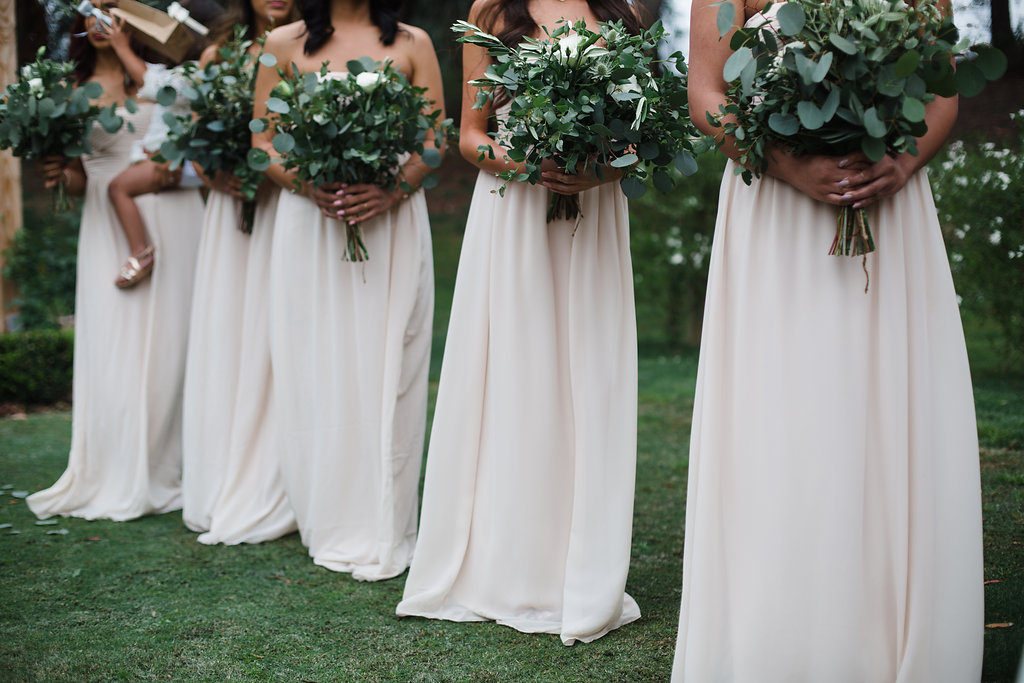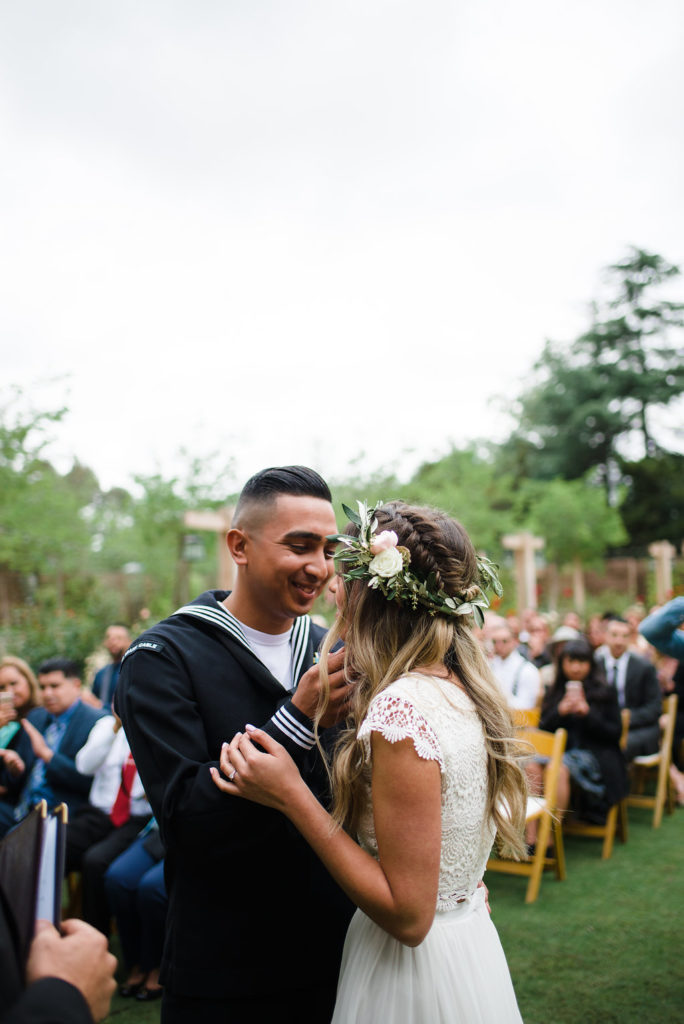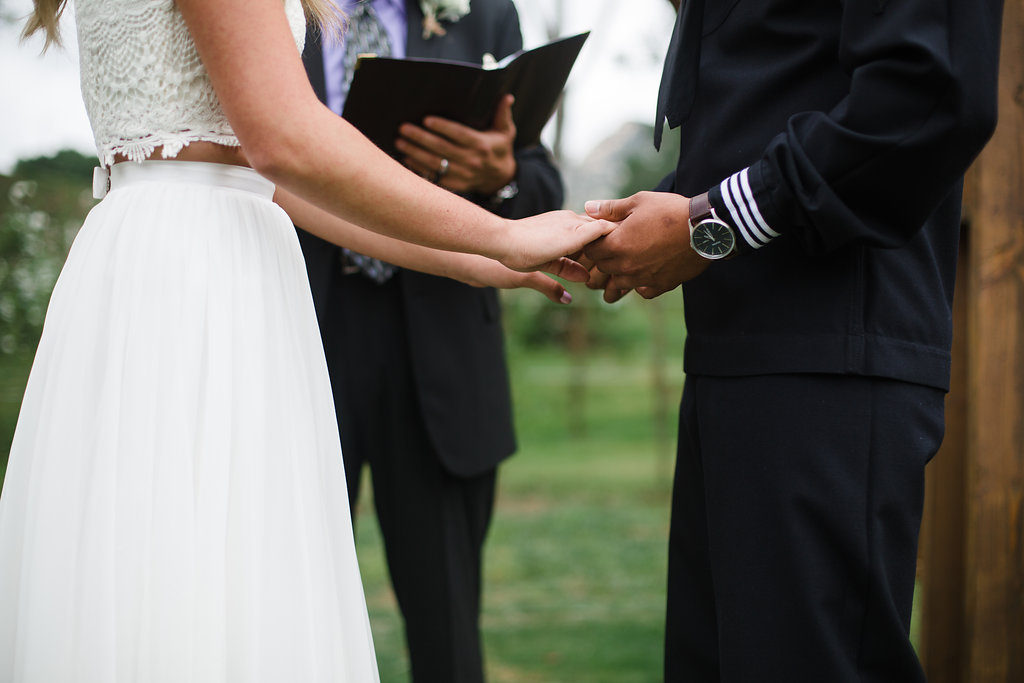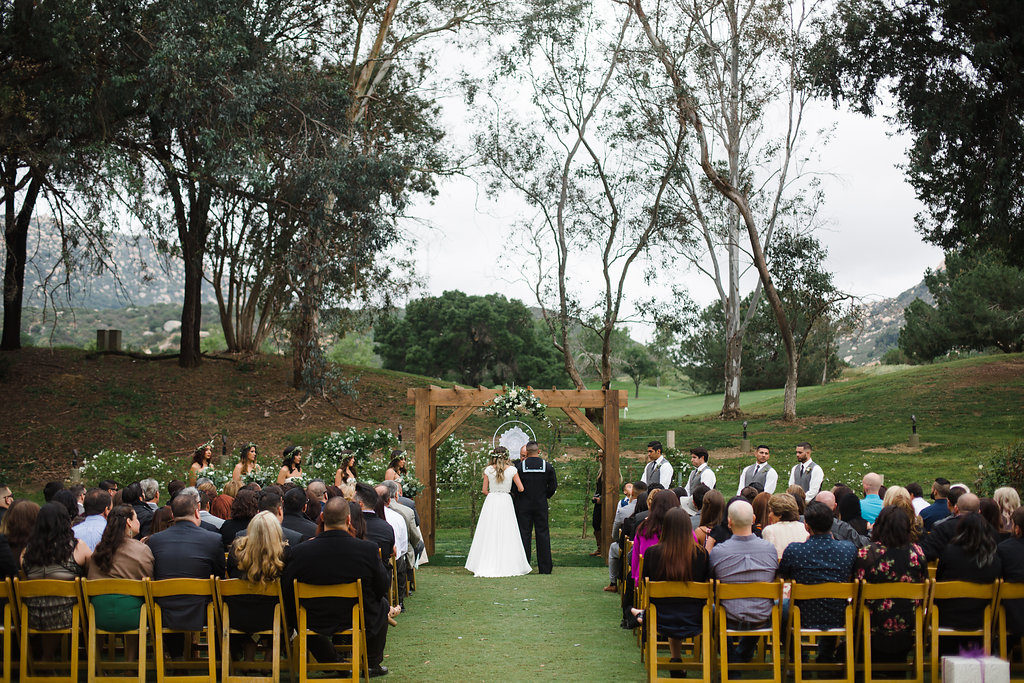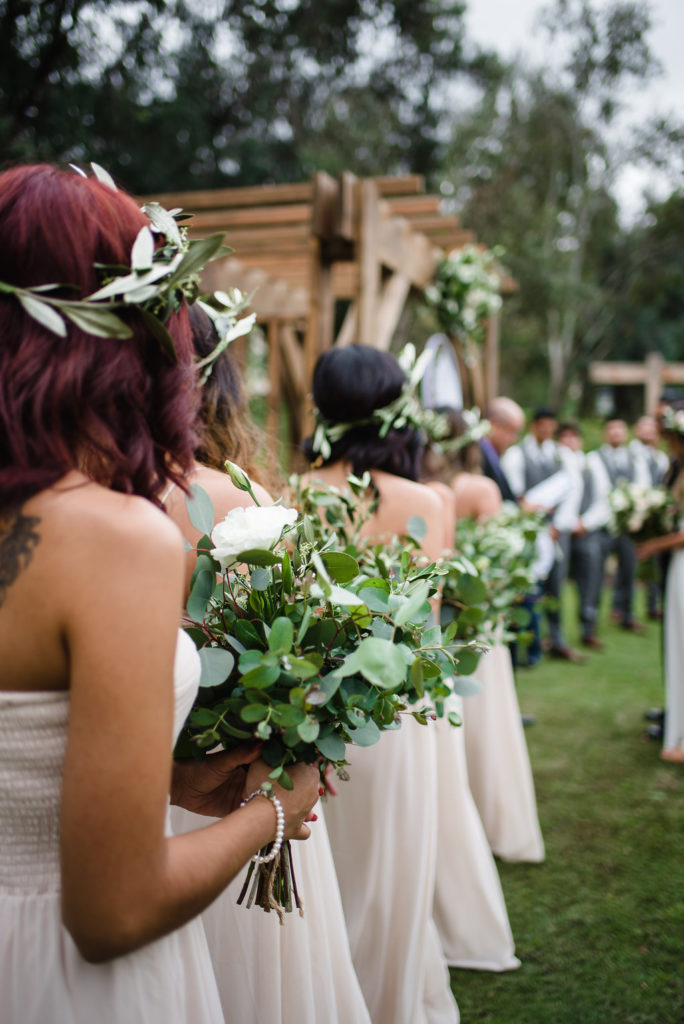 The ceremony which was designed and led by Lauren's uncle Roger allowed them to say their 'I dos,' and exchange their rings in a lovely setting amongst their nearest and dearest.
The most memorable part of the ceremony was being able to share it with our friends and family.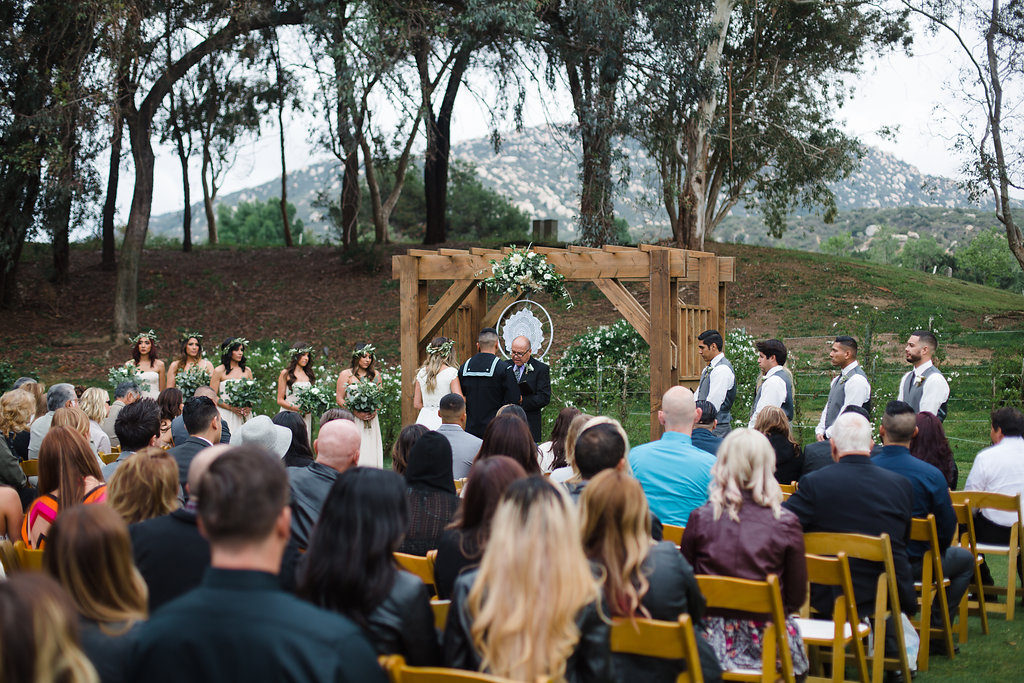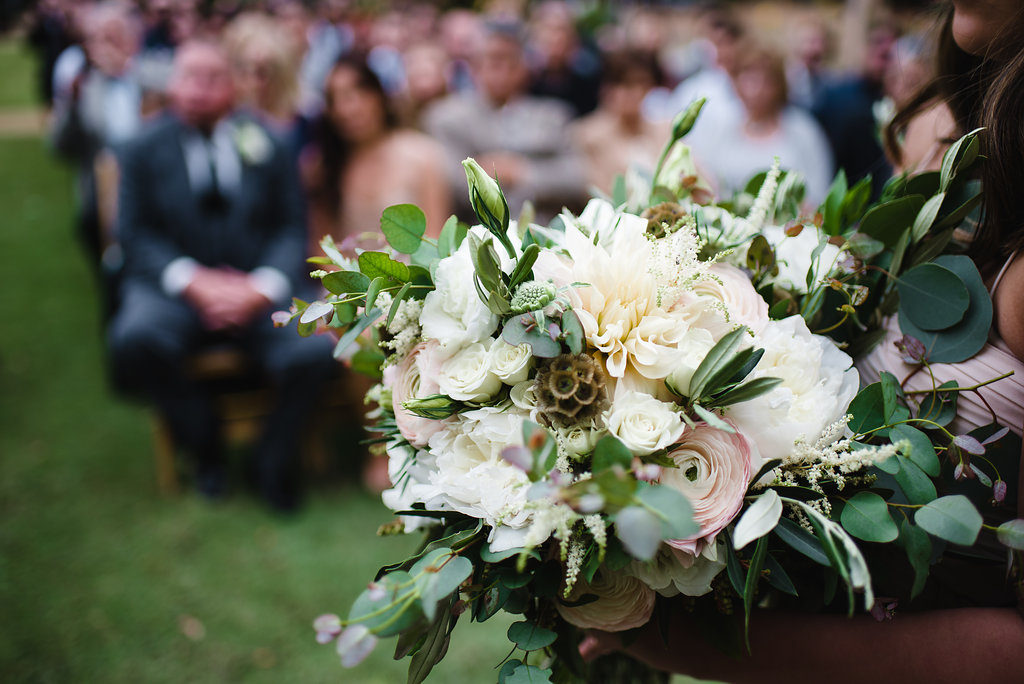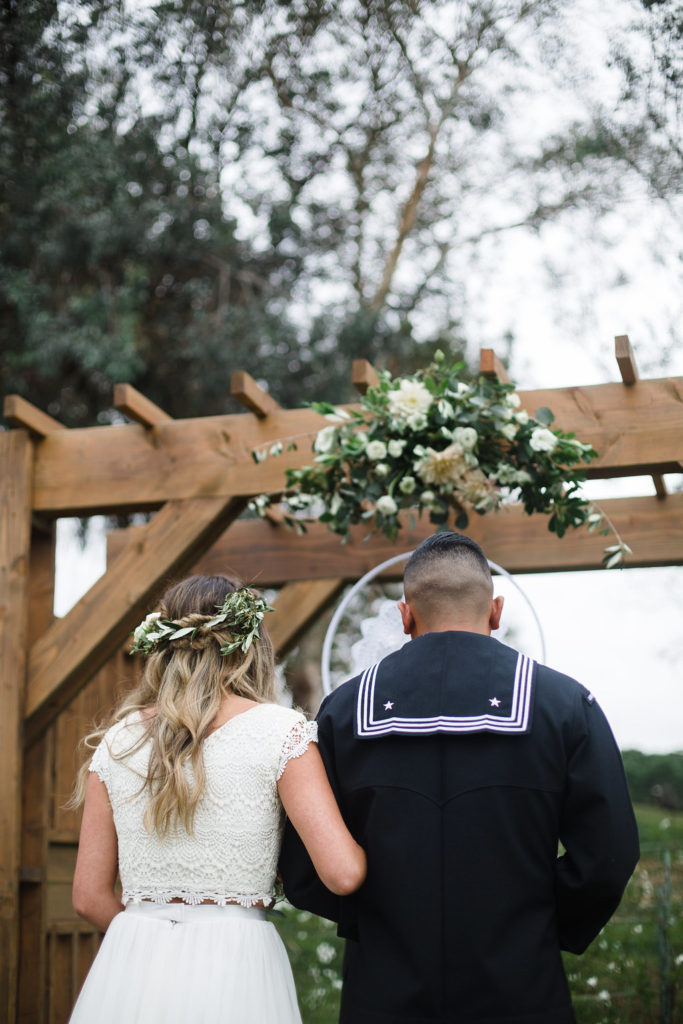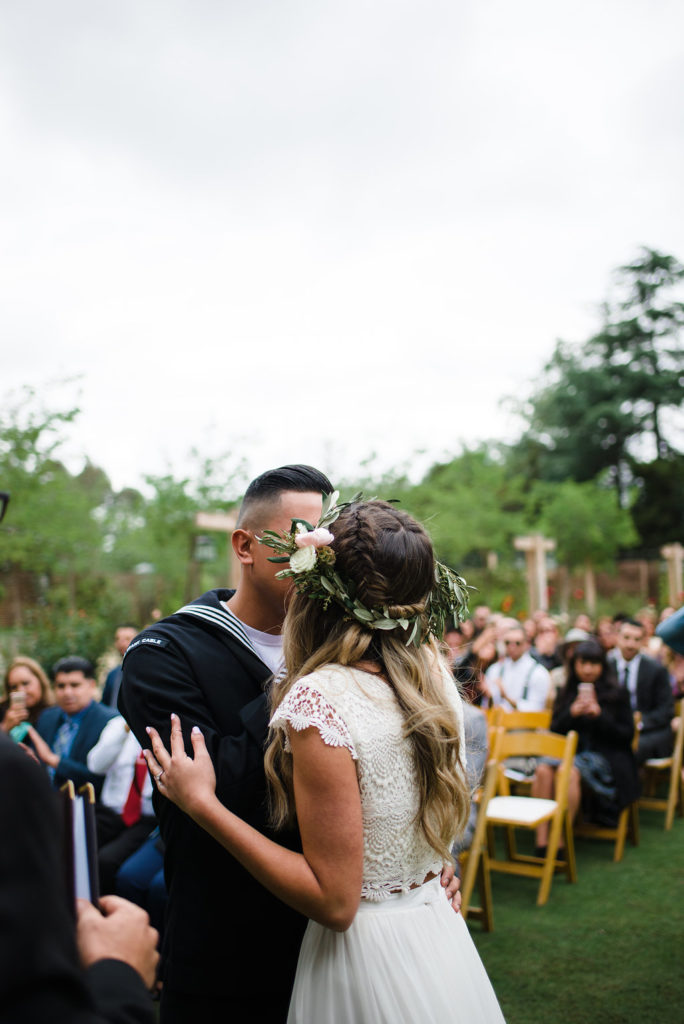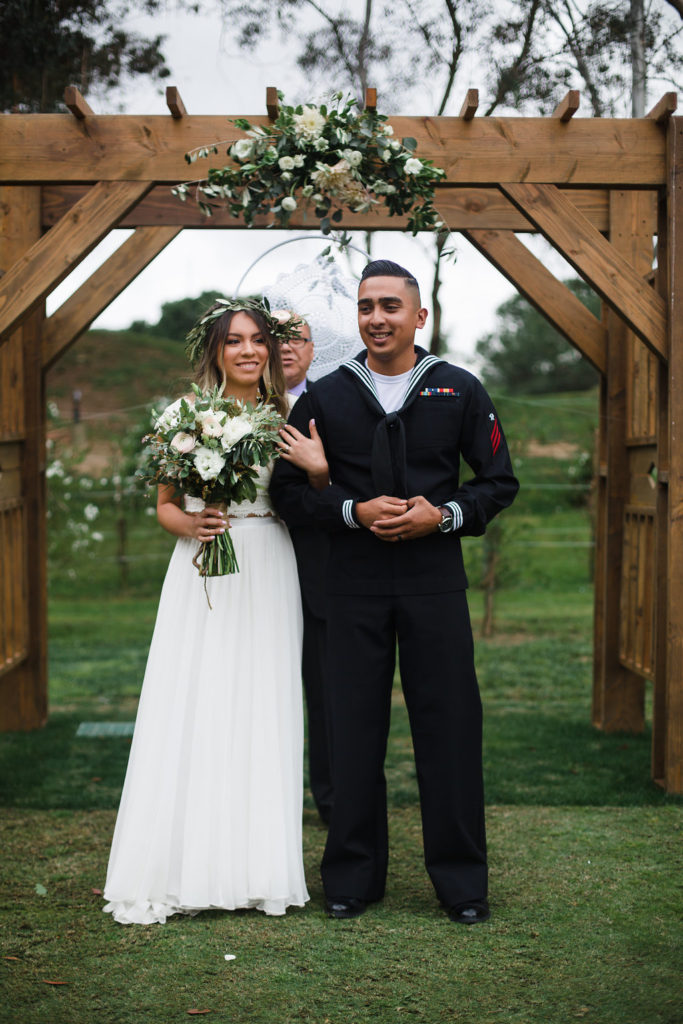 Post ceremony
I just had to share these post ceremony shots, once Jesse had changed out of his uniform to show off how super cute they both look in the boho outfits. I am so in love with the dreamcatcher, aren't you? I think every ceremony backdrop needs to have a dreamcatcher!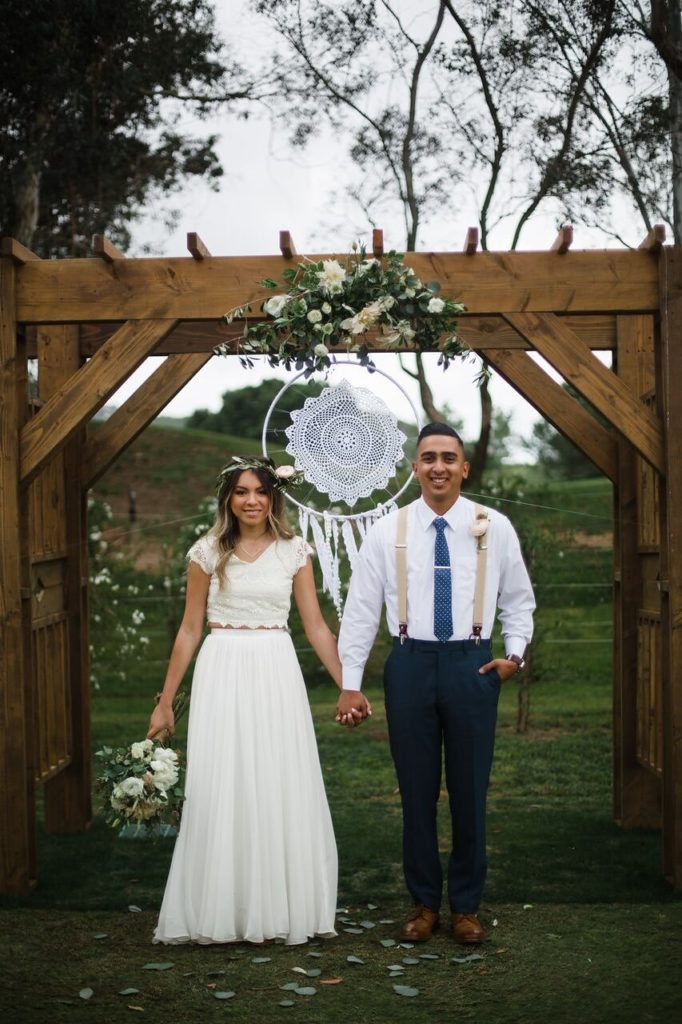 What a simply stunning ceremony with gorgeous personal touches.
Mad love;
Photographer: Adrianna Ybarra
Wedding Planner: Jen Krueger Design
Wedding venue: Temecula Creek Inn
Florist: Tre Fiori floral studio
Dress: love and lace bridal salon
Make up: Alyssa Nicole
Hair: Chelsea Lana @chelsaylyn
And to the awesome Lauren and Jesse for sharing their stunning day ceremony