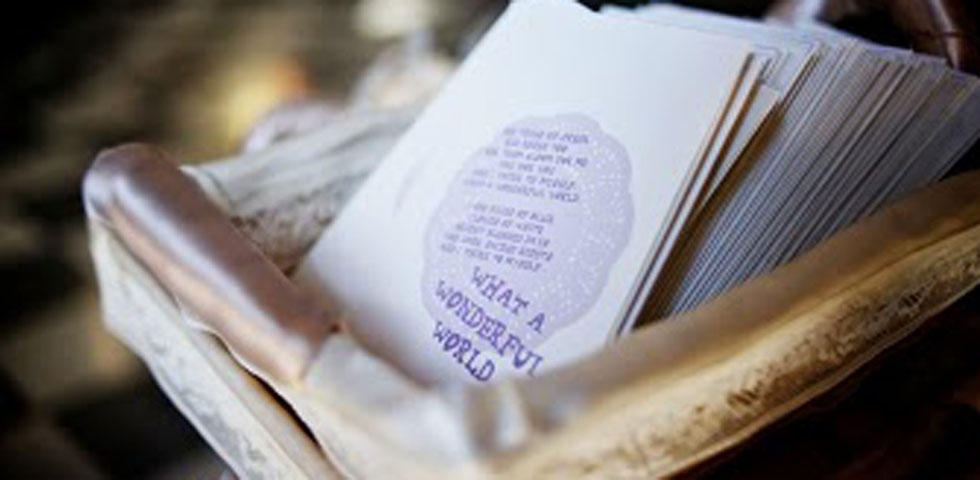 You may not know this, but an Order of Service is one hell of a really really useful wedding tool. Over the years the traditional idea of an Order of Service has changed and developed so much that they can now be used to convey a lot of really useful and important information, as well as adding some fun and awesomeness into your ceremony.
So, this post is dedicated to not only explaining what an order of service is, but looking at how you can put one together and what kind of things you can include on them. So roll those sleeves up, it's time to get crafty!
What is an Order of Service?
Traditionally, at church wedding ceremonies, orders of services (also known as order of ceremony or ceremony programme) were handed out to the congregation to allow them to follow the flow of the ceremony. It would allow guests to know which bible extracts would be read, to know when prayers would be said and what hymns would be sang. In non-religious ceremonies, an order of service does much the same. The idea is to convey information to your guests about the ceremony, to highlight any readings that may be read, songs that might be sang or draw attention to a musical interlude or symbolic ritual, for example.
Orders of service can vary in shape, style and format to suit whatever theme your wedding may have. From A5 programme-style booklets, to single-sided bookmark styles to paddle fans and bifold and trifold programmes, the choice is yours. Or even large blackboards dotted around your ceremony area with the order of service outlined on them. There really are a tonne of different and creative ways to present them.
Why have an Order of Service at all?
Some people don't, but many do. I think they make nice mementos/keepsakes and I think if your whole wedding day is a bit different to the norm, it's quite a nice idea to have a programme of your day to give people little snippets of info about what you/they will be up to. Especially for a ceremony which is not run-of-the-mill, it's nice to give your friends and family a little heads up with what's going on. Also, an OoS is great for bilingual couples, who would like to include information/texts in different languages so that al their guests can understand what is going on. I think the usefulness of an Order of Service far outweighs the effort in creating them, too! And the fact that you can have so much fun with them too, is always a big plus in my books.
Things that you may want to include in your Order of Service
Your ceremony location and time (useful if your OoS is also serving as a wedding keepsake)
A wedding party name check – many couples like to list their wedding party on their Order of Service and also their parents. It's a nice touch and a lovely way of honouring your wedding party. It's also a nice gesture to include the name of the person leading your ceremony. I once saw a lovely OoS where all the bridal party had a few funny lines written about them in a type of cast-list style, which I thought was genius and a great keepsake. An example; Bride's maid – Her name – Hen party planner supremo. Owns a slightly mental doggy. Does Beyonce's bum shake, better than Beyonce! Followed by the rest of the bridal party and their descriptions.
 Song lyrics or reading, if you are having a group song or group reading during your ceremony.
 A short quote about love or life that might sum up how you feel.
 Order of Service dos and donts
Don't attempt to draw up an Order of Service until you have liaised with your wedding celebrant/registrar and have been told what the order of your ceremony will be! Yes, I know this sounds really obvious, but I have had many couples in their heightened states of wedding keenest, send me draft orders of service before I've even put their ceremony together!!! Obviously, this has much potential for disaster, as you may be handing out programmes which don't run in the same order as the ceremony. Find out your ceremony order first, then create your order of service! Okay?
Don't try to cram too much information on your Order of Service. It's really nice for your guests to have something to read whilst they wait for the ceremony to begin and to actually learn some useful info about the ceremony, but too much info can just be, too much info! A ceremony can be summarised in headed pointers, you do not need to outline every single element of the ceremony.
Do use a professional wedding stationery designer if you are planning on having a really fancily designed OoS or you need to make a lot for your many guests. They will have the proper equipment to do it all properly and professionally and it doesn't have to cost the earth.
Do it yourself, if you are feeling creative, if you have the time and a bit of skill, and if you feel confident that you can make an order of service in the style that you have in mind. Sometimes those handmade touches are the best of all.
Do put reading titles, authors and the name of the reader, if you wish but don't print out the whole reading. Including the full text often means people will read the reading but not listen to it being read. It's so much nicer to hear and engage with a reading being read rather than switching off at that moment because you already read the reading!
Don't print out your vows on your Order of Service either, for the same reasons as above (I have seen this done before!) Your vows are so special you want people to hear them for the first time when you say them, no? And not to read them whilst they're waiting for the ceremony to begin, which kind of takes away the magic of your vows.
 Do use the OoS to convey useful info such as a reminder to people to throw confetti at the end, 'switch mobile phones off' reminders, or a reminder that you have an official photographer, so that your guests can relax and enjoy the ceremony and not snap the hell out of it!
 Do provide one OoS per couple, unless you have the budget and desire that every person has her own. One per couple is absolutely fine though.
Do think about how you are going to present your OoS. If you are getting married outdoors, maybe have some of your wedding party (a good job for an usher) hand them out as people take their seats. This way none will be lost to any breeze, as even the mildest of breezes can transport your OoS elsewhere, within seconds!
Order of Service vs Order of the Day
You may want to decide whether your ceremony booklet/programme (or bookmark) has a resume of just your ceremony or provides a breakdown of the whole day. Some people have an Order of the Day instead, which outlines all the key elements of the day, starting with the ceremony. There is no right or wrong, simply what you think works best for you. And to give you even more to think about, I have seen booklet-style orders of services which not only outline the ceremony but also, outline the rest of the day (like the example below). Both, I think are very useful and really good for guests who often come to weddings having left their brains behind!
How to draft the most basic Order of Service programme
Let's imagine that you are going to make a bifold ceremony booklet, ie if you imagine folding an A4 sheet of paper in half and then in half again you will have a booklet that opens up like a book. This type of booklet will have four faces. So let's start with the first face (the cover) of the booklet.
The cover
Here you can have a design of some sort which maybe in keeping with your wedding theme, or a photo montage of you both, or your favourite love quote. Whatever floats your boat.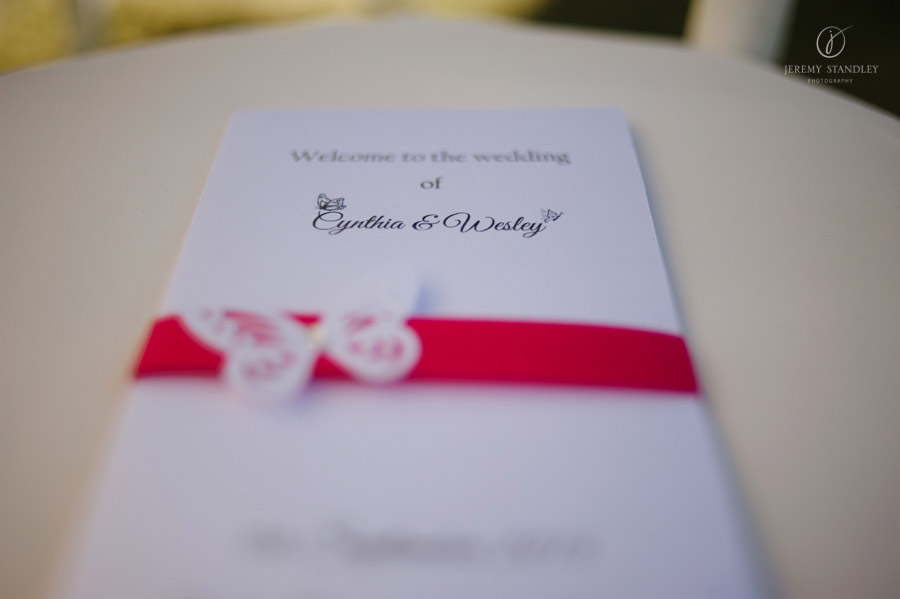 The cover is also the best place to add some basic details, such as your names, venue name, date, for example.
[col1]
Ashton & Mila,
30.08.2015[/col1]
[col2]
Welcome to the wedding of Ashton & Mila,
30th August 2015[/col2] [col3]Ashton and Mila's wedding,
30.08.2015[/col3]
Inside cover
If you're being minimalist then you don't need to put anything on the inside cover unless you really want to. In the photo below the couple put song lyrics to the group song that they were going to sing during the ceremony.  However, just because you have four faces to play with, it doesn't mean you have to put text or designs on all of them. If you were going for the Order of Service and Order of the Day combo, then this page could be a great spot for an outline of the day ahead. Look at how the order of the day information is set out in the programme below. It is on the third page here, but you could easily put it on the inside cover, too.
Third page
The ceremony outline fits perfectly on to this page, or whatever else you decide to put on it.
Back cover
Again unless you have a design or love quote to show off you can leave this blank. Some couples like to thank their guests in advance with a lovely heartfelt message, so the back cover is a great place for this. You may want to remind couples not to forget to sign guest books, use the photo-booth and take wedding selfies and instagram them, too. Again, this could be a good place for it to go.
So there you have it. It's not rocket-science but it certainly does require a little bit of thought, planning and preparation (as do most things!). And the great thing about an Order of Service is that there are huge amounts of scope to be as creative and versatile as you possibly can.
Have you got some great ideas for an Order of Service/Ceremony? Have you got a question or query about yours? Just drop me a question below and I'll happily share with you what I know!