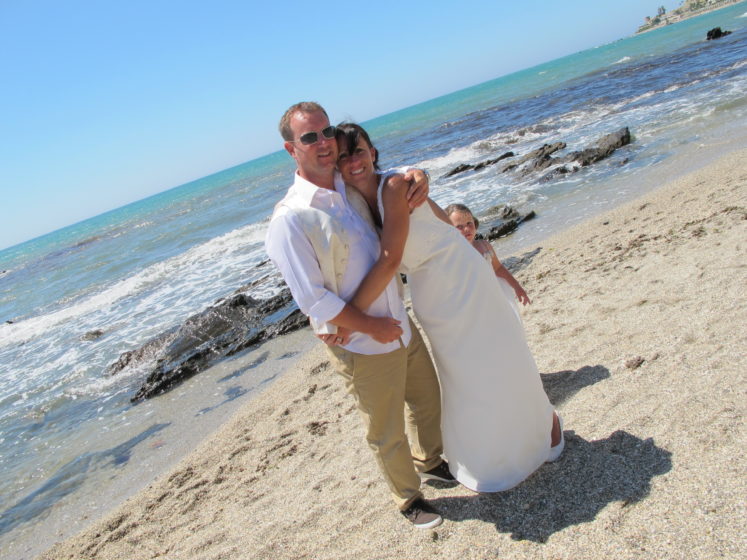 Anyone who knows me, knows how much I love weddings. For a wedding celebrant, perhaps I can be a little bit too emotional. Often I have tears in my eyes and shed one or two of them, when really I shouldn't, or on the other hand, I am giggly with joy, as though it is me getting married!  I just can't help it. I love to witness couples in the midst of their bare naked love for each other, promising their futures to one another. Beautiful.
Anyone who knows me that little bit better, will also know that as much as I love weddings, I love vow renewal ceremonies that teeny weeny bit more. There is something so special and so magical about being with a couple who have reached a milestone in their marriage and who are celebrating that very fact.
Past, present and future
Sometimes, we are told not to look back, but to look forward at where we are going. But I believe that sometimes we need to look back, to remember where we have come from and to put into perspective where we are now. Retrospection can be so therapeutic, so cathartic and so inspirational. To look back on the journey of one's marriage, can fill couples with a roller-coaster of emotions, as one remembers everything from the good to the bad. But those emotions are so symbolic in their own right, because they have led that couple to exactly where they are in life, at that momentous occasion. And nothing can be more powerful or honest than that.
Many people find their inspiration in celebrities and celebrity marriages. The world has recently gone crazy with the news that Brad and Angelina have finally tied the knot. I am happy for them, as I am with any couple who makes the decision to get married. However, as much as I think they genuinely seem like a wonderful, solid couple and strong family unit, I like to get my inspiration from real couples. Real people who live normal lives, who know what hardships are felt by regular, working people. People whose realities reflect my own reality. I know celebrities have hardships too and experience the same relationship problems as us all, but it's not quite in the same frame, I don't think.
Seeking inspiration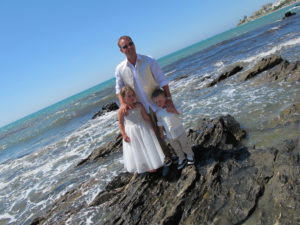 I recently conducted a vow renewal ceremony for a couple who were celebrating ten years of marriage. To say they inspired the hell out of me is an understatement. It was a combination of meeting their lovely little family unit, hearing their wonderful love story and simply being privy to their happiness. I think also, the fact that this is their tenth year of marriage, as is mine, I felt a shared sense of commonality with them, knowing that we were all starting to walk on the same path around the same time.
This lovely couple had started going out with each other when the bride was just 17 years old. So their marriage, represented a new step in an already existing relationship. Ten years and two gorgeous babbas later, they wanted to celebrate their marriage with just them, their babbas and the bride's mum. They explained that their wedding had been a big church affair with lots of people, however they felt that for their vow renewal they wanted to strip everything right back to what was important in life; them and their children.
I think this really is the key to a vow renewal. A wedding involves you showing the world how much you and your loved bunny love each other and a vow renewal involves showing each other how much you mean to one another. That's my take on it, anyhow.
So it was really lovely to see this gorgeous bride and groom, do just that. Strip away the fuss and the fluff and concentrate purely on the important things, the stuff of life. LOVE and TOGETHERNESS and all of those feelings that we feel deep down for each other but don't get a chance to say. I loved that they shared with each other what their marriage meant to one another and that they also wrote the most beautiful love letters, which I read out for them, as they knew they would both be too emotional to read them to each other. Well, they didn't bargain on me also being too emotional to read their letters to them!!! Luckily, I contained myself (just). They also took part in a beautiful hand-fasting ceremony, which they also did during their wedding, so they loved the idea of incorporating it this time around, especially as the children were able to help with tying the binds. It was so perfect.
So this my friends, is where I get my inspiration from. From the wonderful couples that life throws my way. These beautiful people who allow me to share a segment of their joy and happiness and who allow me be a part of such a special moment in their lives. Those couples who are looking back, in order to celebrate the present and looking forward to a future full of everything that they wish for and more!
Who inspires you?
I am lucky because I get to be around amazing people like this a lot of the time. But maybe there are many inspirational couples around you too, disguised as your nearest and dearest or other close friends. Sometimes people are inspirational without us even realising it. My dad and stepmum are so perfect for each other and such a solid unit, yet I didn't realise this until I myself was married. They are a source of inspiration for me too. I love watching how they interact with each other, even when they are bickering or when my step mum is thrashing my dad at Scrabble. My parents (my mum and dad), their marriage was a disaster. Luckily, my mum is happily in a relationship and so I am so glad that they have found the people that they were meant to be with. Sometimes, this does not always happen the first time around. So I love it when people get to where they are supposed to be in life and with who they're supposed to be sharing it with. My lovely bride also quoted her parents as an inspiration and how she looked to them and admired their 42 years marriage and continued love for each other. Sometimes, we need to look to others, to help us shape our own relationships and to remind us of what really counts in life.
The end.
PS. I would also like to add that I took ALL of these photos myself. I know I have got a long way to go (long, long way!), many books to read and many photographers to study before I even call myself a decent amateur photographer but I'm quite proud of my handiwork and can't wait to get better.