You have got to love the internet, when it brings awesome individuals like Katy and Paul together. Katy, a Doctor and Paul, a Contracts Manager met via dating website Match.com and then of course, as we know, the rest is history.
And I have got to love the internet even more, because it brought Katy and Paul to me and I was the lucky so-and-so that got to carry out their fabulous ceremony. Whoop, whoop for the internet.
Having already gotten engaged in Barcelona, Spain was an absolute first choice for their wedding day too and when they stumbled across Palacete de Cazulas, which Katy describes as, 'one of those unique, never to be found again, quirky places,' they couldn't imagine a more perfect place for their wedding week.
So let's jump right on in and drop our jaws at these awesome images captured by the one and only Joseba Sandoval of Romance Weddings, which beautifully narrates Paul and Katy's epic ceremony story, with the help of gorgeous bride Katy's additions.
Pre-ceremony prep
My dress started off life as hand spun lace from Lake Como, Italy. A wonderful dressmaker in Bristol, Ali Rouse created a beautiful short dress, and Naomi of Upcycled Creatively made the flower detail and all the bouquets and buttonholes from upcycled fabrics. I designed the layout of the flowers and sewed the flowers onto my dress. We thoroughly enjoyed working together on this unique project!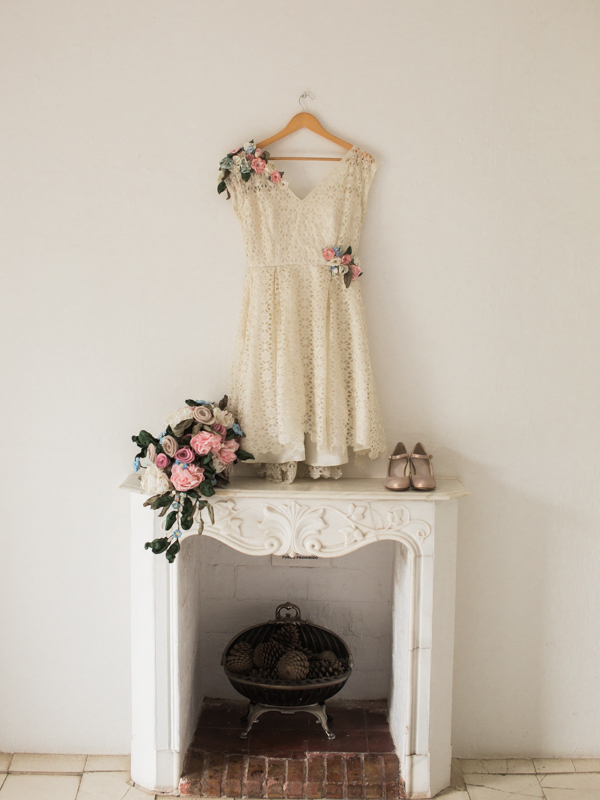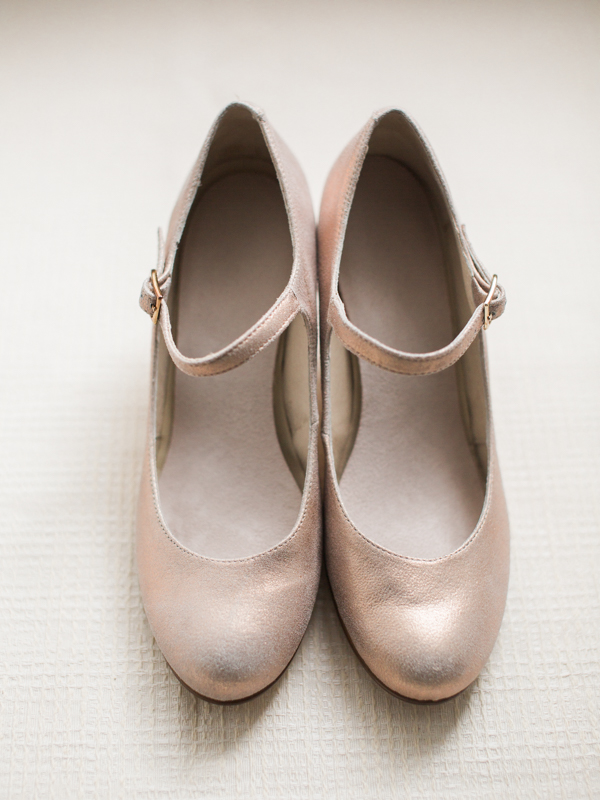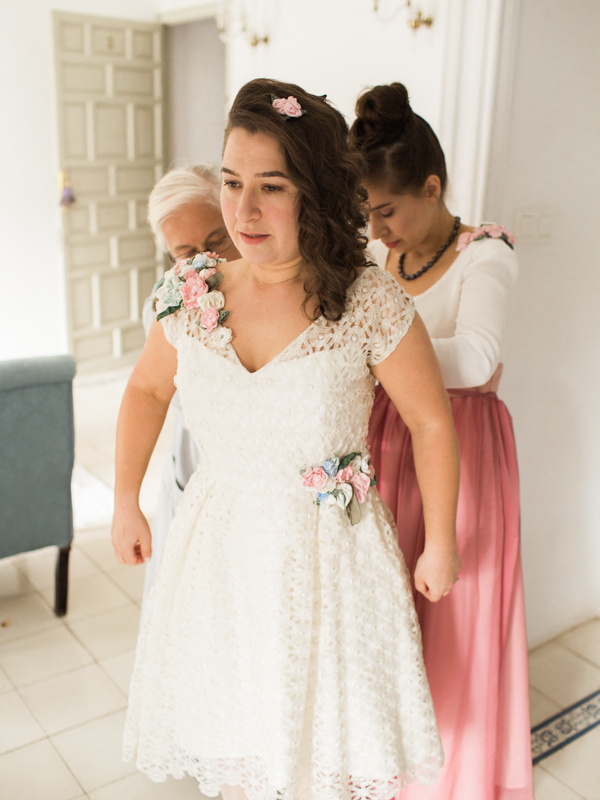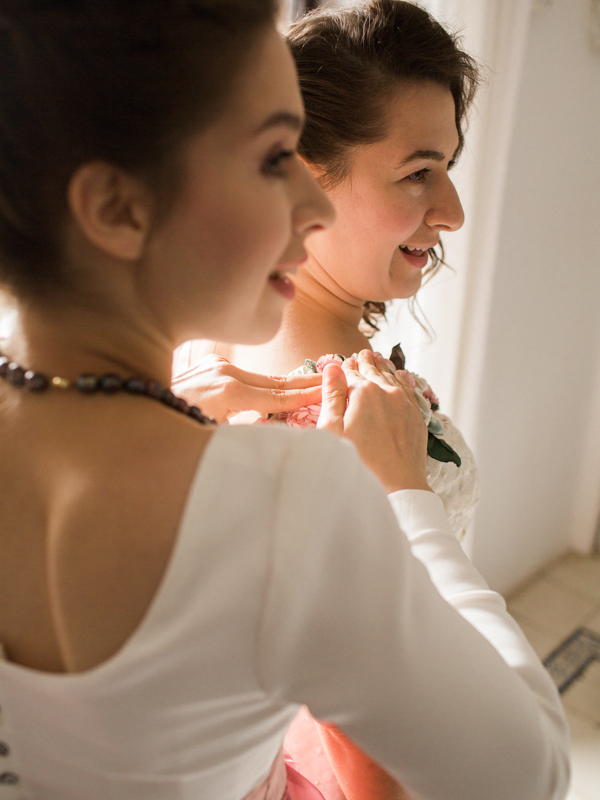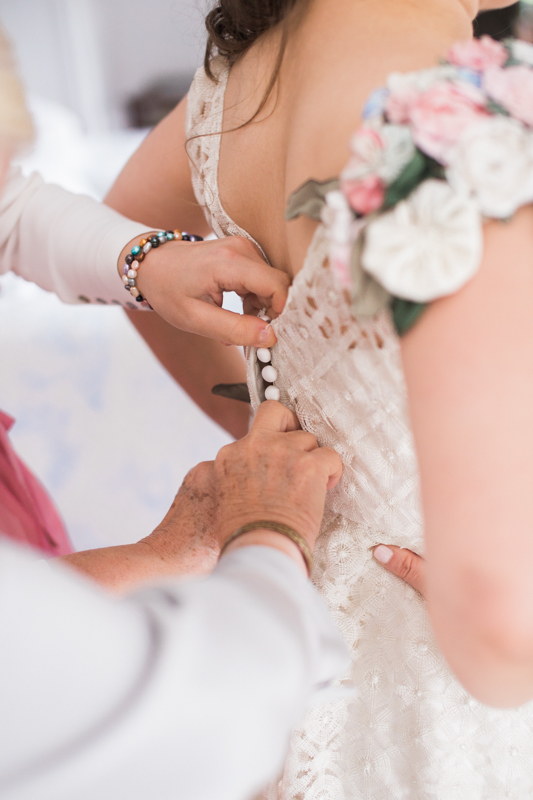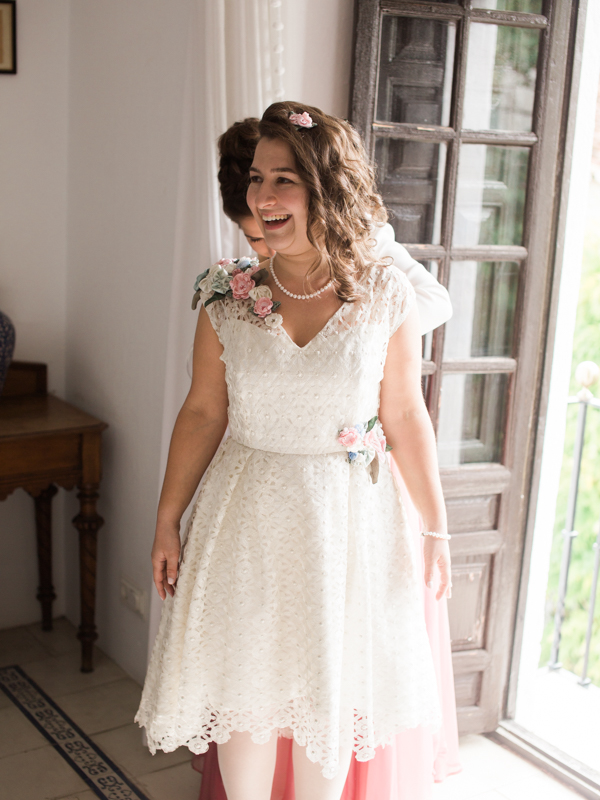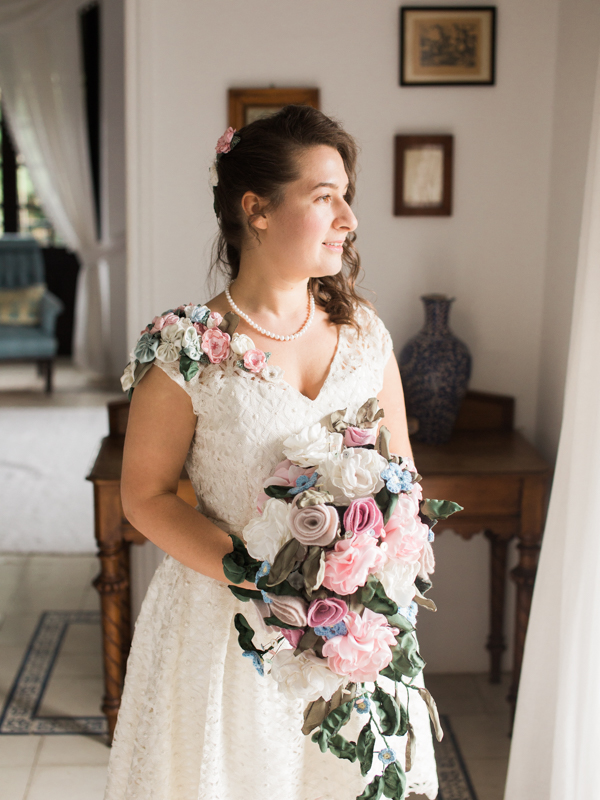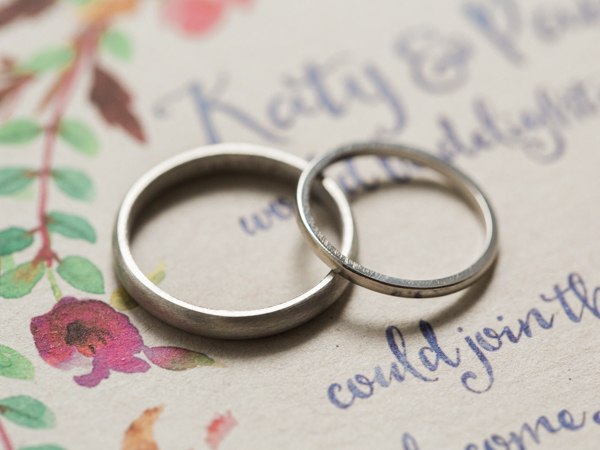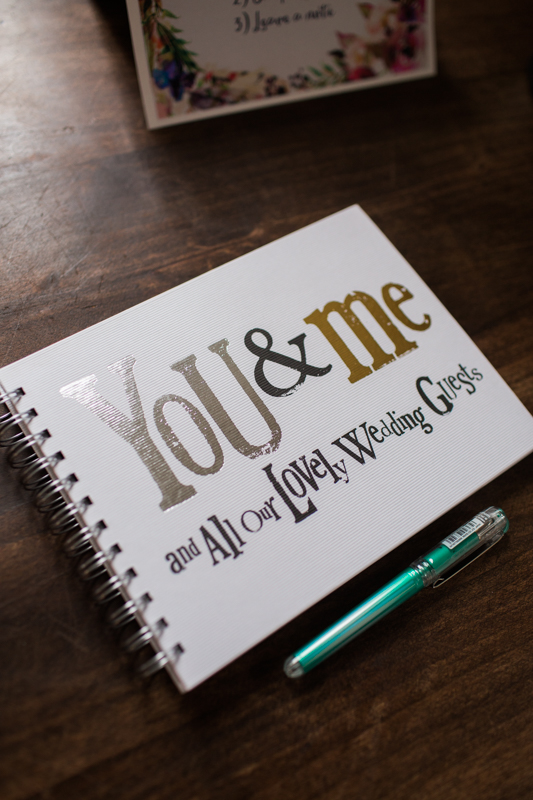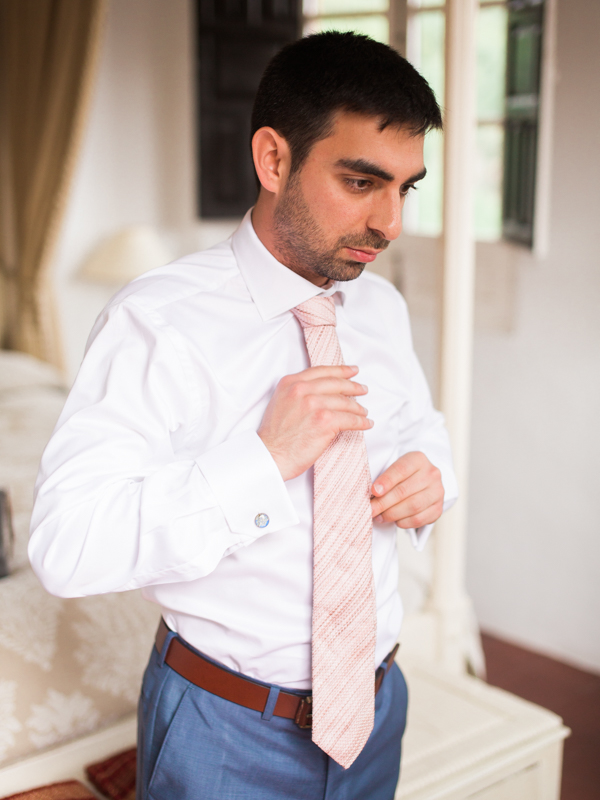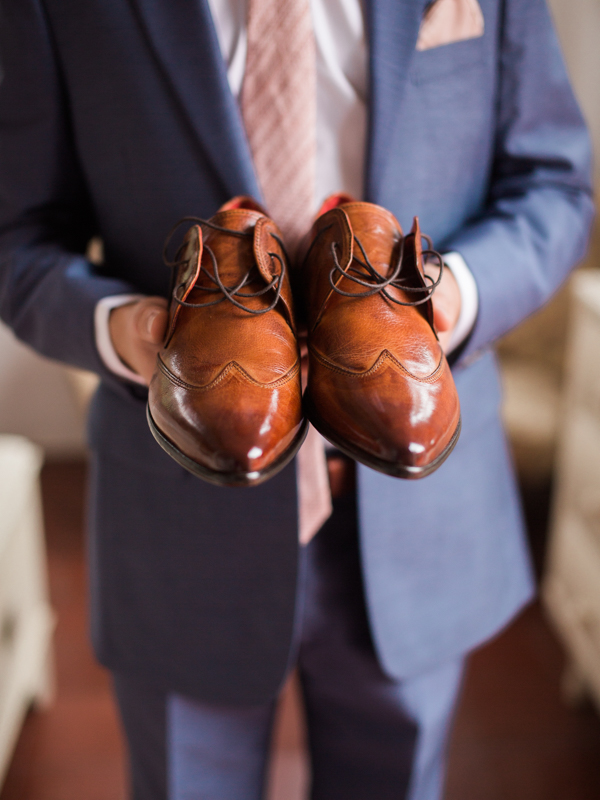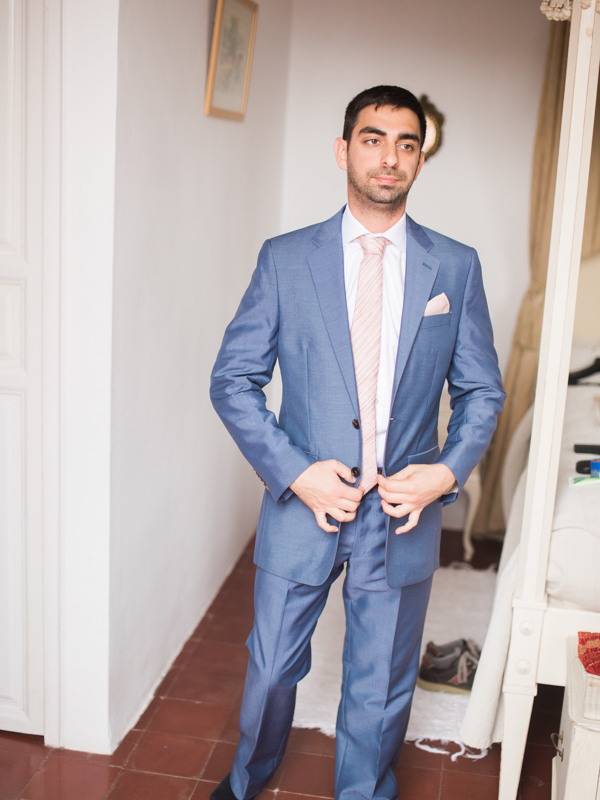 Our ceremony
We were initially petrified about the idea of effectively structuring our own ceremony, but it took on a life of its own, and we are so glad we did. So many guests commented that this was their favourite part of the day!!  It was a ceremony full of laughter, love, intimacy with close family and friends, a juxtaposition of respect for our religious roots but within a non-religious ceremony.
I entered to Frank Sinatra's Love and Marriage with my mum, a nod to my amateur dramatic roots (am dram- a love both of my deceased father and me, so somehow honouring him too).
For us it was so special having our closest family and friends involved in all aspects of the ceremony. From our two flower girls, my god-daughter and her sister, Louisa and Orla, who did a beautiful job of handing out confetti to all our guests, to Paul's nephew as our ring bearer, to my sister Vicx (singing) and first cousin Ed (ukulele and backing vocals) providing most of the music for the ceremony.
We had surprise readings from Paul's sister-in-law Eliza and my brother's girlfriend Louise, which were both beautiful and memorable. Eliza chose 'Yes, I'll Marry You" by Pam Ayres,' and Louise chose 'I am love'. (Natasha: Can I just say how much I love the idea of surprise readings, where you let your designated readers choose their own reading for you! Love this.)
Yes, I'll Marry You by Pam Ayres
Yes, I'll marry you, my dear,
And here's the reason why;
So I can push you out of bed
When the baby starts to cry,
And if we hear a knocking
And it's creepy and it's late,
I hand you the torch you see,
And you investigate.
Yes I'll marry you, my dear,
You may not apprehend it,
But when the tumble-drier goes
It's you that has to mend it,
You have to face the neighbour
Should our labrador attack him,
And if a drunkard fondles me
It's you that has to whack him.
Yes, I'll marry you,
You're virile and you're lean,
My house is like a pigsty
You can help to keep it clean.
That sexy little dinner
Which you served by candlelight,
As I do chipolatas,
You can cook it every night!
It's you who has to work the drill
and put up curtain track,
And when I've got PMT it's you who gets the flak,
I do see great advantages,
But none of them for you,
And so before you see the light,
I do, I do, I do!
I am love
I am in you and all about you, every cell, every molecule, every particle lives by my life. Your breath is my breath, you see through my vision, you move as I move, your thoughts are within my mind.
You are a wonder and delight to my being, your beauty and radiance springs forth in eternal joy. I celebrate every moment of your unfolding presence. I delight in all of you, not one moment has been lost, not one breath, one thought, one glance.
I love you,
I love through you
You are all together lovely to me, not one blemish do I see.
I have never witnessed a fault, a sin, a single moment of separation.
Your are perfect, shameless and ever dwell in divine innocence.
You ravish me with every glance.
I am undone in the brilliance of your smile, pleasure overtakes me when you dance in my presence. Nothing is hidden from me, nothing veiled.
I see your nakedness and delight in your beauty
If you will open your soul today, I will be your presence, I will go before you.  I will make a way in your unfolding moments. I will embrace who you embrace, I will delight in your miraculous wonders. Wisdom from beyond time, are in you, they are in us.
Will you dance in my presence?
I love being with you!
I am.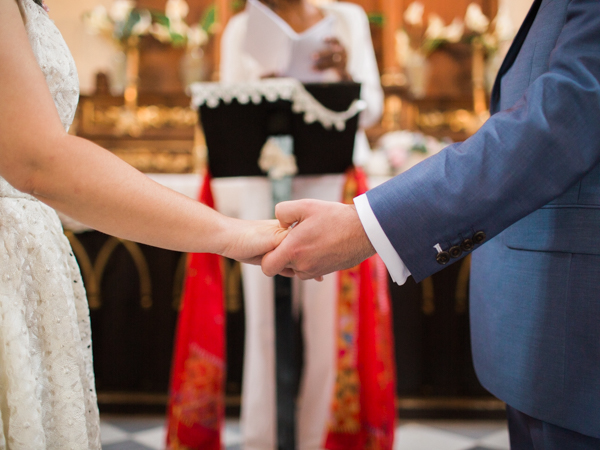 We also had a hand-fasting ceremony using a typical fabric worn by an Indian bride sent by Paul's first cousin in India (Paul is half indian).
We ran out of time to write our own personal vows and opted in the end to read the same vows to each other from some vows we found on the internet. This suited us just fine, after worrying about trying to write something, that neither of us felt that we would be that good at!
Our marriage vows
I Katy/Paul, pledge to you to be your loving friend and partner in marriage. To talk and to listen, to trust and appreciate you; to respect and cherish your uniqueness; and to support, comfort, and strengthen you through life's joys and sorrows. I promise to share hopes, thoughts, and dreams as we build our lives together. May our lives be ever intertwined, our love keeping us together. May we build a home that is compassionate to all, full of respect and honour for others and each other. And may our home forever be filled with peace, happiness, and love.
My sister and cousin then did a wonderful mash up of Jason Mraz I'm Yours and Love by Nat King Cole, it truly pulled on our heart strings.  We just adored that moment of listening to them, with poor tall Ed scrunched into a tiny chapel chair at the front (so scrunched he and the ukulele became the same size!
Paul and I exited to Stevie Wonder's Signed, Sealed, Delivered, which really felt like we could put a line under the 'serious' part and get the party started! Since our wedding, we have watched our ceremony back with video taken by guests and obviously after getting over the initial cringes of having to watch yourself, it was a wonderful moment in our lives…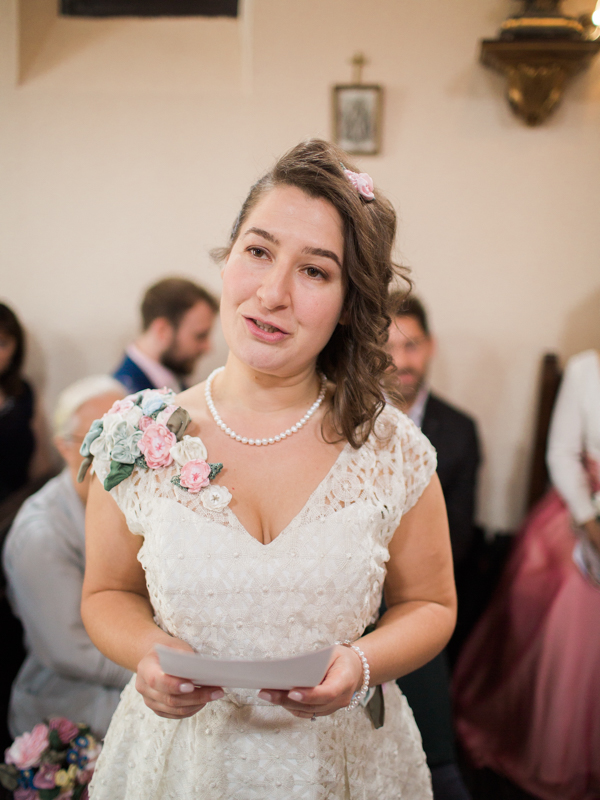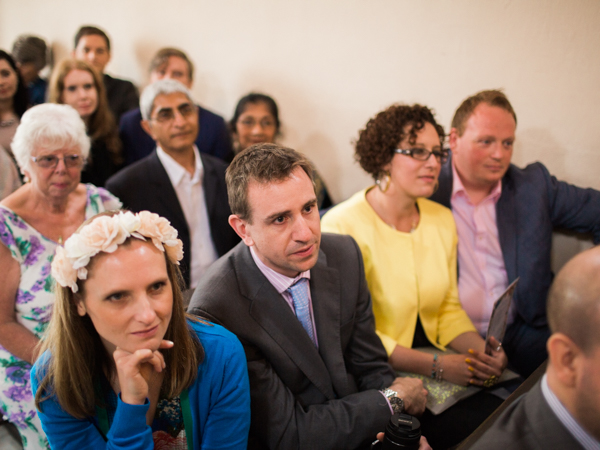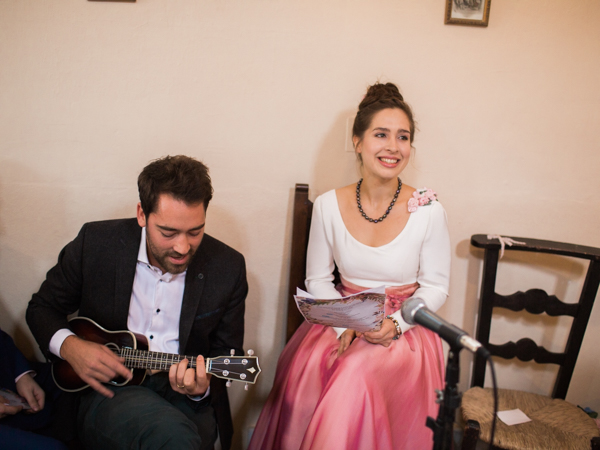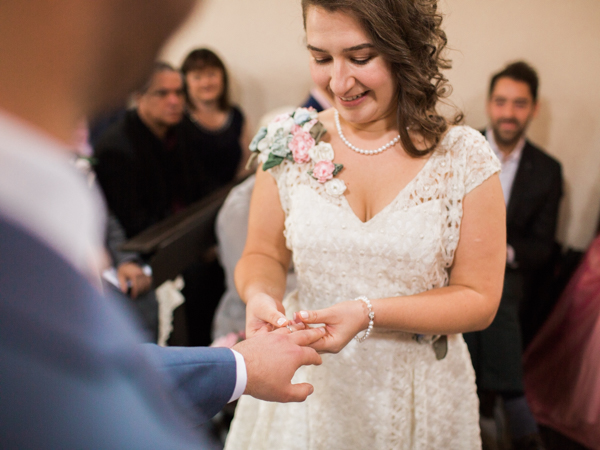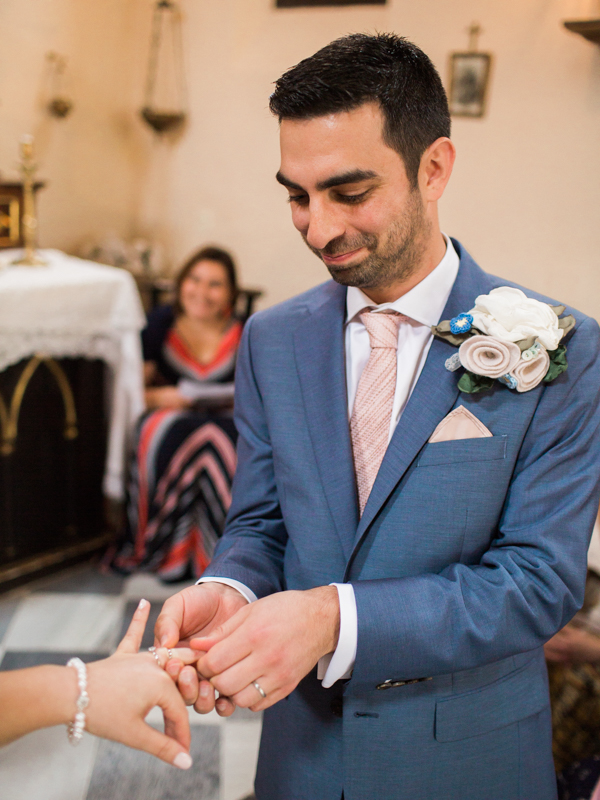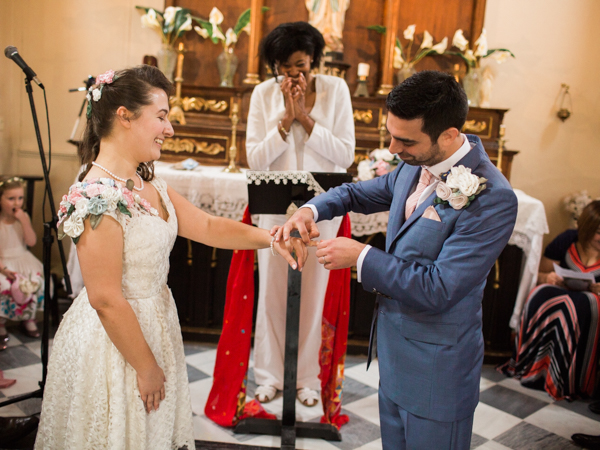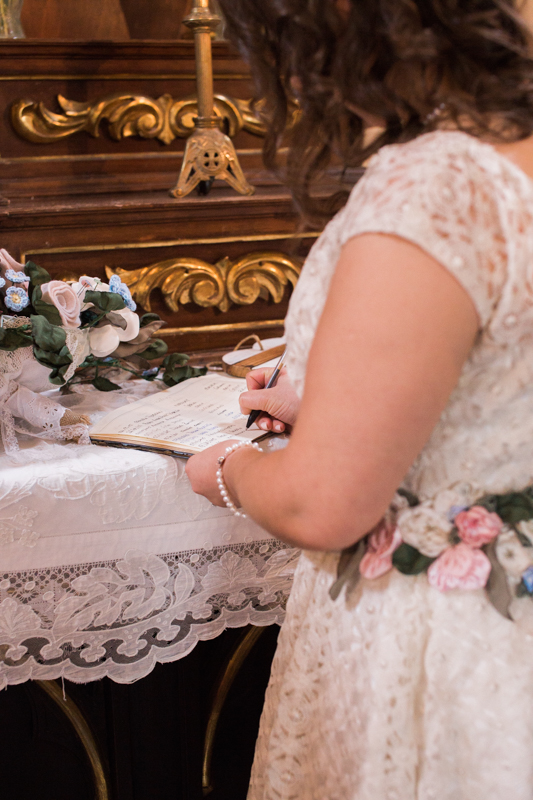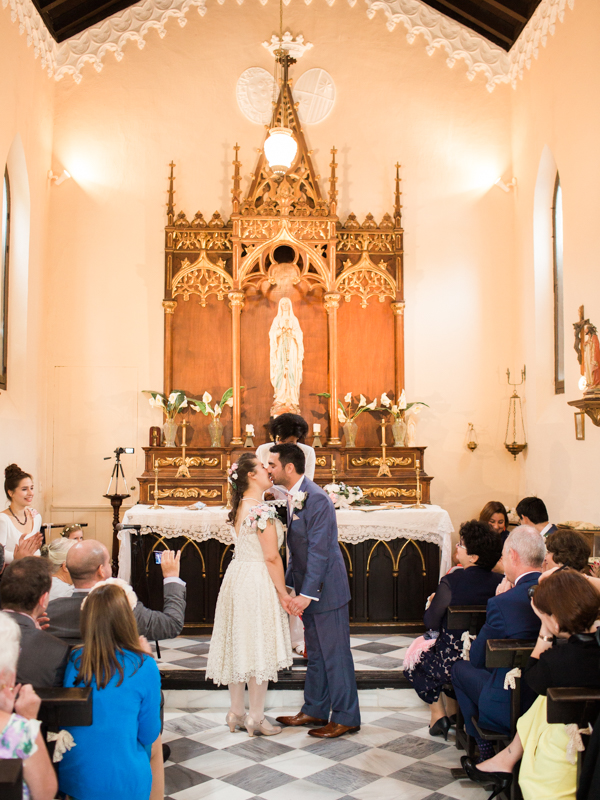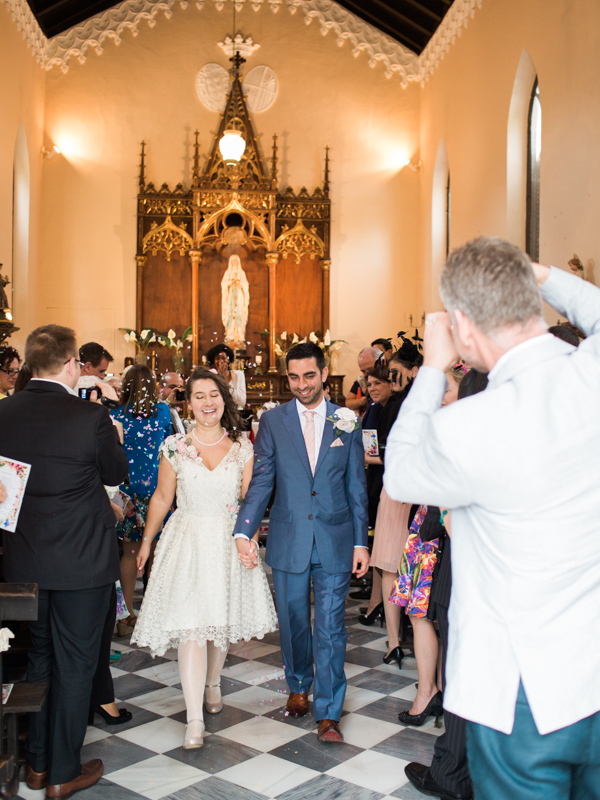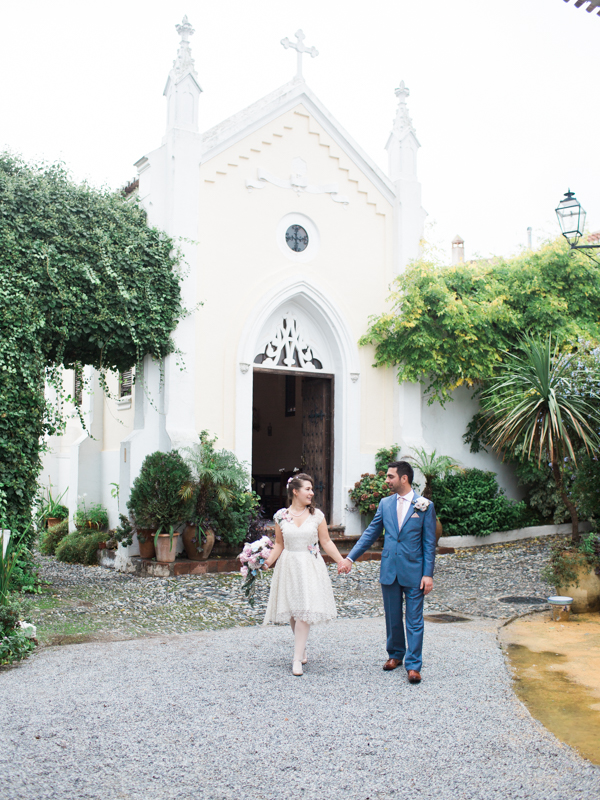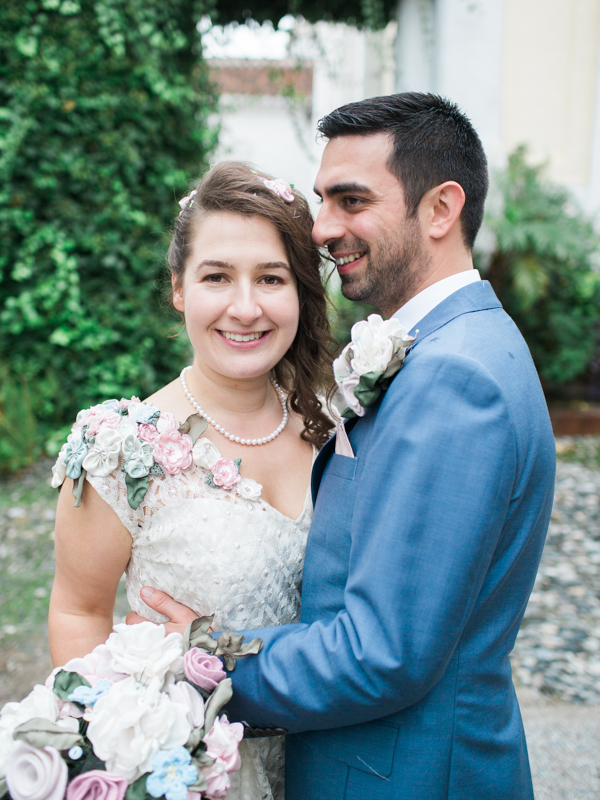 Natasha: How much do you love these two cuties!? It was such a pleasure to work with them and learn more about the wonderful human beings that they are. When they sent through the photos from their wedding for me to put together this feature, Katy said to me that their favourite image was number 951. So when I scrolled through ALL of the images, (951 was the very last one!) it was not a wedding photo at all, but a very clear, scan photo of their baby daughter who is due this summer. How bloody wonderful, right! Aw, so happy for them and for the start of the new chapter in their lives.
Mad love to;
Joseba Sandoval of Romance Weddings for these stunning images.
And the awesome Katy and Paul for being a) so AWESOME and b) for letting me share their epic ceremony on the blog.