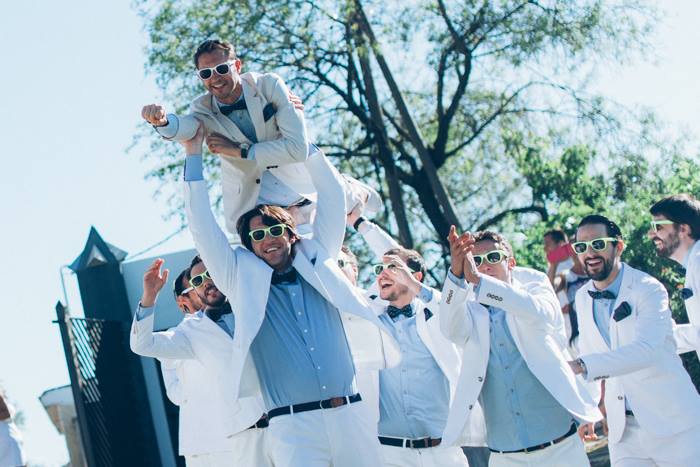 You cannot beat that feeling in those seconds before a ceremony is about to begin, when the music starts and all eyes are eagerly awaiting the start of the ceremony. It is so exciting and hands down, one of my favourite parts of the ceremony.
I've seen it all; the crying down the aisle, the nervous-laughter down the aisle, the deer-caught-in-headlights coming down the aisle, dancing down the aisle, speed walking down the aisle, hand slaps and high fives. You name it, I've seen it.
So, however you plan on making your entrance, here are my top three tips on getting the very best out of the start of your ceremony and making sure that you get yourself down that aisle cooly and calmly, in one piece, and ready to marry the hell out of your love bunny.
Choose a song that is perfect for you
There was a time when Pachelbel's Canon in D was a ceremony staple, when most ceremonies started with this as the processional entrance song. It is a beautiful piece of traditional wedding music, but if it doesn't rock your boat then don't have it. And that goes for any traditional or classical wedding music.
Make your entrance to music that means something to you. That could mean anything from the songs the two of you know every word of, to the songs that you whirl around in the living room together to and your special song that make your eyes have to find one another's whenever it comes on.
It may sound funny, but your entrance song doesn't have to be a romantic song, either. It doesn't have to be a song that talks about love, although at the same time you probably don't want a song that talks about hate, break-ups or death! And despite what many may think, it doesn't have to be a slow-tempo song either. So in a nutshell, it can be, whatever the hell you'd like it to be! Take a look at these song choices that have been popular in recent years as ceremony songs.
I walked down the aisle to Marvin Gaye's 'You're All I Need To Get By,' with my brothers and my maid of honour. Me and the hubs love Marvin Gaye and actually love all of his songs, so it was a hard deciding just between his songs, let alone anyone else's! And we walked back up the aisle to 'Ain't No Mountain High Enough.' Talk about, number one fans!
If you are having a bridal party who is also going to be part of the ceremony procession, try if you can, to only have one piece of music for the whole entrance sequence. It can be a little bit jarring having a separate song for the bridal party and a separate song for the bride's entrance. It can be done, with a bit of thought and planning, but sometimes the choreographing of a ceremony procession can make it lose its natural flow and can make it look stilted.
Make your entrance with whoever you want
I love it that we are now at a point where it is no longer thought of as strange if you don't walk down the aisle with your dad, even when your dad is still very much alive and a happy part of your life. For some people, there is someone more appropriate/more fitting/more deserving to accompany them down the aisle. I've seen couples with children walk in with their children, I've seen couples walk in with their best friends, or siblings, both their mums and dads or even grandparents.
Yes, it's a lovely tradition to give your dad the honour, but it's a tradition, not a rule of law. Have whoever the hell you'd like! And for some couples, this can also mean having nobody to accompany them down the aisle at all. I have seen solo bridal walks or couples who decide they both want to enter together. Whatever you choose will beautiful, and most importantly the choice is all yours.
No step-together, step-together walking, please!
Seriously, have you ever tried to walk like this. Go on, try it. Stand with your feet together, step forward on your right, then bring both feet together, then step forward on your left and bring both feet together again. Feels ridiculous, right? That's because it is. It's totally ridiculous. Nobody walks like this EVER, so why all of a sudden would you start walking like someone who really badly needs the toilet?
Natural, slightly-slower-than-normal walking is all that is needed. Everyone wants the chance to have a good look at you as you make your entrance, so at least give them that opportunity. And also, it's a really lovely moment to soak up the love and the happy vibes and to take it all on. For some, the walk to the ceremony area can be a short one, so you really ought to make the most of it by not going too quickly.
Especially, if you have a really beautiful song, which perhaps is being played live by musicians or super talented friends, then it's always nice to let the song have a chance to develop. Sometimes it's nice to let the music play a good few bars before entering too. Not only does it build the buzz but gives the song a chance of longer airplay to create more of a ceremonial atmosphere.
And before I leave you, did you know that there is no right or wrong way of how you enter with your bridal party, if you're having one.
At its most traditional, the hierarchy is as follows;
Flower girls go first to scatter petals for those who follow.
Page boys can also accompany flower girls or follow behind them.
Brides maids
Maid of honour
Bride and her father
Page boy to hold the dress train
However, there are so many variations, now.  For example, some couples don't have flower girls. Some brides like to be sandwiched in between brides maids, especially if they have a long train and want some maids to follow behind them. I've also seen processions where a bride and her father were the first to walk the aisle, with the rest of the bridal party following after. Whatever works for you.
Also, more couples now have their grooms men and ushers forming party of the ceremony entrance too, and quite often if there is an equal amount of boys (ushers or groomsmen) and girls (brides maids) then they are paired up to form a mini procession of their own.
Check out this awesome ceremony entrance. A huge entourage of brides maids and grooms men, dancing, skipping and doing acrobatics down the aisle. Followed by the groom carried in as superman and the bride with her mum! Now that's an entrance. Photos by video4events.
Okay, well that's it from me. Three rather long-ish tips to get your ceremony off to a fabulous start. Enjoy!
And do give me a holler with what you decide to do for yours!