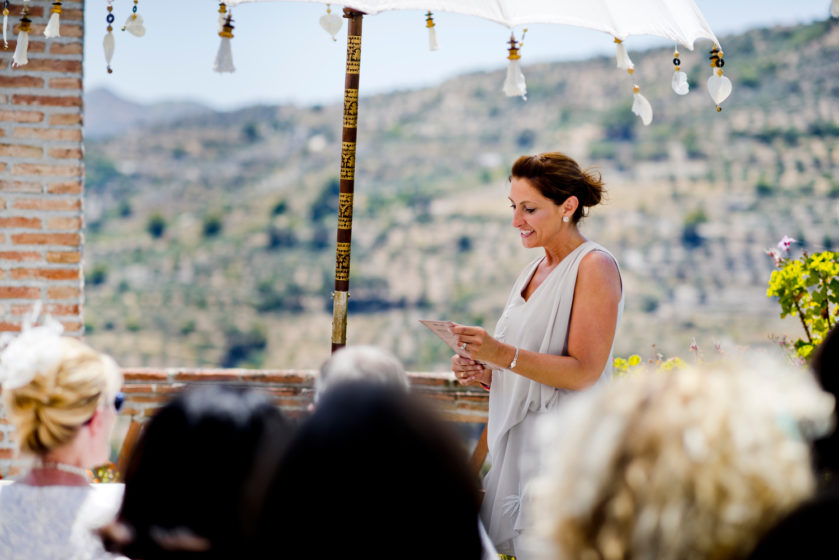 If you saw Katy and Paul's awesome ceremony that I posted a few days ago and read the post from start to finish(!), you'll know that during their ceremony they had two surprise readings, which they both absolutely loved. So I thought I would touch on this a bit more and look into what is definitely becoming a growing trend in the ceremony world.
So firstly, let's take a look about what a surprise reading is all about. In case you may be confused, the surprise is in the choice of reading, not the fact that the taking place of the reading itself is a surprise. Although, that would be quite a cool concept too, if a surprise reader, doing a surprise reading just popped up in the middle of a ceremony!!
Basically, a couple ask someone or a number of people to do a reading at their ceremony but to shake things up a bit and make it all more exciting, they allow their chosen person/people to surprise them (the couple) with their own choice of reading for the ceremony.
I love it! But I also get that it can fill some people with slight dread/fear/nervousness of what might be chosen! So let's look at the pros and cons of having a surprise reading, which might help you decide if it's something you'd like to add to your ceremony.
Pros
You can get to hear a lovely reading which you've never come across before, but which you feel summarises your exact thoughts and feelings
It allows you to think out of the box for your wedding, by allowing someone else to make a choice on your behalf, using their own judgement and personality. As an example, my mum ALWAYS buys me clothes, even though I am almost 40! Luckily, she has good taste! But what is interesting is that much of what she buys for me, I would not buy myself but I really like them and they suit me. I think the same can be for a wedding reading. Your friend/family member might not choose a wedding reading that you would have chosen yourself, but nonetheless you really like it and feels it suits you!
It's one less thing to think about! Let someone else choose a reading and take the pressure away from you.
It's a fun element to add to your ceremony and will give a very unique perspective to your ceremony too. Everyone likes surprises and it can be lovely to anticipate what is going to be read.
It's a really sweet way to include loved ones in your ceremony and to make them feel like an active part of your ceremony, as well as a honour for the reader to be able to take part in your ceremony in this way.
Cons
Let's face it, you might end up really not liking the reading that is chosen for you. Let's be honest here. Everyone has different tastes and everyone has different ideas about what makes a nice reading. What one person may find is a beautiful reading, the other may think is cheesy as hell! So perhaps you need to be prepared for this.
It may be a lot to ask someone to not only perform a reading for you during your ceremony, but to choose it too.
Top tips
Give your reader some guidelines, don't just leave them in the dark. Maybe give them some clues as to what you like and don't like. If you don't like funny readings, you'd better tell them!
Picking the right reader, maybe someone who you know well and who knows you well, is quite a good way of guaranteeing that they will choose a reading that you probably will like.
Be open minded.
Be grateful. Even if the poem or reading is not quite to your taste, appreciate the effort that has been made by your reader, in not only spending a lot of time trying to find a reading for you but also reading it during the ceremony.
If you really are a control freak and can't bear the thought of not knowing every detail of your ceremony, then perhaps this isn't the best thing to include in your ceremony. However, if you are a control freak but still really love the idea of doing this, you could compile a list of 20-30 readings that you love and let your reader choose one from your own list. This way the reading will still be a surprise for you, but it will be one that you already have 'approved' and so you will be happy to hear it.
I really do love this ceremony element. It's yet another way of including loved ones in your ceremony and having people involved in something so special. Readers will be honoured to be asked (and a little scared, of course!) but they will always want to do their best to pick the reading that they think will suit you, or suit your day or simply suit your personalities.
Go for it, I say! But then I always do!