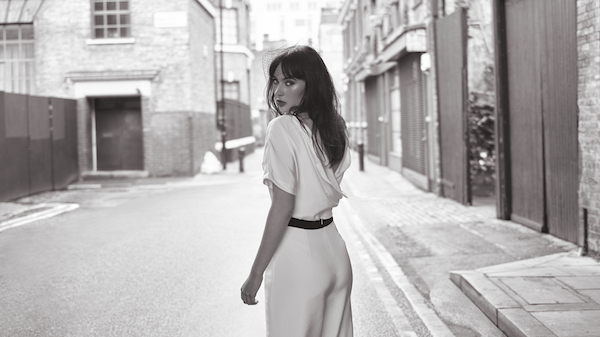 Okay, so despite the title of this post, I don't think that brides wearing dresses is going to stop any time soon and nor do I want it to. But what I would like to see more of, is women choosing to wear exactly what they want to wear on their wedding day, and so if that means kicking dresses to the curb, and donning an awesome jumpsuit or trouser suit, then so be it!
When my husband first saw me walking down the ninety nine steps towards our ceremony area, the look on his face said it all. He was overwhelmed (by my beauty), overjoyed (by my beauty) but most of all surprised!
You see, he was convinced that I would be wearing a 90s style Dynasty white power suit that the likes of Joan Collins threw on just to lie on a chaise longue. I was in fact wearing a two piece, very nice but very boring and very safe, bodice and skirt combo. I liked my bespoke dress but if bridal jumpsuits had existed then, my lovely boring dress definitely would have been an elegant kick-ass jump suit.
And so this got me thinking, if like me, you're not really a dress or skirt type of woman, then you shouldn't be a dress or skirt type of bride. Not unless you really really, no-arm-twisted-behind-back, want to be.
Be yourself
Did you see Solangé's bridal jumpsuit when she got married back in the summer of 2014? Did you want to rip it off her and stitch it on to yourself as much as I did? Solange did the world (well, the wedding world) a huge favour by wearing that jumpsuit. In doing so, not only did she show off her style and incredible vision but she basically let everyone know that a) bridal jumpsuits are hot b) bridal jumpsuits are elegant and c) bridal jumpsuits are here to stay.
So, if you feel exactly the same way and are lucky enough to have not yet have bought a dress that you don't want or feel like you have to have because it's tradition, then read on. (And if you have bought a dress you don't want, then take it back or sell it! Because you shouldn't be wearing something that doesn't feel 100% right for you!)
Jumpsuits are so versatile. Practical yet elegant and so totally rad. I refuse to believe that any woman would feel any less of a bride by wearing a jumpsuit. Refuse!
These jumpsuits below are some of the most beautiful, sophisticated, feminine and stunning jumpsuits that I've ever seen and I have loved picturing myself in every single one of them. I kind of need to get our vow renewal sorted out asap so I get to wear at least one, maybe even two (day and night!). So check 'em out and be totally inspired to dress how you bloody well want to and not how you think you have to. Thank you and enjoy!

The good news: These jumpsuits will leave you inspired. The bad news: You only need one. Or maybe two, at a stretch (Daytime and nighttime!). Good luck.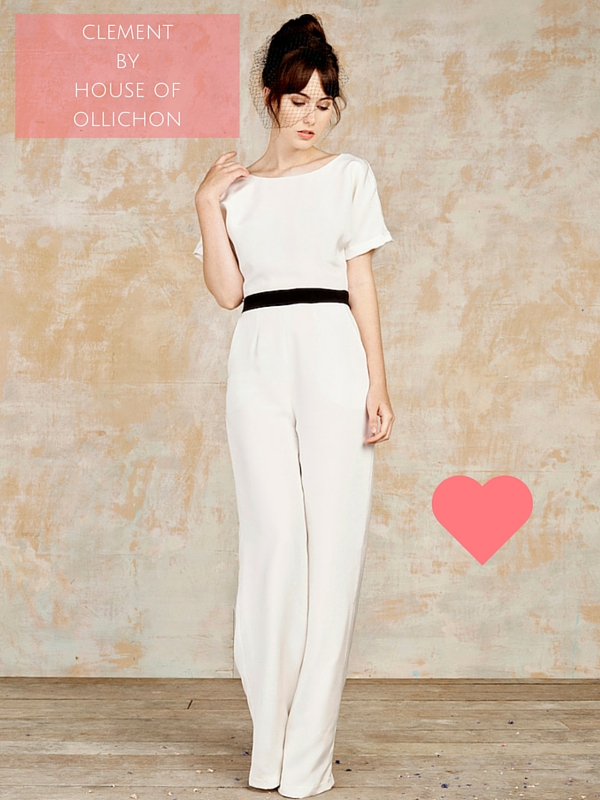 This jumpsuit could not ooze any more sophistication if it tried. It's off the scale. Created by the award-winning bridal fashion house, House of Ollichon, I am so excited by this brand and their dress-less bridal collection. And what's more, they are British (whoop) and their jumpsuits are custom-made (double whoop). What is not to love?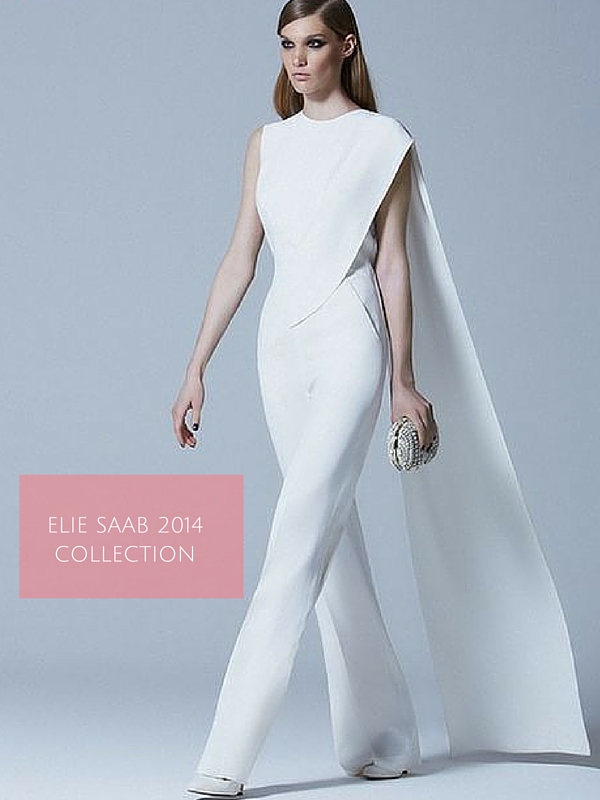 This Elie Saab jumpsuit appeals to my childhood Wonder Woman obsession and my need for a cape. I have all the time in the world for a caped jumpsuit and this one is pretty damn flawless.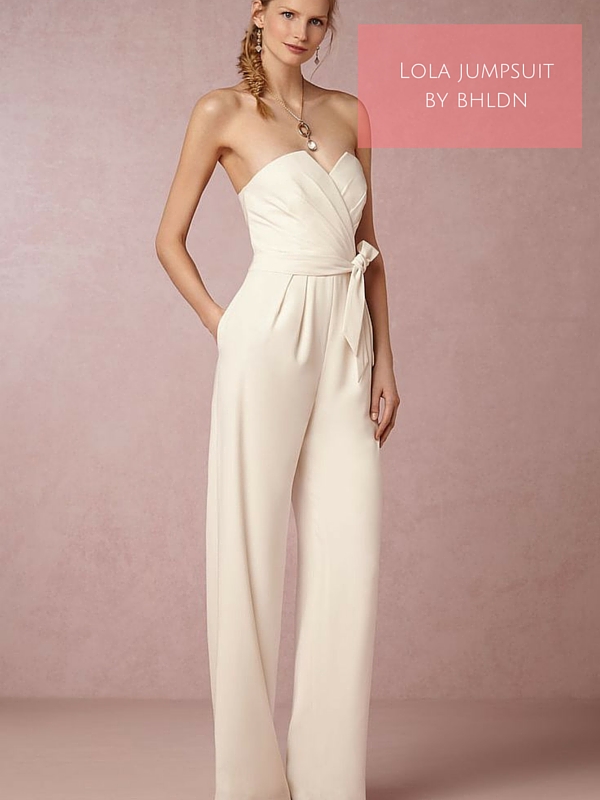 Pure elegance by BHLDN (said as Beholden!). Not that I'm a stylist by any stretch of the imagination but I bet this could look even more kick-ass with a nice blazer, faux fur coat or even a beaten up, old biker jacket. Defo.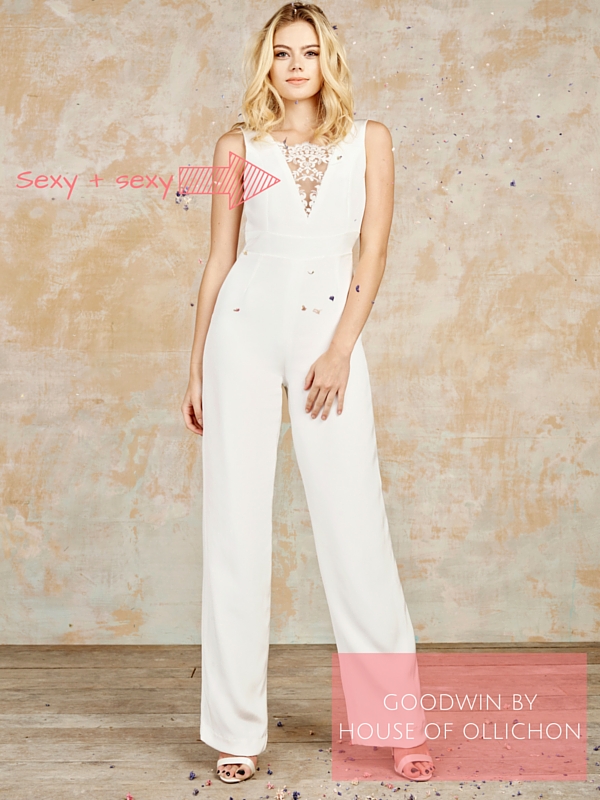 I just love this little triangle of lace on the House of Ollichon's Goodwin jumpsuit, which makes it so very sexy and just that little bit flirtatious whilst still keeping it nice and modest. And to tease you just a little more, it has a sheer back. Sheer back, sisters! Win-win, right?
This BHLDN jumpsuit is one way to achieve some classiness with very little effort. My kind of look! The lovely plunging neck-line also keeps it modest but gorgeous and the bowed waistband gives it a little bit of chic personality too.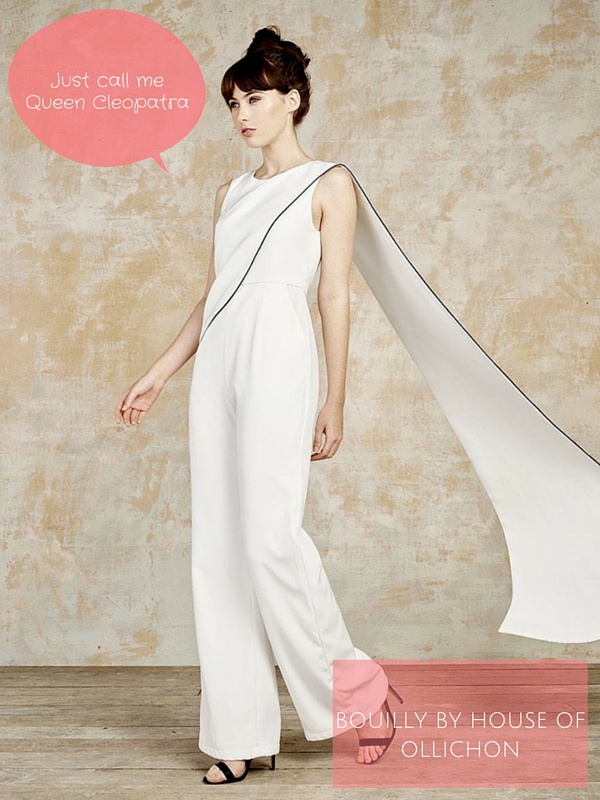 This jumpsuit is everything. The fit, the cape. Everything! I think this has to be one of my favourite HoO jumpsuits because it appeals to the queen in me, (my middle name is Cleopatra, seriously and honestly!) and I would feel nothing but my regal roots wearing this jumpsuit.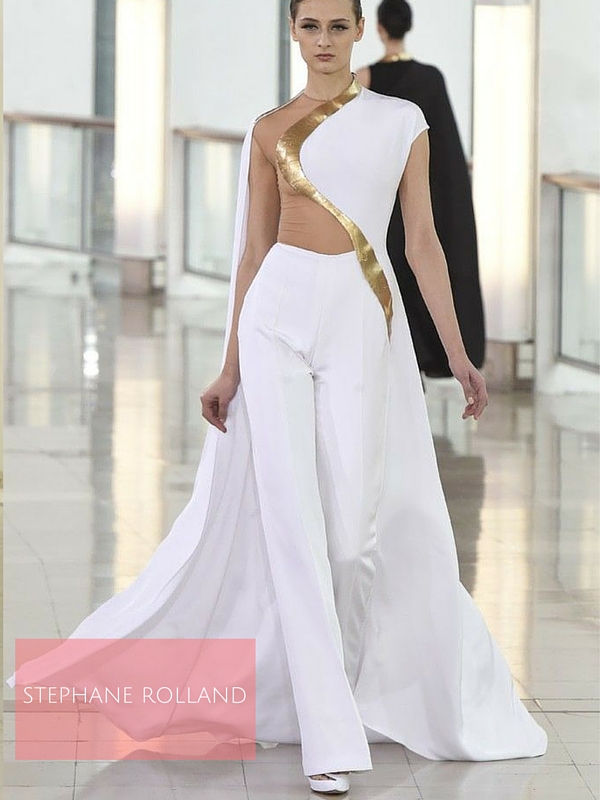 Stephane Rolland the designer responsible for kitting out Solange Knowles in THAT wedding day jumpsuit, no doubt helped to put bridal jumpsuits on the map and to really kick start the trend. This jumpsuit means business.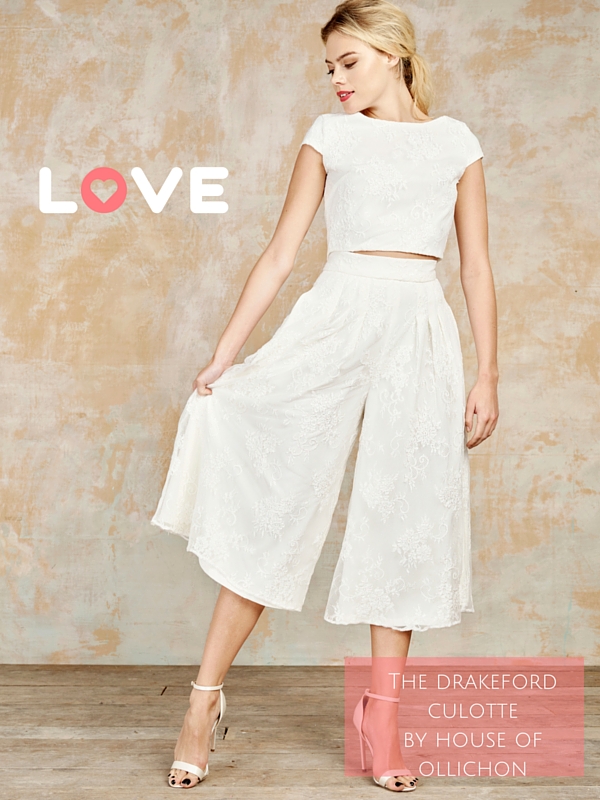 Hot damn. These culottes and crop top are on fire. That is all.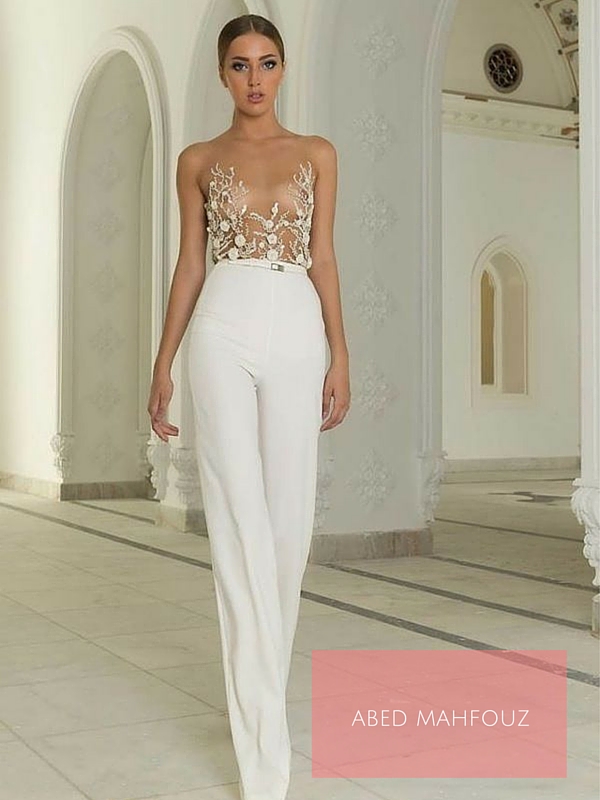 This jumpsuit by Abed Mahfouz is so pretty. The detail in the bodice is to-die-for. If I had the body to put into that jumpsuit, I would put my body into that jumpsuit, without a doubt! But sadly, I have too much post pregnancy boobage for this stunner. Sublime, nonetheless!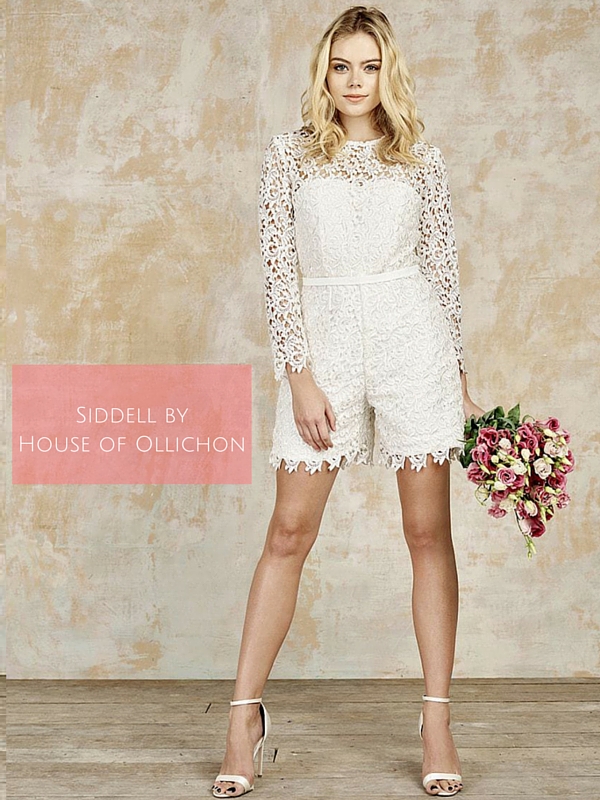 This bridal playsuit makes me want to jump for joy because it is beyond cute! What a fantastic option for a wedding in a hot country (or not, for the brave ones out there!).The heels make this romper super sexy but I think barefoot on a beach would work wonders too.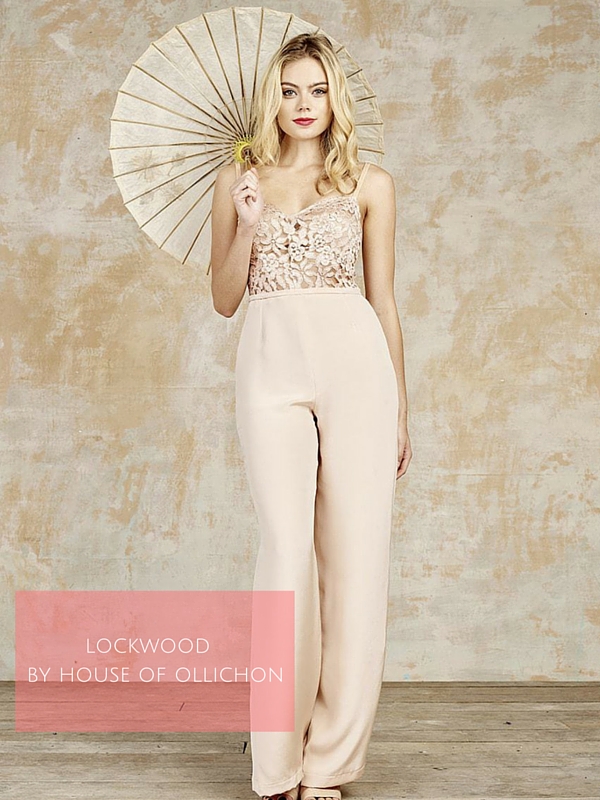 Last year (2015) blush was huge. Not just for bridesmaids, but brides too. And I think it's a trend that's going to keep on trending. So if you're feeling super kick-ass, and not just ready to scrap the traditional idea of a dress but also the traditional colour of white, then this has got to be the jumpsuit for you. It's fierce!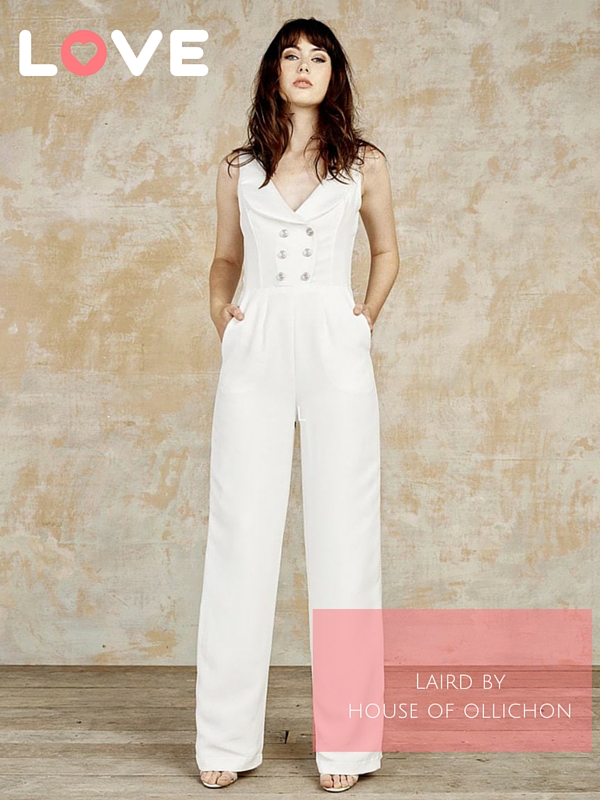 Along with the Bouilly, the Laird has got to be my other HofO favourite. I love the tailoring on the top and I think it would hold me in and up in all the right places!! And I don't know about you, but to me it feels very nautical. As a boat captain, my husband is slightly obsessed with Admiral Nelson and Sir Francis Drake and pirates and galleons and anything sea-faring and so I think this would really appeal to him.
That's what I would say anyway, in order to justify me buying it! Do you think it will work? I also love the detail on the buttons. You can't see it here, but they have lion faces on them. And if I couldn't love it any more, it also has pockets! OMG. Beautiful and useful, whoop!
Inspired?
So which ones have got you drooling? I'm in the 'all of them' category, and you? Did you love my little embellishments on the photos, too? I do.
So there you have it girlfriends. Wearing a jumpsuit makes you no less a bride. It just makes you totally awesome, that's all.
Getting shopping…