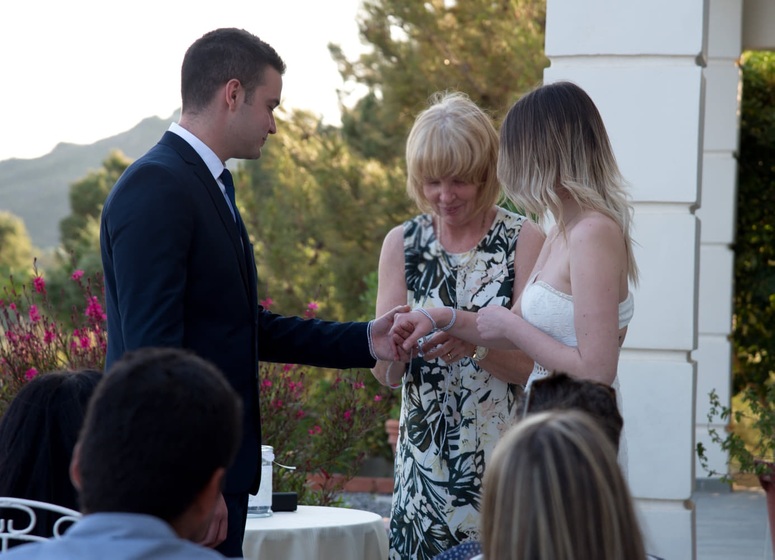 The Engaged and Ready celebrant spotlight interviews are fast becoming some of my favourite features on the blog. I just love hearing from other wedding celebrants and listening as their passion for what they do just pours out of them.
And this interview with Greece-based wedding celebrant Sarah Hatjipavlis (yeah, I don't know how to say it either!) of Grecian Ceremonies was absolutely just what you'd expect from someone who loves bringing people's wedding ceremony dreams alive.
Based in Rhodes, after going on holiday there and meeting a man in a bar who she later married, they've now been married for 26 years and Sarah has never looked back! Sarah now loves getting to share her love and passion for Greece with all of her couples, too.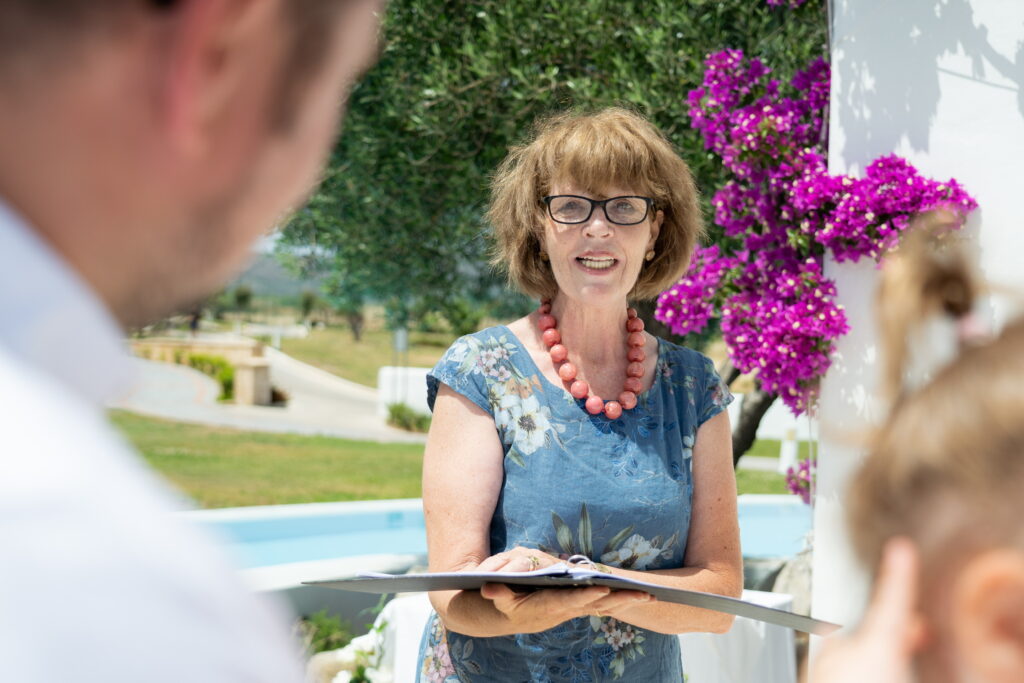 You will love Sarah, you really will.
What has been the highlight of your wedding career so far?
I was very honoured to be chosen to create and perform a fabulous wedding ceremony for an Egyptian couple at a deluxe private house on the outskirts of Athens in June! There were over 400 guests and the couple also asked me to be the Master of Ceremonies for the evening do. It was the most amazing experience of my life and I can't wait for the next one!
What has being a wedding Celebrant taught you about life and people?
Being a wedding celebrant reminds me on a daily basis of how lucky I am to have my wonderful family, how proud I am of my two beautiful clever kids who I miss terribly whilst they are far away studying. It has taught me that family and friends are everything, and that in a world of uncertainty there is so much love. Life is a wonderful journey and I am so privileged to be chosen to be just a small part of any couple's story!
What advice would you give to couples getting married now? What mistakes could they do with avoiding?
For any couples choosing a destination wedding in Greece, they must be aware that a legal civil ceremony is very limited, there is a basic set script and it will be delivered by the local registrar in Greek and then translated by the wedding planner. My advice to any couples planning their wedding in Greece is that they should not forget the ceremony! The moment in time that any couple stands up in front of their nearest and dearest and exchange vows and rings is so special. So many couples choosing Greece to tie the knot don't know that there are Celebrants in Greece and the actual difference between a Celebrant led ceremony and the scripted official civil ceremony led by the local Greek registrar, who is often incorrectly described by the local wedding planners as a 'Celebrant'. Time of day for any ceremony in Greece is so important, you may think that a 15.00 wedding on a Greek Island in July would be perfect, but you must consider the heat. A late afternoon ceremony is a must in the Greek Islands in July and August.
What do you love about being a wedding Celebrant?
Life is all about people and one of the great things about being a wedding celebrant in Greece, is that it brings you together almost every day with new people from all over this wonderful world. However, it is so much more than that; sharing a couples story, how they met, the proposal, why they have chosen Greece for their wedding, and then, on the actual day being beside them to calm their nerves and help them say their wedding vows to each other, what a privilege!
What aspect of your job as a wedding Celebrant gives you the most satisfaction?
I just love to create a personal ceremony and get so much satisfaction when I send off the initial draft and I get it right, but the best part of being a celebrant is leading the ceremony on the day. I can't think of a better way to spend my time!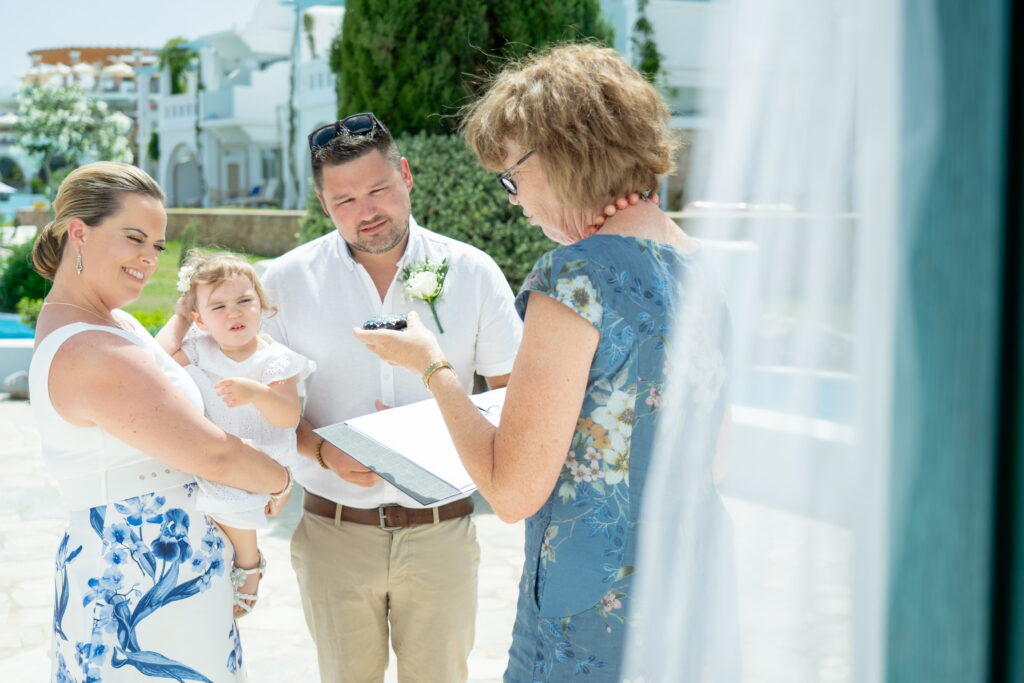 What are your favourite types of wedding ceremonies?
I have no favourite type of wedding ceremony. What I love is the fact that they are all so unique. I love simple elegance, classic and traditional, fun and quirky. Every type is a new favourite!
If you had to sum yourself up in three words, what would they be?
That's a difficult one. Three words are not enough! I am experienced, emotional and supportive! (My family and friends would say, funny, loving and lively!)
What's your favourite symbolic ritual, and why?
As a Celebrant in Greece, a Unity sand ceremony is trending this year! It is the obvious choice for a beach ceremony, a vow renewal and of course a commitment ceremony. It's the perfect way to include any children on the day! Of course living on the Island of Rhodes, there is plenty of sand to choose from!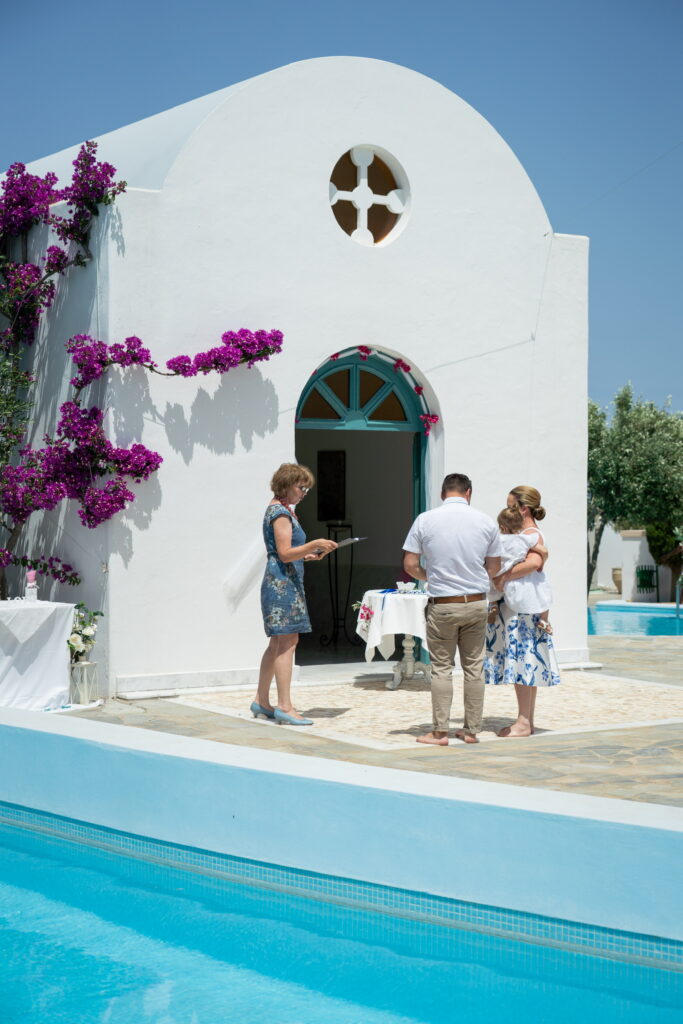 What would be a dream ceremony for you?
I love a great ceremony for a couple bringing family and friends from all over the world. It would be a dream ceremony, to see them exchange their vows at the waters edge with spectacular views, in the country that I love; Greece. To have their family and friends dressed in bright colours and the scene set with some Greek traditions, an archway made from Olive branches will be the focal point, with a local musician playing in the background. Now I am getting carried away……
How would you say the wedding industry has changed in the last fifteen years?
Every year more and more couples are choosing Greece as their destination wedding venue. A celebrant led ceremony is becoming a popular option for couples not wanting to do all the lengthy paperwork required for a civil ceremony in Greece, or for single sex couples where they are not permitted a civil ceremony under Greek law. Couples are looking for more unusual venues, there are many people searching for beautiful holiday villas in Greece where they can hold their one of a kind celebrant-led ceremony.
What kind of couples do you enjoy working with?
I love working with couples who have chosen Greece for a reason, perhaps they have some Greek heritage or they have chosen Greece to bring their family and friends from several different countries. I also love a couple with big dreams, there is nothing I like better than a challenge. I find it totally inspiring!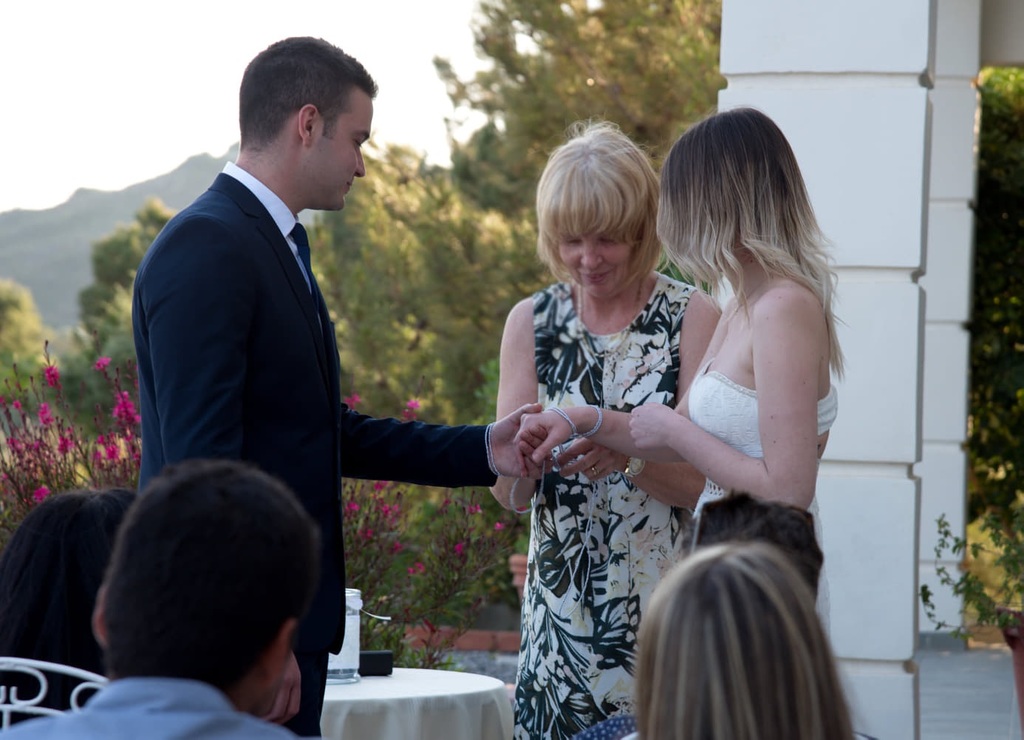 Tell us about a funny/hair-raising/near-miss wedding experience that you've had as a Celebrant
The first funny experience that comes to mind is a ring warming without rings! However perfect all the planning, however many times you have checked that the best man who was in charge of the rings knew his cue and had the rings in his pocket ready for the special moment. When the celebrant says 'please be seated for the ring warming', and the best man is wriggling round uncomfortably, sweat pouring down his brow, a stunned look on his face, the rings had taken a dive through a hole in his pocket in to some sort of lining which how ever hard he tried he couldn't access in front of all the family and friends! To cut a funny story short, it was all fine, in fact with a little improvisation and an inpromtu musical interlude hardly anyone noticed.
What are your favourite types of venues/spaces for weddings?
I love a villa wedding, or 5* hotel with the ceremony set up poolside, with a stunning sea or mountain view! Just a minute, this is Greece we are talking about, I changed my mind, I have no favourites…… sun, stunning views, whitewashed buildings, rugged countryside, the blue of the sea all perfect for a one of a kind destination wedding ceremony!
When you're not busy being a Celebrant what do you love doing?
I love swimming, I find it very relaxing, also keeping fit, keeps me sane. I love my two rescue dogs, eating ice cream and dancing to eighties music in my kitchen! Oh yes and Candy Crush Saga, but these days only in the off season!
If you can imagine Sarah H leading your awesome wedding ceremony in Greece, get in touch with her here. You won't be disappointed.